Paragon Lanai Snorkel Sail
---
Paragon Lanai Snorkel Sail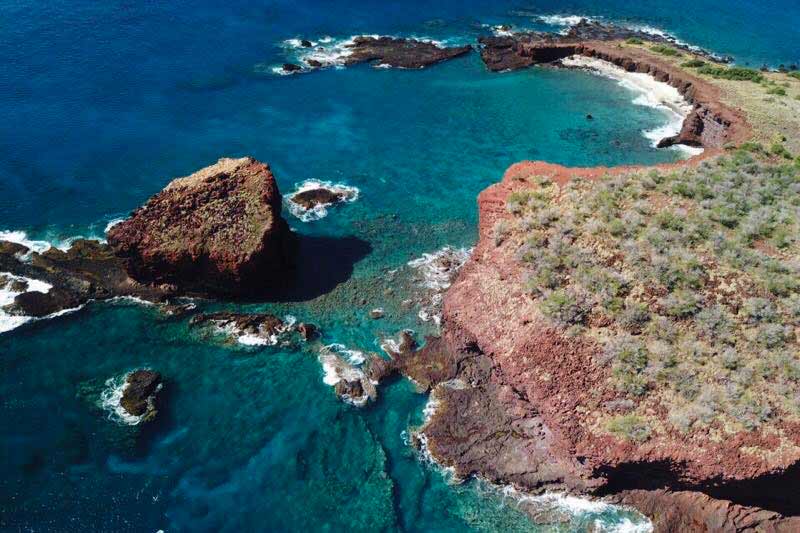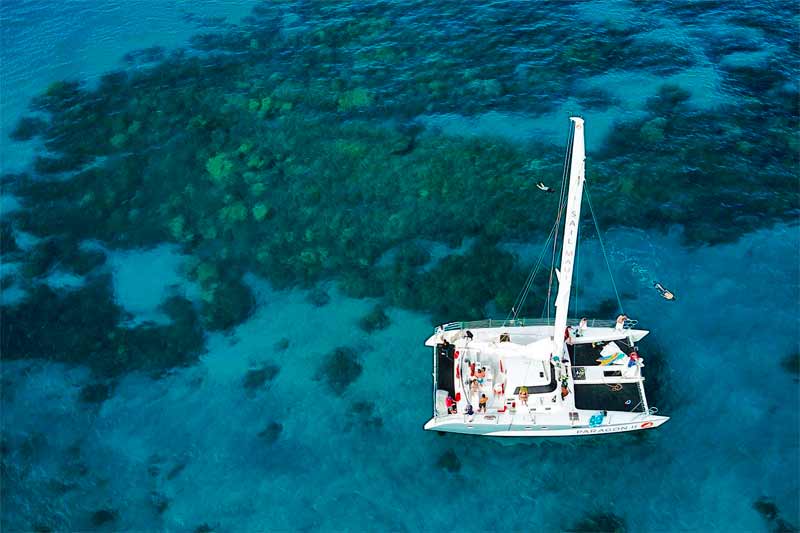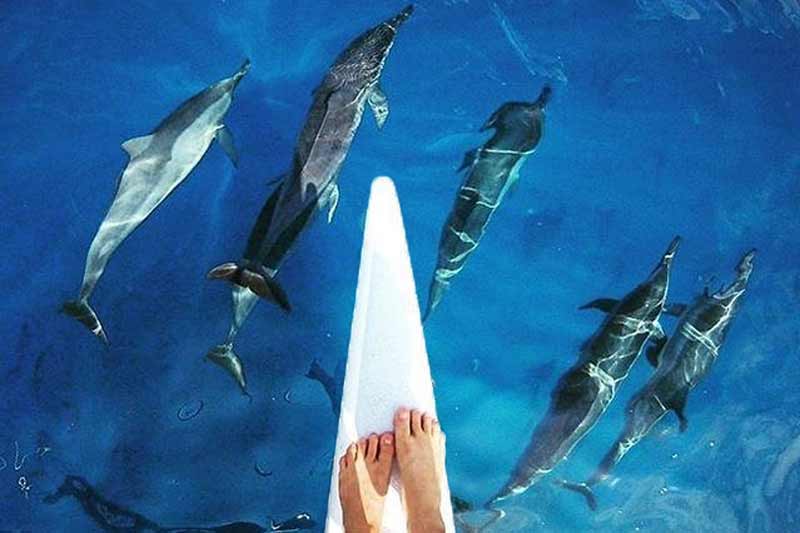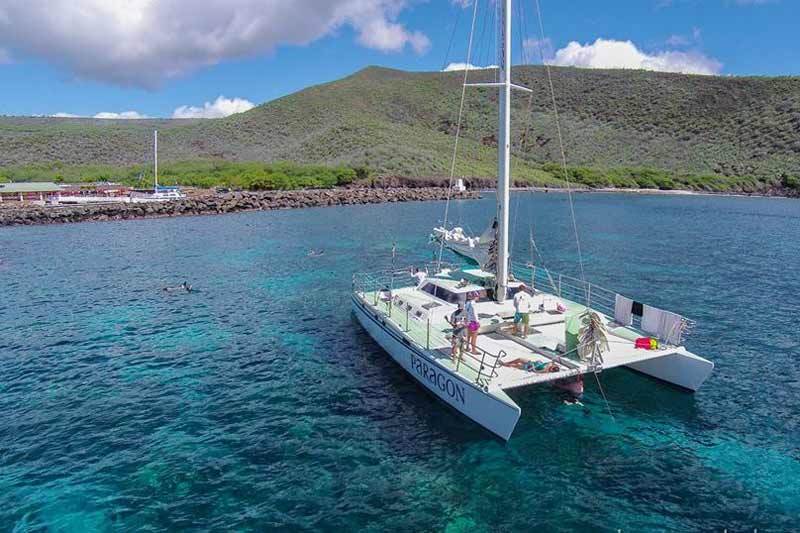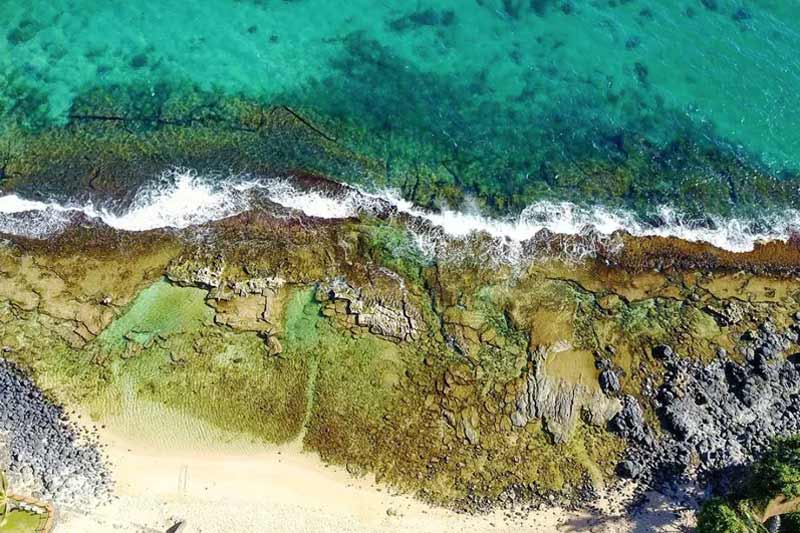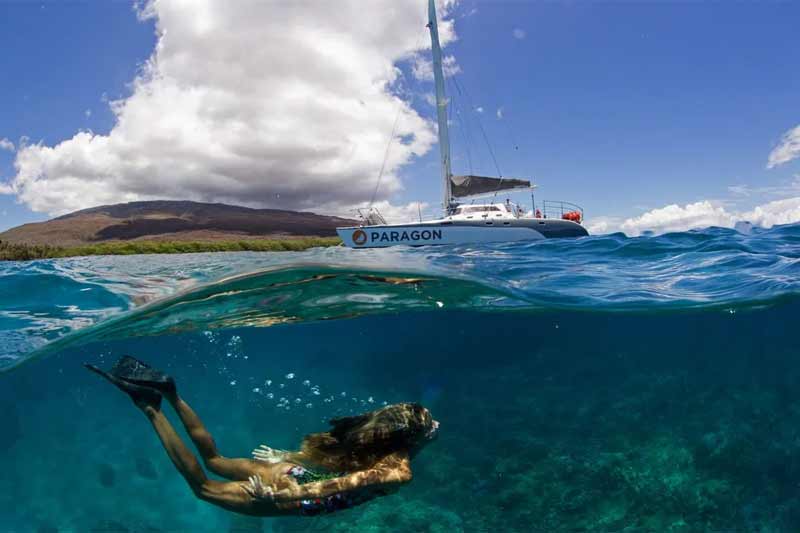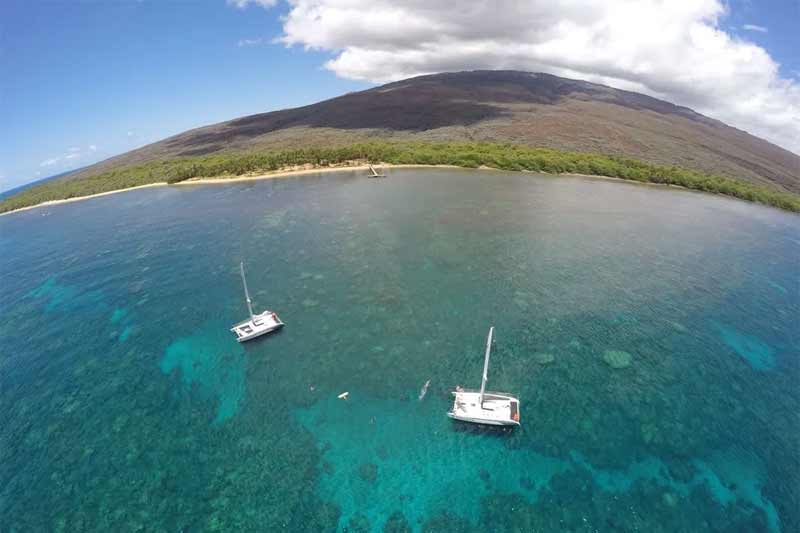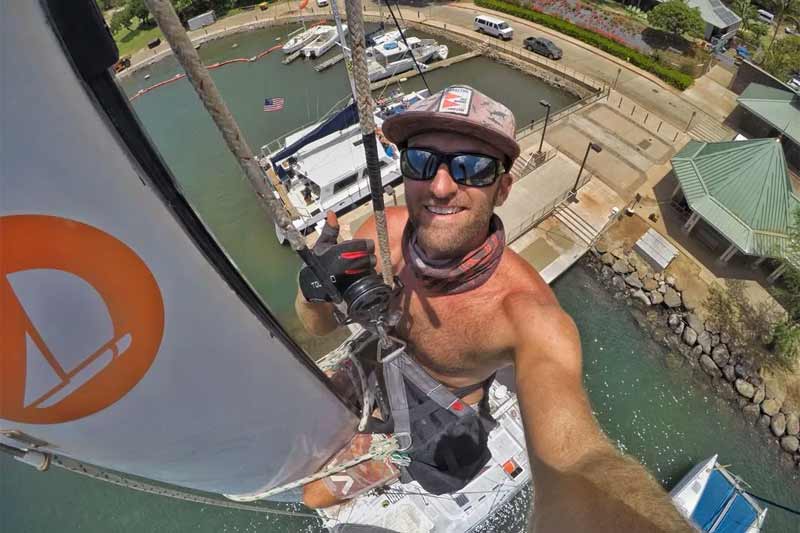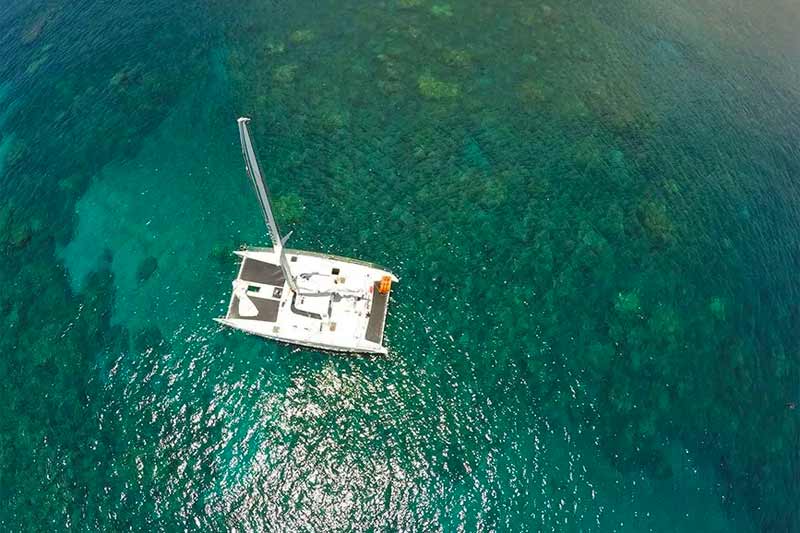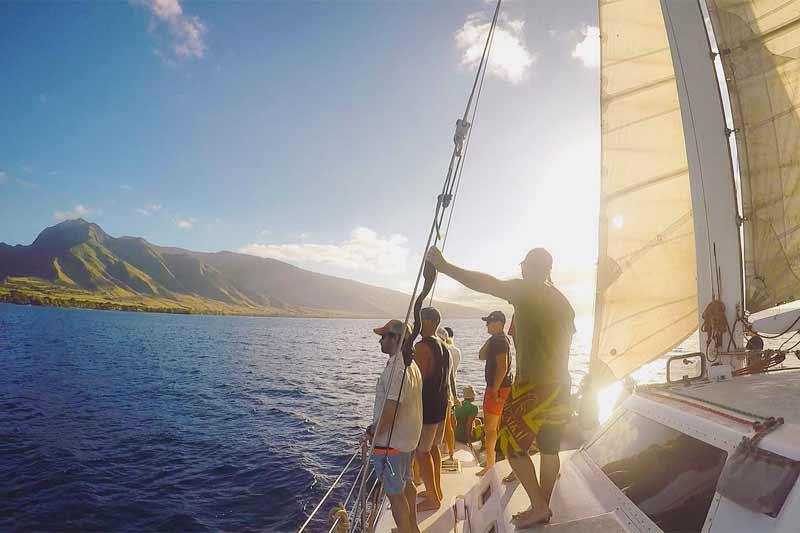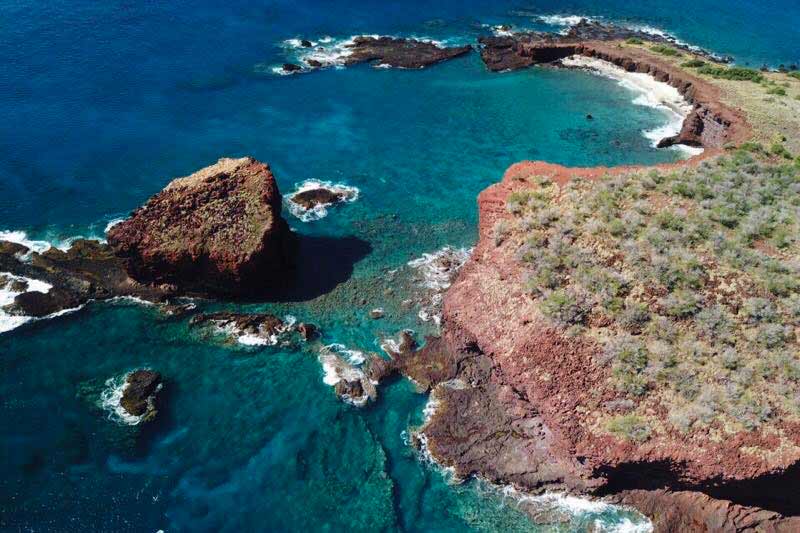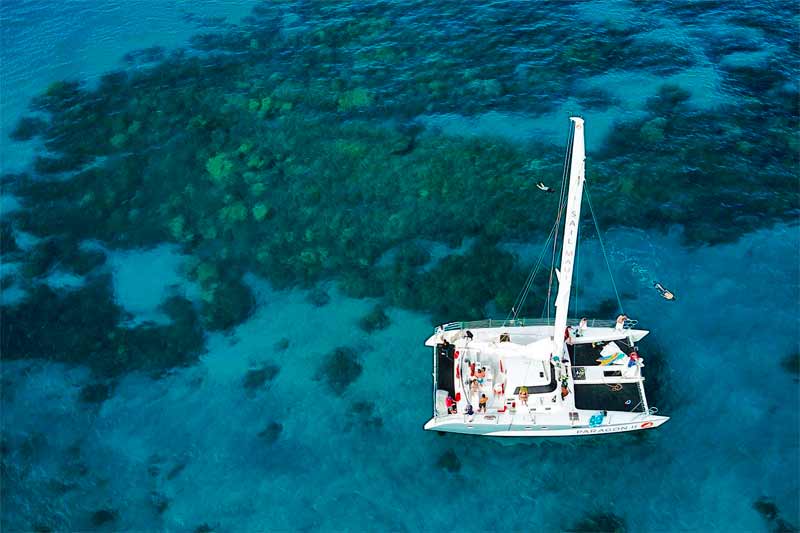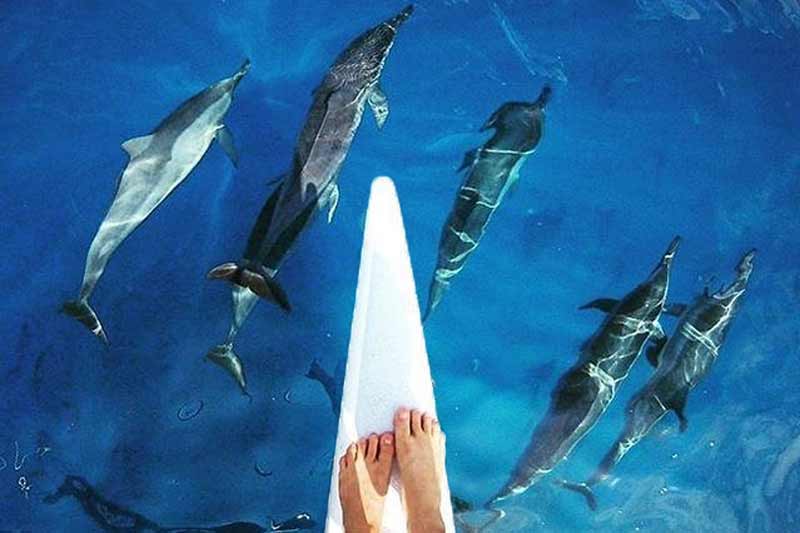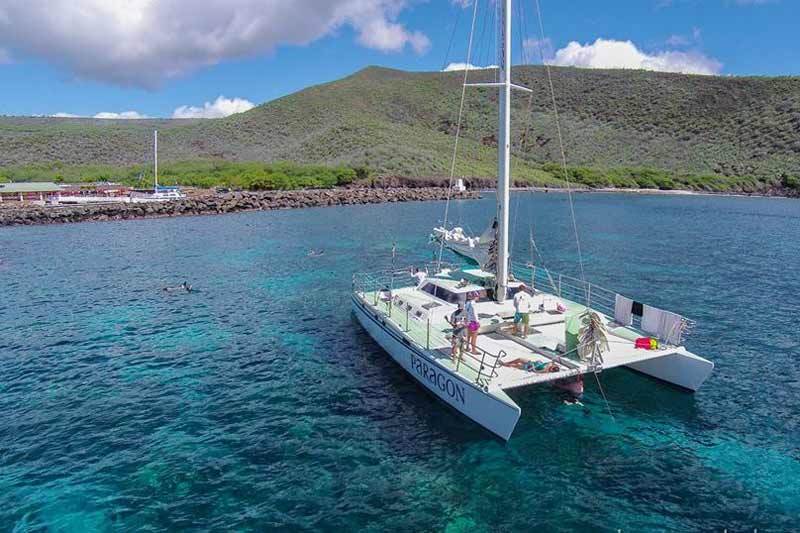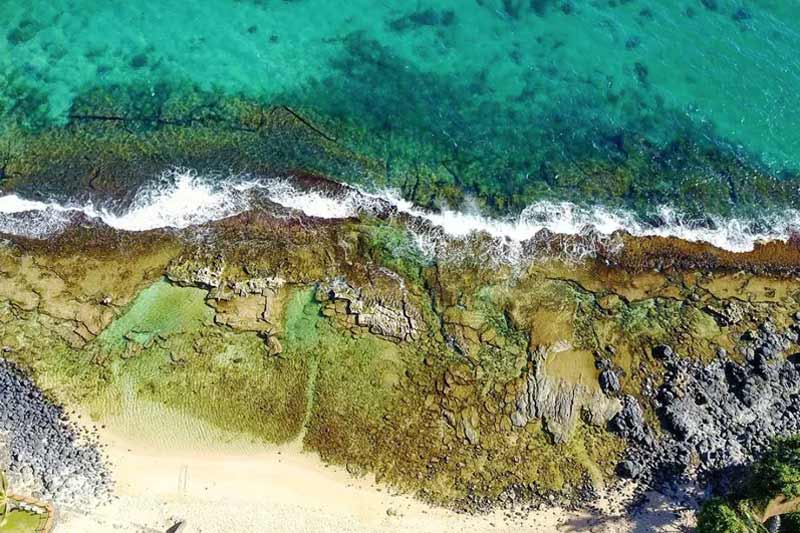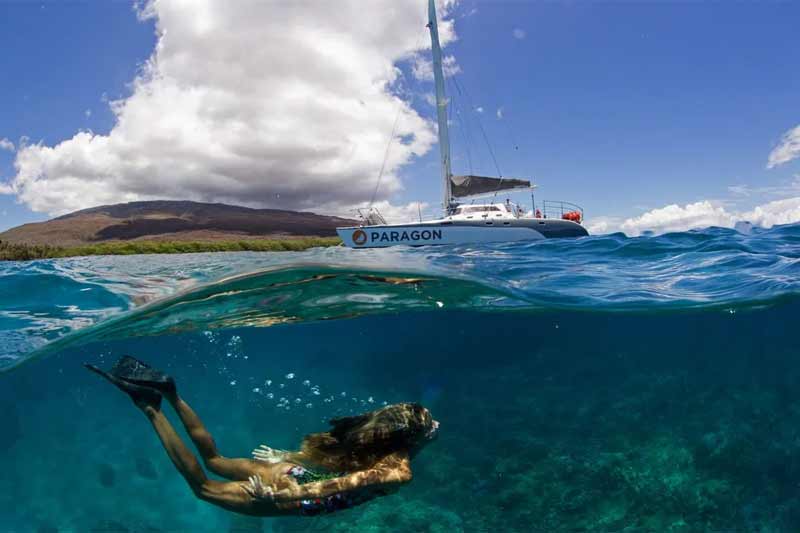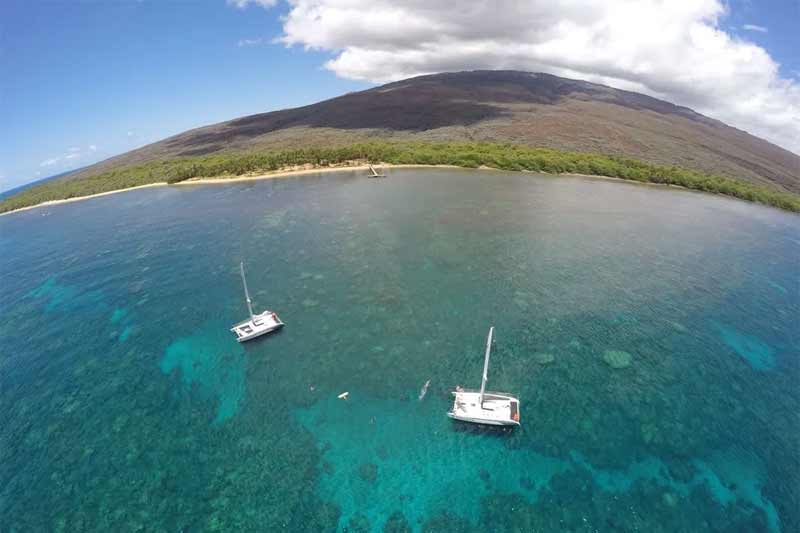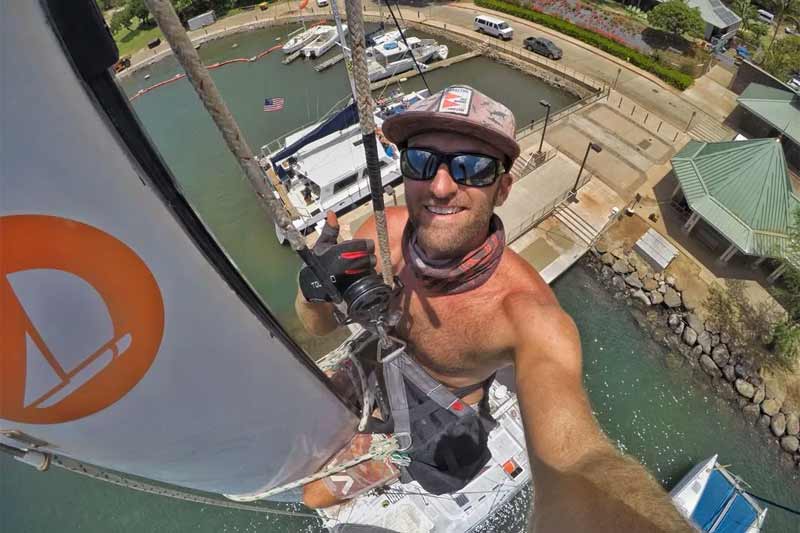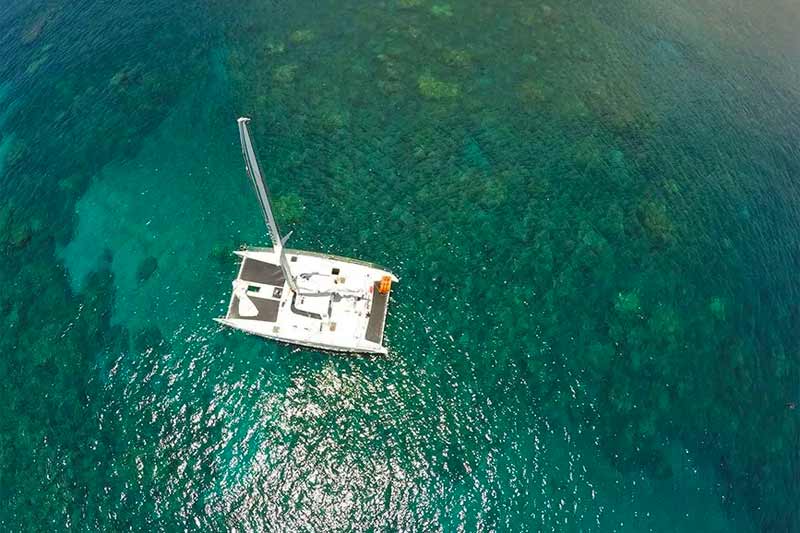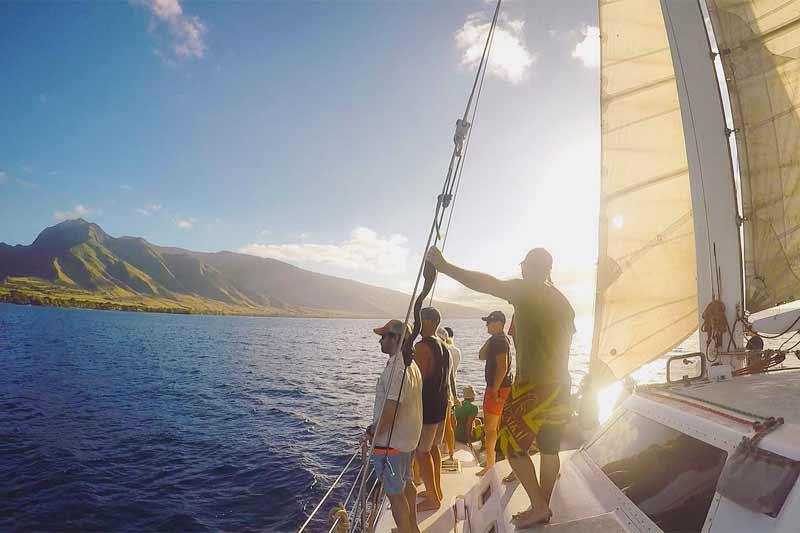 ---
Highlights
High performance sailing catamaran
Premium level of service for a trip to Lanai
Excellent snorkeling and dolphin watching opportunities
Departure from Lahaina Harbor
---
Description
Join Paragon Lanai Snorkel Sail for thrilling adventures to the beautiful island! They have a brand new vessel named Alihilani for this high-end beach picnic / snorkel / performance sailing trip. The smaller sized groups and excellent crew of sailors, create a truely personalized experience. Paragon specializes in performance sailing, and enjoy the exhilarating trade wind sail as you discover the exclusive island of Lana'i! This Hawaiian island boasts one of the top 10 snorkel spots in the world, pristine reefs, tide pools, remote beaches, and spinner dolphins that play in Manele Bay.
You will set sail from Lahaina Harbor and cross the Au' au' channel to Lana'i. Gaze upon the islands of Maui, Moloka'i, Kaho'olawe, and Lana'i as you enjoy a continental breakfast. The marine preserve at Manele Bay is your first stop, and it is a healthy reef full of sea life. Then you will arrive at Lana'i and take a 10 minute stroll to Hulopo'e beach, which is one of the most breathtaking beaches in Hawaii. Enjoy your lunch at a location of your choice…under a palm tree on a grass mat, at a picnic table, or even stretch out on the warm golden sand. Don't forget to bring your snorkel gear, because the reef here is beautiful! If you don't want to venture to Hulopo'e beach, the harbor area has picnic tables and facilities. If the conditions are right, you will stop off the coast of Lahaina to jump into the blue waters on last time. A perfect way to end a beautiful Hawaiian day!
The Lanai Picnic Snorkel Sail is normally offered on Monday through Friday but is not currently available due to Covid. Lanai has such limited health care facilities they are trying to keep residents there as isolated as possible. We expect this tour to return sometime in early 2022. Normally on Saturdays only Paragon offers a shortened version of this tour that does not include the landing on the island. It is a 5 hour trip that includes two snorkel stops along the Lanai Coast. CURRENTLY this 5 hour non-landing tour is running 7 days a week until the beach landing returns.
---
Cost
Paragon Lanai Picnic Snorkel Sail Rate (PARA2)
$200.00 per Adult, $100.00 per Child (3-12), Infants (under 3) FREE (plus 7.5269% Hawaii sales/harbor tax)
---
Paragon Lanai Coast Snorkel Rate (PARA8)
$160.00 per Adult, $80.00 per Child (3-12), Infants (under 3) FREE (plus 7.5269% Hawaii sales/harbor tax)
---
---
Details
Schedule: The Lanai Picnic Snorkel Sail is Monday through Friday from 8:30am to 4:00pm. The Lanai Coast Snorkel is Saturdays only from 10:00am to 3:00pm. DUE TO COVID RESTRICTIONS the Beach Picnic of this tour is not available and the Lanai Coast snorkel is curently offered 7 days a week.
Check In: Main Loading Dock of Lahaina Harbor.
Duration: 7 hours for the "Picnic tour" and 5 hours for the "Coast Snorkel"
Vessel: 64 foot Gold Coast sailing yacht withcapacity limited to 40.
Tour Includes: Snorkel gear, Continental breakfast, picnic lunch, and beverages including champagne, bai tais, and locally-brewed beer. They can provide vegetarian or gluten free options through their catering companies, although people with severe nut allergies or who have celiac disease should be aware that they cannot guarantee there has been no cross contamination.
What to Wear: Wear swimsuits and bring a towel and sunscreen. We also recommend a light jacket.
Restrictions: They do not allow spray-on sunscreen because it has a tendency to go everywhere, including the deck. This can make maneuvering around the boat very slippery and hazardous. Also, it is generally very toxic to the ocean environment. Sail Maui are huge advocates of using reef-safe sunscreen to preserve the marine ecosystem, and they provide reef-safe sunscreen as a courtesy on both of their boats. They highly recommend using their marine friendly sunscreen, because chemicals in conventional brands wash off your skin while snorkeling and can kill coral and promote bleaching.
Reservations: Advanced reservations required and we recommend booking this a month or more before your arrival. This event is "RESERVE NOW PAY LATER"; we need a credit card on file to finalize your reservation but we do not charge you for this reservation until a few days before the beginning of your vacation!
Minimum Notice for Cancellations / Changes: At least 48 hours before the start of the event. All tours go out rain or shine. Inclement weather conditions are usually temporary and rain gear is provided. Cancellations due to weather are extremely uncommon and all parties are instructed to appear at the boat ramp no matter what the weather seems to them.
---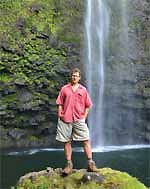 Kevin's Activity Tips:
Paragon has long been considered THE NAME in high performance sailing around the island of Maui. They don't just sail as a feature of the tour ... they will sail every chance they get. They're good at it too! Normally the best sailing conditions are on the way BACK from Lanai after snorkeling. It's a relaxing, enjoyable way to return to Lahaina!
Their Lanai trip is a premium one ... offering a step up in quality of food and beverages from most other snorkel tours. Right now (during Covid) they aren't able to do their tour that includes landing at Manele Harbor and the walk over to the beach for a picnic, so they are doing a two-location snorkel along the Lanai Coast. Dolphins are seen regularly on this tour, and the chances of seeing them are actually even greater right now since the boat is spending more time on the water than during their normal itinerary where they land at Manele Harbor.