Molokini Snorkeling Overview
Molokini is an ancient volcanic caldera that offers some of the clearest water for snorkeling anywhere in the world. It is located about 2 miles offshore from South Maui in the Alalakeiki Channel (between Maui and Kaho'olawe). Molokini is a marine sanctuary below water and a bird sanctuary above water. There is no access to the island itself; only those with research permits are permitted to go ashore. The incredibly clear water is due to its location in the middle of the channel and the lack of any sand deposits around the islet. No matter the wind or wave conditions the visibility here is unparalleled. A variety of snorkel tours are available. Below is a selection of the best ways to experience Molokini Crater.
SUPPORT LAHAINA:

We are donating 20% of our profit from ALL FUTURE 2023 MAUI TOUR BOOKINGS to Lahaina fire relief efforts!!!
---
---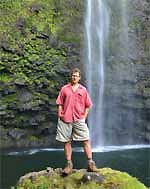 Kevin's Activity Tips:
Let's begin by making it clear … there are MANY boats that do Molokini snorkel tours. There are lots of old icky boats, a host of mediocre trips, and then there are a few great ones and THEY are the ones you are reading about on this page. WE ONLY BOOK NICE MOLOKINI TRIPS!!! You can't go wrong with ANY of the boats listed on this page. We don't book OLD boats that are poorly maintained … period. I have personally been on EVERY one of these boats and stand behind these tour operators. Now that you don't have to worry about us booking you on a BAD boat the only question left to settle is "Which boat is the very best for you?"
My highest recommendation is to first consider Aqua Adventures. Many of our clients want something a step up in terms of personal service and really want to go on a less-crowded boat. I can tell you that you won't find anything less crowded than Aqua Adventures. Their boat is certified for 49 passengers but they limit the trip to 36. That's 100 less people than some of the other Molokini trips! Their boat is well designed to handle Maui's often windy ocean conditions. This is also the best choice for someone who wants to try SNUBA diving; their boat was custom designed with SNUBA in mind, and their instructors are the best in the industry. Aqua Adventures offers a two-location snorkel trip, going to Molokini first and Turtle Arches second on a typical day. This boat is family owned and operated and they have next to ZERO crew turnover. These people love their jobs, love the ocean, and love sharing all of this with you. I recommend this tour for anyone EXCEPT those with very small children or anyone who KNOWS they have a problem with motion sickness. There is no water slide on this boat, so kids might prefer one of the bigger boats. Their deli lunch features HIGH QUALITY beef, ham, and turkey that have been SMOKED at Beach Bums, an excellent BBQ restaurant at Maalaea Harbor. If you are a vegetarian, you might prefer one of the bigger boats that offer garden burgers, but those smoked meats are REALLY tasty!
The Fourwinds has typically been considered the best of the larger boats and they structure their trip a little differently. there are lots of places where turtles can be seen while snorkeling along the Maui Coastline that don't require a boat ride, but a boat is the ONLY way you can experience Molokini. For that reason they stay at Molokini the entire time. giving you more snorkel time there than any other boat. If you are only going to snorkel once during your vacation, other boats will give you more diversity. If you plan to snorkel around your hotel too, you'll probably see turtles then, so the Fourwinds will give you more time to experience Molokini crater. The Fourwinds has in interesting glass bottom viewing area, so if you have anyone in your party who isn't going to snorkel, they'll enjoy that feature. This boat IS large with capacity in the 130 range, but it is spacious and well laid out to handle the larger crowds. We've seen other large boats that look like people are hanging over the edge … that isn't the case with these them.
One other larger vessel to consider is the Calypso. They have a similar capacity to the Fourwinds, but they have two advantages. One, the entire stern of the vessel has fold-down swim steps, which means there are 11 ... yes ELEVEN individual "lanes" for getting in and out of the water, which really helps for quick ocean access for snrokeling. The other advantage ... they do a two location snorkel, which means you get to swim with sea turtles somewhere along the Maui Coastline. Personally, I prefer the two location snorkels to the trips that spend the entire time at Molokini, especially if you are only going to do one snorkel trip while you are on Maui.
Blue Water Rafting is a great choice for the adventure seeker, especially ones who are staying in Kihei and Wailea … these rafts are small enough to enter some of the sea caves and lava arches along the Kanaio Coast (when the ocean swells permit). But you do need to be aware that high adventure also means low creature comforts. There is no rest room on board … when you have to go … then you have to jump in the water. Blue Water Rafting has a saying … "NO WIMPS." If you are one, they really prefer you to go on someone else's boat. From experience we can tell you that these guys really are die hards. They will provide you with a thrilling ocean experience, and that means going out in a variety of ocean and weather conditions. You will get wet on their tours … even on an otherwise dry sunny day. This is a bouncy ride and you will experience open ocean conditions that are much rougher than what you'd find on a typical Molokini tour. By now you should be able to tell if this is the right tour for you … or not.
For those who prefer a smaller group for their snorkel experience, the best choices are Aqua Adventures and Maui Magic. Both of these vessels have less than half the number of people on board than the larger snorkel boats. The smaller size also allows them to get to their destinations faster, maximizing your time in the water.
Molokini as a snorkel destination is somewhat weather-dependent … while all of these tours that advertise Molokini as a destination will make every effort to provide guests with the experience they seek, a few days a year the tours get diverted to an alternate snorkel spot. All snorkel destinations are ultimately the decision of the captain of the respective vessel and that decision is always made with the safety and comfort of the guests in mind.
Morning is typically better snorkeling than the afternoon because our trade winds here in Hawaii are typically much lighter in the morning and the wind kicks up around noon or so. Many boats (and activity desks) advertise less expensive afternoon Molokini trips … we don't find this approach to be an honest one. Because of afternoon trade winds most PM trips go to "Coral Gardens" which is near the tunnel along the Pali Highway between Maalaea and Lahaina. Coral Gardens is a nice spot to snorkel … but it isn't Molokini. We do offer these afternoon trips, but we take the high road here at Adventureinhawaii.com … since your chances of going to Molokini in the afternoon are less than 10%, we prefer to market them as Coral Gardens snorkel tours … which occasionally get diverted to Molokini on really calm afternoons. If you want to be reasonably sure you are going to Molokini, you definitely want to book a morning trip when your chances of getting to Molokini are more like 95% instead of 10%.