Road to Hana Tours
Road to Hana Tour Overview
With it dozens of one-lane-bridges and hundreds of curves, the Road to Hana is beautiful AND challenging to negotiate in a rental car. Sit back and enjoy the ride ... with a Road to Hana Tour everyone can enjoy the view!
SUPPORT LAHAINA:

We are donating 20% of our profit from ALL FUTURE 2023 MAUI TOUR BOOKINGS to Lahaina fire relief efforts!!!
---
---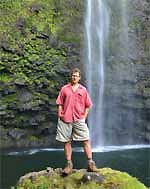 Kevin's Activity Tips:
Van tours offer a nice advantage over driving around on your own. Many of the most scenic roads on Maui are rather narrow and winding with bridges that are only one lane wide. An experienced tour guide / driver who knows the road will ensure that everyone in your party gets to enjoy the view. Mini-coaches sit higher than a regular rental car and offer superior visibility with oversized windows ... you'll see things looking over the top of the guardrail that you would miss if you were in a rental car. These vehicles are superior to a tour done in a bus (for obvious reasons) or a standard 14 passenger van that is difficult to crawl in and out of. Another advantage of the smaller vehicle - don't be surprised if your guide knows your name by the middle of the tour. If you love to drive on curvy winding one-lane roads that you've never seen before, you might enjoy the drive to Hana! Go for it! Many people HATE the drive to Hana, but love the ride there. That's when a tour like Valley Isle Excursions is perfect. Their Hana adventure is really first quality ... the food is excellent, the ride comfortable, and the group is small. Ever been on a bus tour where one or two people were holding up a group of 55? That won't happen on smaller tours like this. It's a great choice for most people!
The tours get more expensive ... more exclusive ... and more private! You can chatter a driver and private vehicle with Hawaiian Style Hana Tours or ride in a luxurious limo-coach limited to just 8 guests with Temptation Tours Hana Picnic.
For over 20 years the "7 Sacred Pools" was included as a stop on most Hana tours. In the old days this was a great place to visit ... it is a bit of a hike to get down to the stream from the parking lot, but swimming at these waterfalls was a highlight of the tour for many people. Unfortunately several flood-related drownings made the National Park Service much more cautious on allowing swimming at these pools. On days when swimming was not allowed, guests were not even allowed access to the stream level, and views of the waterfalls from the upper trail were not that great. This meant that the stop at the 7 Pools was becoming a time-consuming disappointment for many visitors. Most tours are now going to a different waterfall location where swimming is possible on the vast majority of days ... and the time that used to be spent at the 7 Pools is now split between this other waterfall location and the black sand beach park of Waianapanapa, a place guests often said they wished they could have spent more time!