Maui Sunset Cruises
Maui is famous for its beautiful sunsets, and there is no better place to enjoy them than from the deck of a boat offshore! Whether you are looking for an informatl cocktail cruise or a full sit-fown dinner cruise, we've got the right boat for you! Departures from Maalaea Harbor, Lahaina Harbor, and Kaanapali Beach.
SUPPORT LAHAINA:

We are donating 20% of our profit from ALL FUTURE 2023 MAUI TOUR BOOKINGS to Lahaina fire relief efforts!!!
---
---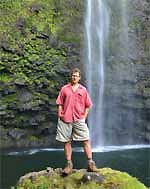 Kevin's Activity Tips:
Watching a sunset from the deck of a boat is a completely different experience than watching from the beach. Sunsets are three dimensional … and there is no better way to realize the 360 degree view than to get out on the water. Not only does the sky turn different shades of pink and orange, the mountains are painted with this colorful brush as well. Get out on the water and REALLY enjoy a sunset!
Occasionally I've heard clients say "We could have gotten a nicer meal for the same money in a restaurant." I think that's stating the obvious … you aren't just paying for a meal on a dinner cruise … you are paying to go out on a boat, and as a boat owner I can tell you that they are EXPENSIVE to operate and maintain. If you don't get your expectations too unrealistically high you'll have a great time.
For guests staying at Kaanapali we recommend one of the beautiful sailing catamarans that leaves right from the beach. Teralani Sailing offers two different boats … one with a full dinner cruise and one with appetizers. The dinner cruise is a more laid-back boating experience … the appetizer cruise does more tradewind sailing.
Some people are not up for the beach loading ... if that's the case and you are staying in West Maui we highly recommend the Quicksilver which offers easy boarding from the main loading dock of Lahaina Harbor. They offer full table service for food and drinks, and live island-style music to accompany dinner.
For guests staying in Kihei / Wailea, Maalaea Harbor is the closest departure for you. Both the Calypso and Alii Nui have good food ... the Calypso is a great dinner cruise ... My wife and I recently went out on Calypso and really enjoyed it. Their boat is well laid out for a dinner cruise with comfortable table and chair seating scattered all over the vessel. You get a salad course, an entree of your choice, and dessert along with two drink tickets for your adult beverage of choice (and additional drinks are just $5). Alii Nui is a higher-end (and much priceier) dining experience done on a sailing catamaran. It has gained an almost cult following among local concierges so this one can sell out weeks in advance!
We offer two choices from Lahaina Harbor. Some guests from Kaanapali might want to do the short drive into Lahaina so they can board on a boat that leaves from a dock. The Kaanapali boats load from the beach so you will take your shoes off and walk across the sand (and probably get your feet wet). Sailing with Paragon you load from a dock at Lahaina Harbor. Same for the Maui Princess Dinner Cruise, which is the largest and longest running dinner cruise on Maui.
If you are coming to Hawaii from December through April months, there is the added bonus of humpback whale sightings on sunset cruises. All boats will be going out of their way to find whales for you during these months.