Maui Princess Dinner Cruise
The Maui Princess Dinner Cruise is currently unavailable for the foreseeable future due to the damage Lahaina Harbor sustained during the 8/8/2023 fire. For the latest on West Maui's recovery and the availability of tours, see our
Lahaina Fire Recovery
page.
---
Maui Princess Dinner Cruise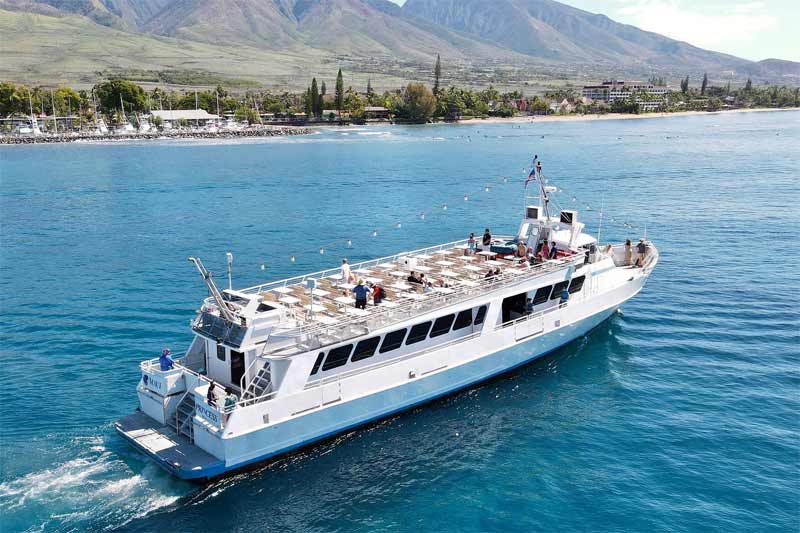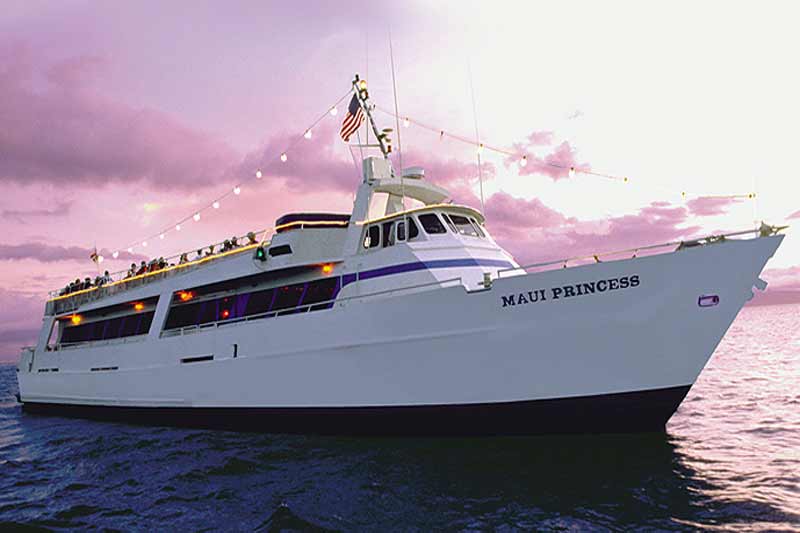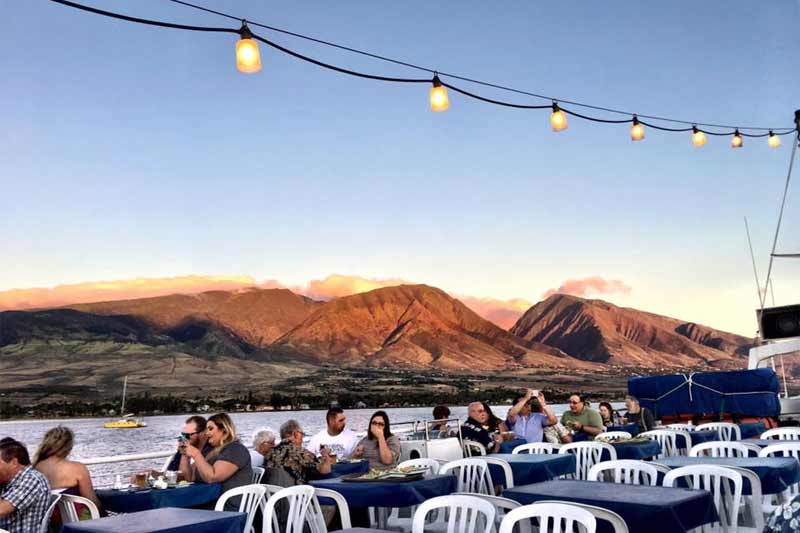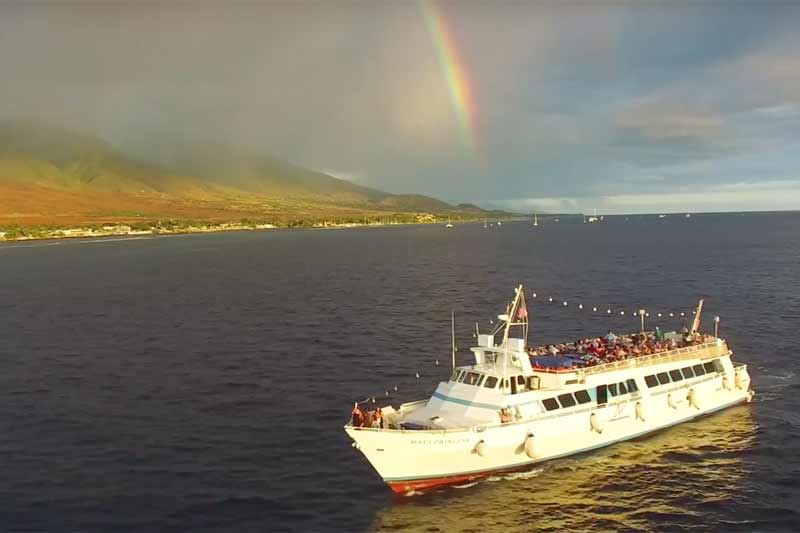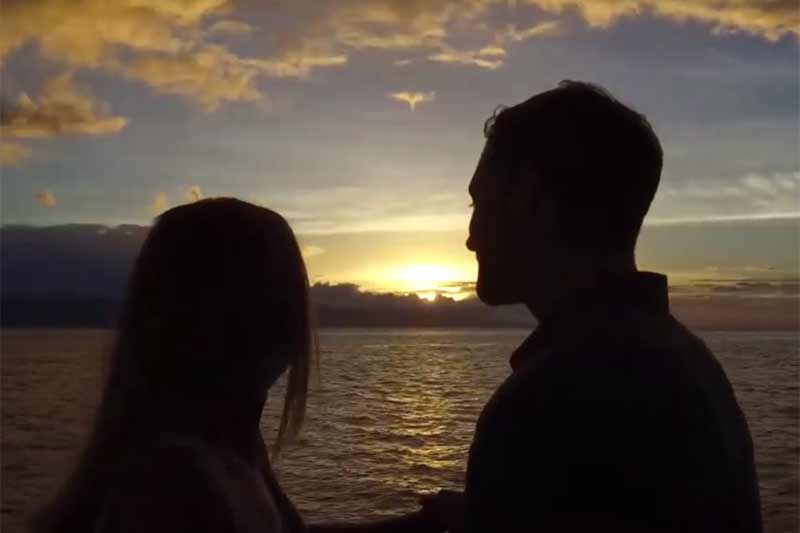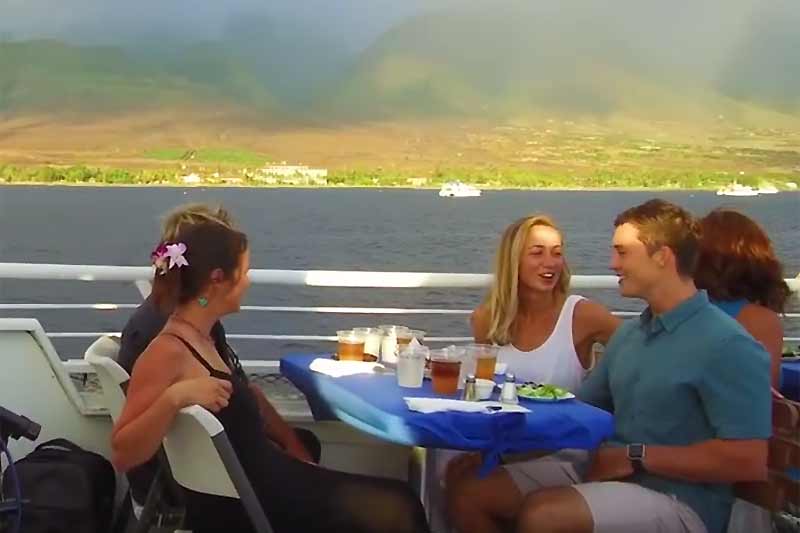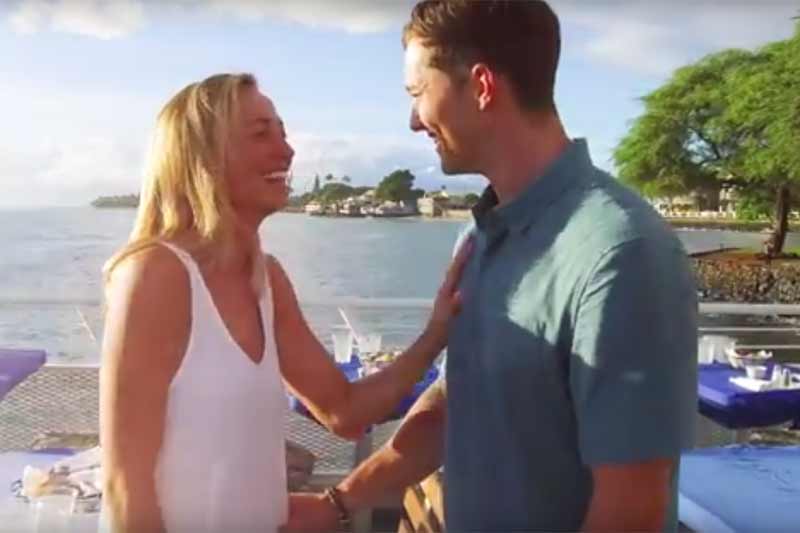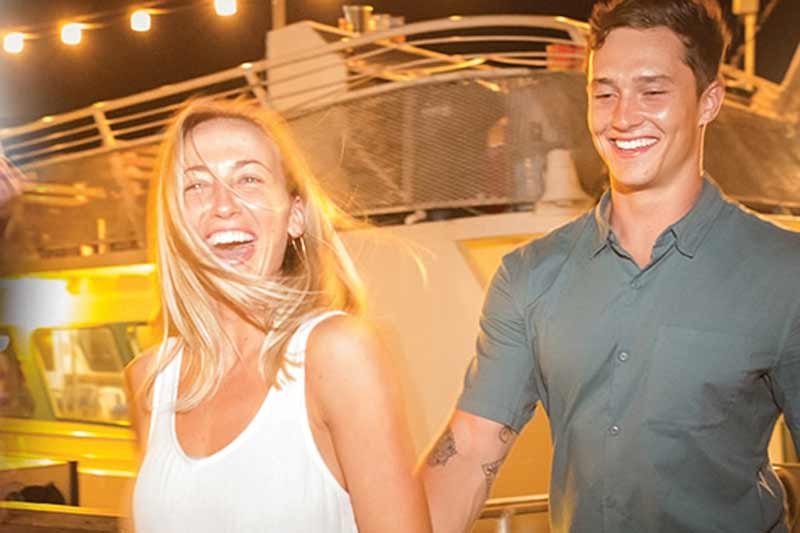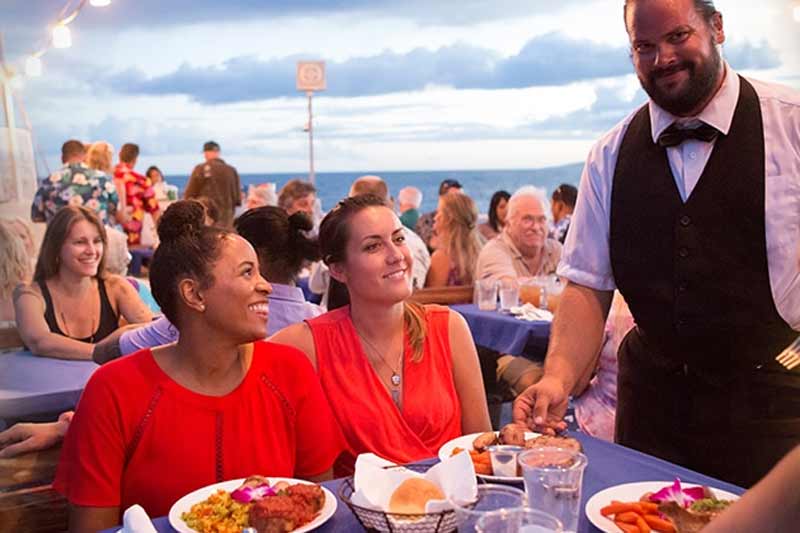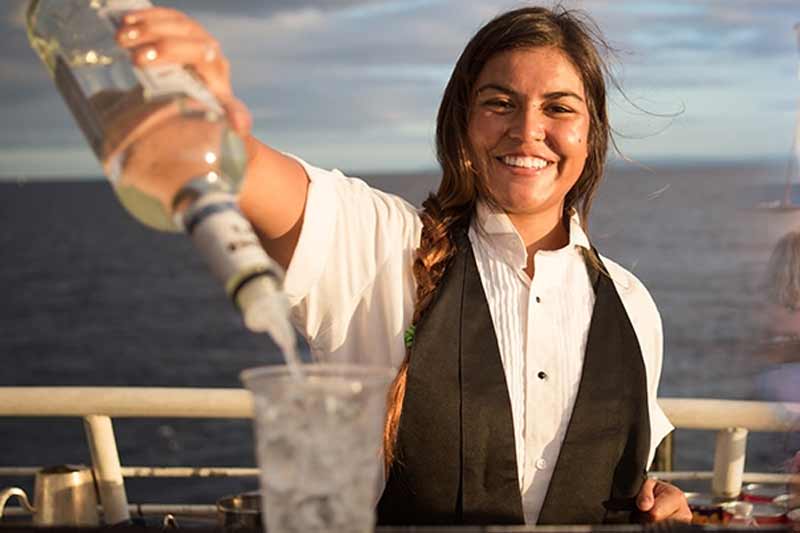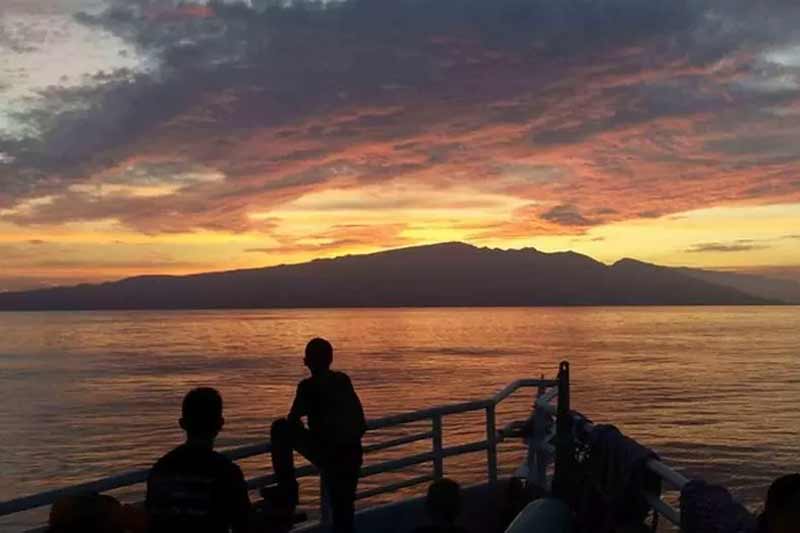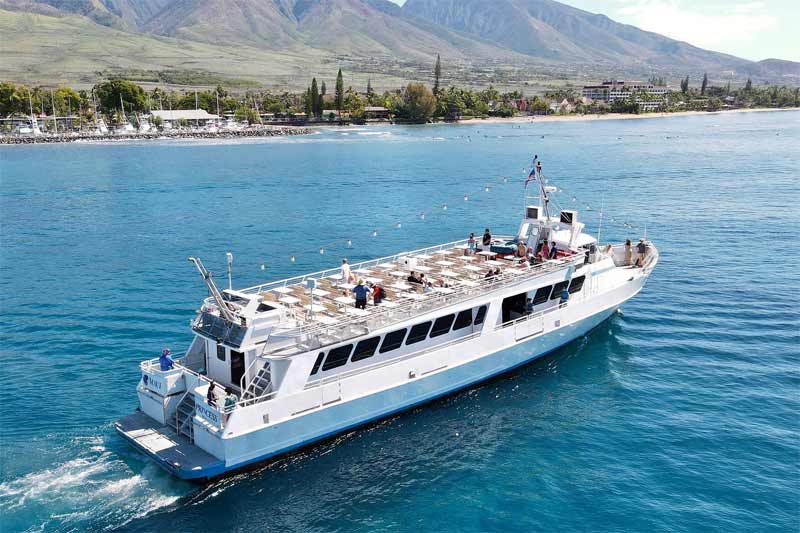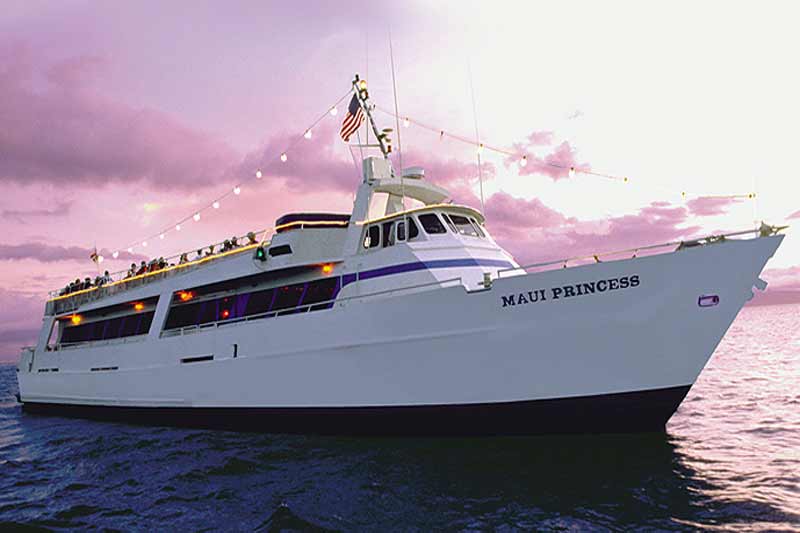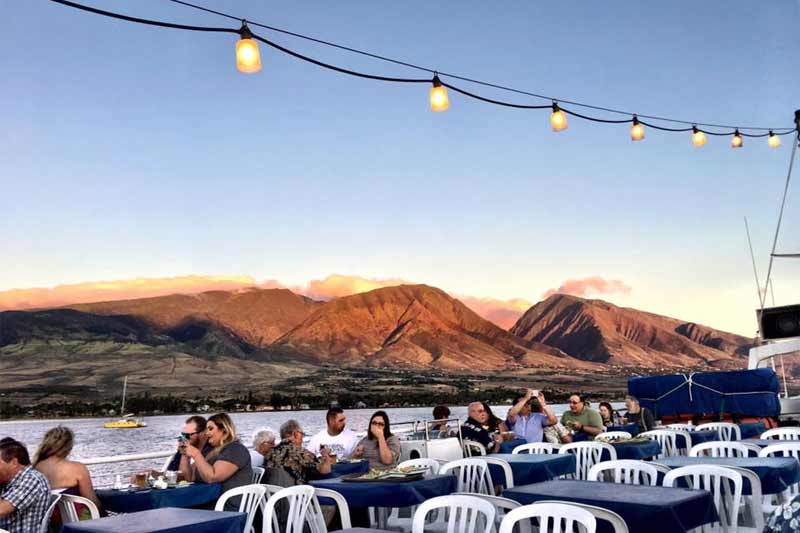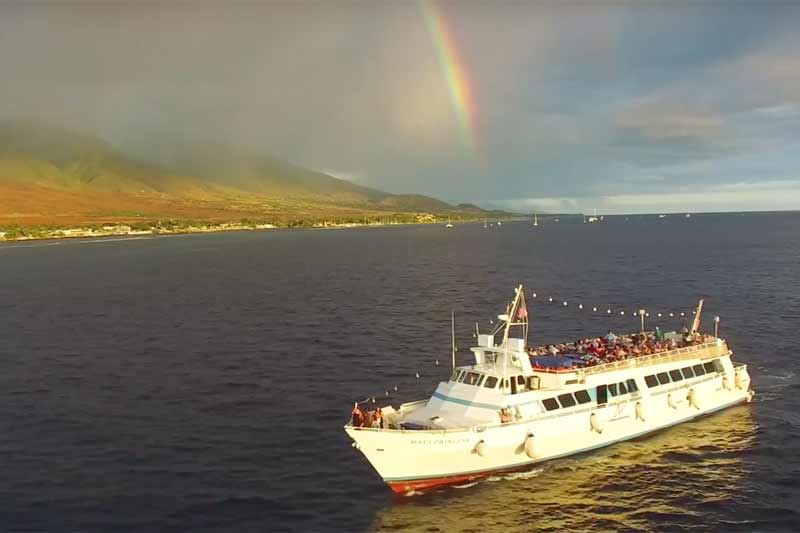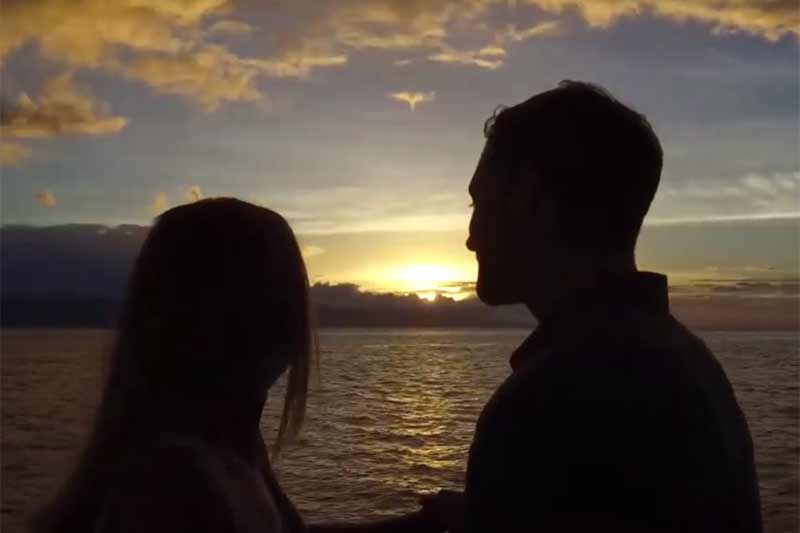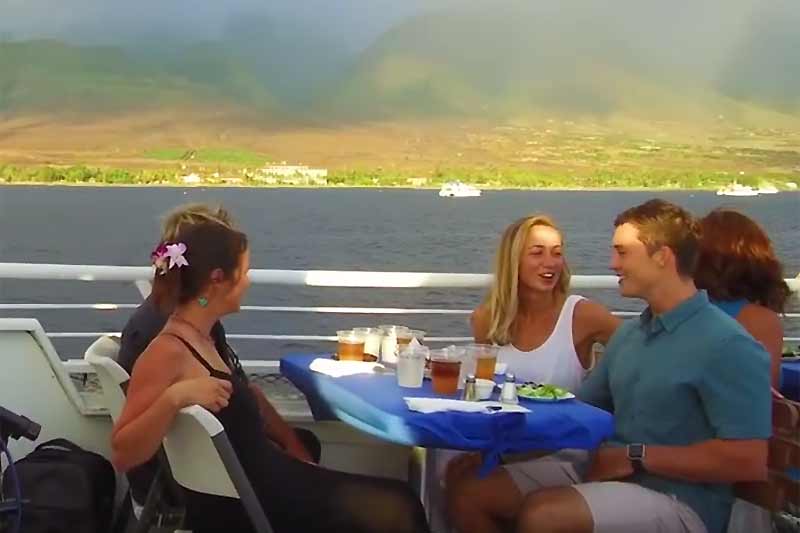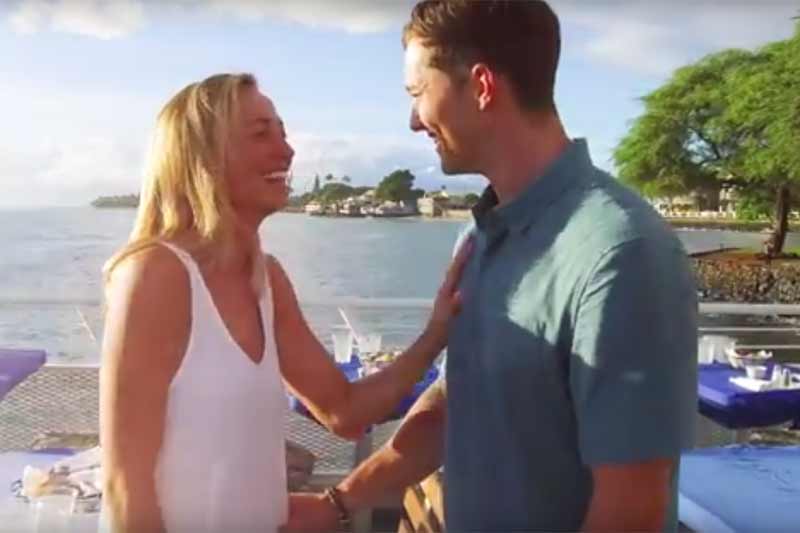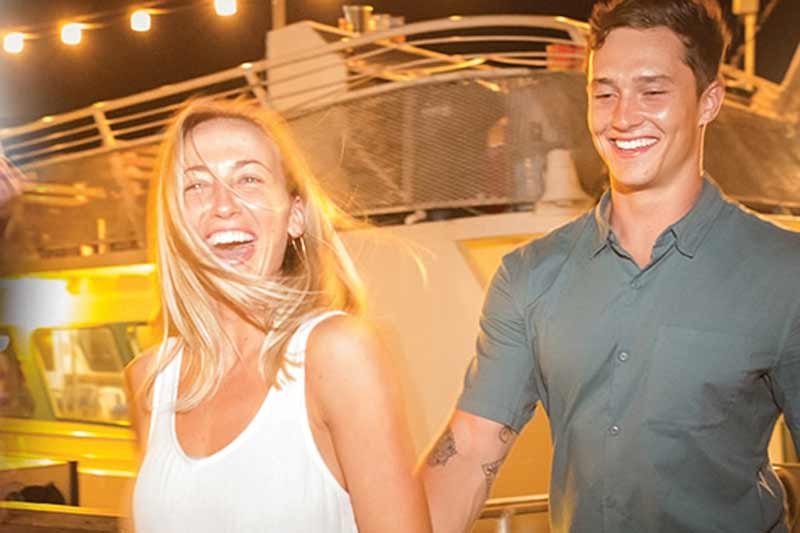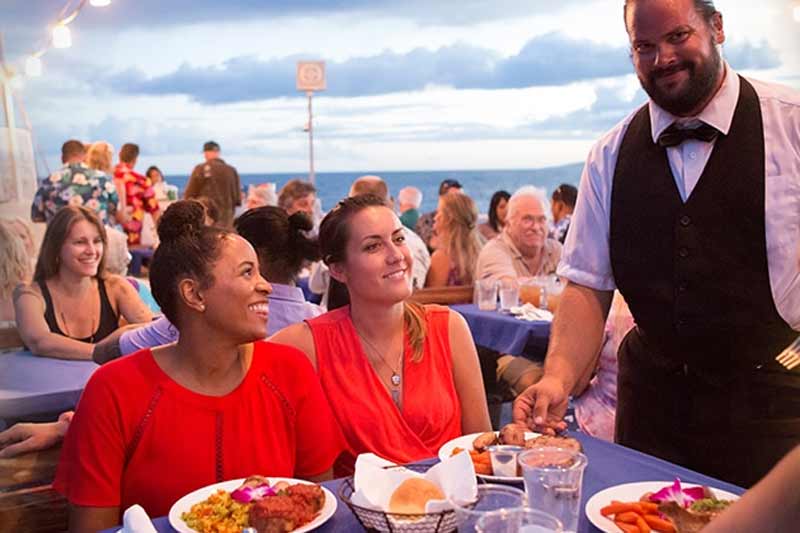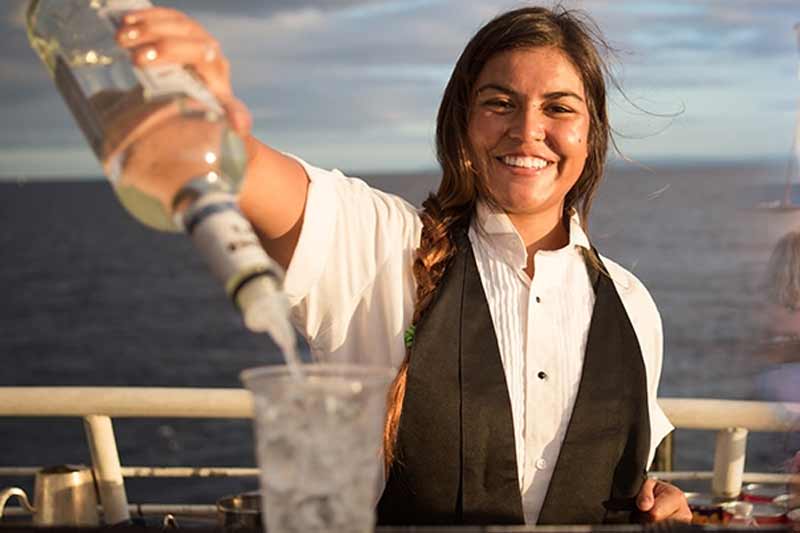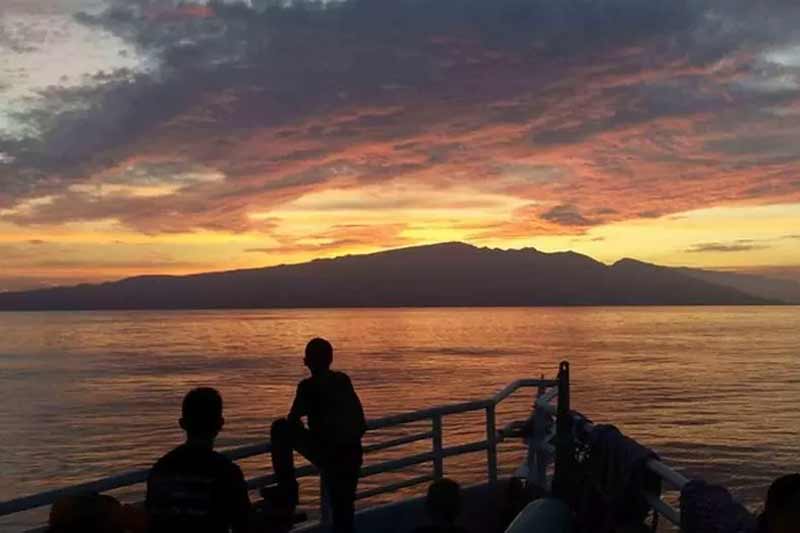 ---
Highlights
Open air upper deck dining
Full table service for dinner and drinks
Great sunset views off the coast of Lahaina and Kaanapali
Open bar with live music and dancing in the main cabin
---
Description
Departing from the downtown harbor of the historic whaling port of Lahaina. The Maui Princess Dinner Cruise is the largest and most stable vessel to make its home here in Maui's waters. This is a true dinner cruise … including full table service for drinks, salad course, entree, and dessert served at your table by attentive staff in classy waiter attire. Dinner is served on the open air upper deck with panoramic views of the West Maui Mountains and the islands of Lanai and Molokai. Dinner includes your choice of prime rib, macademia nut mahi mahi, roasted chicken or a vegetarian cous-cous pocket. Beverages include full bar service (beer, wine, Mai Tais and other cocktails) – a welcome Mai Tai and one alcoholic beverage of your choice is included, with additional alcoholic beverages available for purchase. After dinner, enjoy live music at your table and watch the stars appear in the Maui twilight.
---
Cost
Regular Rate for Non-holiday Dates
Maui Princess Dinner Cruise Rate (IM1)
$139.26 per Adult, $96.40 per Child (12 and under), $20.00 per Covid Surcharge (Hawaii sales tax included)
---
Special Dates / Holiday Rates
The Maui Princess has a special menu and higher rate on certain Holiday dates. If a holiday rate is in effect, the higher price will be noted on the reservation form. At this time the only holiday date with a higher rate is Fourth of July in 2023.
Maui Princess Dinner Cruise - Holiday Rate Rate (IM1h)
$171.41 per Adult, $113.54 per Child (12 and under), $20.00 per Seat Covid Surcharge (Hawaii sales tax included)
---
---
Details
Schedule: Daily at 5:30pm
Check In: 5:oopm at the main loading dock of Lahaina Harbor
Duration: 2.5 hours
Vessel: 120-foot luxury touring yacht with 149 passenger capacity
Tables: Seating is at tables of four … larger parties will be seated at adjacent tables.
Dinner and drinks: Dinner includes a choice of prime rib, roasted chicken, macadamia nut crusted mahi mahi, or vegetarian patty with marinara sauce, garden salad, potatoes, carrots, dinner rolls, and cheesecake. One "Welcome Mai Tai" and one alcoholic beverage of your choice is included per person (additional drinks may be purchased for $4-6 each).
Restrictions: Guests must have a valid picture ID for alcoholic beverages, regardless of age
What to Wear: Casual / Evening resort attire. We also recommend a light jacket.
Reservations: Advanced reservations required and we recommend booking this a month or more before your arrival. Booking early is your best chance to get a table along the rail. This event is "RESERVE NOW PAY LATER"; we need a credit card on file to finalize your reservation but we do not charge you for this reservation until a few days before the beginning of your vacation!
Minimum Notice for Cancellations / Changes: At least 48 hours before the start of the event. All tours go out rain or shine.
Covid Surcharge: Maui Princess currently charges a $20 per person surcharge for all seats due to reduced capacity due to social distancing.
Parties of 8 or More: Maui Princess charges a $15 per person service charge for parties of 8 or more. This fee is paid upon check in just before your cruise.
---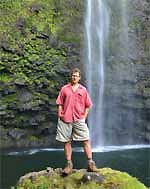 Kevin's Activity Tips:
Watching a sunset from the deck of a boat is a completely different experience than watching from the beach. Sunsets are three dimensional … and there is no better way to realize the 360 degree view than to get out on the water. Not only does the sky turn different shades of pink and orange, the mountains are painted with this colorful brush as well. Get out on the water and REALLY enjoy a sunset!
Occasionally I've heard clients say "We could have gotten a nicer meal for the same money in a restaurant." I think that's stating the obvious … you aren't just paying for a meal on a dinner cruise … you are paying to go out on a boat, and as a boat owner I can tell you that they are EXPENSIVE to operate and maintain. If you don't get your culinary expectations too unrealistically high you'll have a great time.
The most popular and longest-running sunset cruise is the Maui Princess dinner cruise. My wife and I recently took two friends of ours out on this vessel … it had been a while since we had evaluated this cruise. We purposely ordered three different entrees and are pleased to report that all around the food was a winner! The prime rib is sliced on board, and the cut was generous and of high quality. The mahi mahi and chicken entrees were equally tasty and highly recommended. We didn't try the vegetarian entree, but the fact that they HAVE a vegetarian entree is a good sign! It is obvious that this tour operator is really trying hard to provide a quality product. Also a nice new feature … the Maui Princess is able to board passengers at the main loading dock of Lahaina Harbor; gone are the days when you had to ride a shuttle boat out to board offshore! Tables on this boat seat four; during busy summer season there is a good chance that if there are just two of you, it is possible you'll share a table with another couple. Might be a good chance to make new friends. It's also nice to have someone to whom you can hand your camera to for a photo. This doesn't apply right now during Covid though; they are not misxing parties together at a table, which does reduce their capacity significantly. To compensate for that they are currently charging a $20 per person Covid surcharge until they are able to operate again at full capacity. Who knows when THAT will be right???
If you are coming to Hawaii from December through April months, there is the added bonus of humpback whale sightings on sunset cruises. All boats will be going out of their way to find whales for you during these months.