Aloha Blue Charters Bottom Fishing
Aloha Blue Charters Bottom Fishing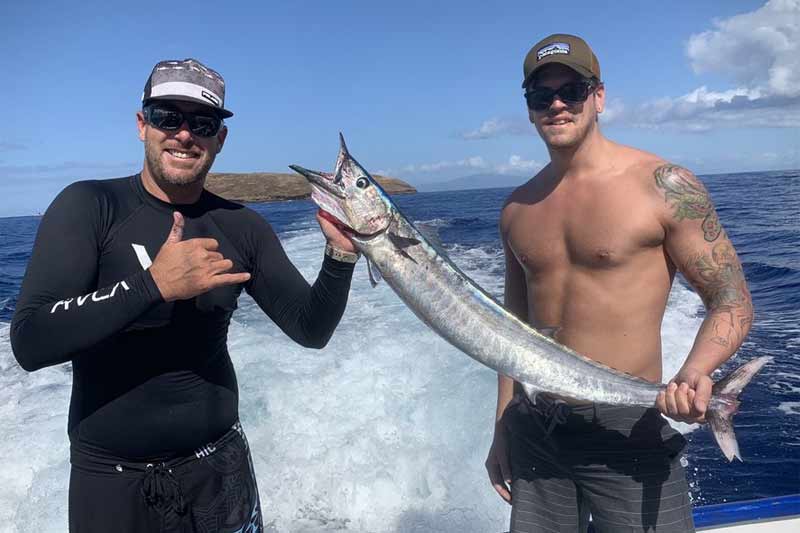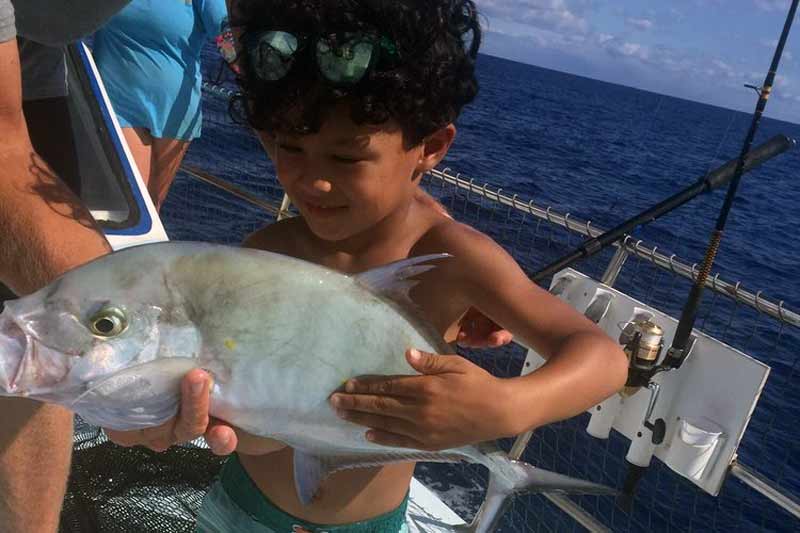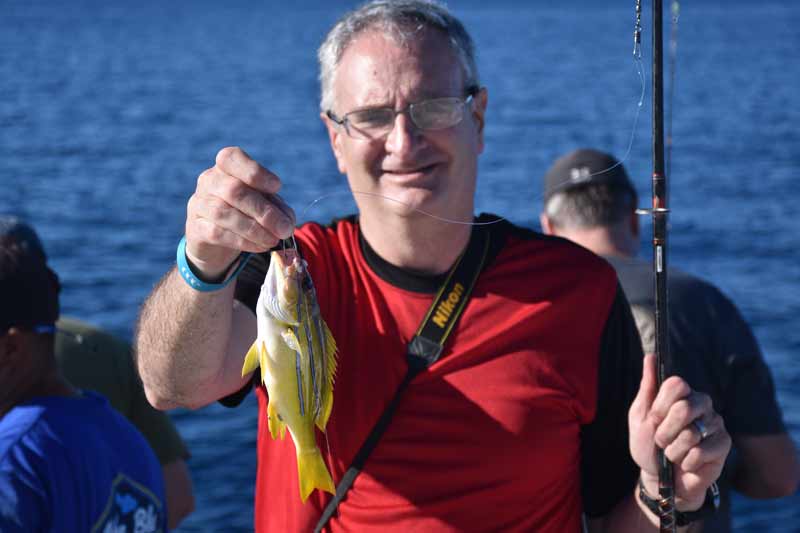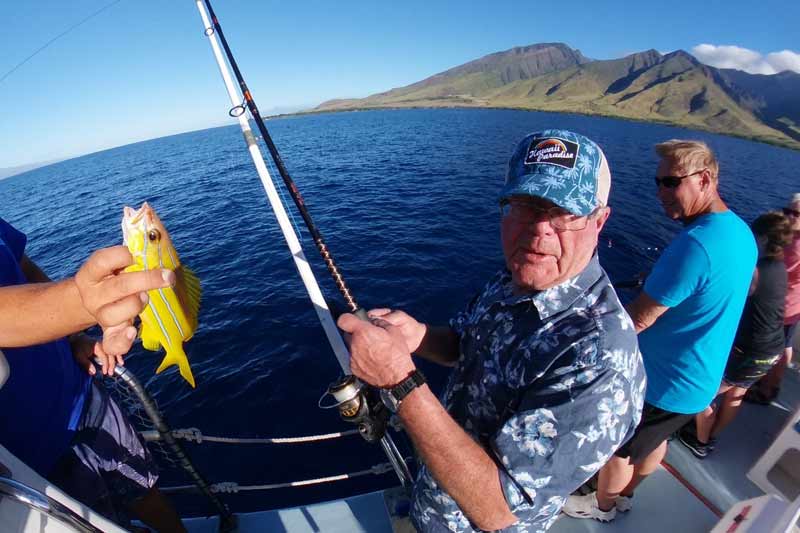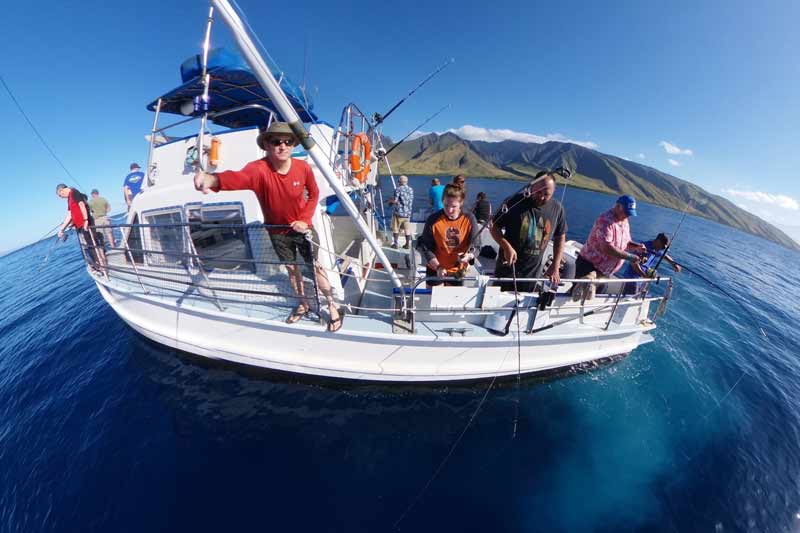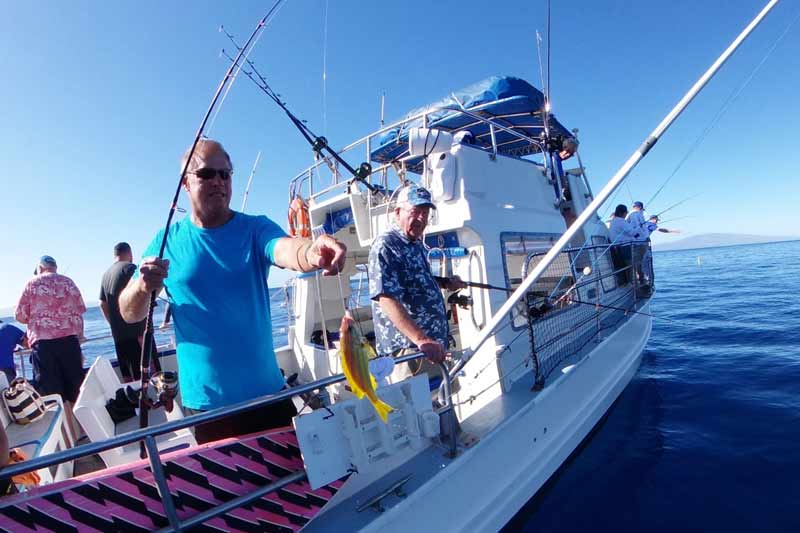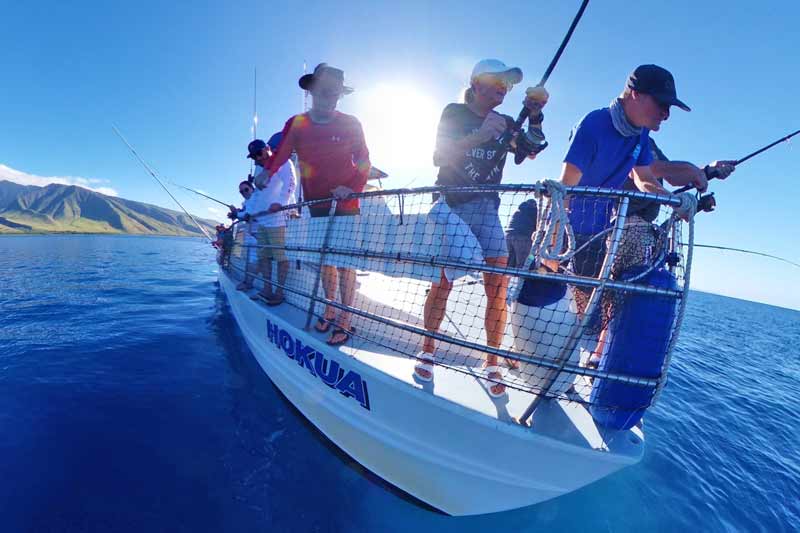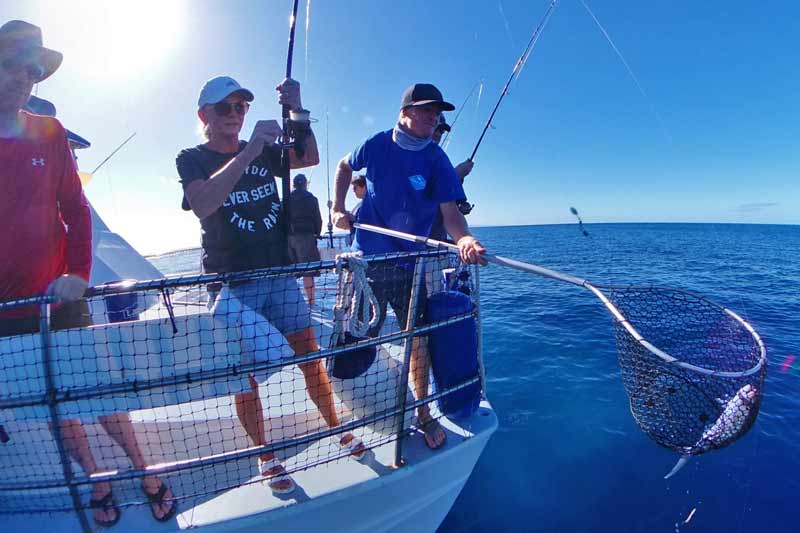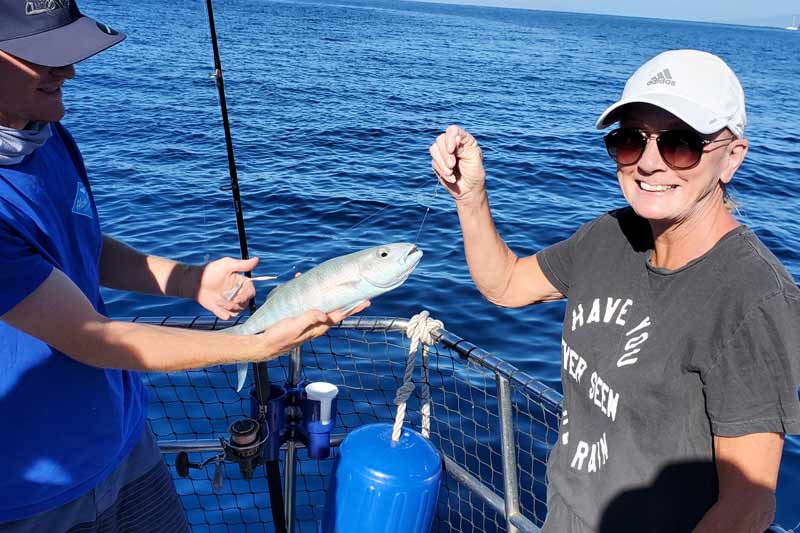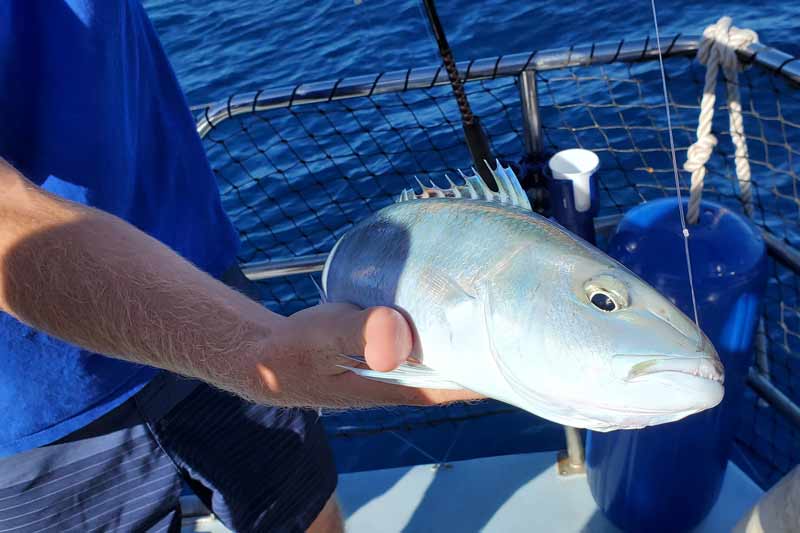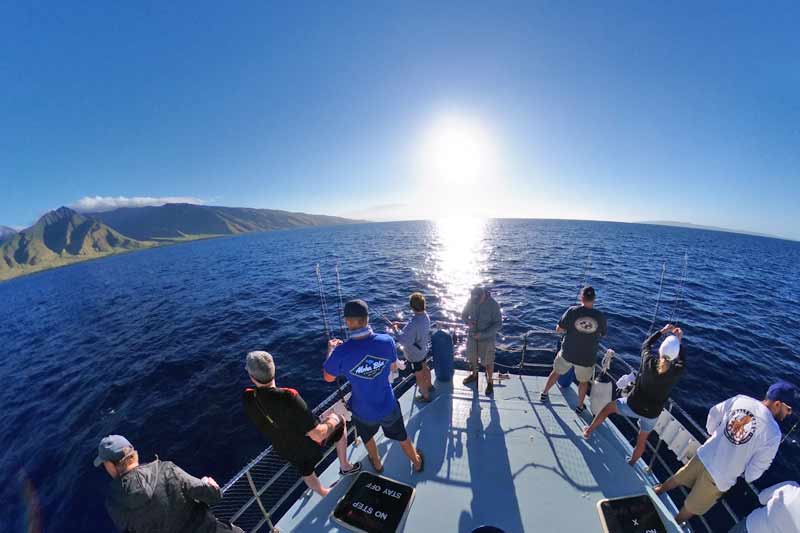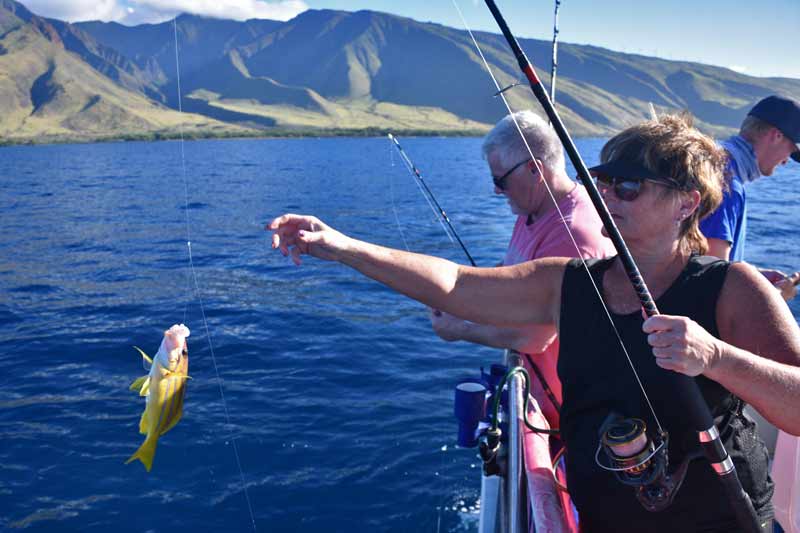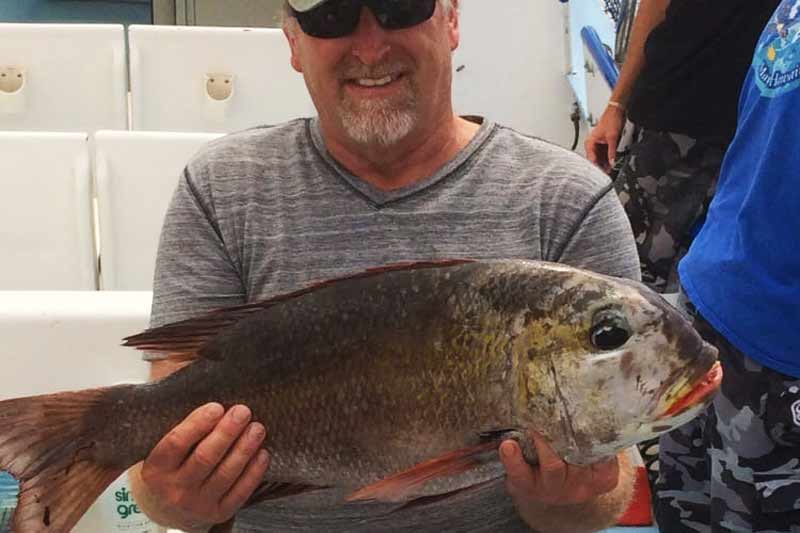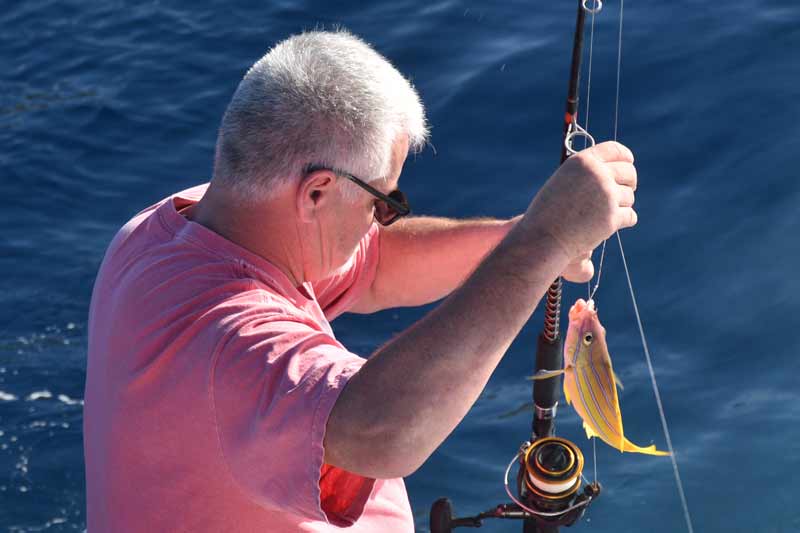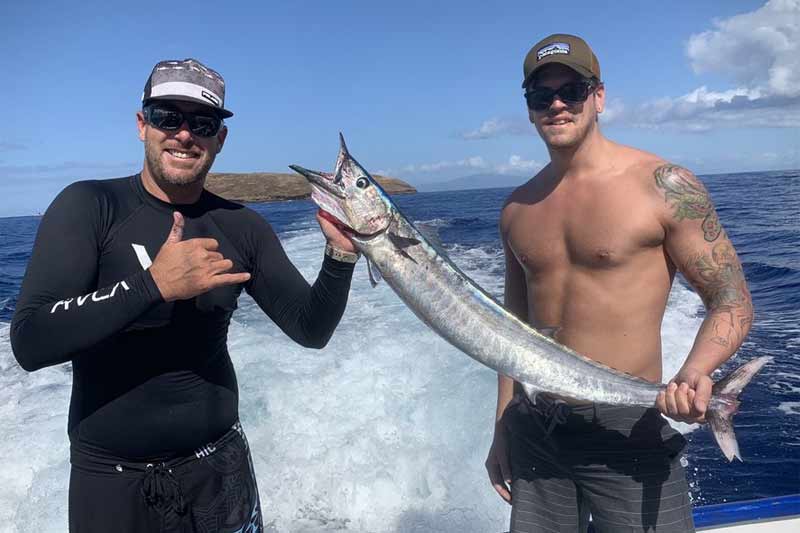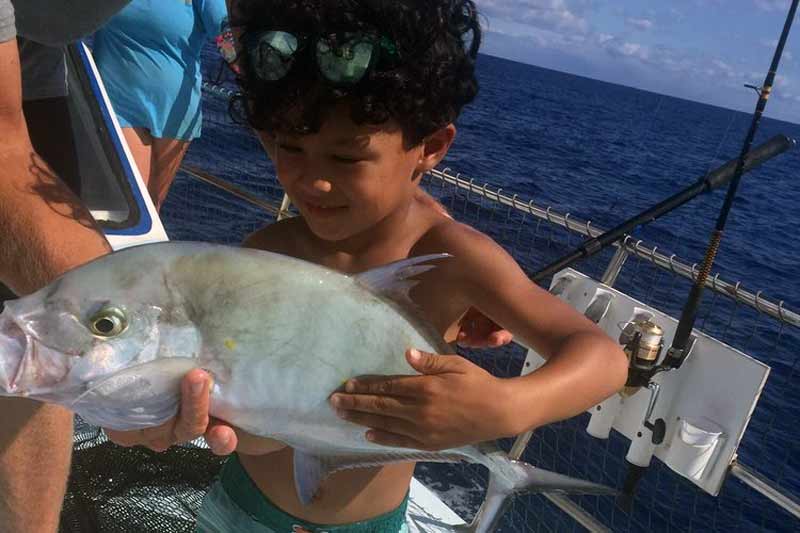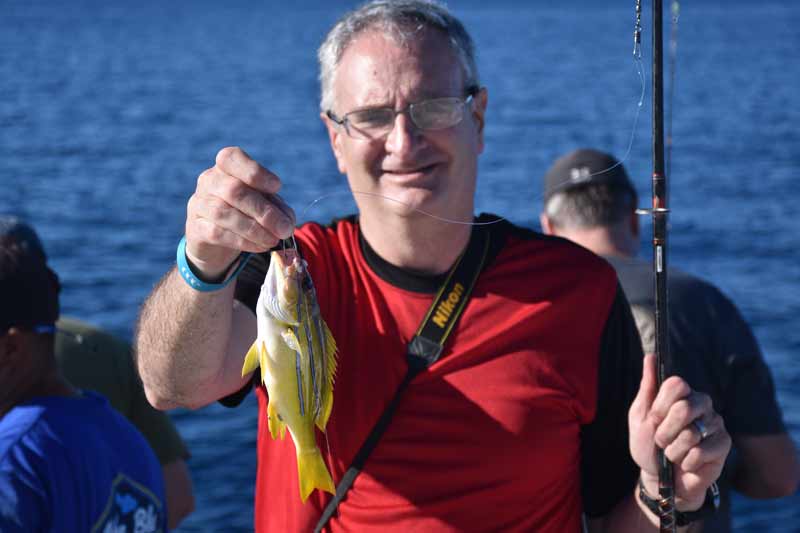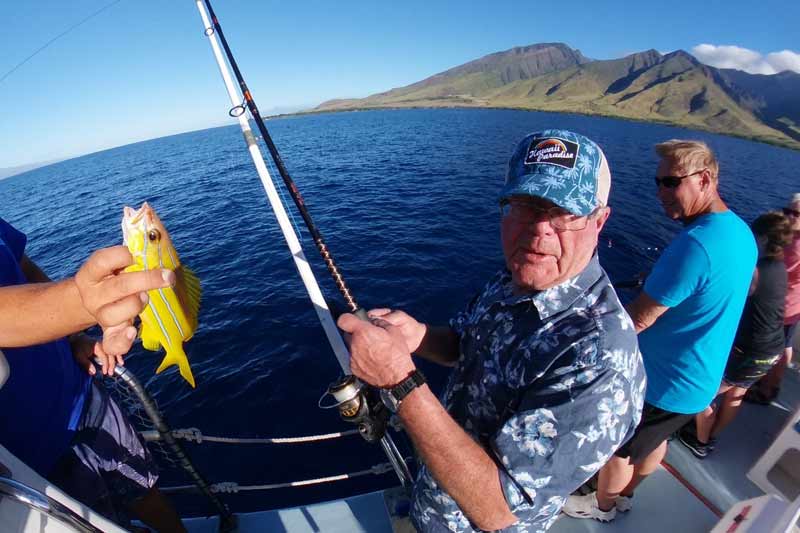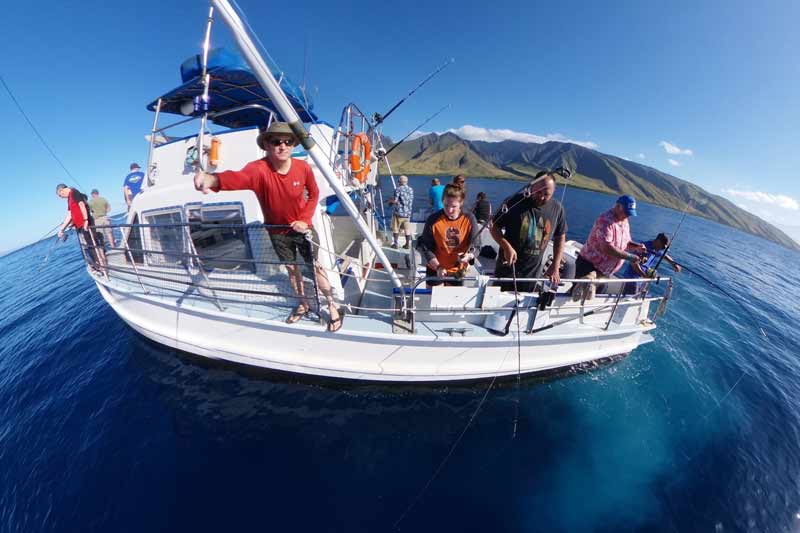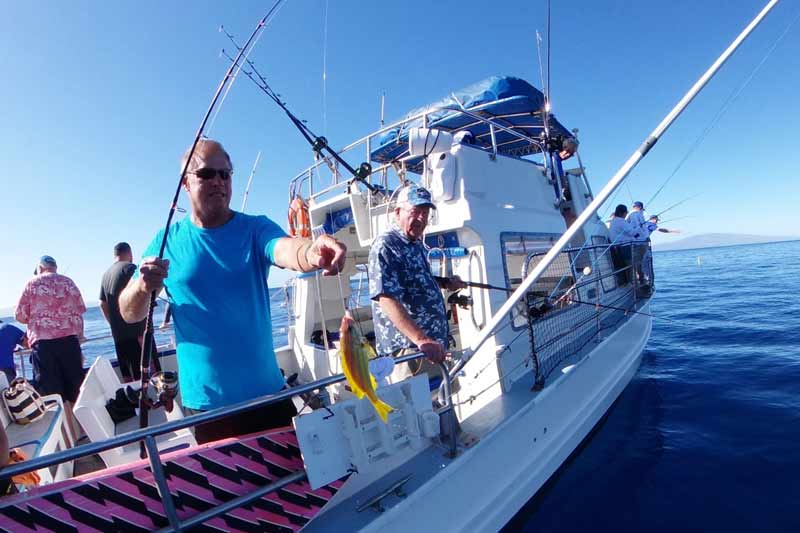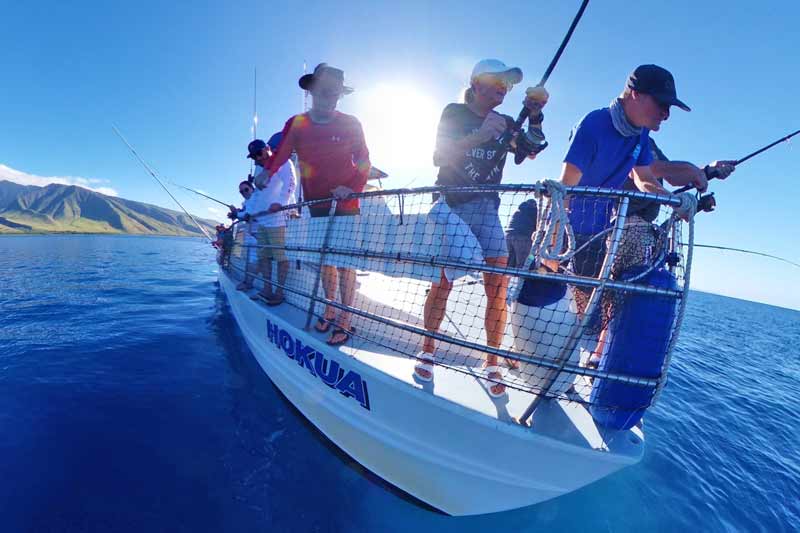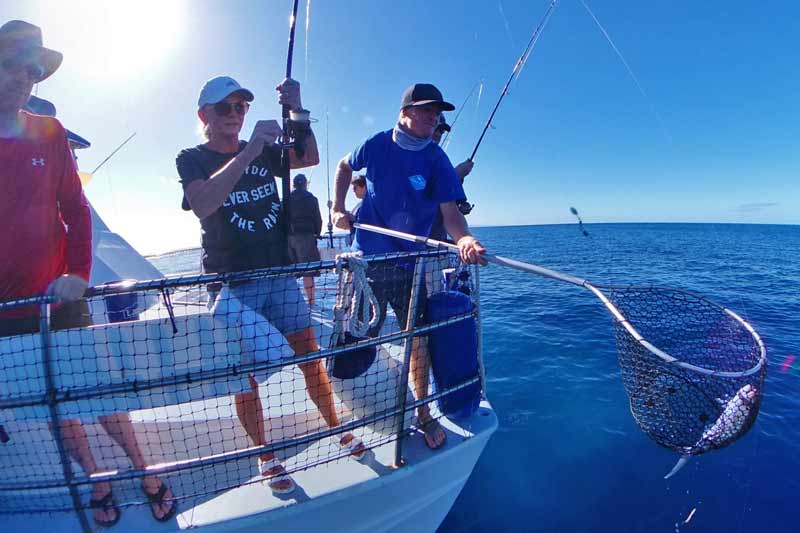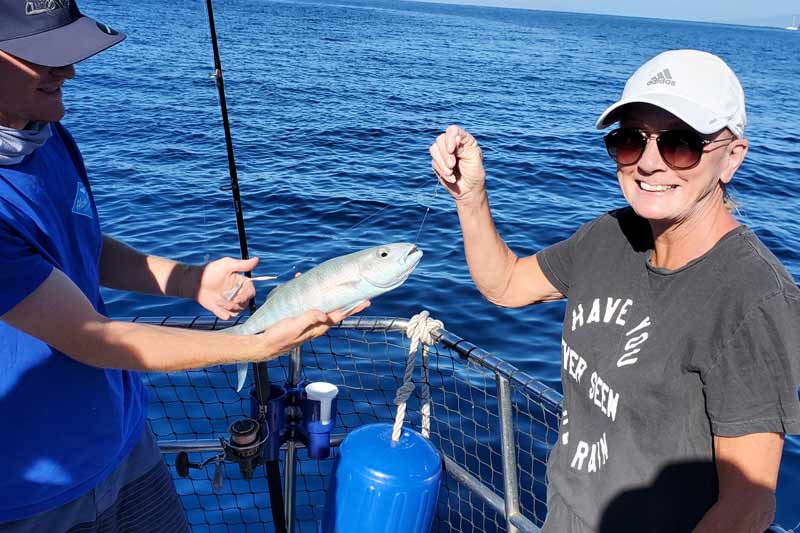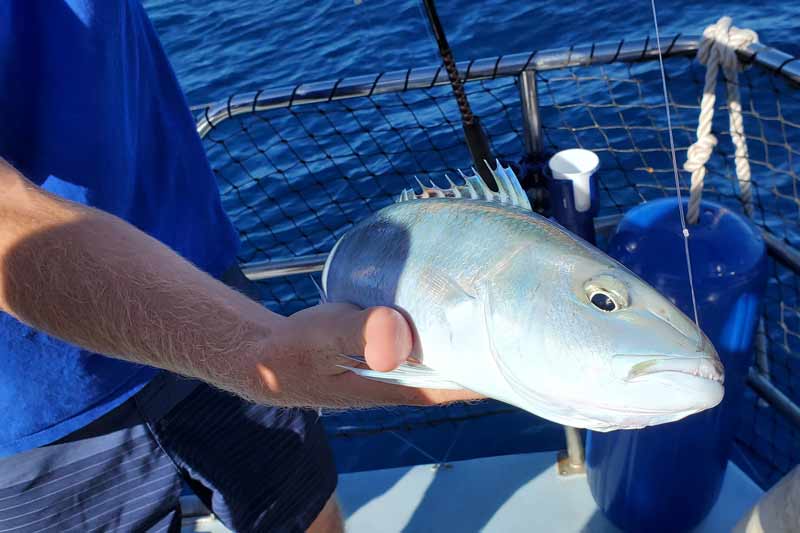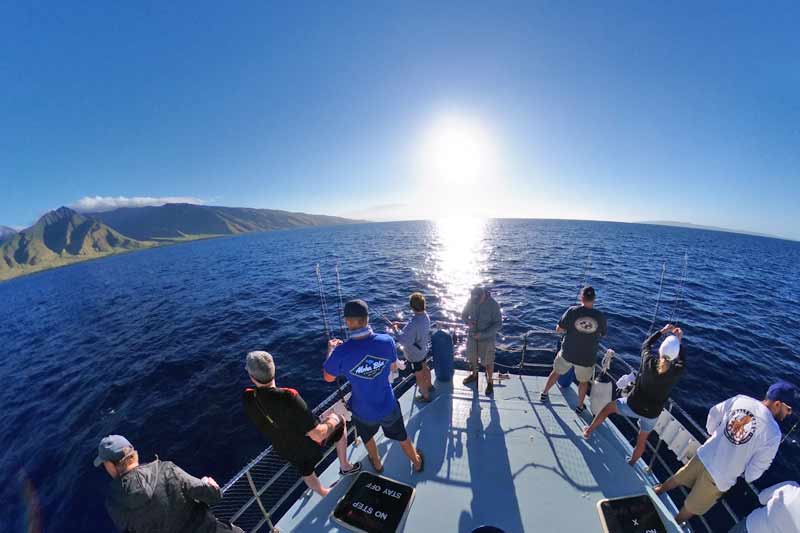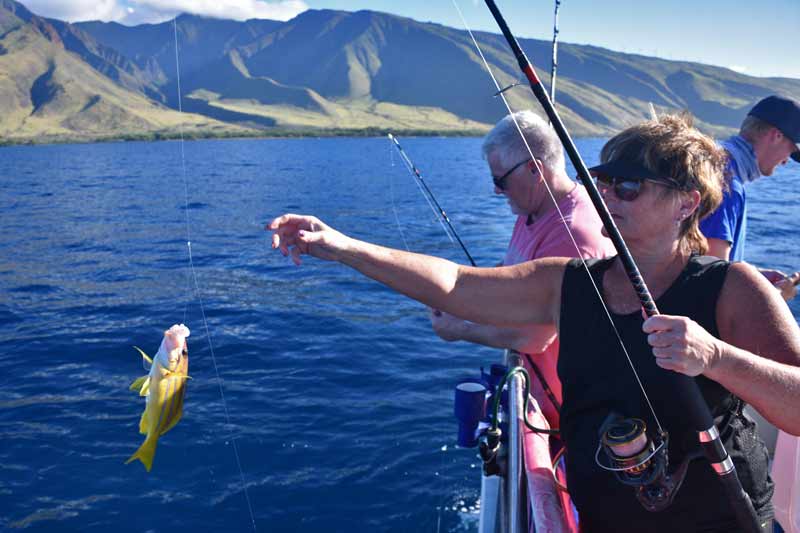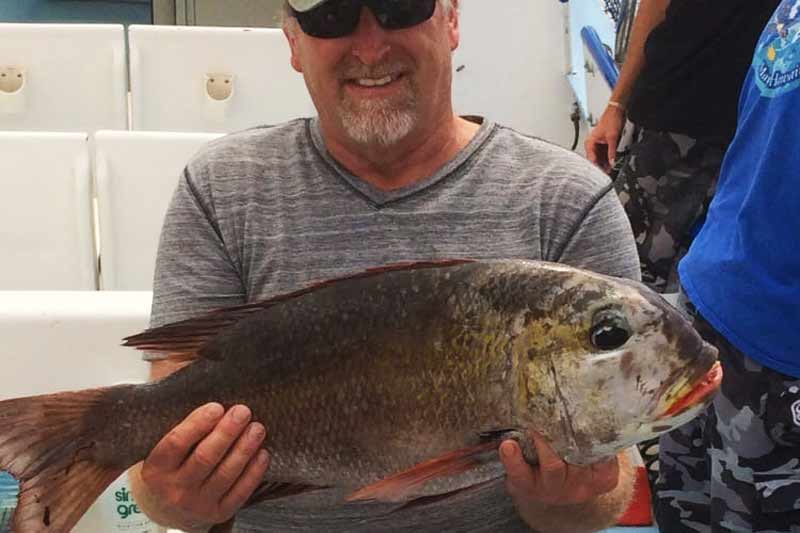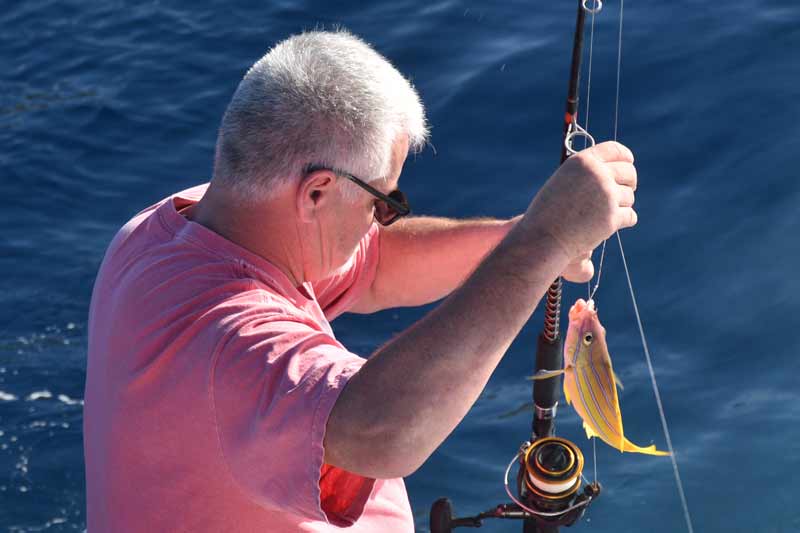 ---
Highlights
Available year round daily departures from Maalaea Harbor
Bottom Fishing is often VERY productive!
Lots of fishing action to keep kids engaged
Keep as much fish as you can eat!
---
Description
Aloha Blue Charters offers fun and productive fishing excursions on board Hokua, their 40 foot jet drive US Coast Guard certified powered catamaran. Based out of Slip 37 Maalaea Small Boat Harbor in Central Maui, they offer Shared / Public charters at 7:00am daily, and during peak season operate a 1:00pm afternoon Shared / Public charter as well.
There is a limit to 15 anglers per trip, and while additional passengers may go along as "non-fishing ride alongs" the boat is spacious and uncrowded. The crew provides instruction on bottom fishing technique, cuts bait, and assists with landing and cleaning fish. When you catch fish with Aloha Blue Charters you can take home as much as you will be able to use / eat during your vacation.
Charters are four hours in length (or slightly longer) and on the way to and from the bottom fishing locations the crew will rig five lines for trolling for larger pelagic fish like mahi mahi, ono, and ahi tuna. On most days the time is split pretty evenly between trolling and bottom fishing. Bottom fishing species that are frequently caught include a range of different snappers, Hawaiian grouper, trevally, amberjack, and many others.
---
Cost
Aloha Blue Charters Bottom Fishing Rate (ABC2)
$178.46 per Adult, $157.02 per Child (12 and under), $114.16 per Non-fishing Ride Along (Hawaii sales tax included)
The cost is the same for both 7:00am trips and 1:00pm trips
---
Most guests will participate in one of the Shared / Public charters, but they do offer completely PRIVATE charters for those who have a larger group or just want the entire vessel for their family. Private charters are limited to 30 guests maximum per trip and 15 poles for bottom fishing, but guests are welcome to take turns during the excursion. Morning private charters need to be reserved WEEKS in advance because they cannot operate a private charter if they have already sold seats for your date on one of the Shared / Public trips. 1:00pm afternoon private charters are typically available on most dates.
---
Aloha Blue PRIVATE CHARTER Bottom Fishing Rate (ABC3)
$2,293.33 per 4 Hour Charter (Hawaii sales tax included)
---
---
Details
Schedule: 7:00am Public / Shared charters operate daily unless they have a private charter or snorkel trip already on the books. 1:00pm Public / Shared charters operate during peak travel periods based upon demand. 1:00pm is typically available most days for private charters.
Check In: Maalaea Harbor slip #37 30 minutes before departure
Group Size: 15 anglers max, and ride alongs welcome.
Gear Provided: All fishing gear, bait, and instruction. No fishing license is required.
Also Included: Water, iced tea, juice, lemonade "on tap."
What to Bring / Wear: Dress comforatbly and bring a light jacket and sunscreen.
Reservations: Advanced reservations required and we recommend booking this prior to arrival on Maui. This event is "RESERVE NOW PAY LATER"; we need a credit card on file to finalize your reservation but we do not charge you for this reservation until a few days before the beginning of your vacation!
Minimum Notice for Cancellations / Changes: At least 72 hours before the start of the event for Public / Shared Charters and 7 full days before the event for Private Charters.
---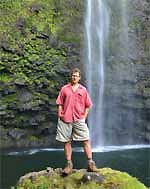 Kevin's Activity Tips:
I recently joined the crew of Aloha Blue Charters for a morning bottom fishing trip aboard their powered catamaran "Hokua." This vessel is really well laid out for bottom fishing. They limit the trip to 15 poles in the water, and with a large foredeck, and ample siderails on the back 1/3rd of the boat, this trip feels REALLY uncrowded. The wide stance of the vessel in the water helps to minimize crossing lines while fishing, and ALMOST everyone caught fish on this day. A few lucky guests with the "hot" poles caught four fish. Most of the catch were the yellow snappers with blue stripes that are not impressive in size but they are VERY tasty when fried up! We also saw guests catch an "Uku" (a good-sized gray snapper that was large enough to make a meal for two or three people), a trigger fish, and a goatfish. While this trip is sold as "bottom fishing" they DO troll for larger fish like Mahi-mahi, ono, and ahi on the way to and from the bottom fishing locations. The trip is advertised as 4 hours long ... we were actually out about 4 hours and 15 minutes with the time just about equally split in half between trolling on the way there and back, and stopping at spots where the fish congregate at the bottom. I was hanging out with the captain on the upper level flybridge as he was monitoring the GPS location and watching the bottom with a Furano fish finder. He would position the boat over the spot and tell everyone to drop ... he would maintain the position as long as possible and when the current moved us off target he would instruct everyone to pull up again for a few moments while he repositioned the boat. The fishing spots were between 130 and 190 feet of depth.
Occasionally we have clients ask "What are the chances that I will catch fish?" Of course that's impossible to answer with a certain percentage, but when we have people ask this question we recommend they consider BOTTOM FISHING instead of SPORTFISHING. With sportfishing charters, many factors come into play that make some days excellent and other days average … surface conditions, tides, schooling patterns. There's also the human element. How lucky are you??? How's your karma??? Have you been nice to people lately? It's rare, but occasionally a boat gets skunked … there are no guarantees. Just remember … the sport is called "fishing" and not "catching."
But with BOTTOM FISHING it's a little different. A lot of the surface factors are removed. Bottom fish seem to be hungry all the time, and some experienced Maui shore fisherman even like to bottom fish AT NIGHT! Bottom fishing tends to be a LOT more productive than Sportfishing. You aren't likely to catch "the big one" while bottom fishing though. Bottom fish species tend to be smaller, but many of them are delicious and there is a VERY good chance you'll be taking home fish for dinner. It is REALLY RARE for a bottom fishing trip to get skunked!
Bottom fishing makes for a great family event ... instead of trolling around for hours waiting for something to happen, the lines are constantly being dropped to the bottom, then reeled back in, and very often with a fish on the end! This action keeps kids engaged and interested. Makai Adventures also has a ride along rate for members of your party who just want to watch (and take pictures). HINT: Hold the fish out in front of you at arm's length. It makes the fish looks REALLY BIG! haha