Fourwinds Afternoon Coral Gardens
Fourwinds Afternoon Coral Gardens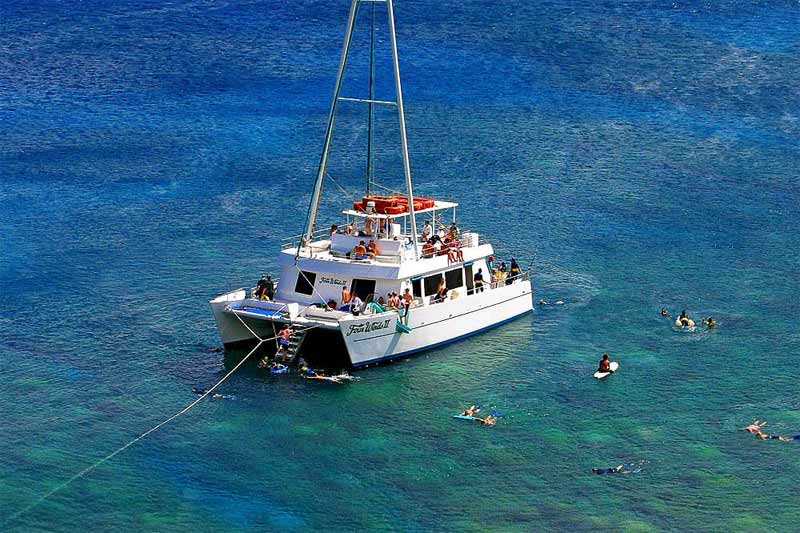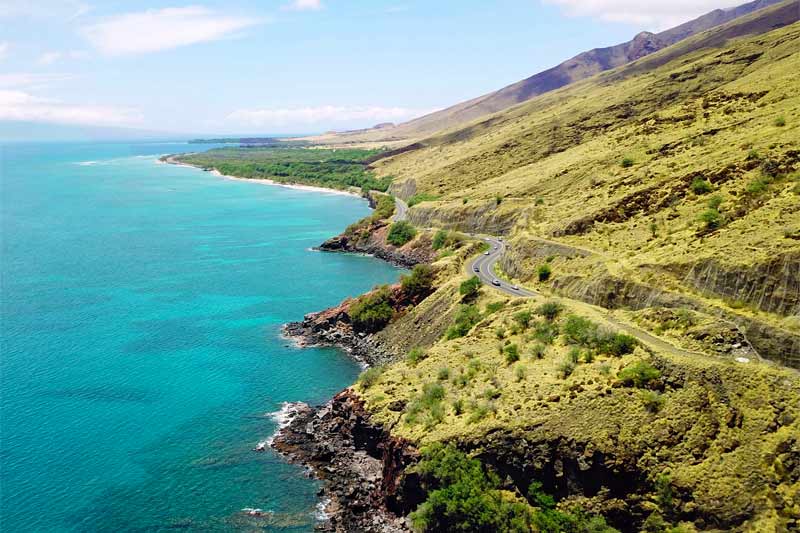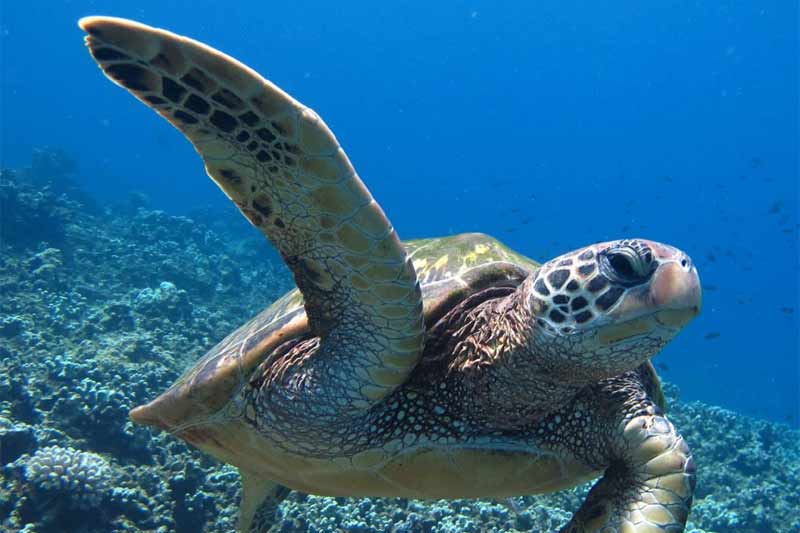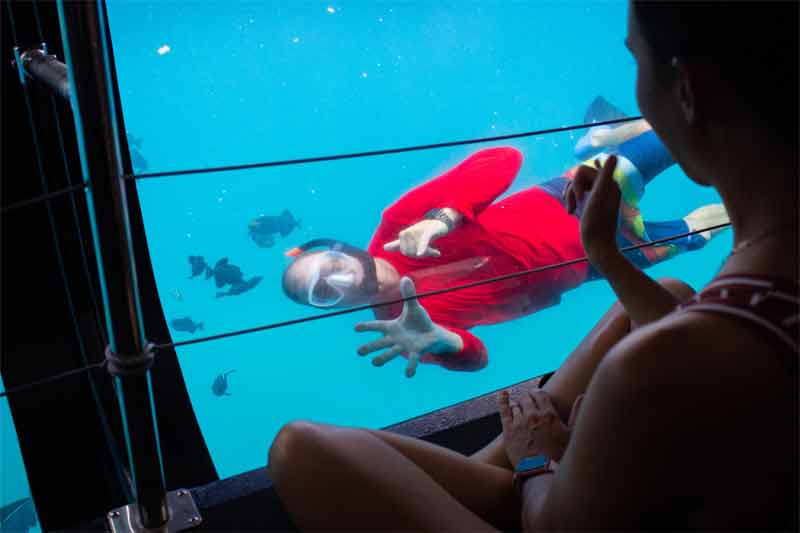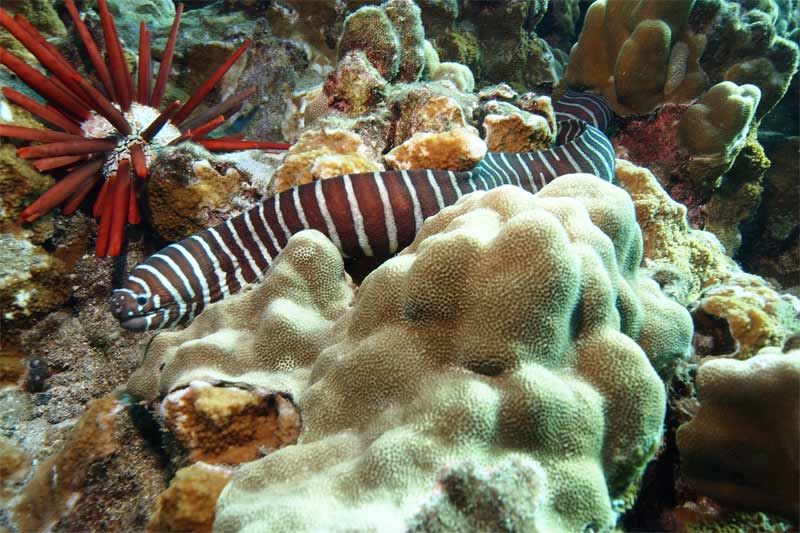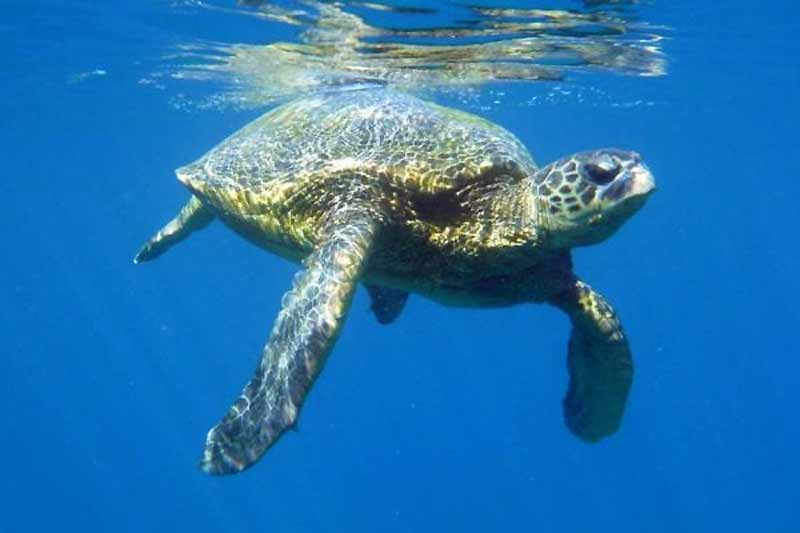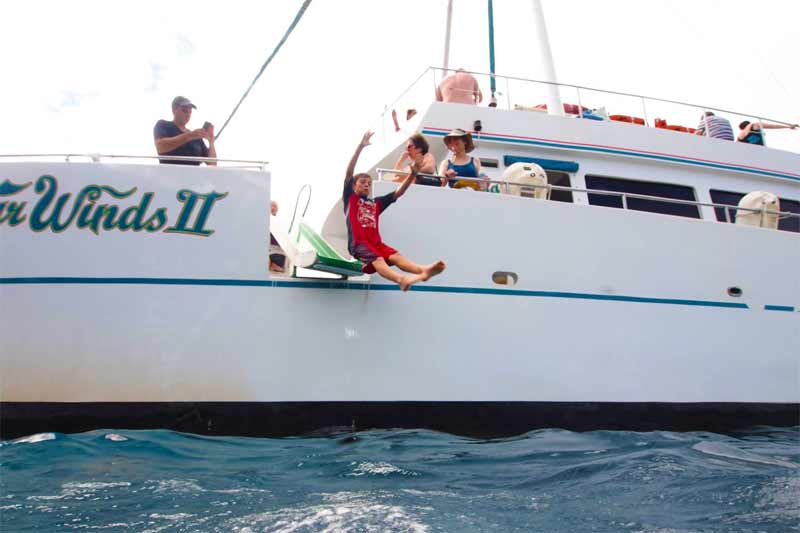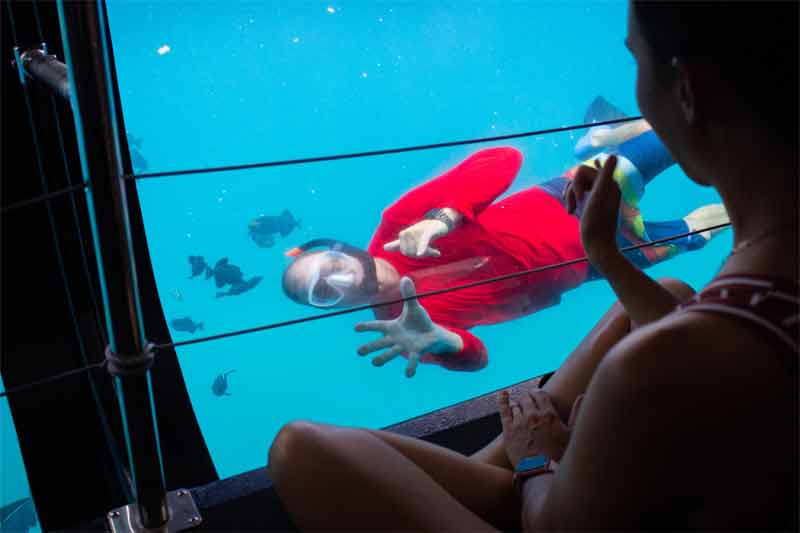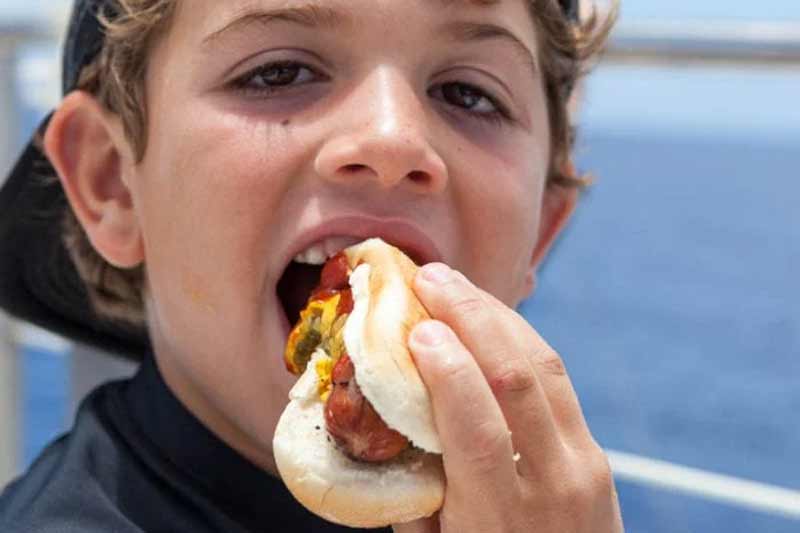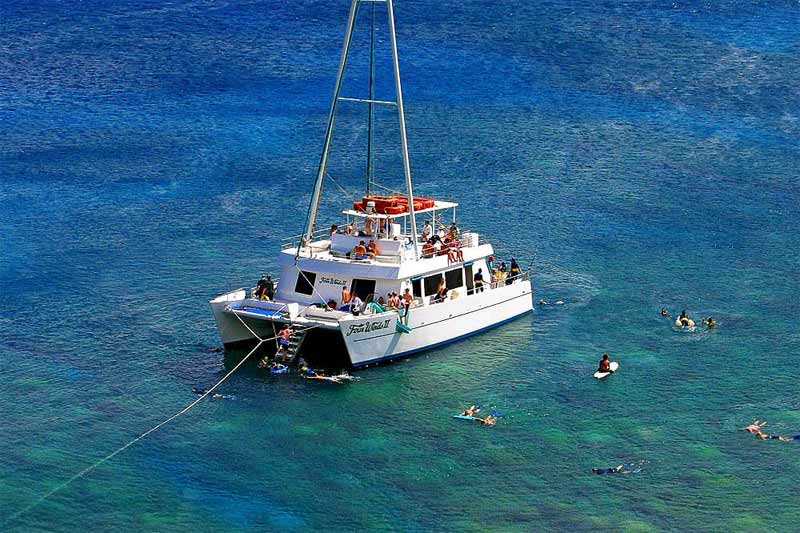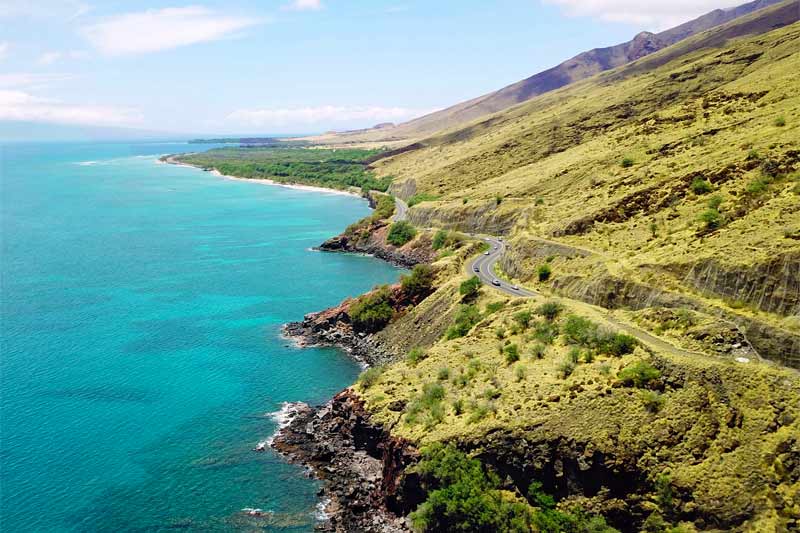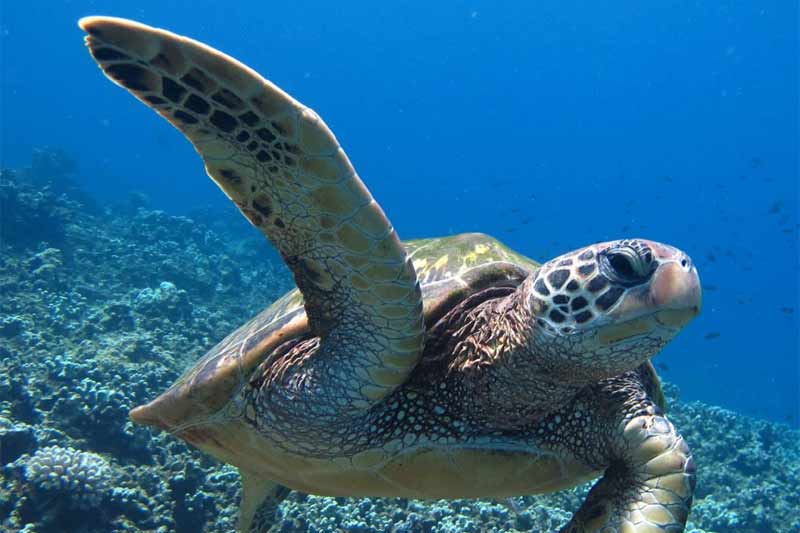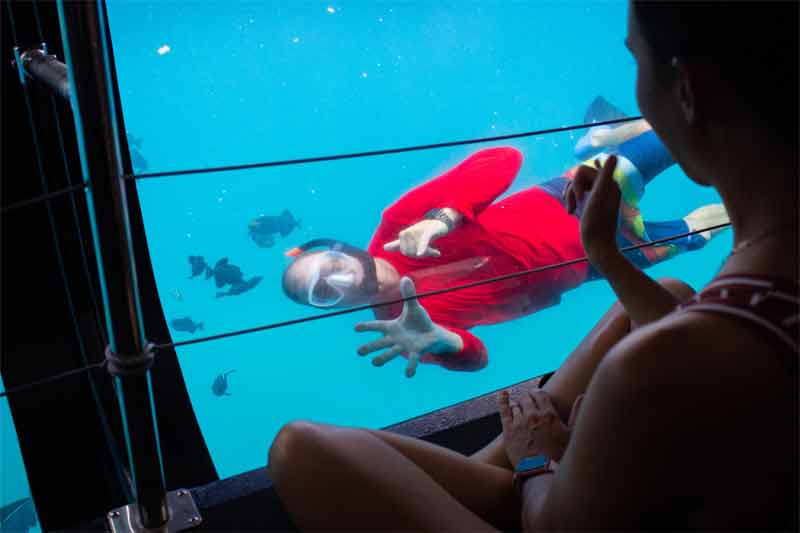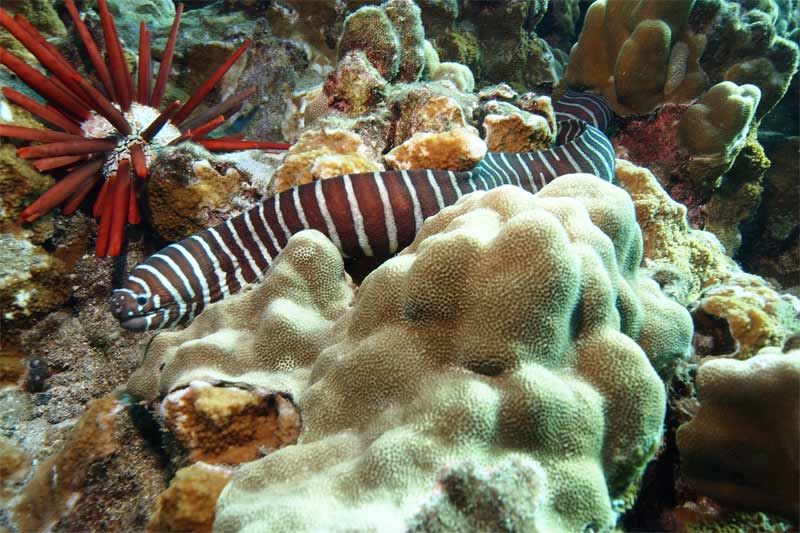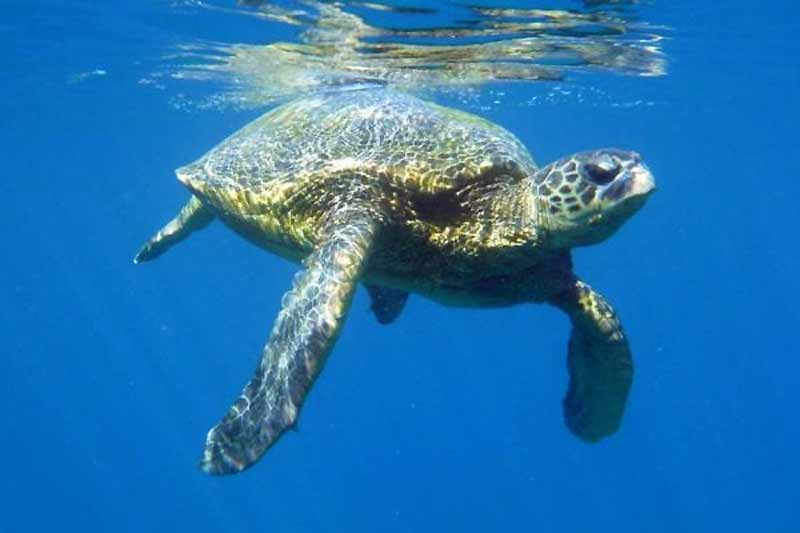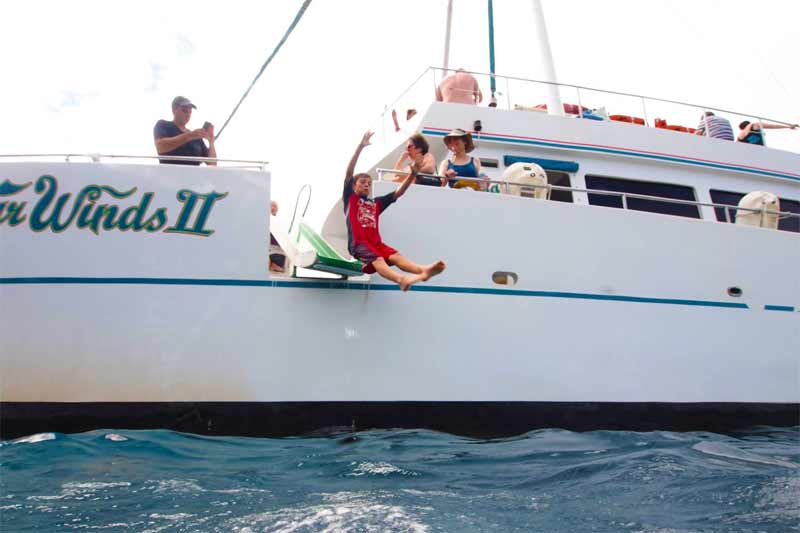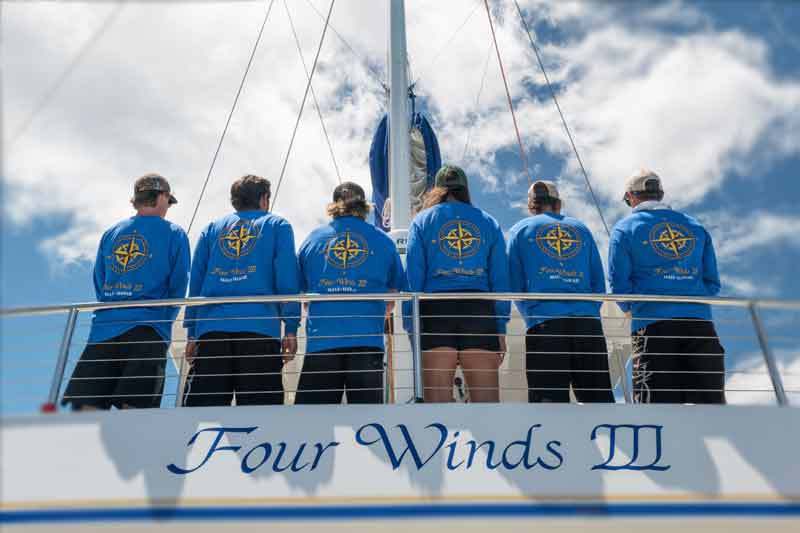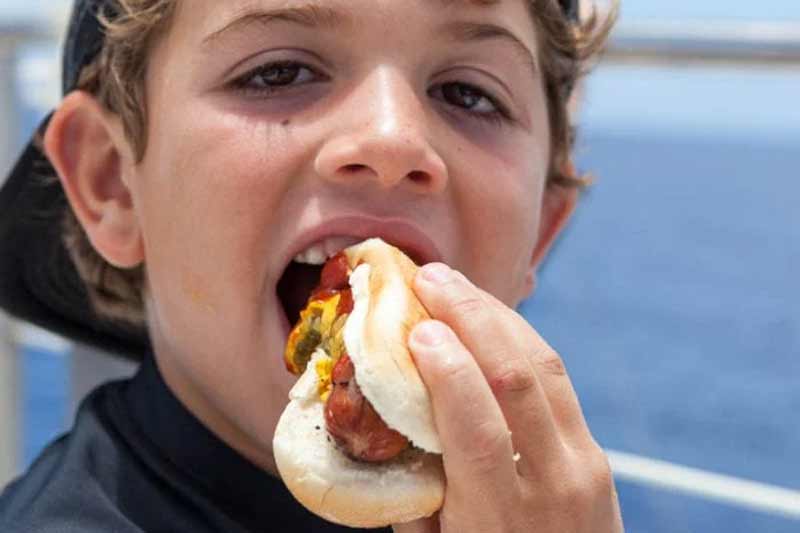 ---
Highlights
Known as the "Boat for fun lovers"
Excellent glass bottom viewing ports
Snorkel beautiful Coral Gardens (or Molokini if you are LUCKY!)
Lunch, snorkel gear, open bar included
---
Description
Fourwinds Afternoon Coral Gardens tour is on a 55 foot glass bottom catamaran, fondly referred to as "the boat for fun-lovers". Once onboard, you'll soon discover why Maui's visitors consider this trip to be one of the best family vacation activities. With a crew that is dedicated to your needs and providing you absolute fun, this trip is a family favorite. It offers something for all ages. Lunch, waterslide, glass bottom viewing, open bar, all snorkel gear and instruction ... and snuba is available as an onboard option.
The Fourwinds goes to Coral Gardens as their primary destination on their afternoon snorkels, a very nice snorkel spot with lots of coral and sea life. Coral Gardens is located along the sea cliffs of the West Maui Mountains which helps shelter this location from afternoon trade winds. On RARE extremely calm afternoons the captain may decide that MOLOKINI is just too good to pass up and you will go there instead!
The glass bottom viewing area on the Fourwinds is the best of any of Maui's tour boats. This area is really popular with little kids who are too young to snorkel. They can watch all the action from inside the viewing area which is open when the vessel is stopped. The waterslide is fun, FAST way to get in the water! Four Winds has free use of kids-size masks and snorkels, kids-size wet suits rentals (available for rent), free use of view port boards (like a boogie board but with a glass port built in so you can see what is below without even getting your head wet), float boards, water noodles, and free snorkeling instruction for kids!
The Fourwinds believes that a fun trip should feel like a summer's day picnic out at sea every day. Nobody goes hungry with tiny portions on their boat. This is one of the reasons why so many families, who return to Maui year-after-year, choose the Four Winds II, again and again, for their preferred snorkeling adventure. From the young to the young-at-heart, Fourwinds II is the boat for the entire family and anyone of every age!
---
Cost
Fourwinds PM with Lunch Rate (MCC3)
$110.00 per Adult, $85.00 per Child 3-12, 2 and Under FREE (plus 7.167% Hawaii sales/harbor tax and $5.00 per person fuel surcharge)
---
---
Details
Schedule: Daily
Check In: 1:00pm at Maalaea Harbor slip #80. This is the boat harbor in Central Maui just behind the Maui Ocean Center Aquarium along Highway 30. Parking is available for a small fee and can be paid using credit card or using an app on your phone. Allow ample time for parking / arranging payment.
Duration: 3.5 hours
Vessel: 55' powered catamaran with ornamental sail and capacity of 130
Tour Includes: Lunch & beverages including beer & wine.
Gear Provided: Snorkel gear, flotation devices
What to Wear: Wear swimsuits and bring a towel and sunscreen. We also recommend a light jacket.
Reservations: Advanced reservations required. This event is "RESERVE NOW PAY LATER"; we need a credit card on file to finalize your reservation but we do not charge you for this reservation until a few days before the beginning of your vacation!
Minimum Notice for Cancellations / Changes: At least 48 hours before the start of the event. All tours go out rain or shine.
Note: They can provide vegetarian or gluten free options through their catering companies, although people with severe nut allergies or who have celiac disease should be aware that they cannot guarantee there has been no cross contamination.
---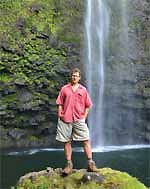 Kevin's Activity Tips:
Coral Gardens is a sweet snorkel location located along the Pali (sea cliffs) of the West Maui Mountains ... it isn't far from that tunnel you drive through on your way to Lahaina, but the scramble down (and even worse ... the climb back up) isn't really practical to try to get to this spot from the highway. If you'd like to go here, you need to go on a boat.
The afternoon snorkel on Fourwinds II is really popular with families with young kids for SEVERAL reasons. One, it is affordable, compared to the more expensive morning trip to Molokini. Two, it's easier to get kids herded together for a 1pm checkin than it is a 6:30am checkin while on vacation!. 3. Afternoon tends to be warmer, so kids might enjoy the snorkeling more.
Some concierges and activity desks sell this as a MOLOKINI trip with a tiny asterisk that says "Molokini weather dependent. Alternate destination is Coral Gardens." We don't find this to be an honest approach. While it is true that on VERY RARE VERY CALM afternoons the Fourwinds MAY go to Molokini in the afternoon, the primary destination on the vast majority of days is Coral Gardens. Tradewinds on Maui get pretty strong and gusty in the late morning / early afternoon, and Coral Gardens is an easy spot for the boat to go in high winds. It is just a short ride from Maalaea Harbor and the boat can tuck along the sea cliffs where it is sheltered from most of the wind. Plan on going to Coral Gardens on this trip, and if the boat happens to go to Molokini on the day you reserve, consider yourself lucky! Coral Gardens is a very good snorkel spot.