Maui Hiking Tours
Hiking tours to the rainforest waterfalls and inside Halekala Crater, with a combo tour that includes a waterfall hike and kayak/snorkel in one full day of activity!
SUPPORT LAHAINA:

We are donating 20% of our profit from ALL FUTURE 2023 MAUI TOUR BOOKINGS to Lahaina fire relief efforts!!!
---
---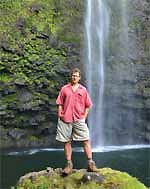 Kevin's Activity Tips:
I am often asked "why go on a hiking tour? Can't I just go and experience the same thing on my own?"
The answer to that question is a definitive "no." You could walk down the same trail on your own and your experience will be completely different. The presence of a knowledgeable local guide who loves the "aina" (land) can make all the difference in your understanding and appreciation of everything that you see. You'll learn about plants that have uses that you never imagined. You'll taste fruits that are foreign to you. You'll learn about the history and geology of the area that offers insight you wouldn't get going there alone. Hike Maui, the company that organizes these tours, likes to refer to their guides as "the secret ingredient for your experience."
Obviously a guide also knows exactly where these places are – so your day in the magical rainforest or volcanic landscape is maximized. No hunting for that elusive waterfall … you'll go straight there and have more time to soak it all in. A guide who knows the "aina" will help keep you safe and provide support if you need it. Would you like to jump off a cliff into a waterfall pool below? Doesn't it sound like a good idea to have a guide who can tell you where it is safe to jump and where there are rocks hiding below the surface???
The Waterfall and Rainforest Hike is the most popular tour. This is the event that will truly make you glad you had a guide with you. As you hike through an "off-the-grid" farming area you'll taste fruit you've maybe never seen before. Your guide will impress you with his or her ability to take plants from the jungle and demonstrate uses you've never thought of. You'll probably learn what a tapioca plant looks like – yes, it comes from a plant … not from a jar with the Gerber Baby on it.
For those who want to get out in the jungle but aren't up for a longer hike, the Waterfall Walk is perfect …especially for multi-generational groups where grandma wants to take pictures of the grandkids jumping from waterfalls. The walking is easy and the distance is short. And you'll see waterfalls that other people who aren't with a guide will completely miss!
The Haleakala Crater Hike is in a category all its own. While most people think of Maui hiking centered around waterfalls, this hike is centered around a volcanic landscape that is often compared to that of the moon (or Mars). As a matter of fact, Haleakala was the backdrop for one of the final Mars scenes in the movie "Total Recall." One thing to keep in mind for this tour … due to its elevation the air is much cooler. You are going to want to dress in layers for this one, keeping in mind that the air temperature can vary widely on this tour and daytime temperatures at 10,000 feet are often in the high 40's to low 50's. Yes, once every three or four years the summit of Haleakala even gets a light dusting of snow. Don't believe me? Check out this snowy photo of Haleakala I took from my driveway in Upper Kula. This photo actually made the front page of a Honolulu newspaper and made the rounds in the national news!
A word about gratuities … it is traditional for guides in such a service industry to rely on gratuities for a significant portion of their income. This time-honored tradition promotes excellence in service and you might want to bring along cash in case you want to express your appreciation to your guide in this way. Please note that for larger parties of 10 or more people this tour operator asks us to include a gratuity for drivers/guides in our billing for your tour. This gratuity is $200 per vehicle for the Waterfall Walk, $250 per vehicle for the Waterfall Adventure and Halekala Hikes, and $300 for the Kayak / Waterfall combo.