Maui Coastline Snorkeling
Maui Coastline Snorkeling
This category is a collection of snorkel trips that go to prime locations along the Maui Coastline. These can be better choices for people who don't want to go on a long trip involving a channel crossing to Lanai or Molokini.
SUPPORT LAHAINA:

We are donating 20% of our profit from ALL FUTURE 2023 MAUI TOUR BOOKINGS to Lahaina fire relief efforts!!!
---
---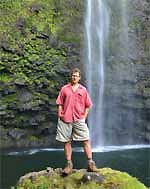 Kevin's Activity Tips:
I remember my first trip to Hawaii as a tourist ... that was DECADES ago. From previous vacations I knew I enjoyed snorkeling and so I rented gear, and went several times on Maui just walking out to the nearest beach, waded in, stuck my head underwater, and saw what there was to see. It wasn't much and it was kinda murky. Don't let this happen to you!
Snorkeling from a boat is a VERY different experience from wading out into the surf and hoping you see something. Boat captains are going to take you places that they know the water is clear and the fish are plentiful. In some cases the really good spots are so far offshore that you really shouldn't swim there on your own. And even if you could, it is more pleasant to get there on a boat. Honolua Bay is a great example.
From late April through mid October Honolua Bay is an excellent snorkel location. You CAN get there without a boat, but the process is a bit of an ordeal. Parking in the area is very limited. You might find yourself driving around looking for a place to park, and eventually giving up. If you do score a spot, you then have a walk of 10 or 15 minutes down a rainforest path, which would certainly be pleasant enough IF NOT FOR ALL THE GEAR you are carrying. Towels, snorkel gear, camera, sunscreen, cooler with your lunch and drinks, car keys ... and on the way back all that stuff is going to be wetter (and heavier). Once you get to the coastline it's not a sandy beach but a collection of iregularly shaped bowling ball rocks that are tricky to navigate. And once you do get into the water the swim out to the good coral heads is a few hundred yards. And while you are swimming far away from all your valuables ... your wallet and camera and cell phone and car keys ... are patiently waiting there on shore for you hoping they are STILL there when you return. And when you finally get to the good snorkeling you look up and what do you see??? Smart people. Smart people who took one of the Teralani Sailing Catamarans ... who are jumping in the water a few feet away for this underwater wonderland. People who can climb back on board the boat anytime they want and are met by a crew member who hands them a burger and a Mai Tai! What's in YOUR cooler? And where is it?? Is it even still there???
Honolua Bay closes out due to large swells in winter months, and the Teralani's destination then is usually Olowalu. Another place that people drive and park and snorkel from shore. But the further out you go the better the snorkeling gets, and the place that the Teralani moors ... the very best area to snorkel... is more than a half-mile from shore. Can you swim that far? And an even better question ... can you swim BACK??? Take the worries out of your snorkeling and go with an experienced captain and crew ... you'll see more and it will be FAR more enjoyable ... and safer for you and your family.