Kaanapali Zipline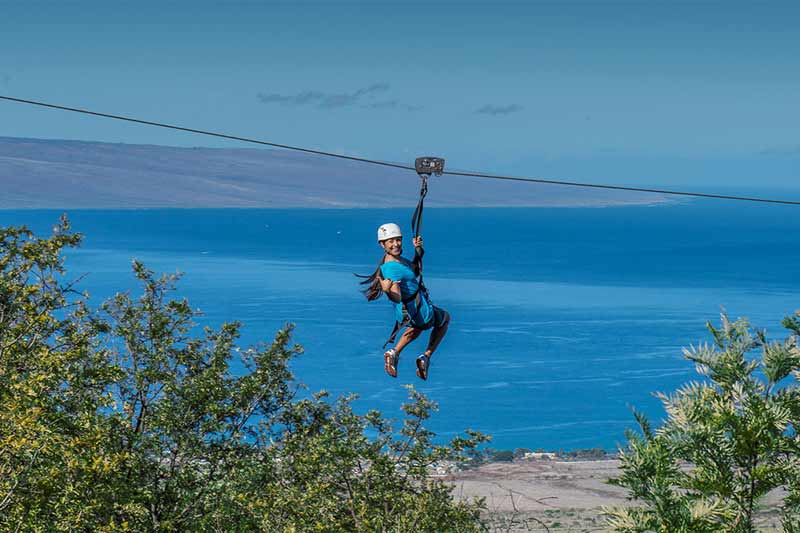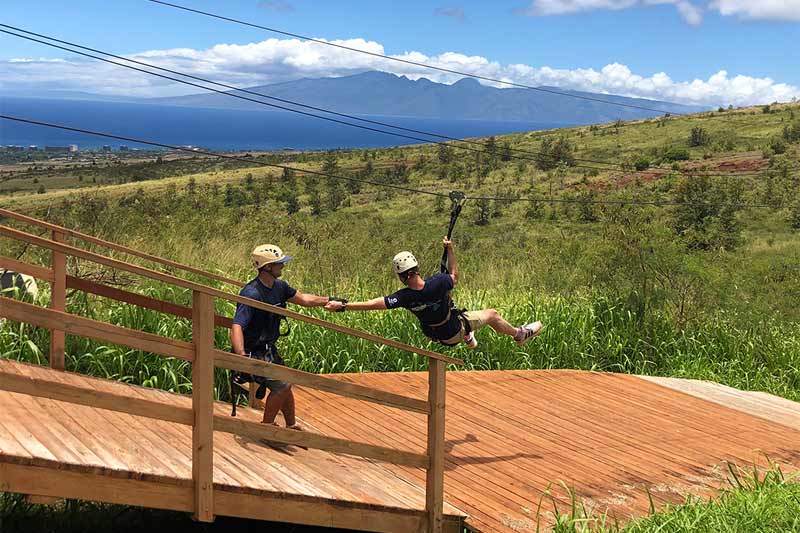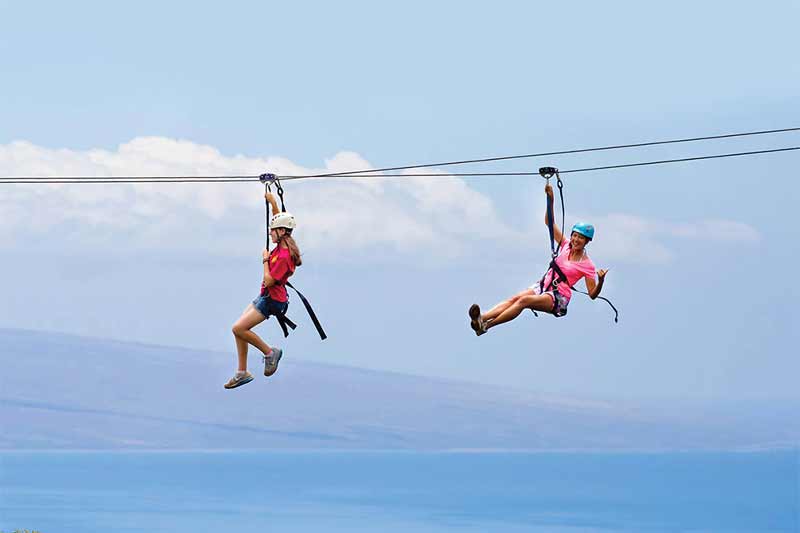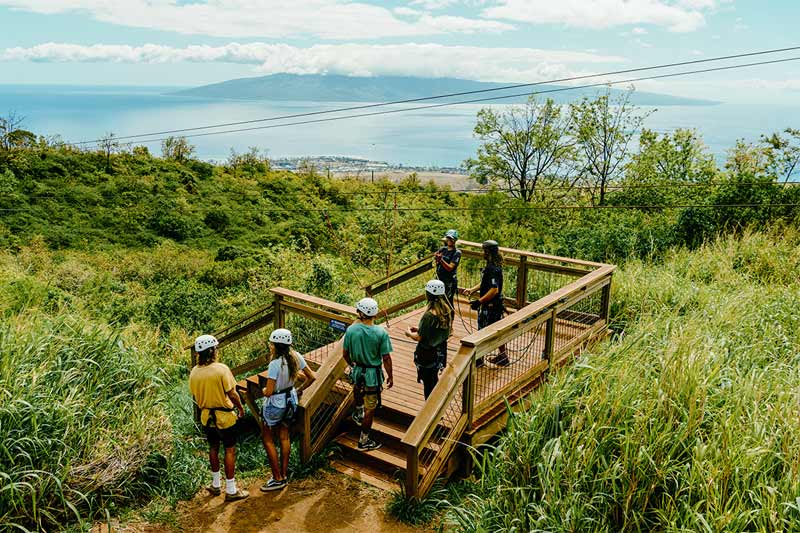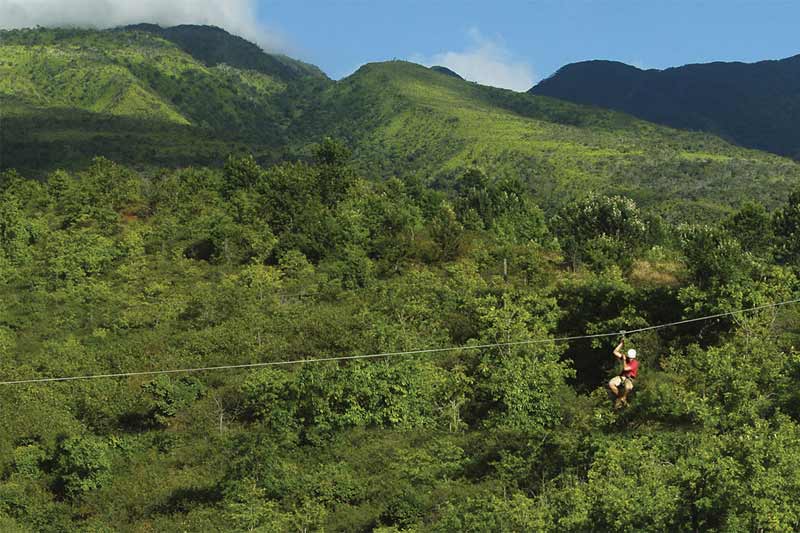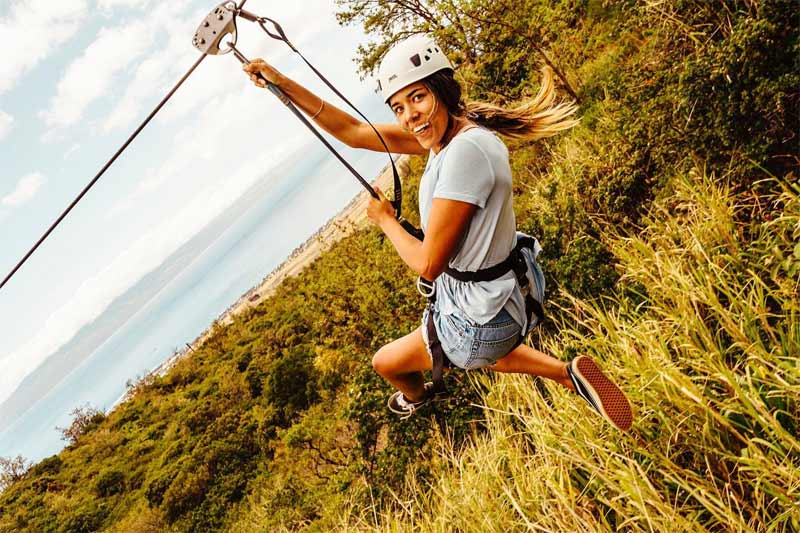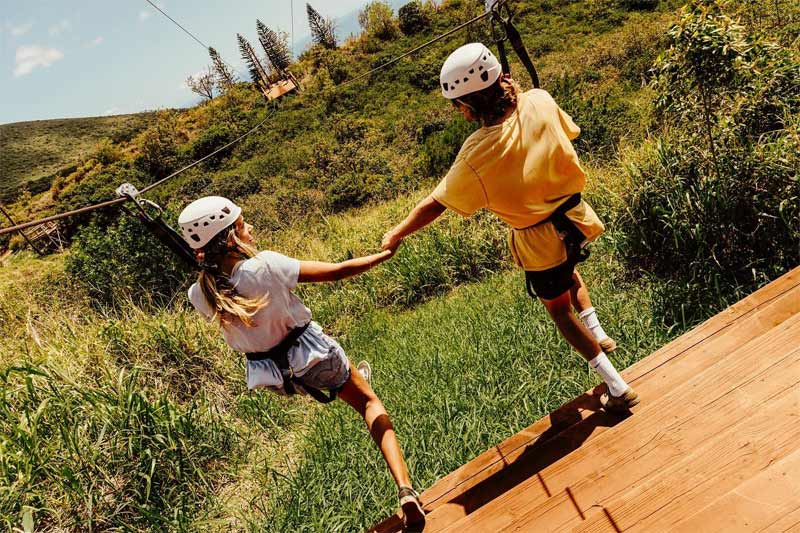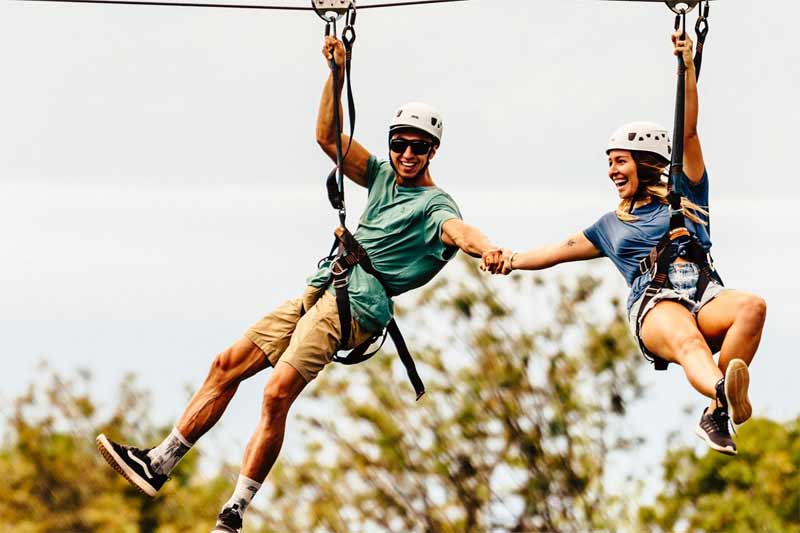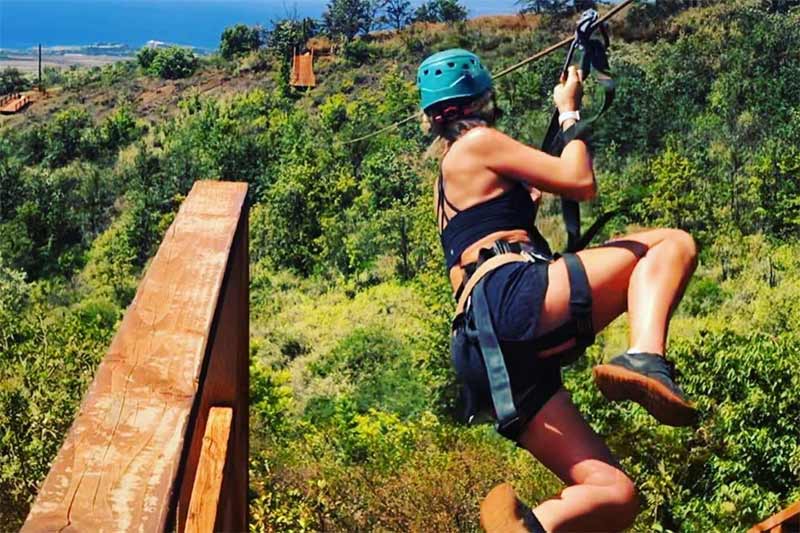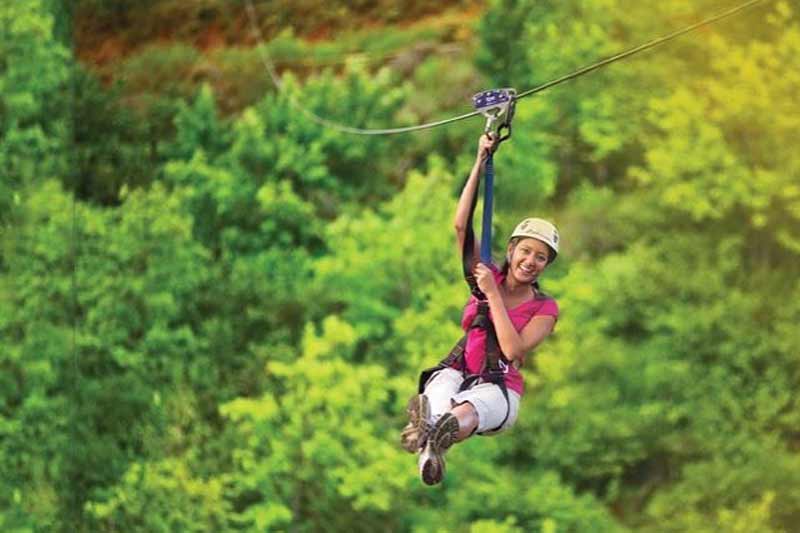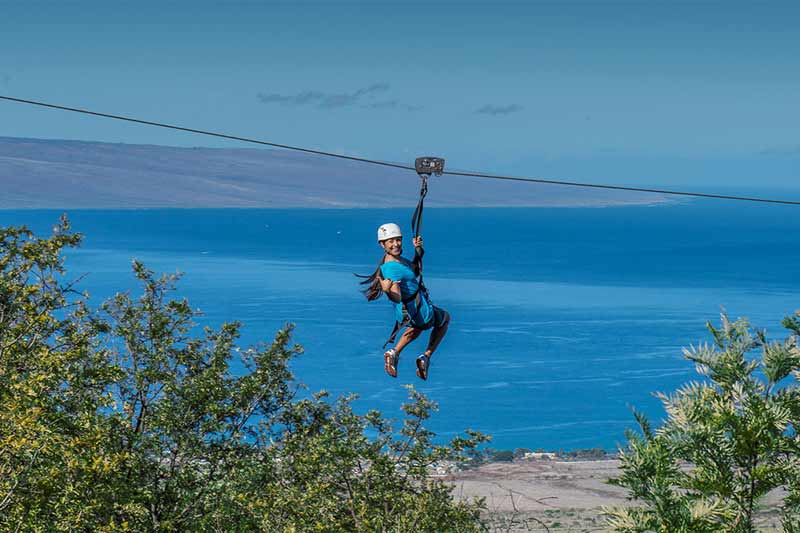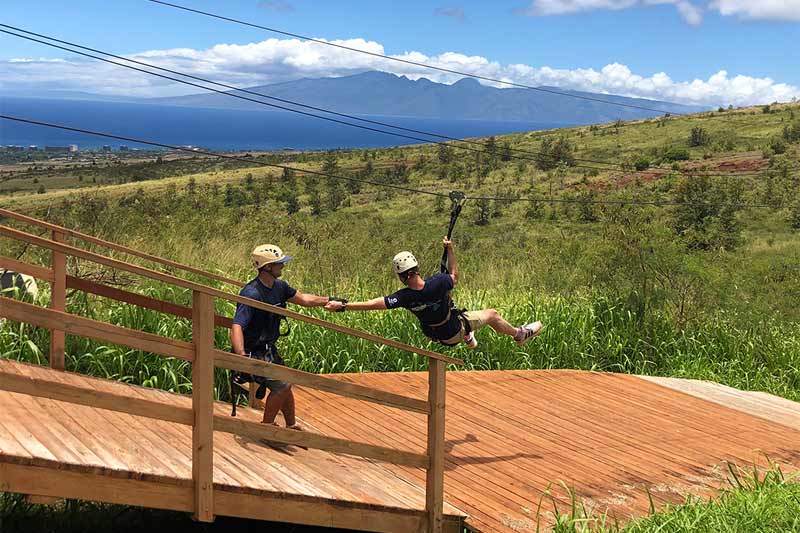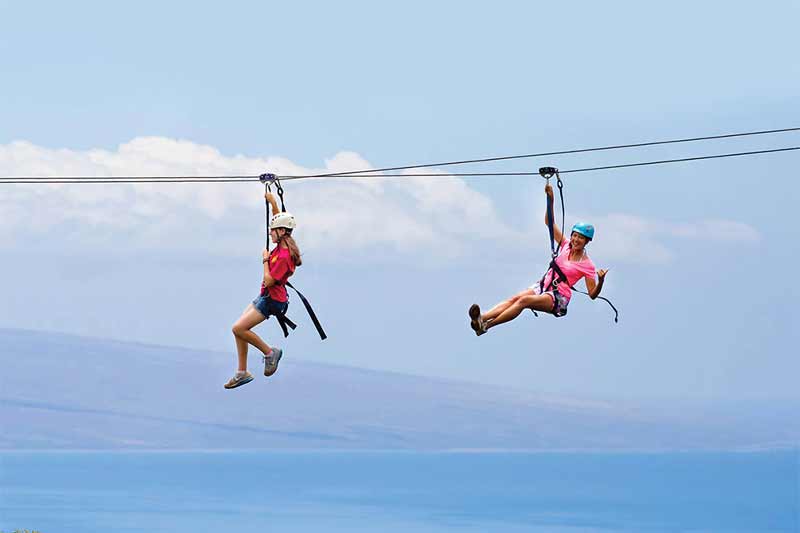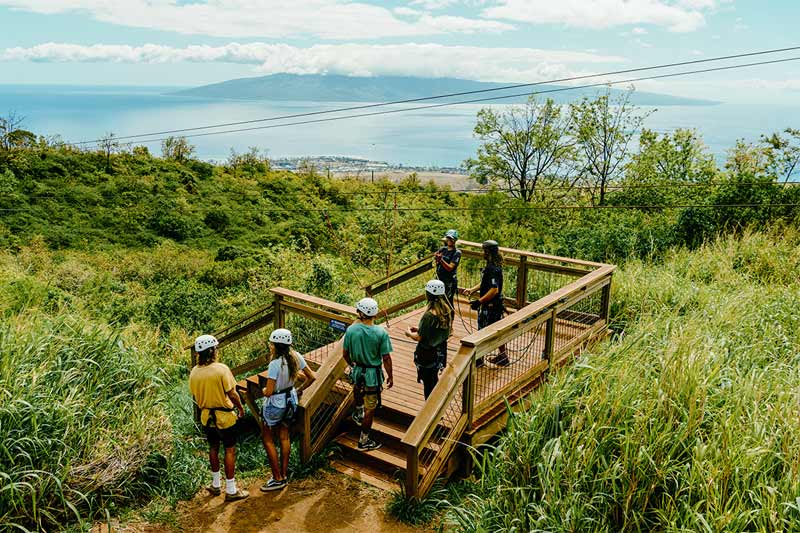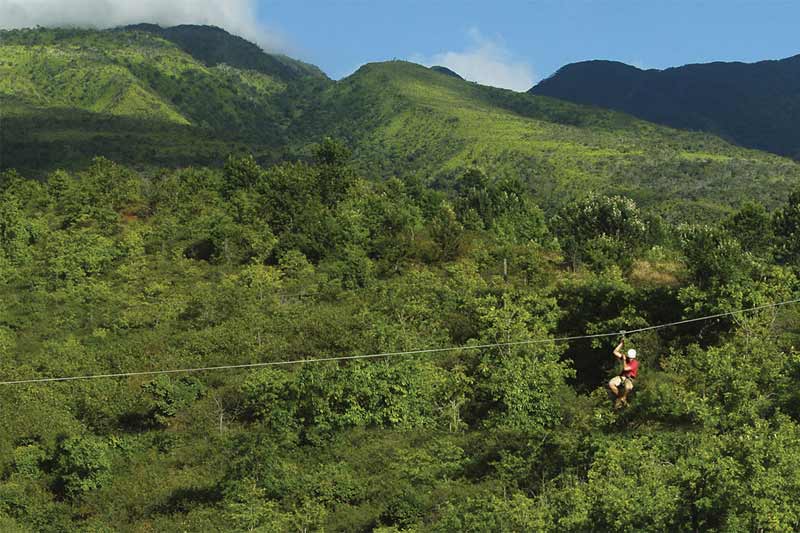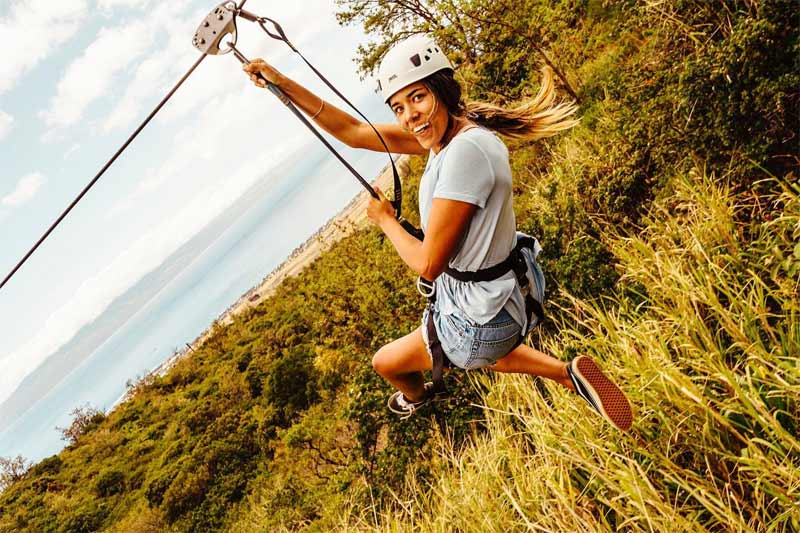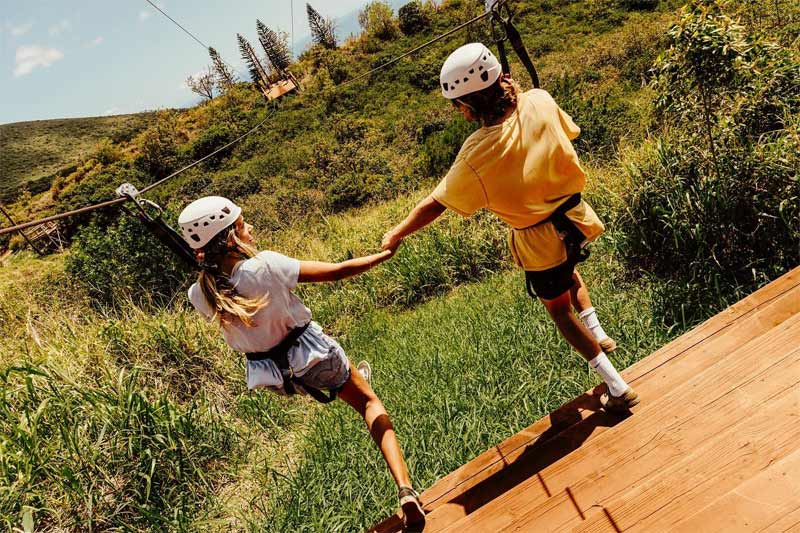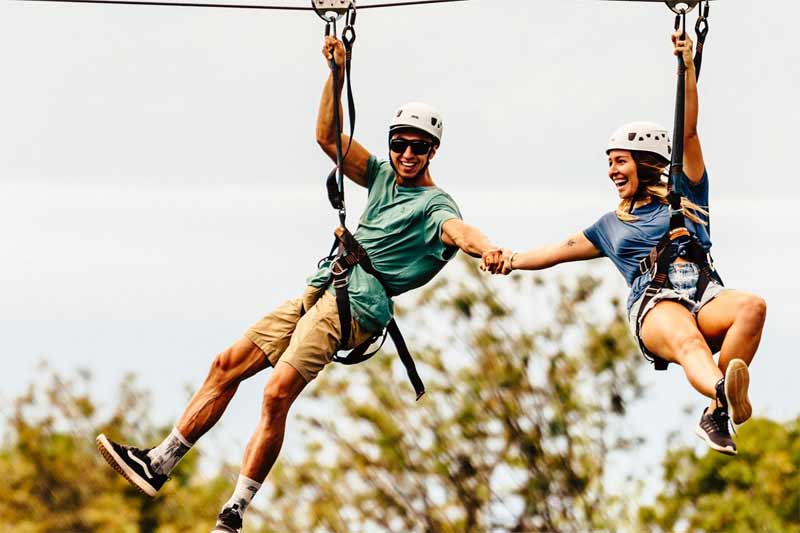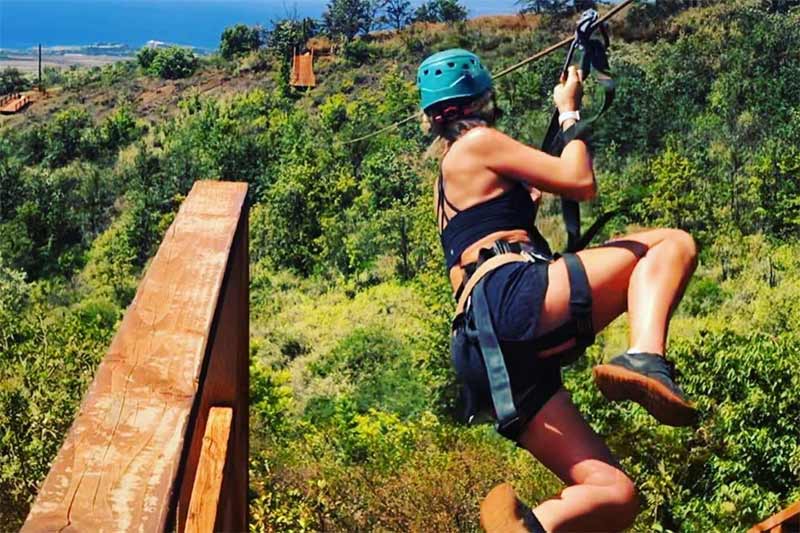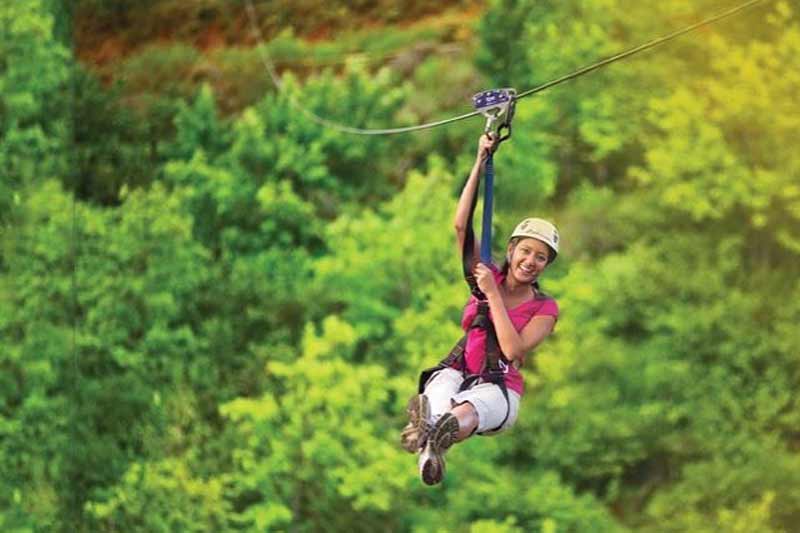 ---
Kaanapali Zipline is reopening on December 15, 2023 and we are now accepting reservations on / after that date!
Highlights
8 very scenic ziplines with fantastic ocean views
Second generation course built by the pioneers of zipline industry
Modest amount of hiking between lines
Weight limit 260 pounds. Minimum age is 10.
---
Description
Hidden from the resorts below lies an adventure on the slopes of the West Maui Mountain and high above Kaanapali Beach. The Kaanapali Zipline tour offers vast views of West Maui, and the islands of Lanai and Molokai. The adventure starts at the Kaanapali Skyline storefront location in the Fairway Shops along Highway 30 in Kaanapali. After you check in here, an off road vehicle will tranport you into the rugged foothills of Mount Kahalawai (the West Maui Mountains). The expanse of the Pacific ocean provides a stunning backdrop for the thrilling Kaanapali zipline crossings!
This Kaanapali Zipline course soars high above a seasonal mountain stream and over two diffrent valleys. The adventure has 8 lines ranging from 350' to 1000' feet in length, and you will fly above areas that are otherwise inaccessible. Take a break halfway through the tour, and gaze over the edge of a panoramic 1000 foot overlook. The next half of the tour the lines get faster and longer!
---
Cost
Kaanapali Zipline - 8 Line Course Rate (SKYK1)
$189.95 per Adult, $189.95 per Child (14 and under) (plus 4.1667% Hawaii sales tax)
---
---
Details
Schedule: Monday through Saturday at 8am and 12pm with other times added during peak season. During January, February, and March of 2024 they will be operating Thursday, Friday, and Saturday only.
Check In: 30 minutes prior to tour time at Kaanapali Skyline storefront in the Fairway Shops.
Duration: Approximately 4 hours
Tour includes: Water stations with cups are located throughout the course. Aloha Maid juice is included at the end of the tour.
Restrictions: Minimum age for this tour is 10; anyone under 18 must have a legal guardian present at check in. Ages 10 to 14 must have an adult with them on the tour. All participants must sign a waiver of liability prior to taking this tour. Minimum weight is 80 pounds and maximum weight is 260 pounds. No one who is pregnant may participate and anyone with a history of neck, back, or joint injuries or chronic heart problems should use their own discretion about their capabilities to safely participate in this tour. Guests who are zip lining must be in good enough health to hike for two miles. No smoking on this tour. No scuba diving within 24 hours of the start of this tour.
What to Wear: Hiking boots or athletic shoes are required (no Tevas, Keens, Crocs, etc). Longer shorts and a short-sleeved shirt are recommended. White clothing is NOT recommended.
Reservations: Advanced reservations required and we recommend booking this a month or more before your arrival. This event is "RESERVE NOW PAY LATER"; we need a credit card on file to finalize your reservation but we do not charge you for this reservation until a few days before the beginning of your vacation!
Minimum Notice for Cancellations / Changes: At least 48 hours before the start of the event. All tours go out rain or shine.
Note: This page presents one of the more extreme zipline tours on Maui. If you are looking for more kid friendly zipline experience that takes children as young as five, be sure to see our Maui Zipline page.
---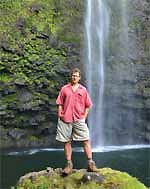 Kevin's Activity Tips:
This tour is operated by the folks who started the zipline craze here in Hawaii with Maui's first course on the slopes of Haleakala. This Kaanapali course represents the second generation of zipline tours as there are more lines here and the lines are longer.
There are two different "technologies" used in zipline tours today. The classic zipline tour uses a climbing harness, carabiners, and a single attachment point to a small trolley which rides on the line. The newer and more heavy duty system that has popped up on many courses installed in the last few years uses a paragliding harness that feels like a built-in seat, with two attachment points (one on either side of you) to a much larger trolly. This type of equipment allows for longer lines and higher speeds (think lines that are a half mile long or more), but it feels more like a "ride" than a classic zipline. The Kaanapali Zipline tour uses the classic climbing harness, but has lines that are really long. Both types of ziplines are fun, but this classic type will make you feel more like an action hero in a "Die Hard" or "James Bond" sequel!
Please note the weight limits ... guests must weigh between 80 pounds and 260 pounds. If you weigh 280 and say on the reservation form that you weigh 255, you will regret that decision. All participants are weighed upon check in, and if you fall outside of the range you will not get to do the tour and you won't get a refund. The reason for the weight restrictions? Participants who weigh less than 80 pounds will consistently run out of speed near the end of a zipline and when they fail to reach the other side they will stop and then roll back to the middle of the line. This isn't dangerous at all (as a matter of fact it can be fun to get stuck in the middle), but it takes significant time for a guide to rig up and extract the stuck individual. One or two guests who consistently come up short would throw their tour schedule into disarray. Participants who weigh over 260 pounds would cause a different problem. This one IS safety related. It isn't that the equipment can't handle the weight ... it could handle the weight of a pregnant elephant. But heavy passengers can come in too fast exceeding the capacity of the braking system to safely slow them down. If someone in your party is right on the line at the weight limit, be honest about their weight when making a reservation and take appropriate measures (usually dieting). Then at least 48 hours before the tour stop by their location and get weighed. Anyone can be dropped from the reservation and get their money refunded if it is done at least 48 hours before the start of the tour. This gives them a chance to sell the space to someone else.
Because of the remote location and the four wheel drive transportation required to access this private mountainous area, no observers are permitted to ride along on these tours.
There is a modest amount of hiking on the 8-line tour, but it isn't paticularly demanding as it is mostly downhill. The tour operator says that participants must be able to hike for 2 miles to do this tour; there isn't nearly that much actual hiking during the tour, but they don't want people out there for whom the thought of doing a two mile hike is out of the question. You don't have to be a buffed athelete to do this tour, but you should be in reasonable physical condition and in overall good health. Oh, no upper arm and body strength is required. The harness and lanyard carry all your weight and you are securely clipped in. You wouldn't fall if you let go.