Calypso Sunset Dinner Cruise
Calypso Sunset Dinner Cruise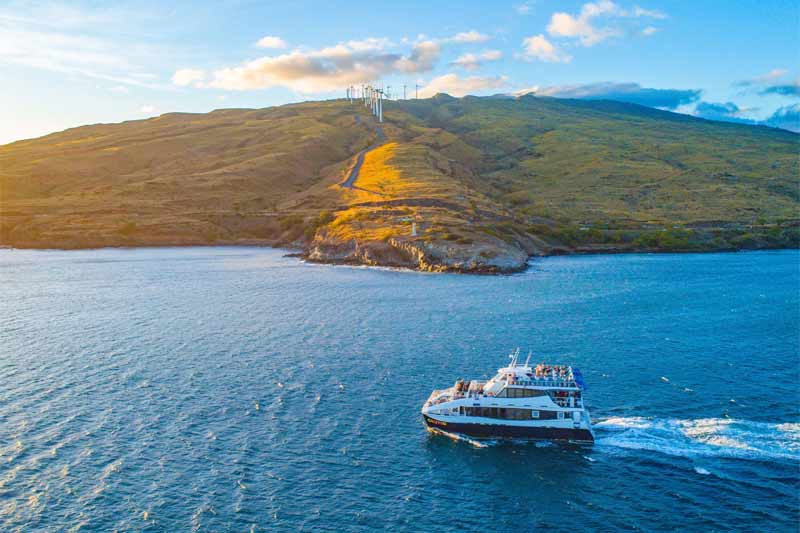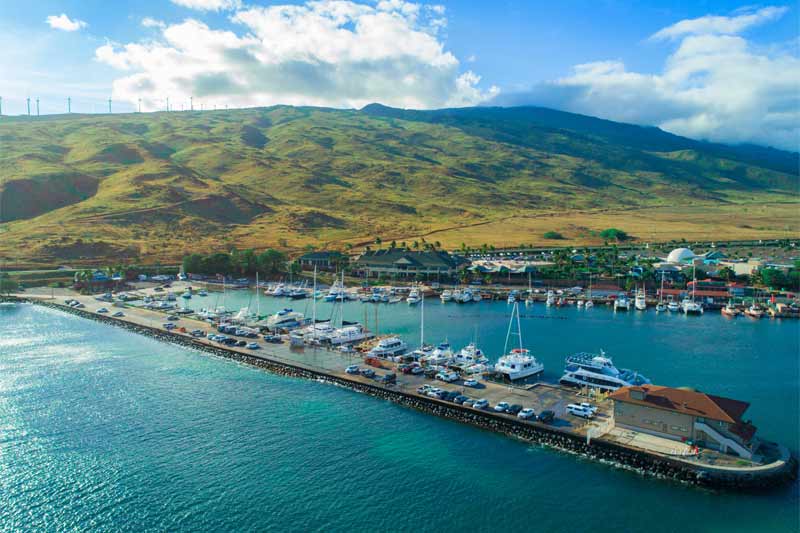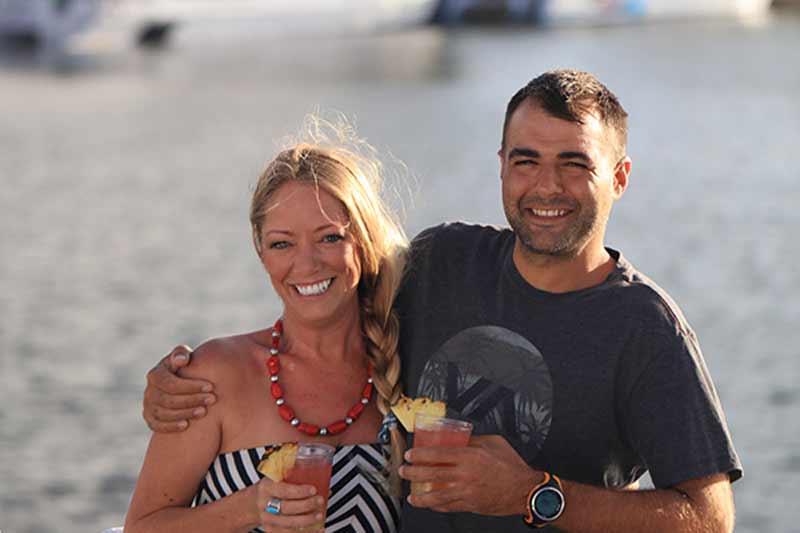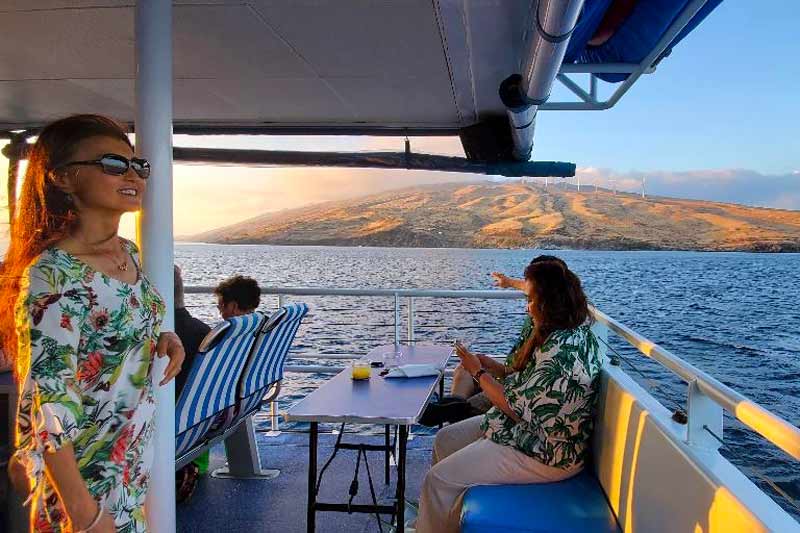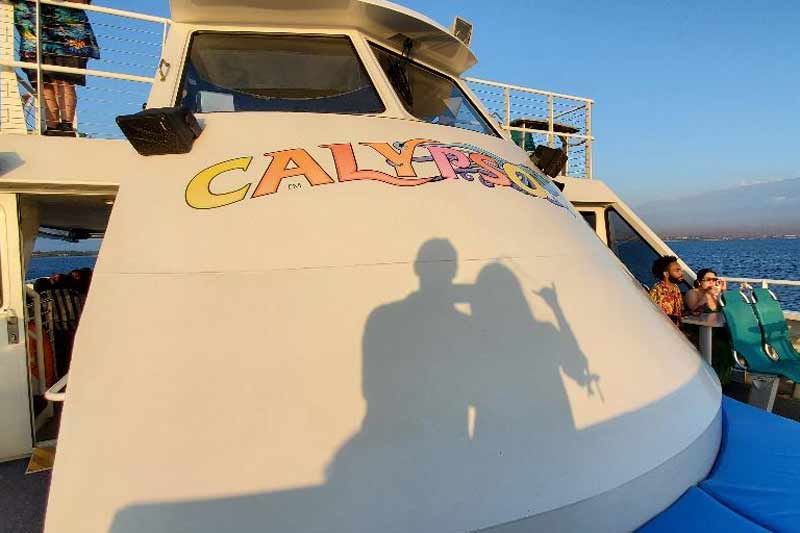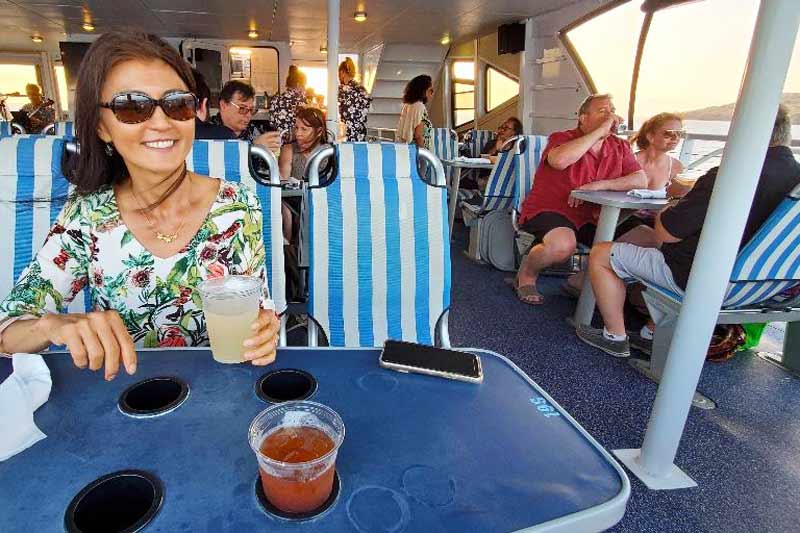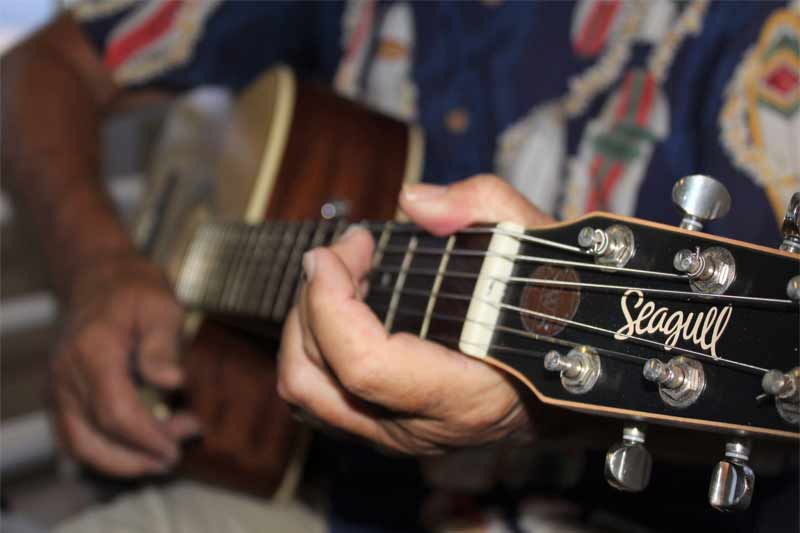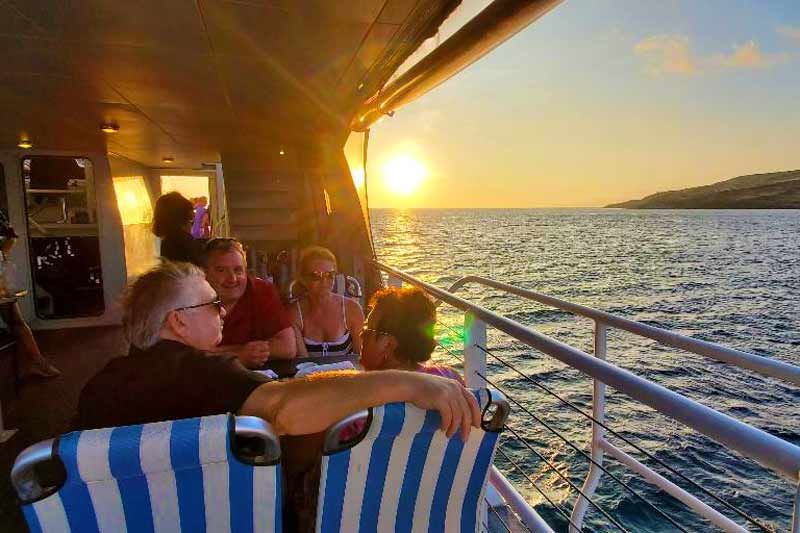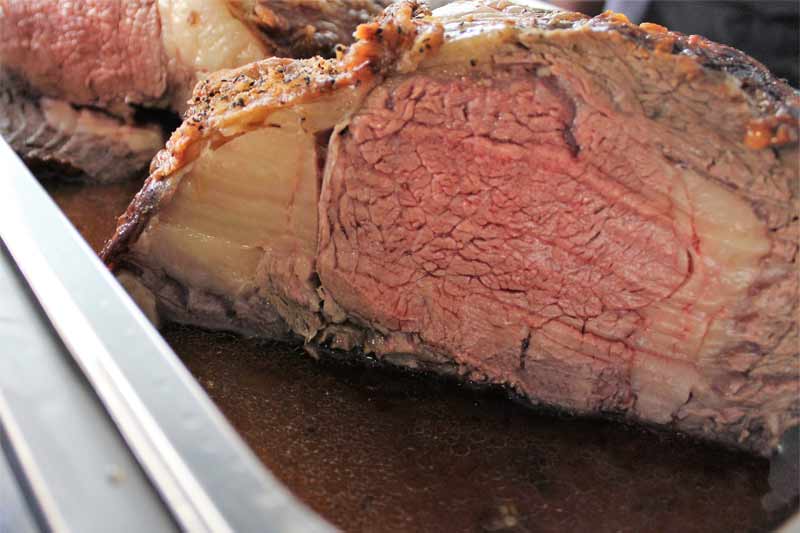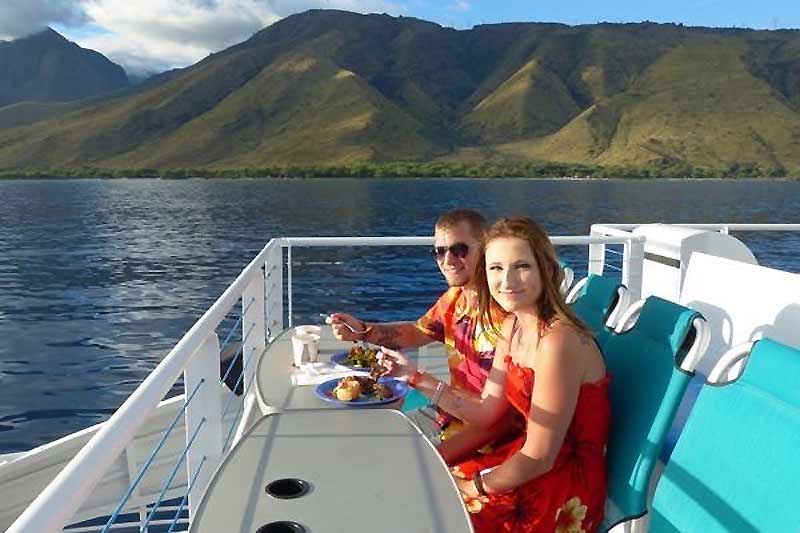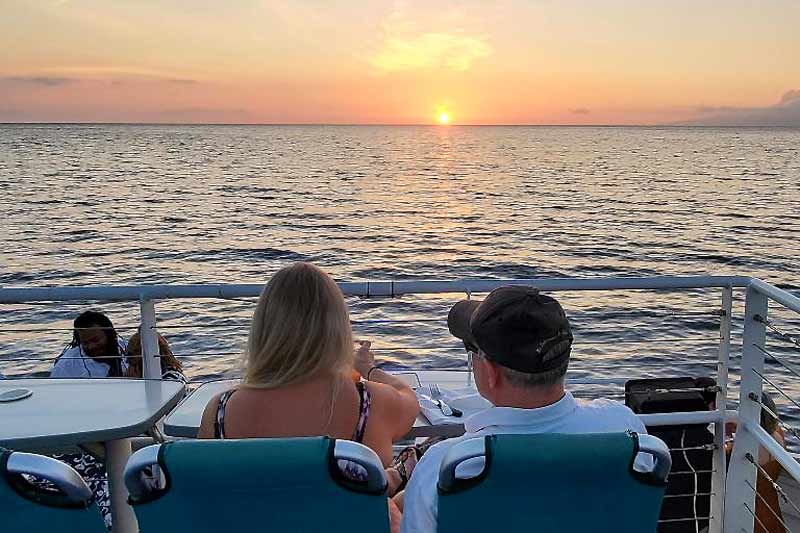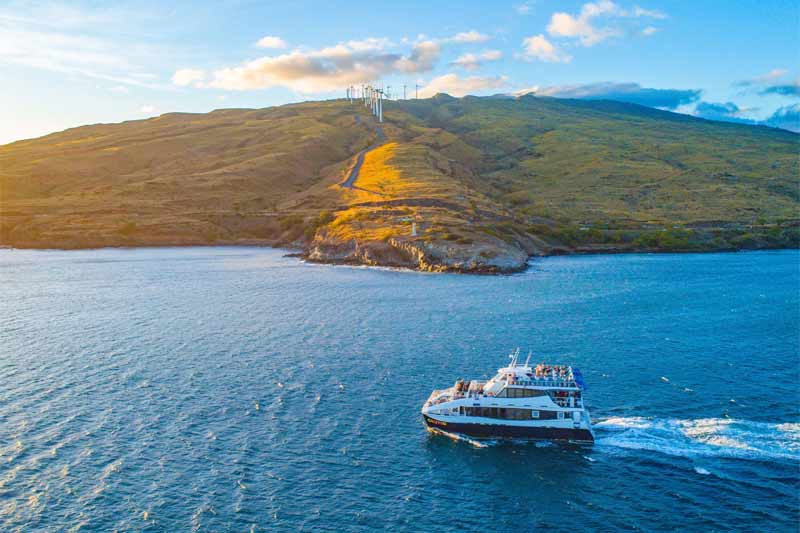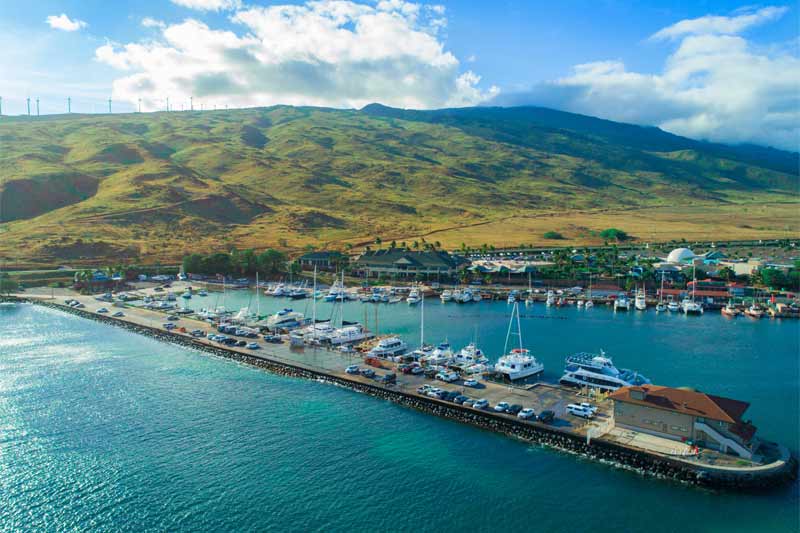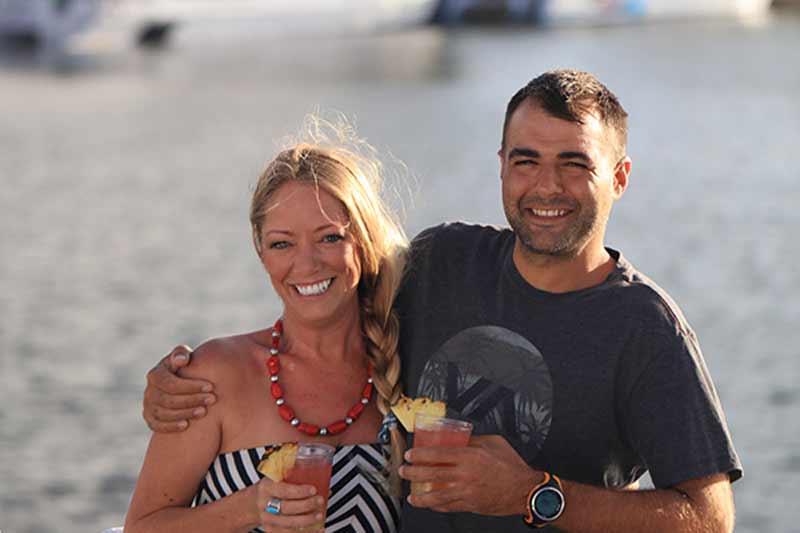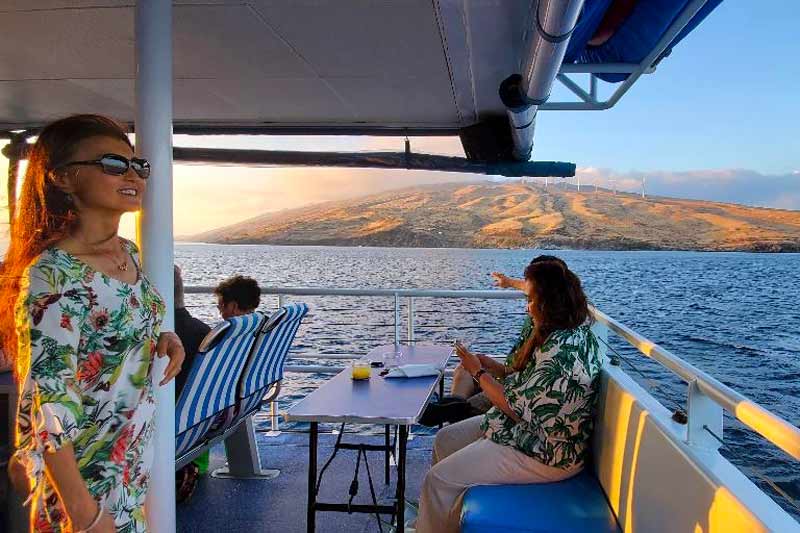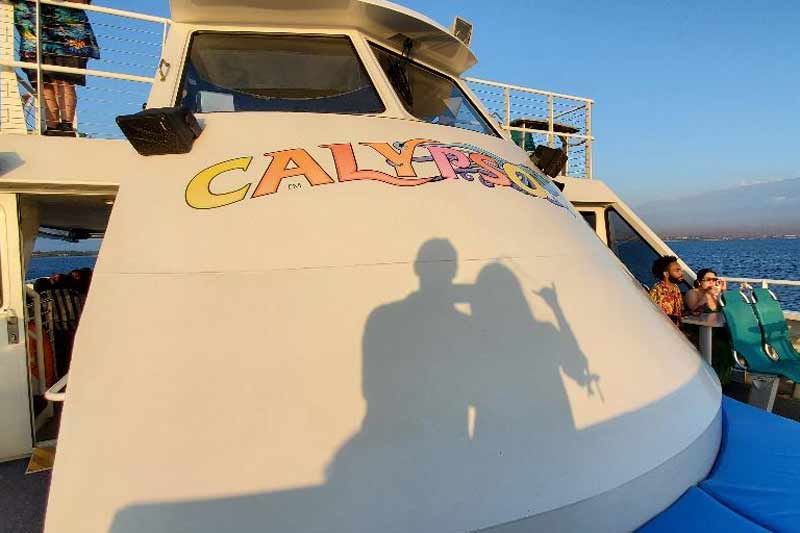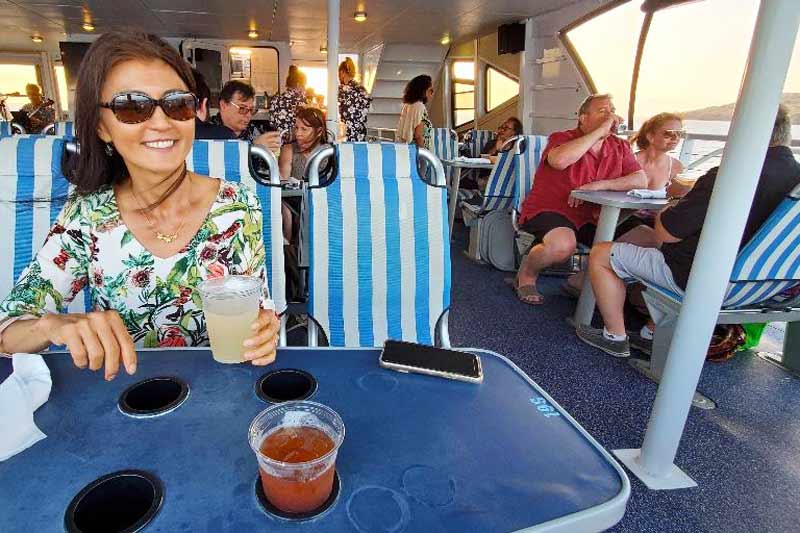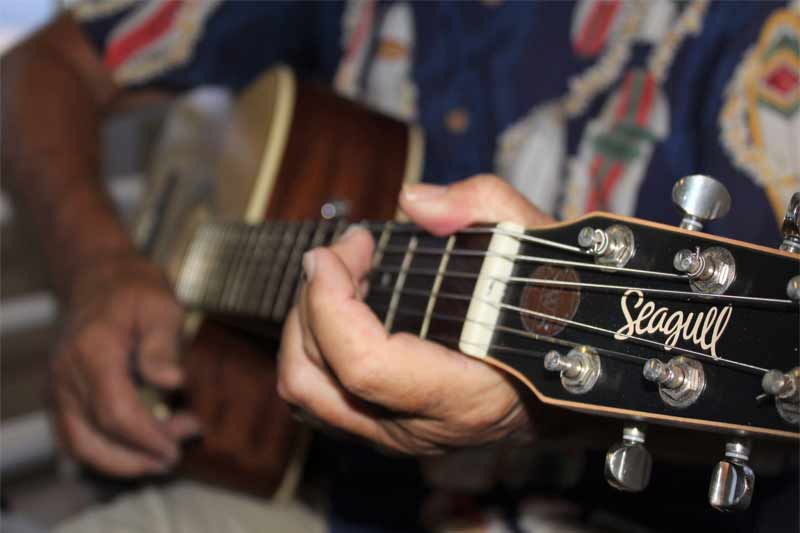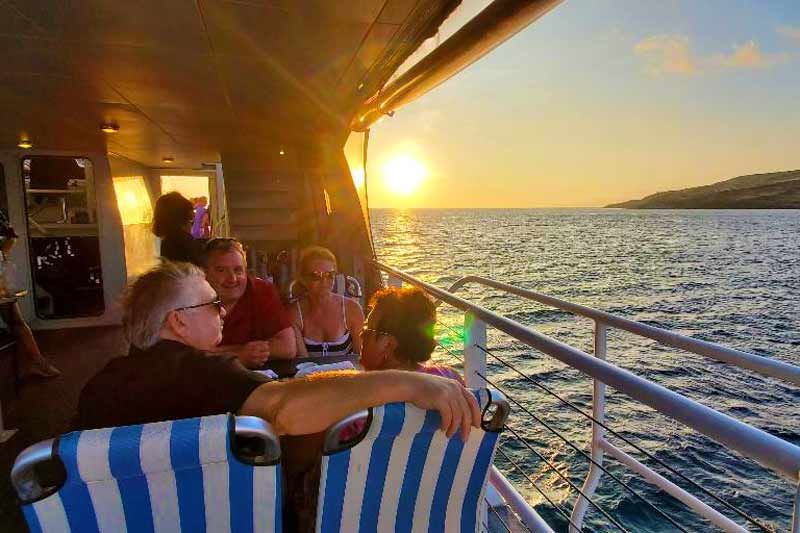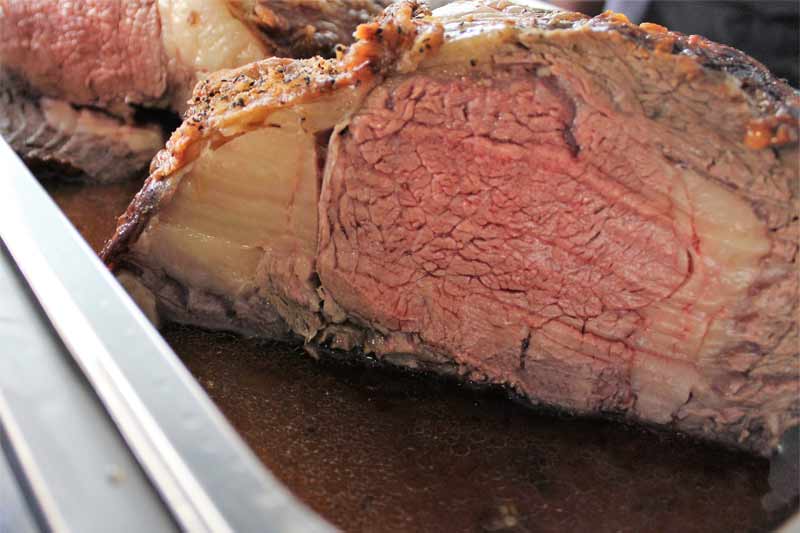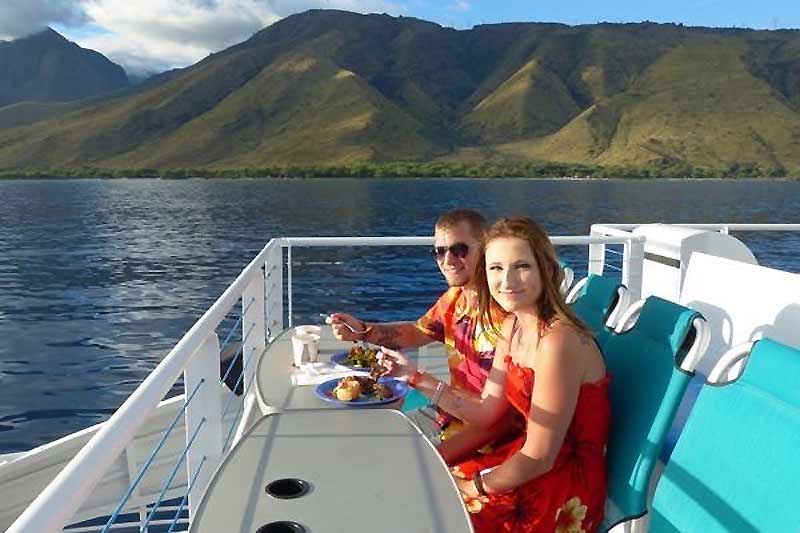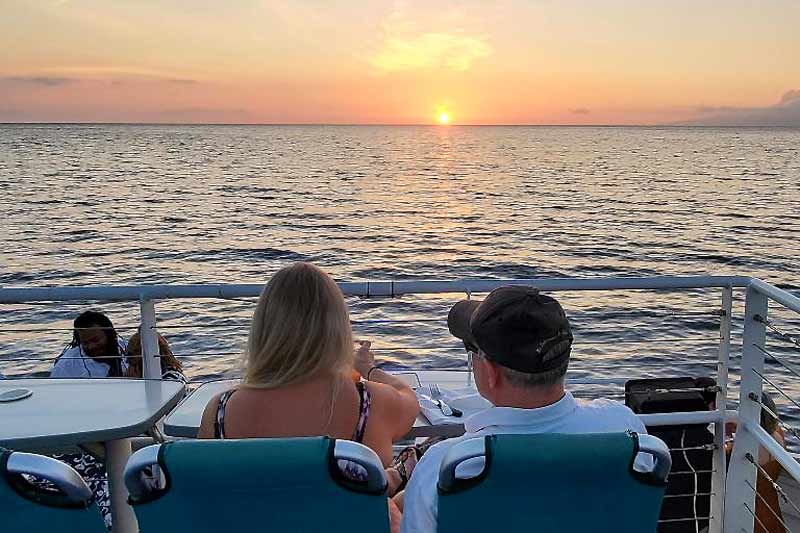 ---
Highlights
Spacious, stable vessel with three decks to explore
Fantastic views of the sunset, West Maui Mountains, and Haleakala
Full sit-down dinner with table service
Two drink tickets for alcoholic beverages. Additional drinks are inexpensive.
---
Description
Calypso is a spacious, stable 65' foot powered catamaran custom built here in Hawaii to provide full-featured snorkeling and dinner cruises. With its three decks, all-table seating, and indoor/outdoor design, this vessel is a great choice for a sunset dinner cruise. The twin hull design of the catamaran allows it to cut through the waves while the center of the vessel is held above the surface. A smooth, fast ride is the result! Comfortable table seating is available for everyone, which is important in a true sit-down dinner cruise! An attentive staff provides all the service you need during your dining experience.
This dinner cruise is offered daily, with later afternoon / early evening departure from Maalaea Harbor, which is centrally located on Maui. The relaxing two-hour excursion gives you time to enjoy a delicious meal, explore the incredible craft, listen to great island-style music, and watch the sun go down from one of the many vantage points available on board. Many of the tables have full-on ocean views, and you are free to explore all three decks of the vessel throughout the cruise.
Dinner Entree Selections:
Hawaiian Slow Roasted Prime Rib: Hand carved to order by onboard chef, served with horseradish, au jus & other condiments available.
Baby Back Ribs: Aaward winning, meaty, mouthwatering ribs are slow smoked in a rotisserie smoker over kiawe and guava wood, and basted in homemade sweet & tangy BBQ sauce sealing in the moisture and adding a tender crispy "bark" to the outside!
Smoked Chicken: Plump chickens are seasoned or "rubbed" with our homemade dry rub and using a custom stand are placed in a rotisserie smokerusing a combination of Kiawe and guava wood until the skin is crispy golden brown and the chicken swells with moisture steaming from inside.
Local Island Fish: Delicious local island fish (usually Mahi-Mahi or Ono) served with fresh lemon, & savory caper beurre blanc sauce.
Vegetarian Option: Cheese Tortellini w/ sautéed green/red peppers & served with a creamy alfredo sauce.
All Options Include: Caesar Salad with homemade croutons and fresh shaved parmesan cheese, Hawaiian dinner rolls with butter, and your choice of either Chocolate Cake or New York Style Cheesecake for dessert.
Bar Selections:
Mai Tai: Light + Dark Rum, Guava, Pineapple & Splash of Cranberry.
Pina Colada: Light Rum, Coconut, Pineapple, Splash of Dark Rum.
Margarita: Silver Tequila, Sweet & Sour, Splash of Orange Juice.
Dark 'N' Stormy: Dark Rum, Ginger Ale & Splash of Bitters.
Tequila Sunrise: Silver Tequila, Orange Juice & Cranberry.
Vodka Soda Spritz: Vodka, Soda Water, Spritz of Your Choice (Guava or Pineapple).
Local Beers: Maui Brew Co. "Bikini Blonde" & Maui Brew Co. "Big Swell IPA".
Wine: Chardonnay & Cabernet.
Non-alcoholic: Water, soft drinks, juices.
All adult guests receive two drink tickets for alcoholic beverages. Additional alcohol may be purchased for a very reasonable price.
---
Cost
Calypso Sunset Dinner Cruise Rate (CALY3)
$146.95 per Adult, $116.95 per Paying Child (12 and under), Free Infants (3 and under) FREE (plus 7.167% Hawaii sales/harbor tax)
One free infant per adult; additional infants are charged the child rate.
---
Location
GPS Address: Slip 82, South Ferry Dock, 101 Maalaea Rd, Wailuku, HI 96793 Click to view map
---
Details
Schedule: Currently running on Monday, Wednesday, Thursday, Friday, and Saturday
Check In: 4:30pm in winter and 5:00pm in summer at Maalaea Harbor slip #76 & #78. This is the boat harbor in Central Maui just behind the Maui Ocean Center Aquarium along Highway 30. Parking is available for a small fee and can be paid using credit card or using an app on your phone. Allow ample time for parking / arranging payment.
Duration: 2 hours
Vessel: High speed 65' powered catamaran coast guard certified for 149 passengers.
What to Wear: Casual evening resort attire. We also recommend a light jacket.
Infants (3 and under): One free infant per adult. Additional infants are charged the child rate. Free infants do not receive a meal. If you'd like a meal for them, reserve them as a paying child rather than a free infant.
Reservations: Advanced reservations required and we recommend booking this a month or more before your arrival. This event is "RESERVE NOW PAY LATER"; we need a credit card on file to finalize your reservation but we do not charge you for this reservation until a few days before the beginning of your vacation!
Minimum Notice for Cancellations / Changes: At least 48 hours before the start of the event. All tours go out rain or shine.
Note: Calypso is one of the few vessels that is wheelchair accessible for access to the lower deck. Please note that this allows a wheelchair guest to go along to enjoy the cruise with access to lower deck tables and rest rooms, but they will not be able to access upper decks.
---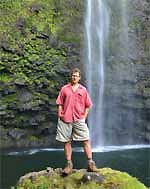 Kevin's Activity Tips:
My wife and I enjoyed an evening aboard Calyspo recently; several things about this cruise make it stand out from others. First, I have been on lots of sunset cruises where you have to hold onto your plate while you eat dinner. Juggling a plate with one hand, and a drink with another hand, while holding a fork with a third hand and a knife with a fourth hand so you can cut a piece of meat just doesn't work for most people I know (who were born with only two hands). On board Calypso EVERY guest gets a comfortable seat at a table, so you don't have to worry about the gymnastics involved on other boats!
We also really liked the food ... one of us had the prime rib and the other had the smoked chicken. Both were really good entrees ... the first course is a Caesar salad with Hawaiian rolls and butter, the second course is your choice of entree served typically with mashed potatoes and fresh vegetable medley, and for a dessert coarse you get your choice of Chocolate Cake or New York Style Cheesecake. There is nothing FANCY about the food, but IT IS GOOD QUALITY and we both really enjoyed dinner!
There are plenty of cocktail options and your dinner cruise includes the first two alcoholic beverages for free ... additional drinks were reasonably priced at $5 ... hey, I've been gouged $24 for a Mai Tai at a resort hotel, so that's not a bad deal here on Calypso!
Many (most) tables have excellent views of the ocean ... a few don't ... so we do advise you to arrive early to checkin so you have the best selection of tables when you board. The very best views are of course on the open-air top deck, but it's pretty windy up there on most nights. It's a great place to hang out for a drink while you are watching the sunset, but maybe not the best place to sit during dinner. There are open-air tables with great views at the bow on both the middle deck and lower deck, and there are tables with really good views at the stern of the boat on the middle deck. This is probably the BEST place to sit for a compromise between best views and most sheltered conditions for dining.