Teralani Kaanapali Snorkel Sail
Teralani Kaanapali Snorkel Sail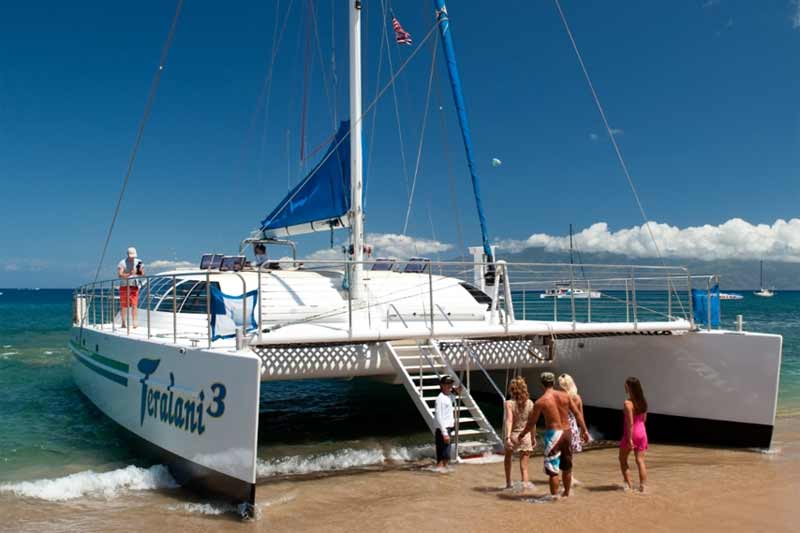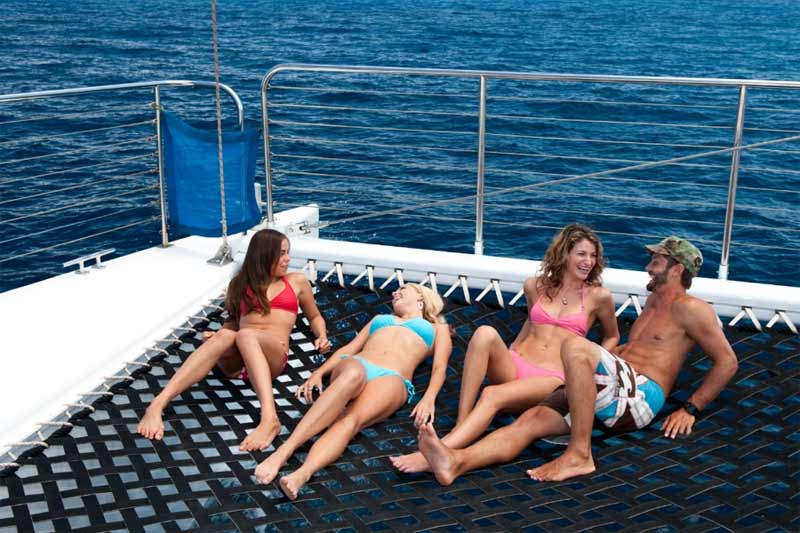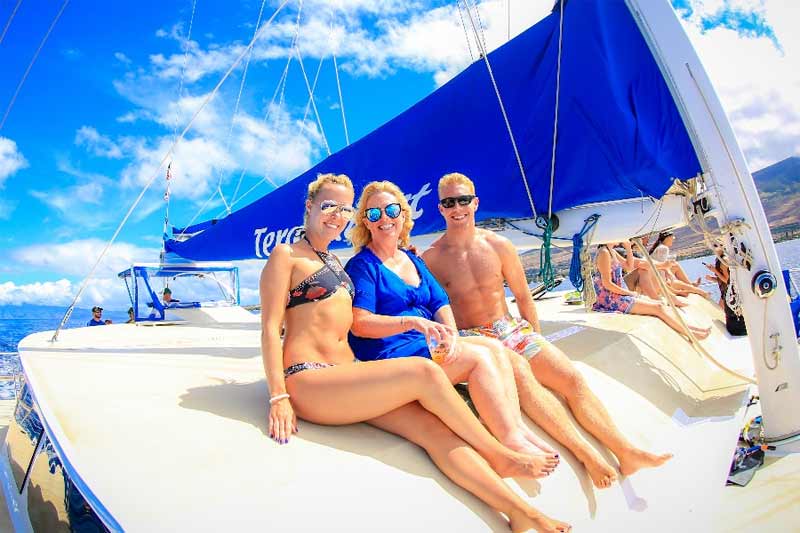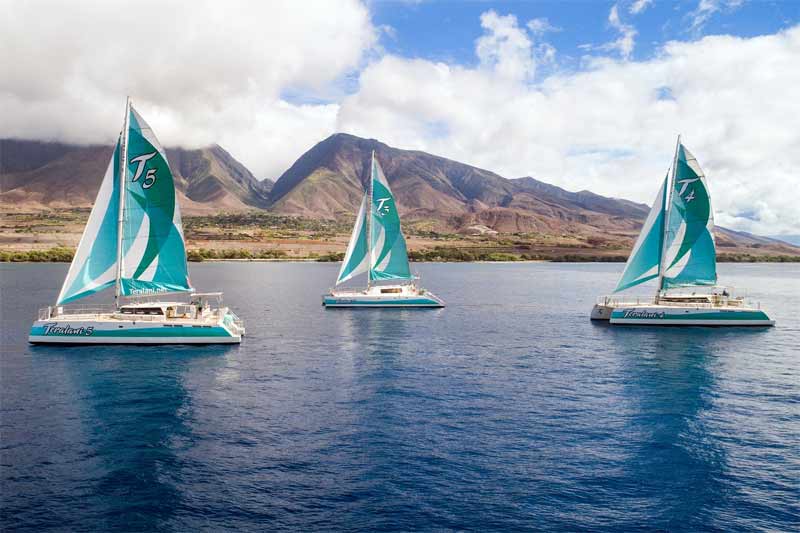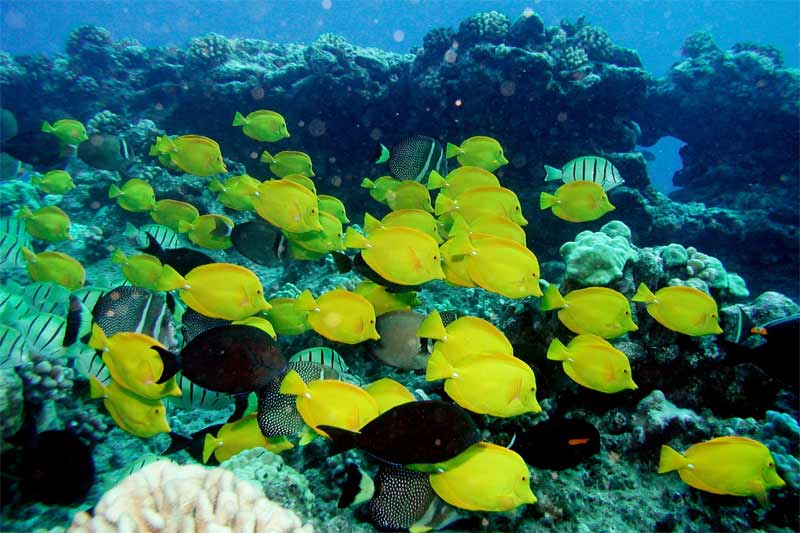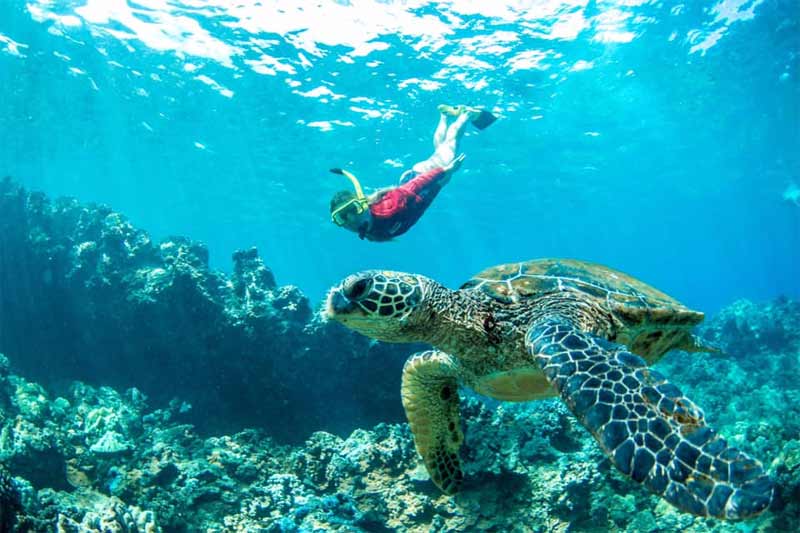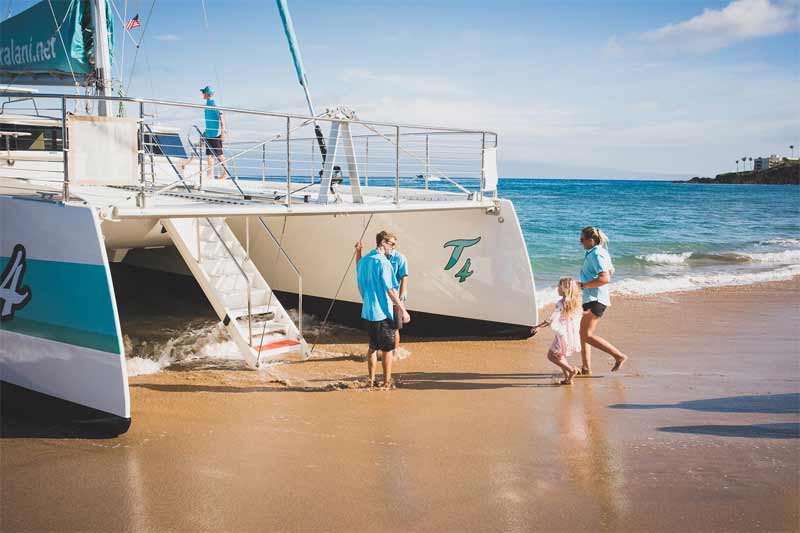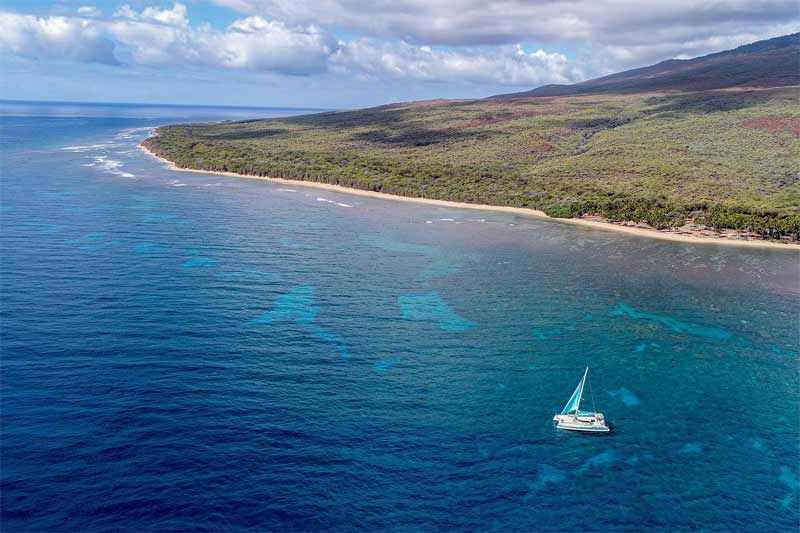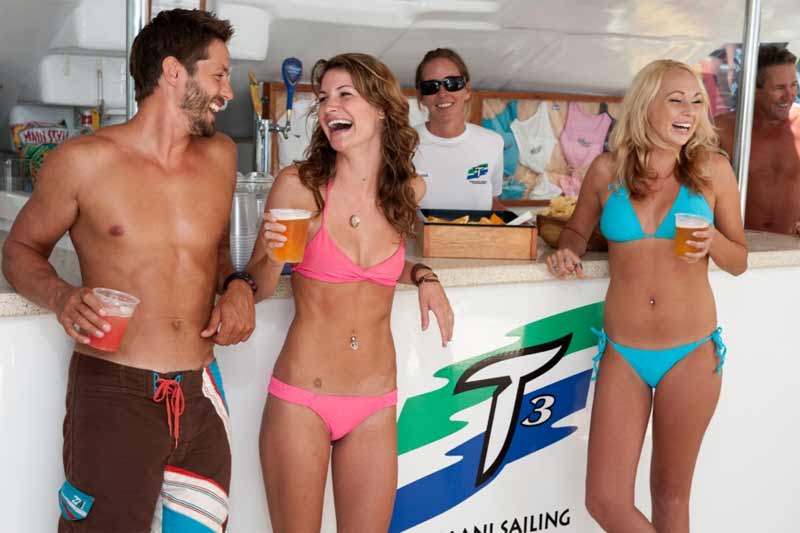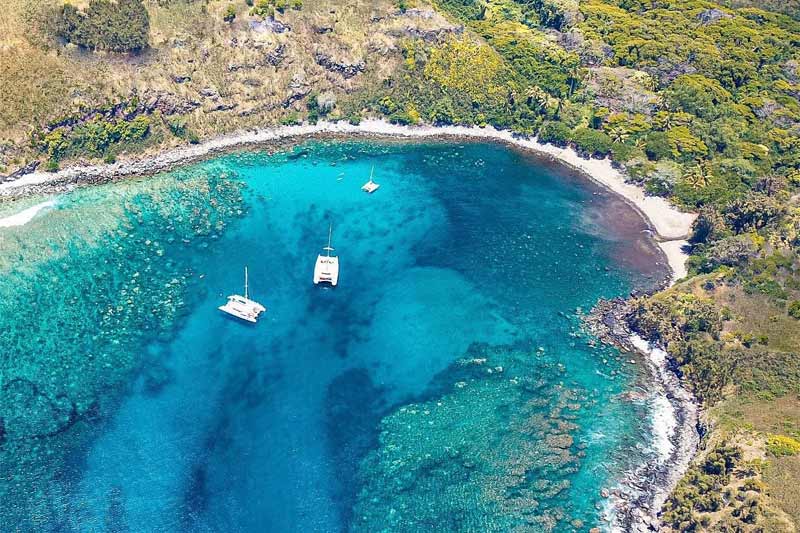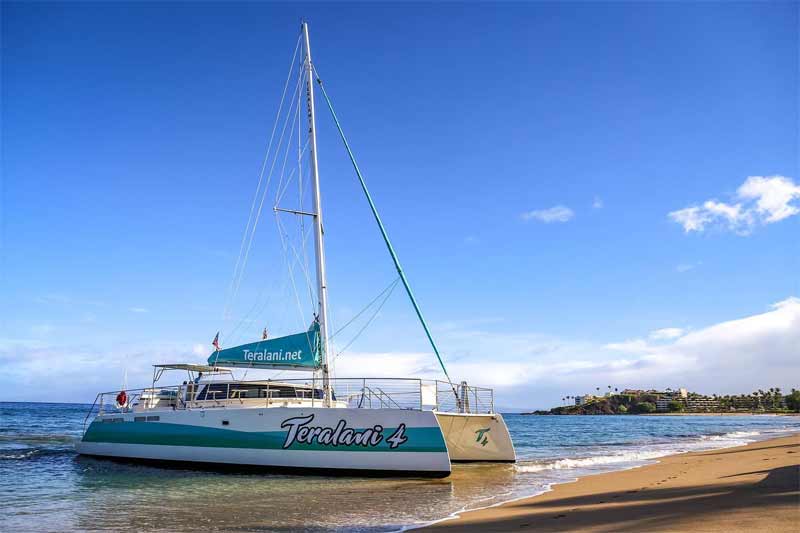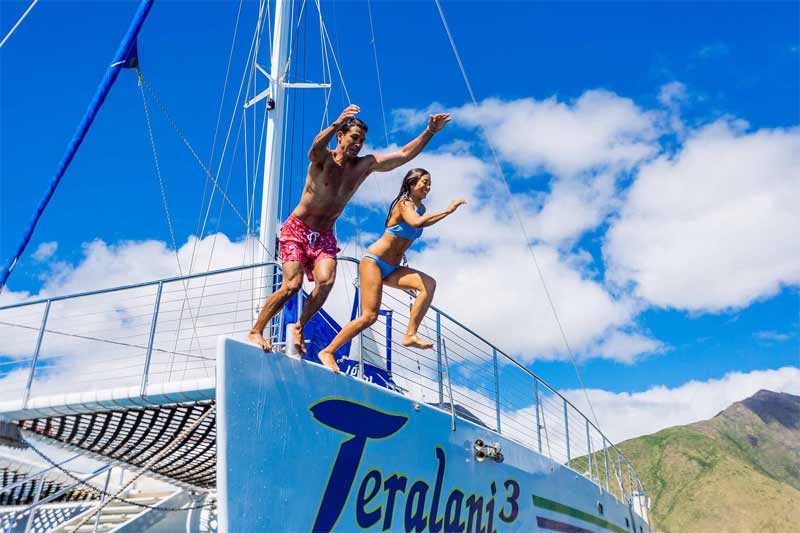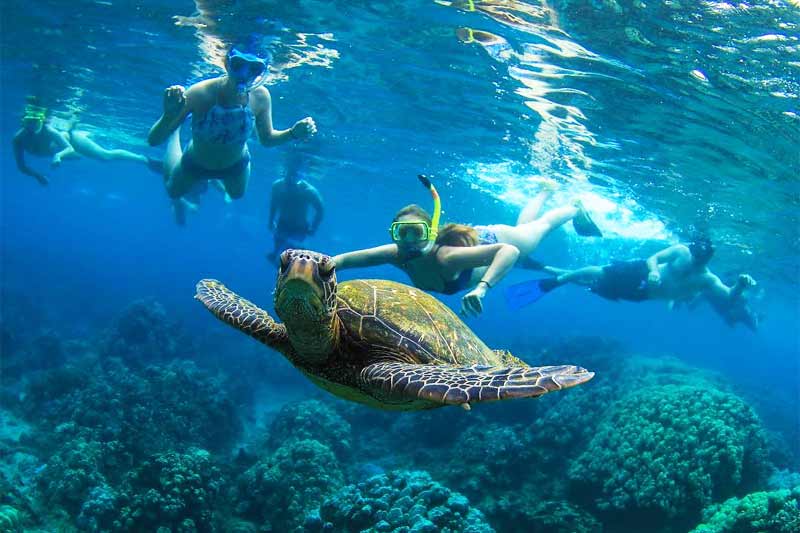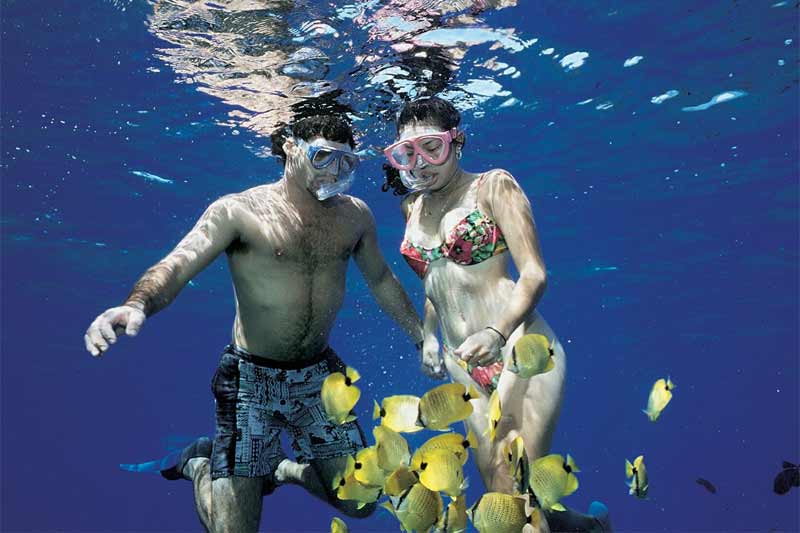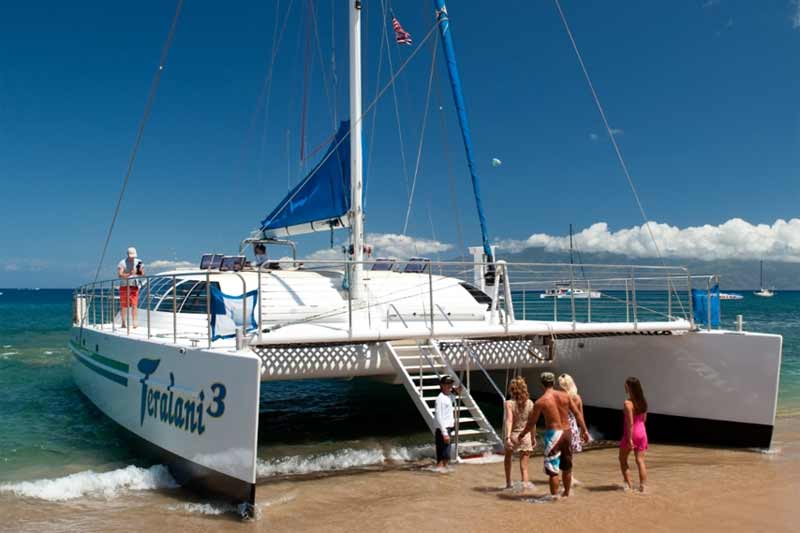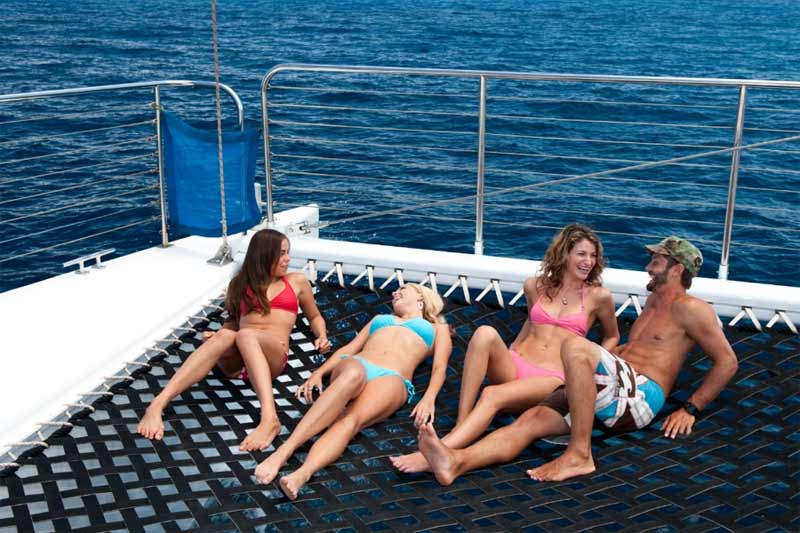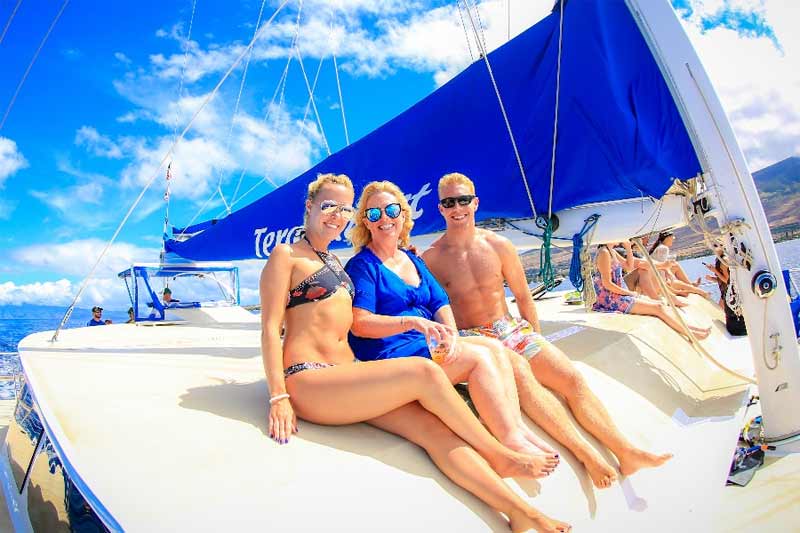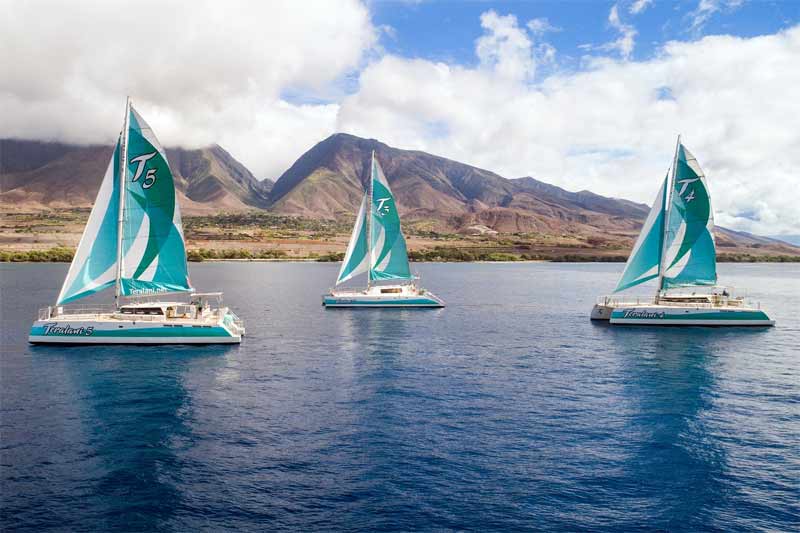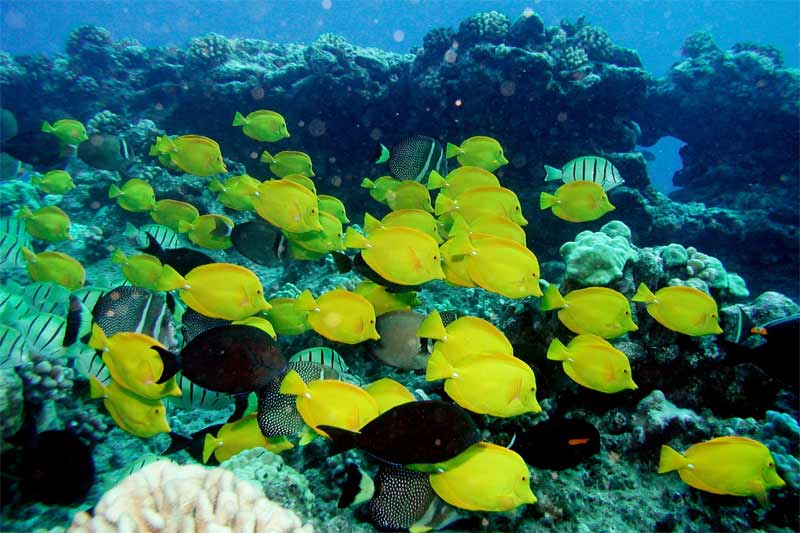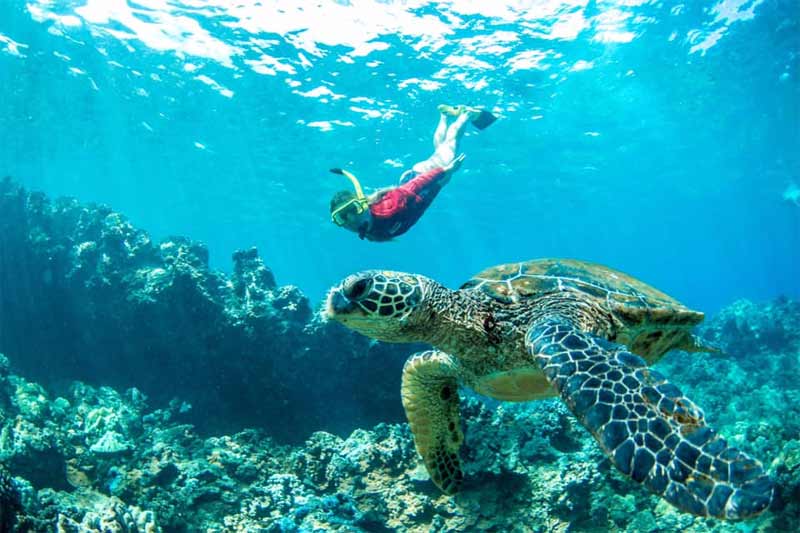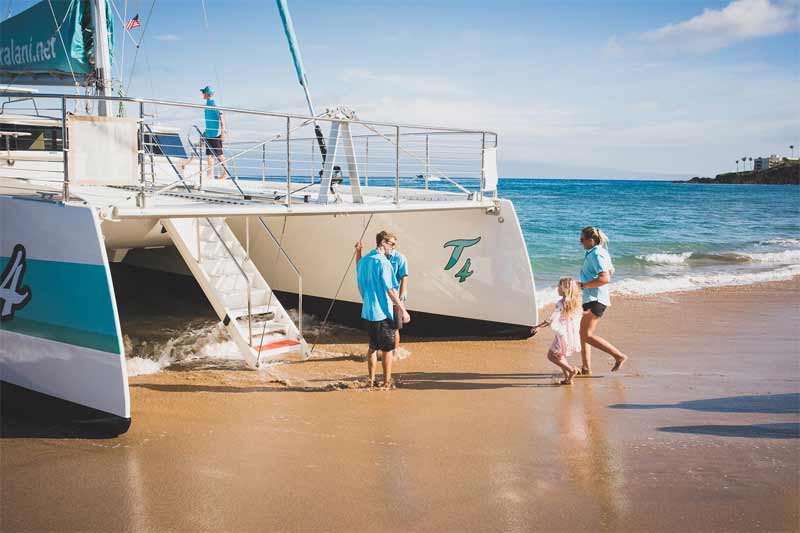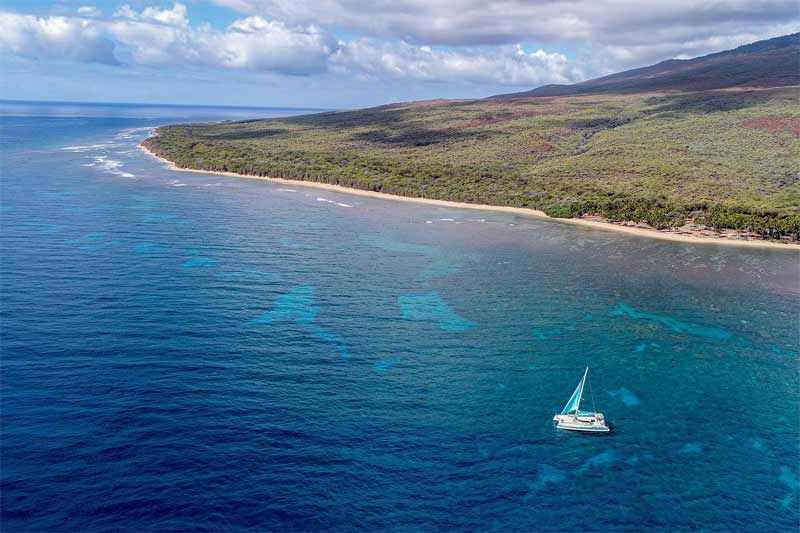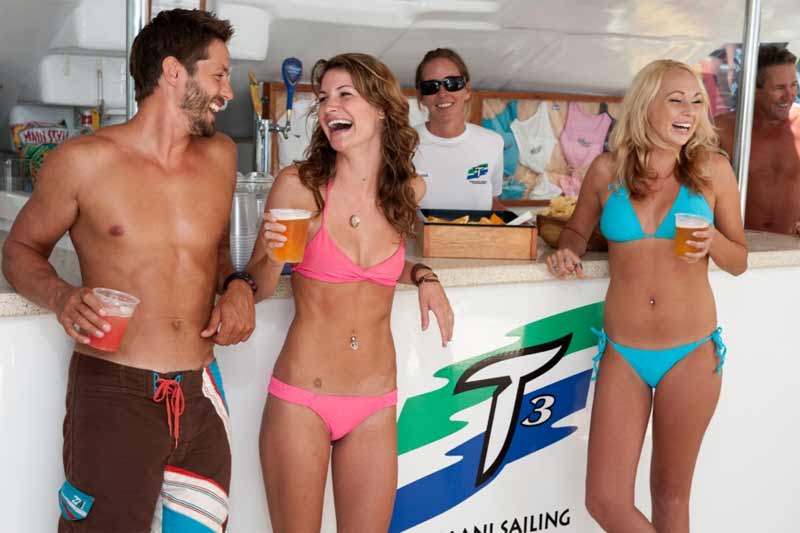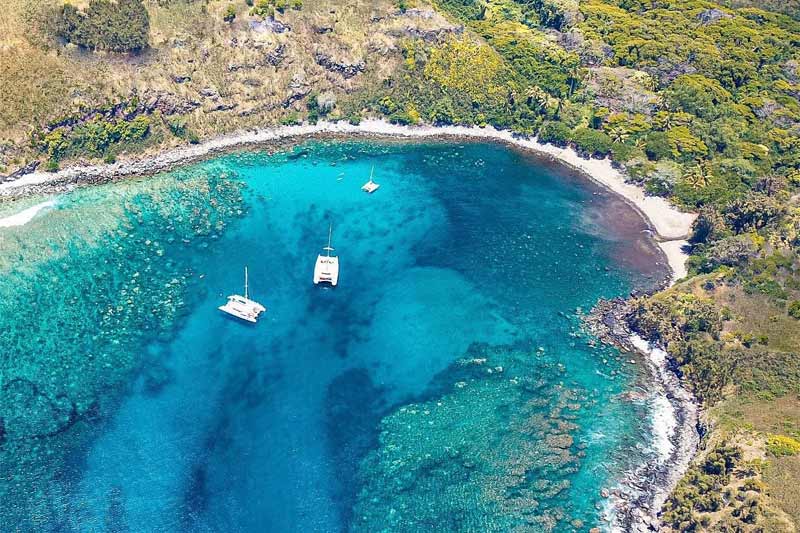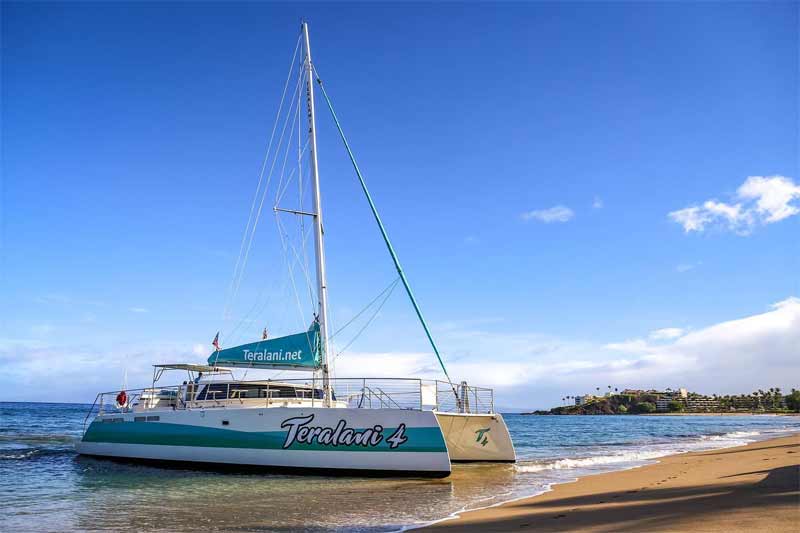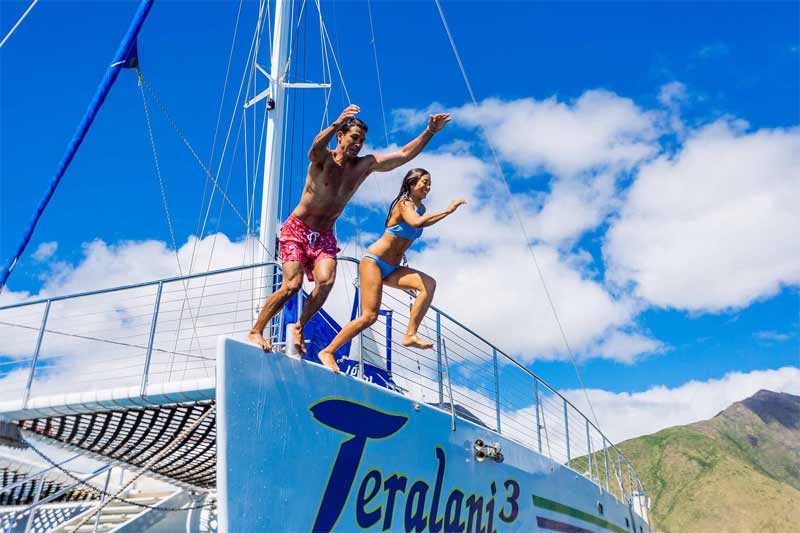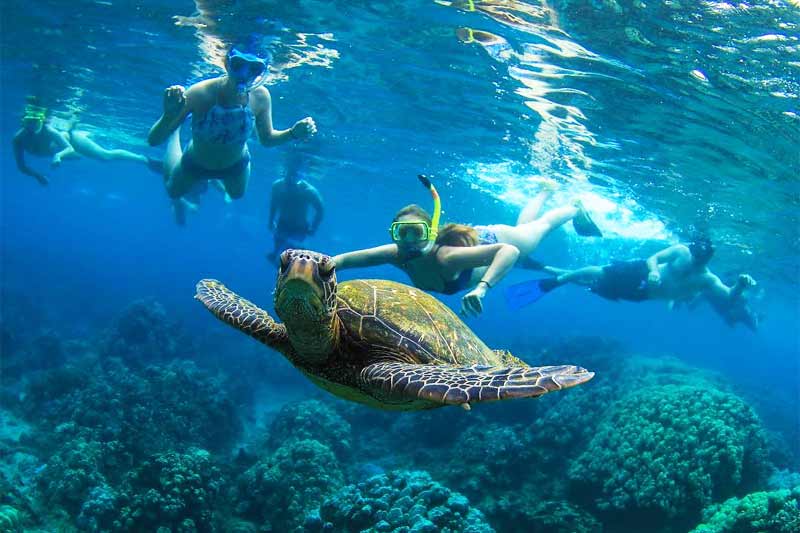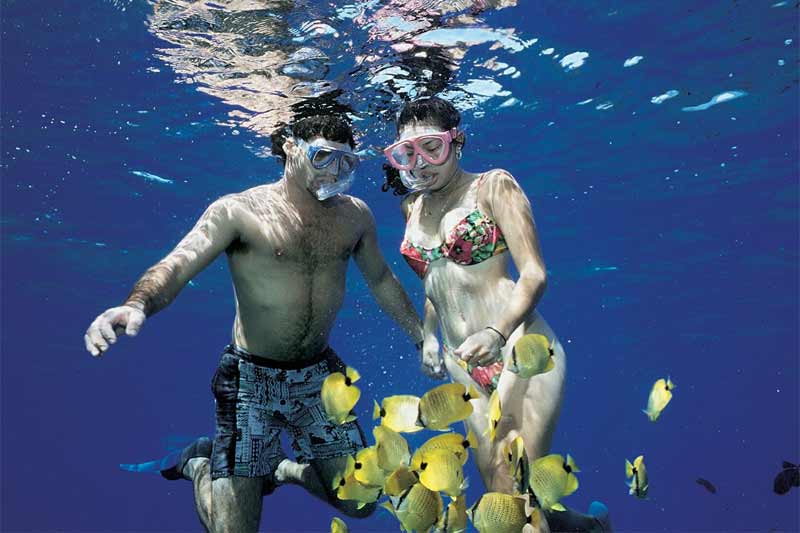 ---
Highlights
Fleet of beautiful 65" sailing catamarans
Barefoot beach loading from Kaanapali Beach
Premium snorkel to choice Maui Coastline Destinations
Tradewind sailing on most trips (wind permitting)
Breakfast, lunch, snorkel gear, open bar included
---
Description
Teralani Snorkel Sail charters offers daily tours that depart directly from Kaanapali Beach on one of their beautiful 65' x 35' sailing catamarans with a covered salon and bar, indoor and outdoor seating, two spacious restrooms and fresh water showers. The tours are limited to 49 persons (although the capacity is 125)...so there is plenty of room to stretch out and relax.
Your experience begins with barefoot beach loading from Kaanapali Beach. You will likely get your feet wet ... depending on the surf maybe ankle deep or even knee deep water as you appoach the boarding steps located between the hulls of the catamaran. As the boat departs you will enjoy breakfast -- Maui Mango Muffins, Breakfast Burritos, coffee and juices.
The experienced captains will take you to the best snorkeling spots (locations vary depending on weather and sea conditions and the time of year). Kaanapali's best-featured snorkel trip takes you to two different sites per trip. Destinations typically include Honolua Bay in the summer months and Olowalu in the winter months. The captain chooses the spots based upon ocean conditions and the best snorkeling visibility. While you explore the amazing underwater world, the friendly crew prepares your lunch and the tour turns to pure relaxation. Lunch menu is Shredded Chipotle Chicken in Pita Bread, Vegan Pita Wraps, All Beef Hotdogs (with condiments), potato chips, gourmet chocolate chip cookies and a full open bar including beer, wine, mai tais, etc after snorkeling. The bar opens and you sit back and enjoy the views as you sail back along the scenic west Maui coast to Ka'anapali.
---
Cost
Teralani 4hr West Maui Snorkel Rate (TSE2)
$129.28 per Adult (13+), $109.28 per Child (6-12), Infants (under 6) FREE (plus 7.167% Hawaii sales/harbor tax)
---
Location
GPS Address: 2525 Kaanapali Pkwy, Lahaina, HI 96761 Click to view map
Parking: Available at the Outrigger for a flat rate of $10 for 5 hours with Teralani validation. Standard hourly rates apply for additional hours.
---
Details
Schedule: Daily at 9:30am with 8:00am and 11:00am added based upon demand
Check In: Kaanapali Beach, in the grassy area behind the Aqualani Beach Activities Kiosk, adjacent to the Maui Brewing Company Restaurant, oceanside, at the Outrigger Ka'anapali Beach Resort.
Duration: 4 hours
Vessel: 65'sailing catamaran with capacity limited to 49.
Gear Provided: Snorkel gear, flotation devices
What to Wear: Wear swimsuits and bring a towel and sunscreen. We also recommend a light jacket.
Reservations: Advanced reservations required and we recommend booking this a month or more before your arrival. This event is "RESERVE NOW PAY LATER"; we need a credit card on file to finalize your reservation but we do not charge you for this reservation until a few days before the beginning of your vacation!
Minimum Notice for Cancellations / Changes: At least 48 hours before the start of the event. All tours go out rain or shine.
Restrictions: This activity is not accessible by wheelchair or walker. This is a barefoot cruise, and participants walk across the sand and sometimes get their feet wet while boarding. Guests 21 and over need to bring a valid photo ID to drink alcoholic beverages.
---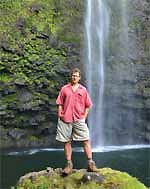 Kevin's Activity Tips:
Teralani has a fleet of THREE beautiful sailing catamarans that are all 65' in length. Teralani III was built in 2005 and is meticulously maintained. Teralani IV (built in 2019) and Teralani V (built in 2020) are among the newest boats on the island. All offer a quality premium snorkeling experience on Maui's west side. Capacity on these boats is 49, which is less than half of the people you'll find on most of the Molokini snorkel tours. People also appreciate the mid-morning check-in times ... this is a good choice for people who don't want to get up at 6am every day on their vacation. In the summer the primary destination is typically Honolua Bay, a FANTASTIC spot to snorkel and a difficult spot to reach if you don't go on a boat. Some of the best coral in Hawaii is found here, and lots of fish and turtles. In the wintertime Honolua Bay isn't available as a snorkel destination ... winter swells make Honolua Bay a surfer's paradise but those waves make snorkeling impossible. In the wintertime the destination is the south shore of the West Maui Mountains ... the added bonus during this time of year is the numerous whale sightings on the way. There is some excellent reef about half a mile offshore from Olowalu, and while this is a popular place to snorkel from shore, it is too far out to swim to the really good reef where Teralani snorkels.
Teralani boats pull right up onto Kaanapali Beach for boarding ... you take your shoes off and walk across the sand to get on the boat. You will likely get your feet wet as the first step onboard will either be on wet sand or in a few inches of water (you could even get splashed up to your knees if a wave hits while you are boarding). Occasionally we have someone who just can't load this way ... if that's the case consider doing a Lanai trip with Paragon Sailing instead which loads from the main loading dock of Lahaina Harbor.