Quicksilver Lanai Snorkel and Dolphin Encounter
This tour is currently unavailable for the foreseeable future due to the damage Lahaina Harbor sustained during the 8/8/2023 fire. For the latest on West Maui's recovery and the availability of tours, see our
Lahaina Fire Recovery
page.
---
Quicksilver Lanai Snorkel and Dolphin Encounter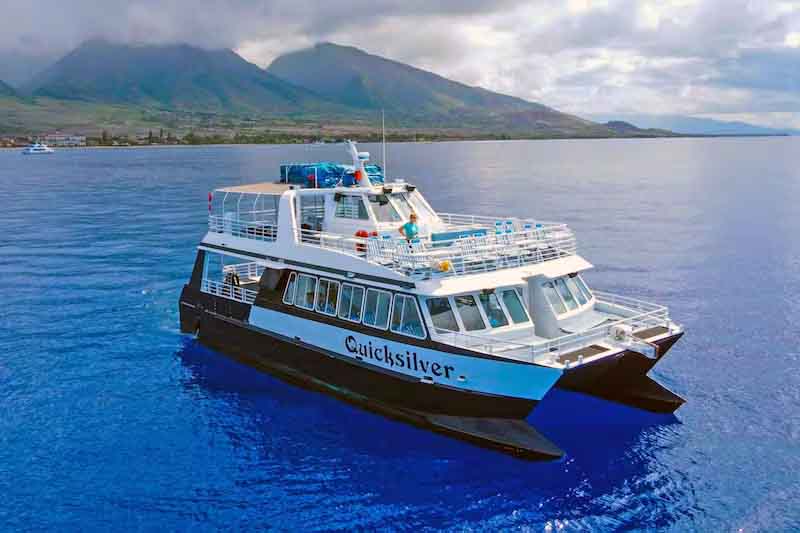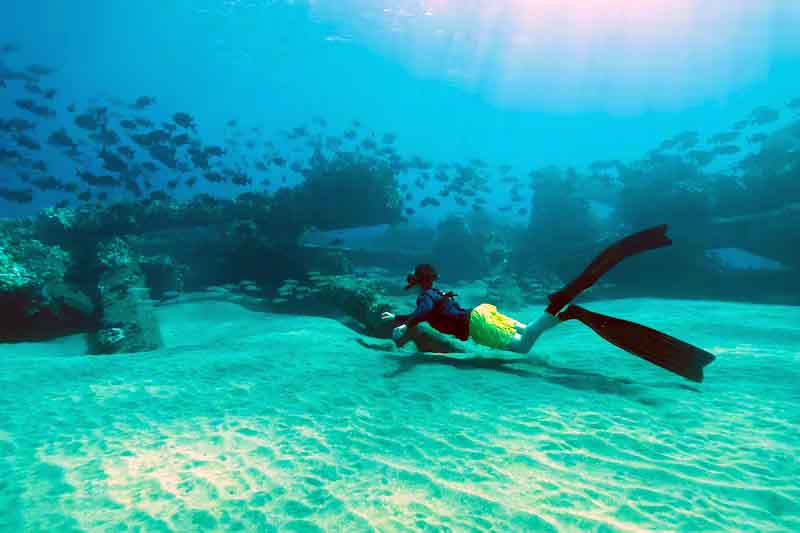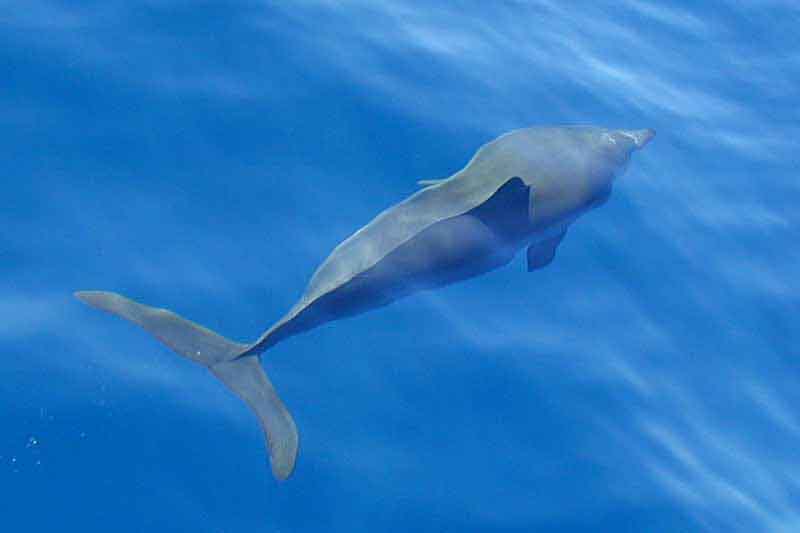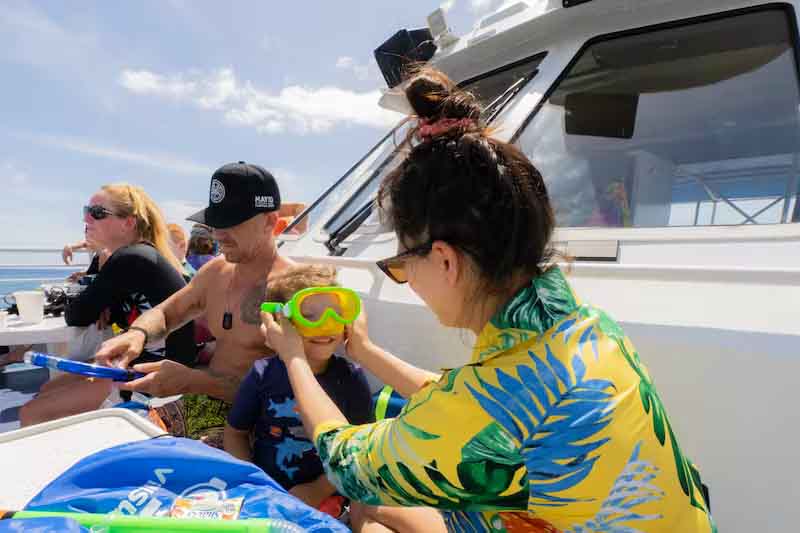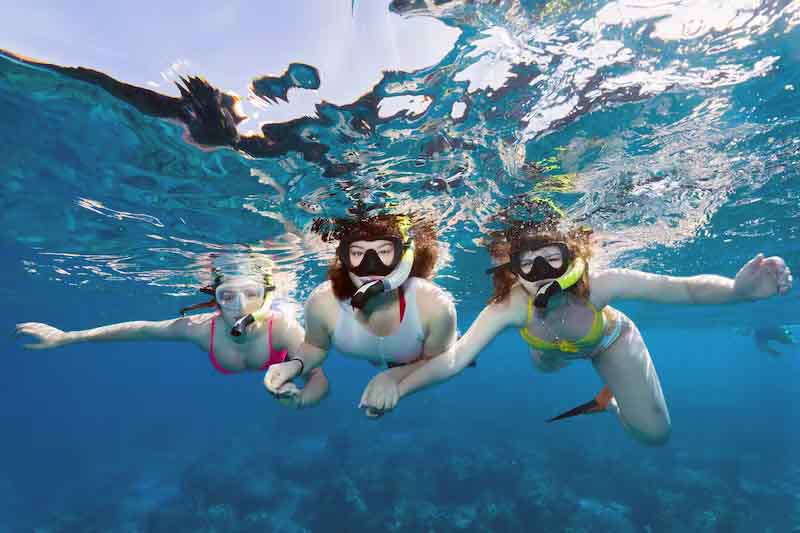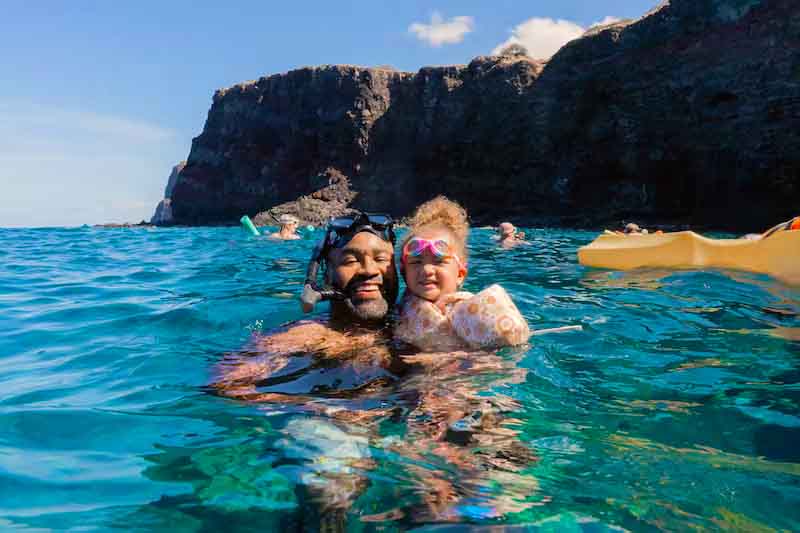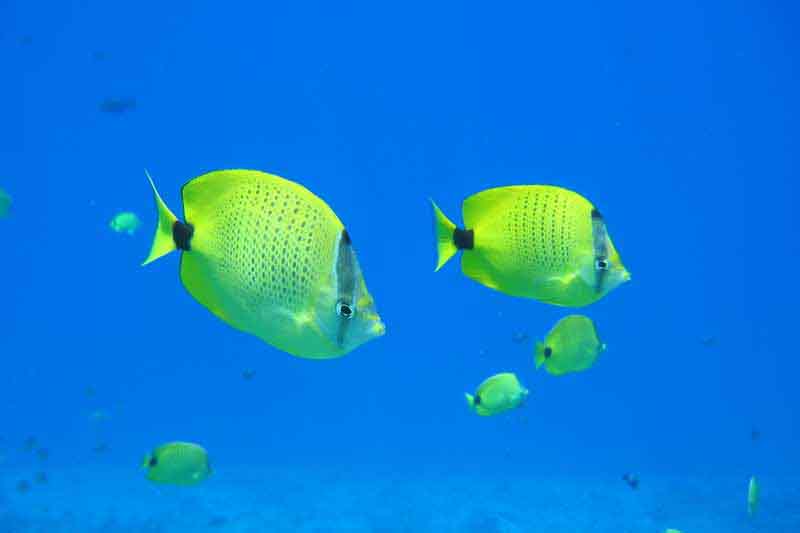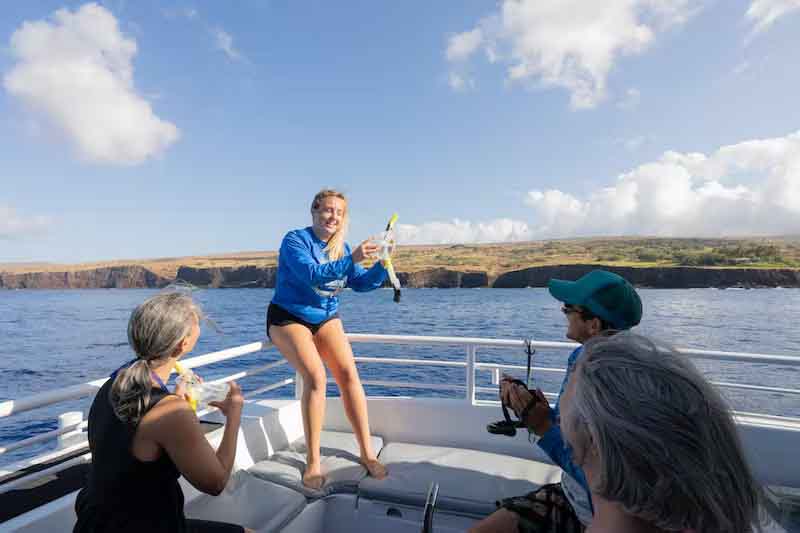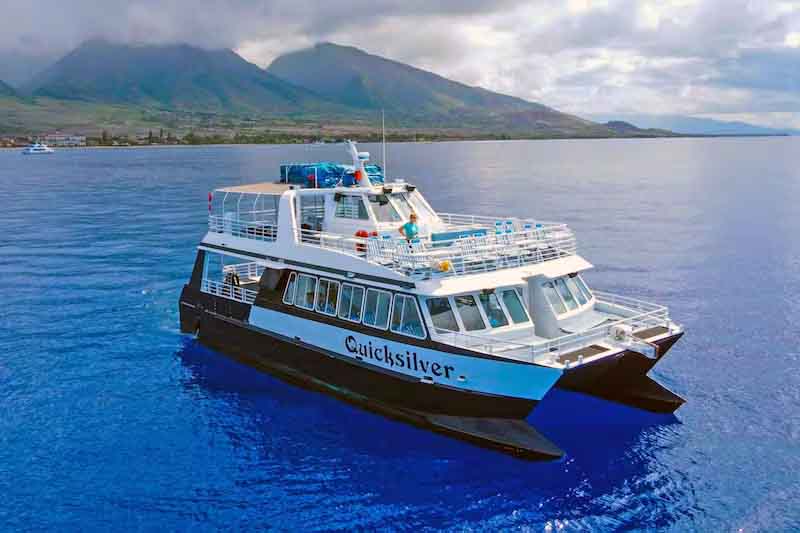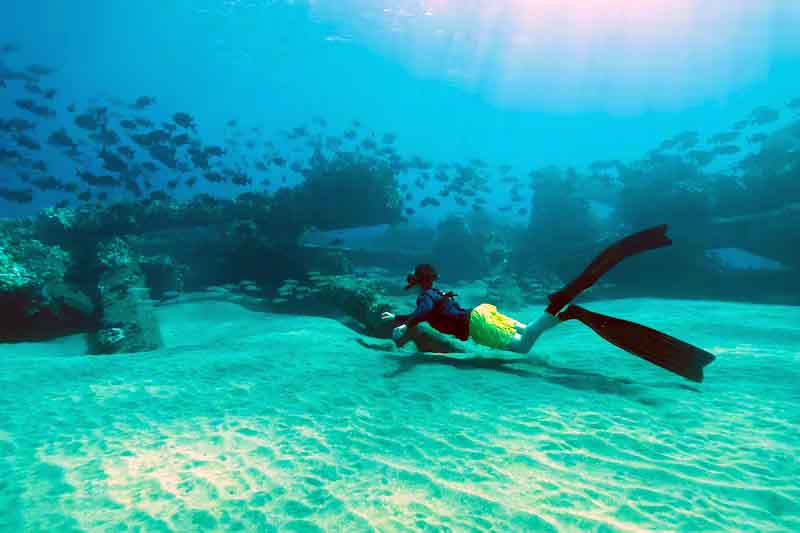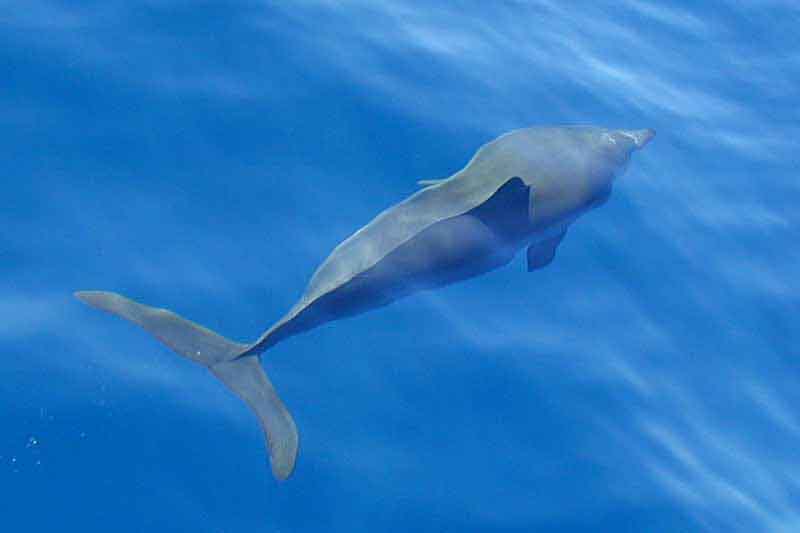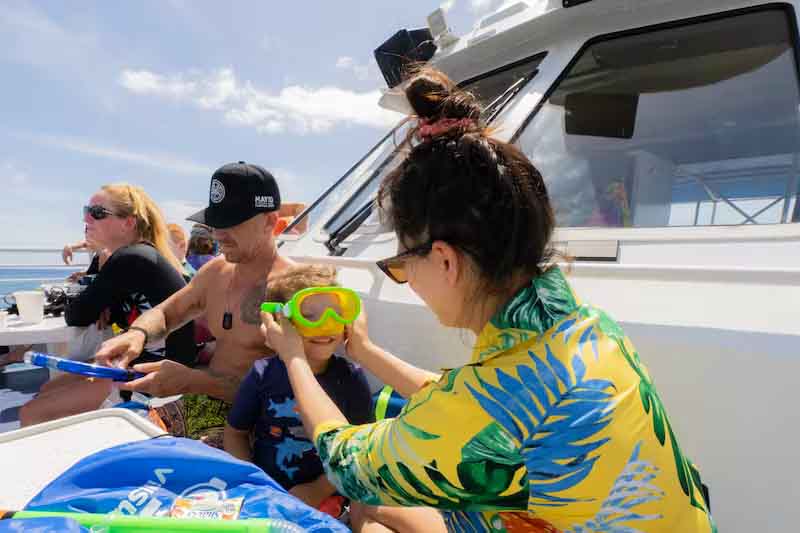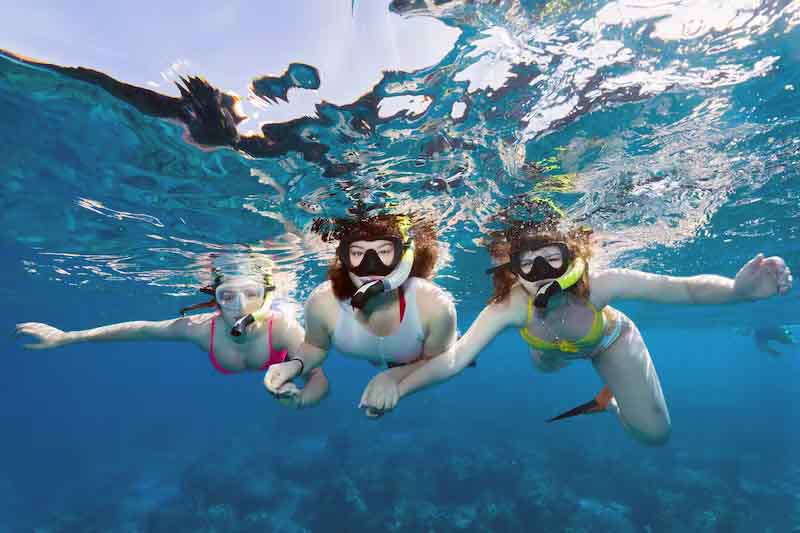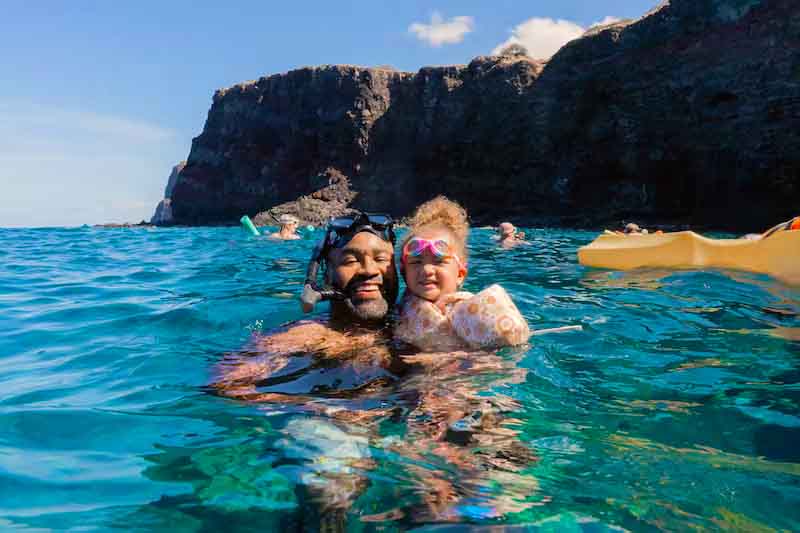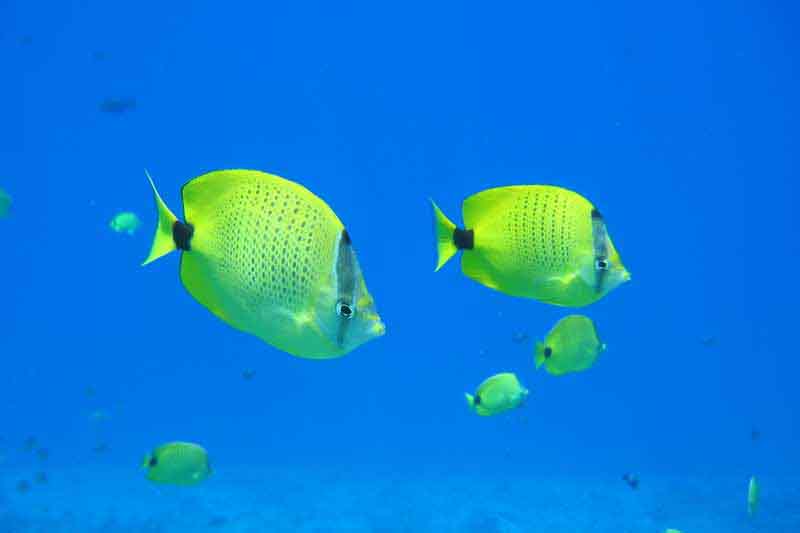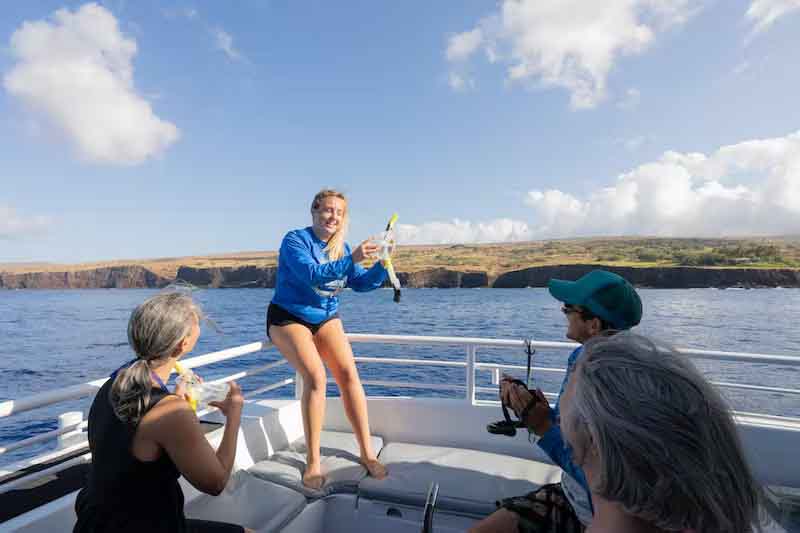 ---
Highlights
Large, stable powered catamaran
Fun vessel with waterslide and jumping platform
Snorkel on the south and even west side of Lanai
Suitable for healthy guests of all ages
---
Description
Eight miles across the Maui Nui ocean basin lies the island of Lanai. Privately owned and originally settled as a pineapple plantation, the attraction is the miles of isolated coastline, sea cliffs, remote beach scenery, and uncrowded reefs waiting for you to snorkel. As you board the Quicksilver at Lahaina Harbor, you can sit on the upper deck and look out toward the destination. As the island of Lanai starts to get larger, you'll see the distinctive shape of Sweetheart Rock come into sharp view. This formation is just offshore from Lanai's south coast and is steeped in legend and history. On your way accross the channel enjoy breakfast onboard, tropical fruit, fresh muffins and pastries, juice, and hot coffee or tea. Keep your eyes peeled for the stars of the show ... the famous Spinner Dolphins of Lanai! They often appear along the island's south shore in pods of hundreds. For every one you see swimming at the surface, there are many more underwater. They often swim along with the boat for a while, and a few will typically put on a ballet show as they leap for joy and do the spinning move that gave them their name. Bottlenose dolphins are often seen on many trips ... they are much larger, but appear in smaller groups of just a few at a time.
The nearshore waters of Lanai are home to sheer cliffs, craggy rocks, and coral reefs full of colorful marine life. Because the island is so lightly developed and the human population is small, the corals and reef life are better developed and less disturbed here. You'll enjoy a great snorkel site, with the specific location chosen based upon weather and ocean conditions. Typical locations include Manele Bay, or Sharkfin Rock on the island's west side. Top-quality snorkel gear and flotation devices are included, and the crew will give you snorkeling instructions if you are a "first-timer" or need a refresher. Water clarity often exceeds 100 feet!
Quicksilver is not just fast and comfortable ... it is a FUN boat too! The vessel has a water slide, and a "Jump for Joy" jumping platform!
After water activities enjoy a nice lunch ... either a deli sandwich or pulled pork sandwich, coleslaw, chips, chocolate chip cookies, soda, juice, water, and a selection of alcoholic beverages available for puchase for $3 each. Quicksilver's professional captain and crew are filled with aloha. They will do their best to provide a memorable day on the water and bring ancient tales and legends of old Hawaii to life as they narrate your cruise.
---
Cost
Quicksilver Morning Lanai Snorkel Rate (QS1)
$146.95 per Adult, $116.95 per Paying Child (12 and under), Free Child (6 and under) FREE (plus 7.167% Hawaii sales/harbor tax)
---
---
Details
Schedule: Daily from May – November; Tuesday and Thursday only December - April (whale season)
Check In: 6:00am at Lahaina Harbor main loading dock
Duration: Aprroximately 5.5 hours
Vessel: High speed 55' power catamaran coast guard certified for 149 passengers
Tour Includes: Snorkel gear, breakfast, lunch, soft drinks, juice, hot coffee / tea, water ... alcoholic beverages available after snorkeling for $3 each. Please let us know of any special diet needs (vegan, gluten free, etc) when filling out reservation form.
What to Bring / Wear: Swim suit, towel, sunscreen (no spray sunscreen), hat, sunglasses, camera, and a light jacket or sweater.
Restrictions: This tour has no age restrictions. Participants should be in good health. Vessel is wheelchair and stroller friendly, but wheelchairs cannot access all areas of the boat.
Reservations: Advanced reservations required and we recommend booking this a month or more before your arrival. This event is "RESERVE NOW PAY LATER"; we need a credit card on file to finalize your reservation but we do not charge you for this reservation until a few days before the beginning of your vacation!
Minimum Notice for Cancellations / Changes: At least 48 hours before the start of the event. All tours go out rain or shine. Inclement weather conditions are usually temporary and rain gear is provided. Cancellations due to weather are extremely uncommon and all parties are instructed to appear at the boat ramp no matter what the weather seems to them.
Free Child Policy: One free child 6 and under per paying adult. Additional younger children pay the 'paying child" rate.
---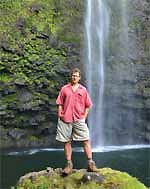 Kevin's Activity Tips:
Snorkel trips to the island of Lanai are Maui's best-kept secret. Lanai's coastline attractions a fraction of the visitors that go on a Molokini trip, and instead of all the snorkel boats crowded into one little crescent island, there are miles of reef for boats to spread out. Add to this the sea cliffs, blowholes, and scenery of Lanai ... and the attraction of seeing large pods of spinner dolphins playing in front of the boat and putting on acrobatic shows as they jump out of the water and ... SPIN ... Lanai makes for a great alternative and a fantastic day on the water.
Quicksilver is a large, stable powered catamaran and is a better alternative for many (most) people that the high-adventure rafting tours that also head over to Lanai. The channel crossing can be bumpy, especially on the way back heading INTO the tradewinds. You'll get a drier, more comfortable ride on Quicksilver in these conditions.
The exact snorkel destination is selected by the captain based upone weather, wind, and ocean swells ... he or she will take you wherever the conditions are best along the island's east, south, or even west facing shores. This boat will sometimes go all the way to a spot called SHARKFIN ... named after a unique rock formation that looks like a ...you guessed it ... a shark fin sticking out of the water. Count yourself blessed if you get to snorkel there ... it is one of my favorite spots in Hawaii!