Maui Zipline
SUPPORT LAHAINA:

We are donating 20% of our profit from ALL FUTURE 2023 MAUI TOUR BOOKINGS to Lahaina fire relief efforts!!!
---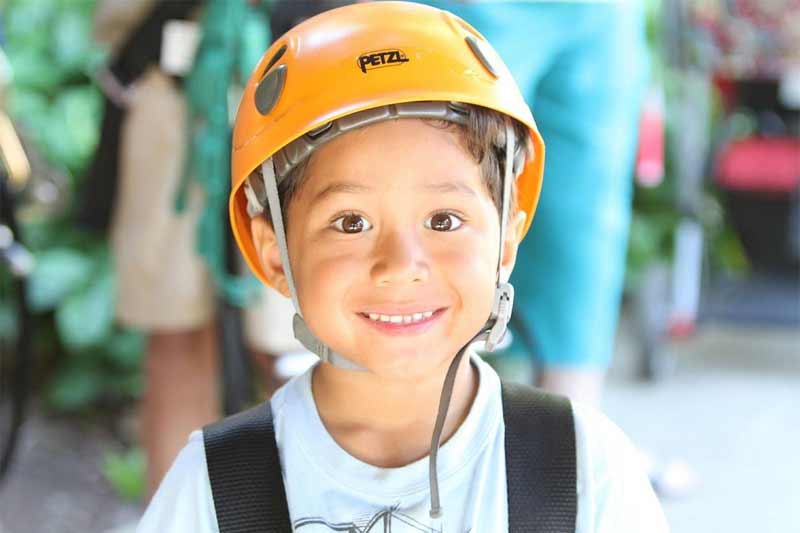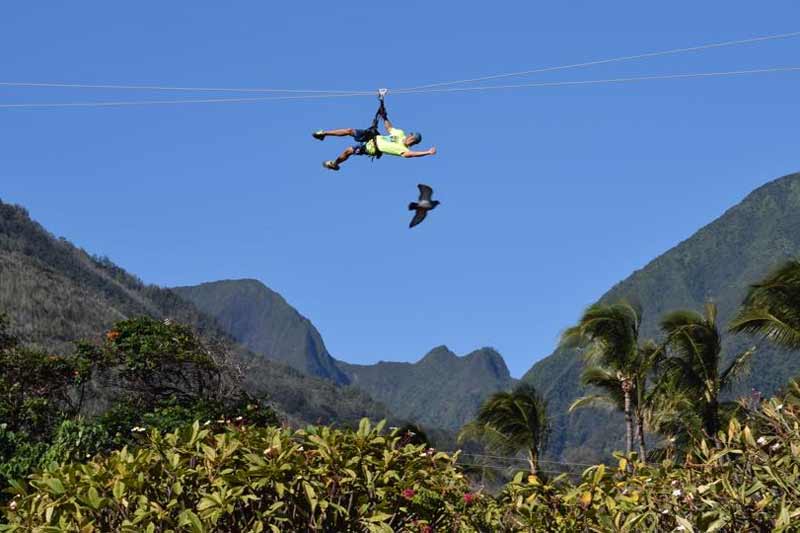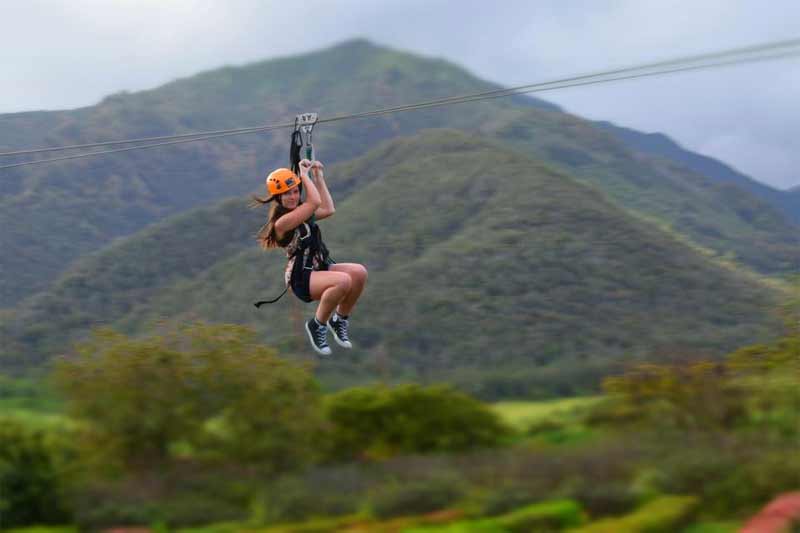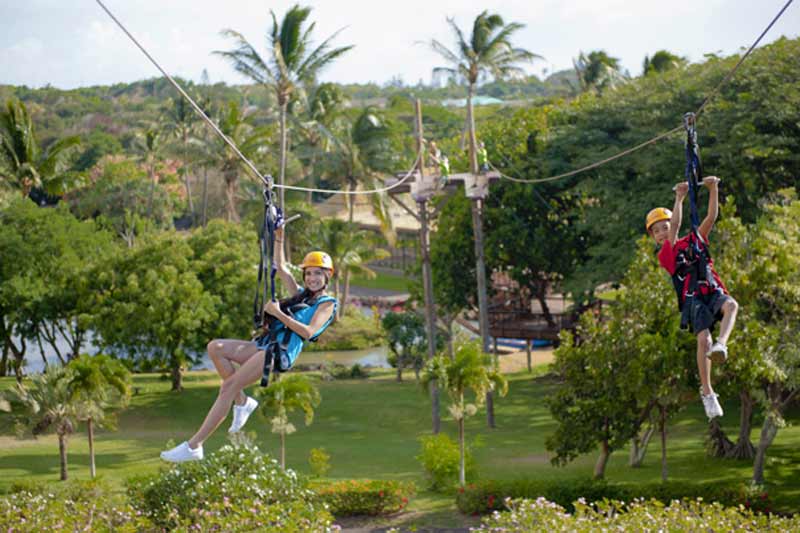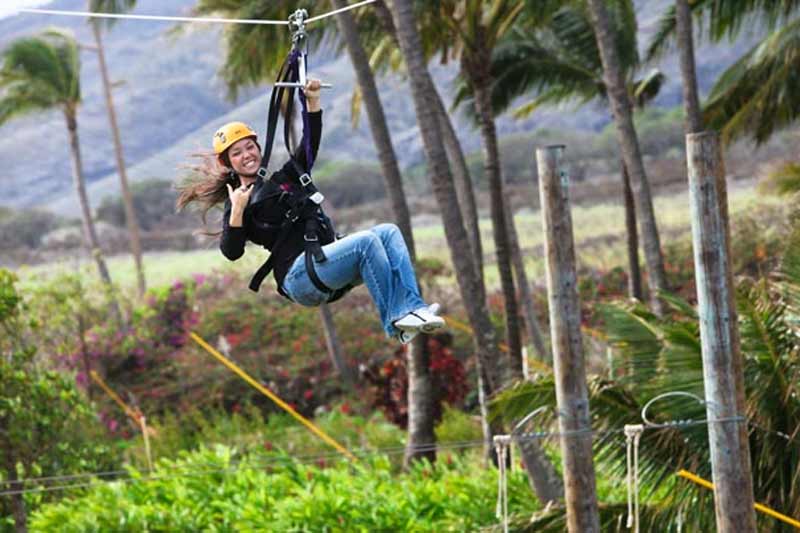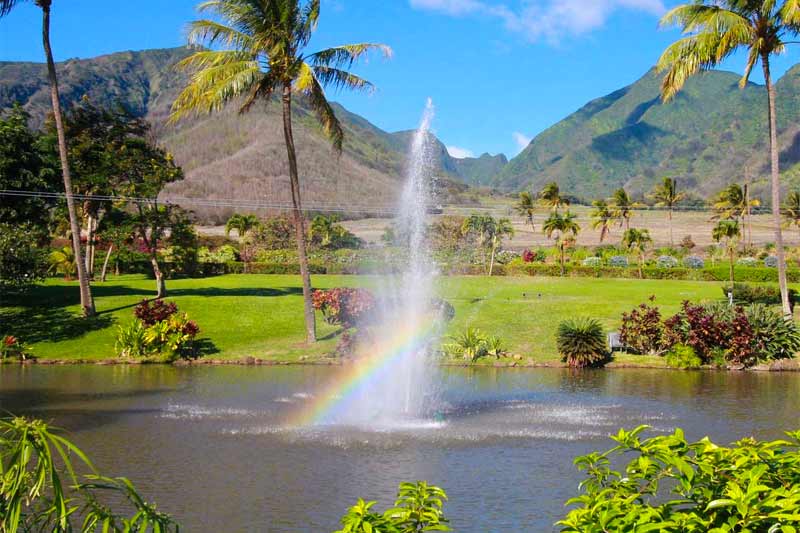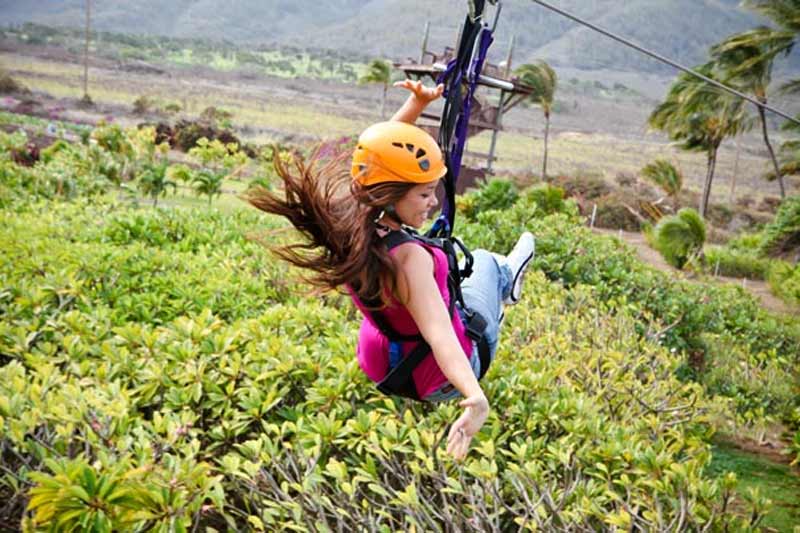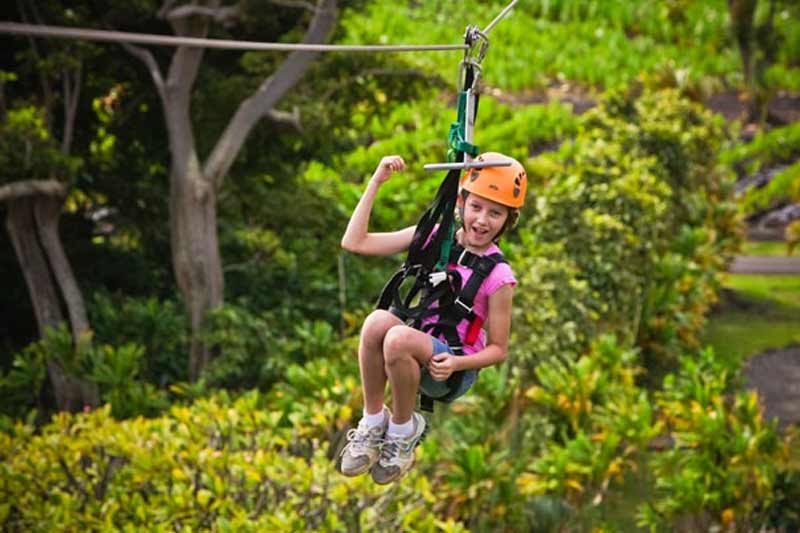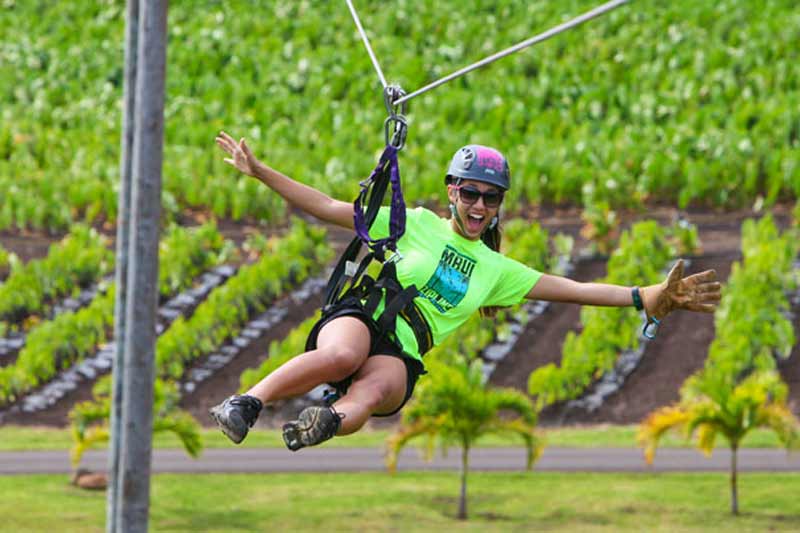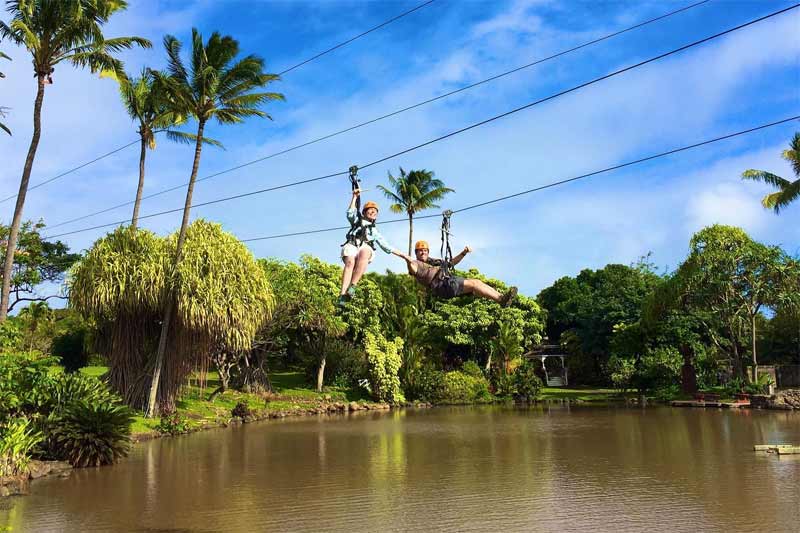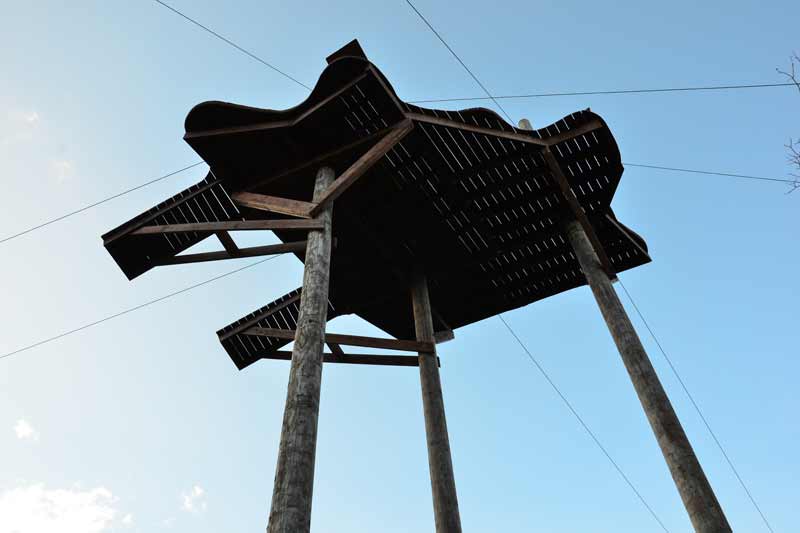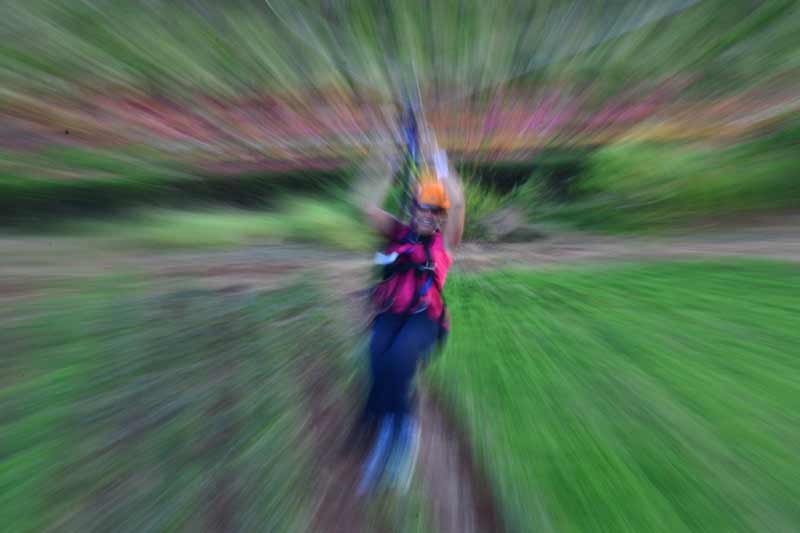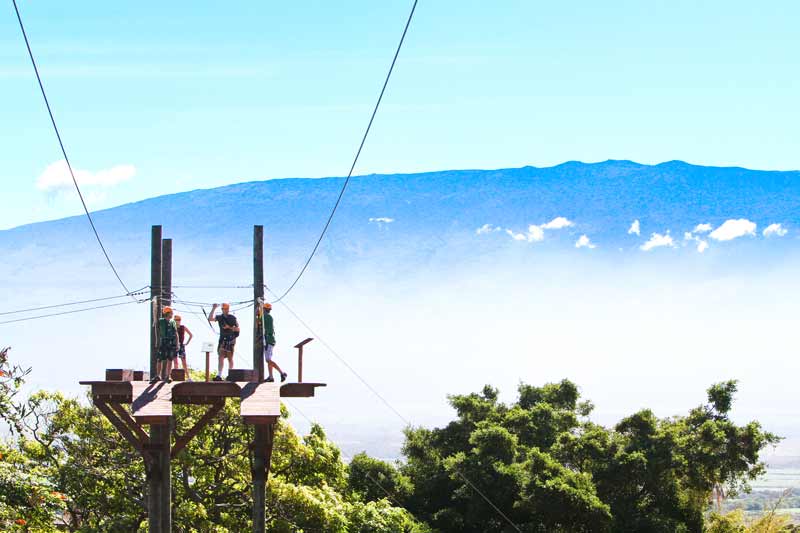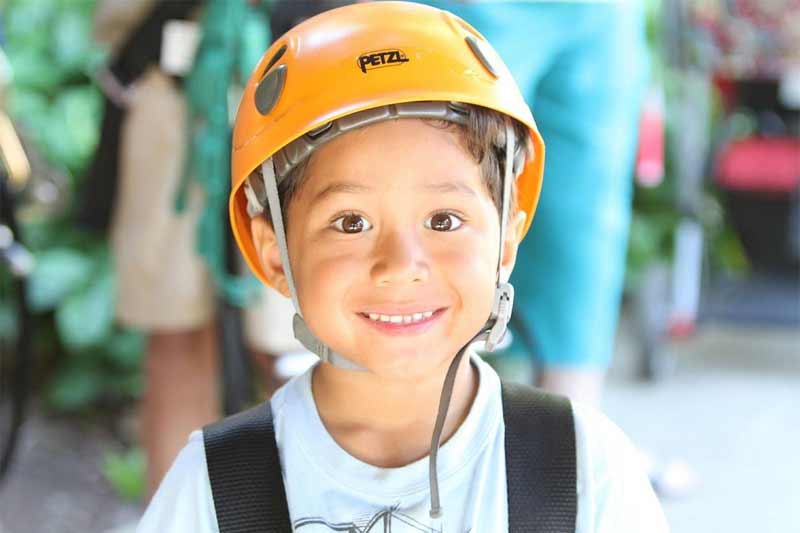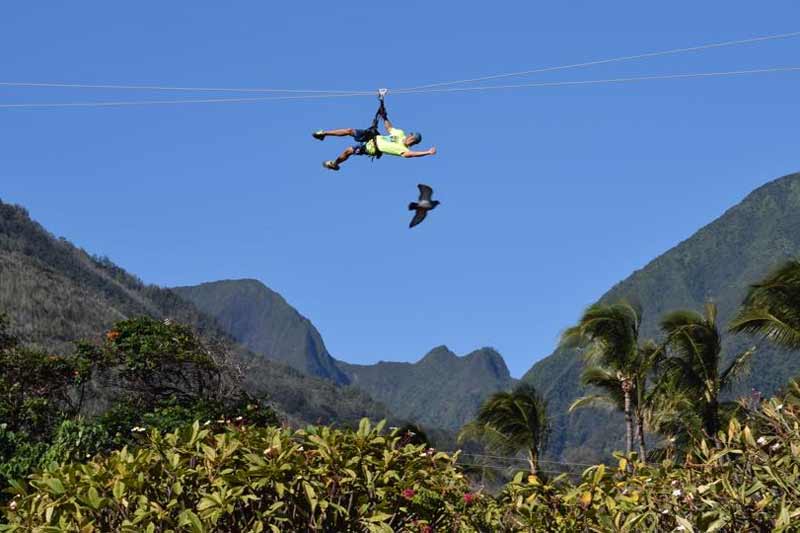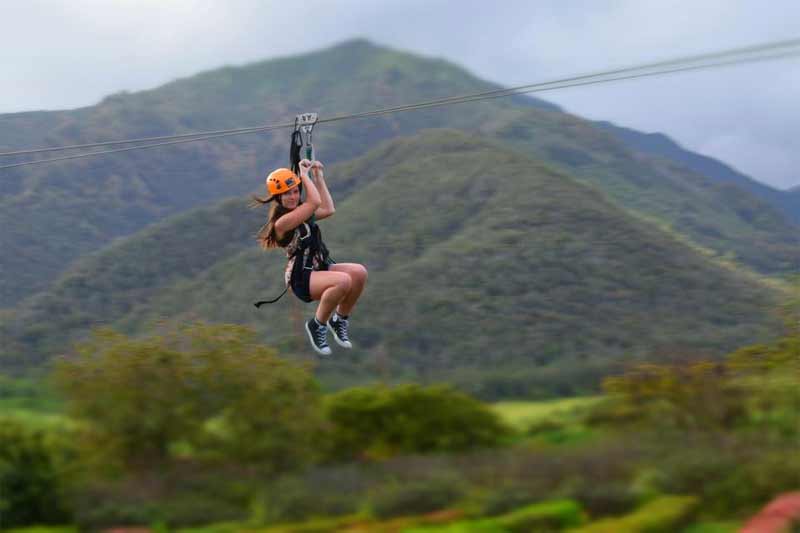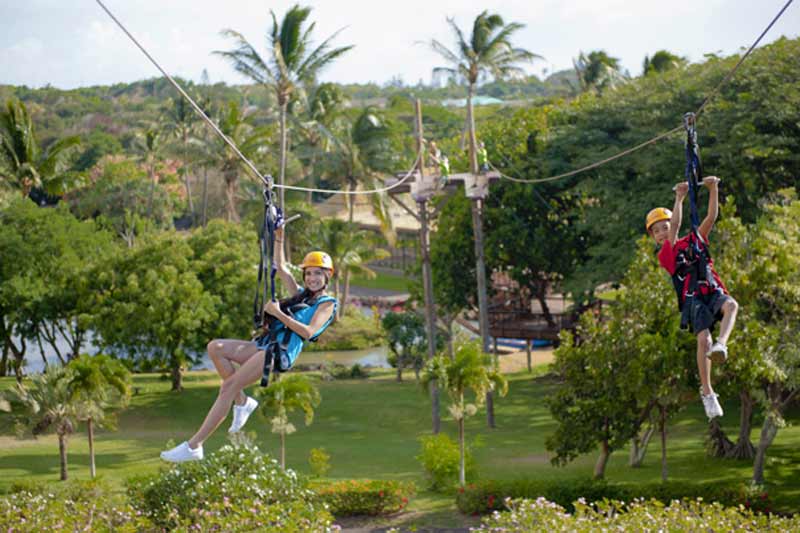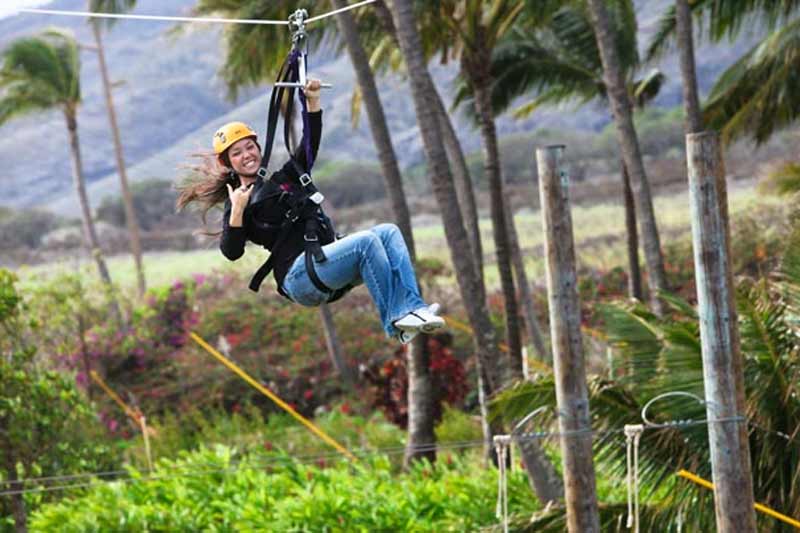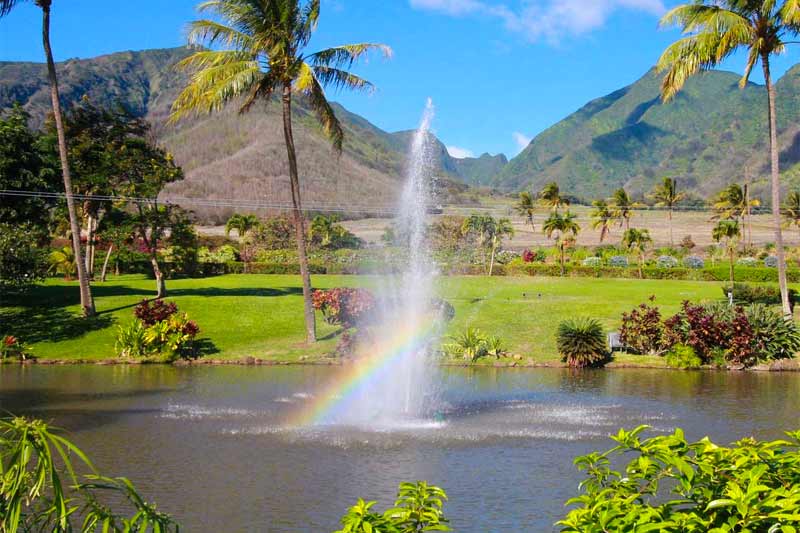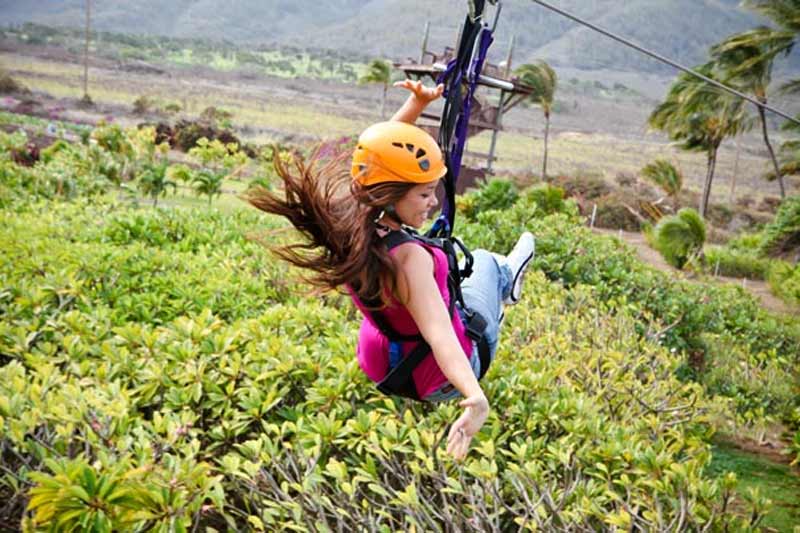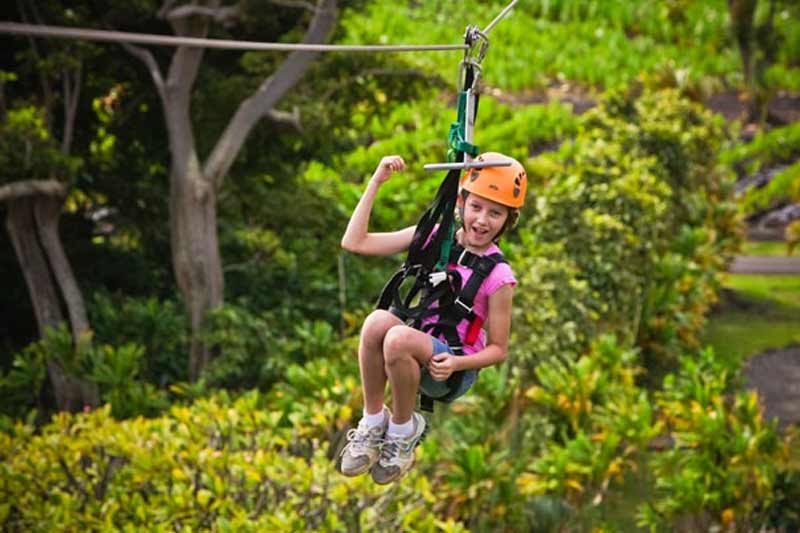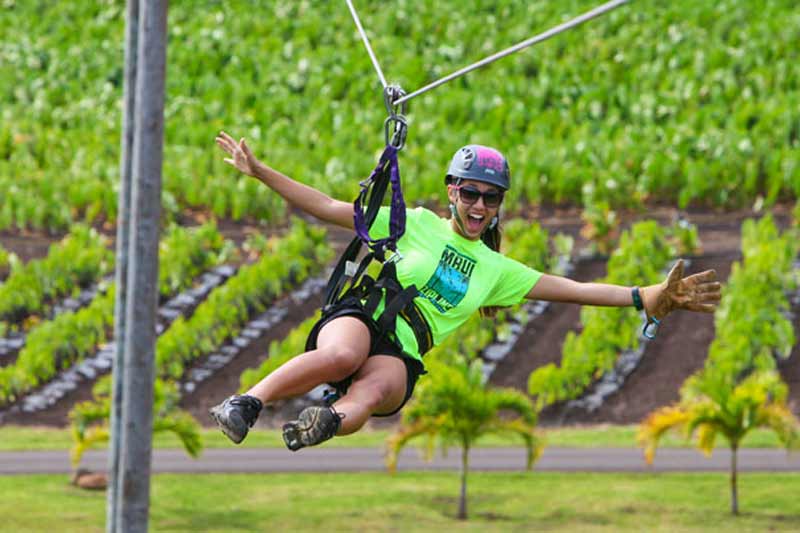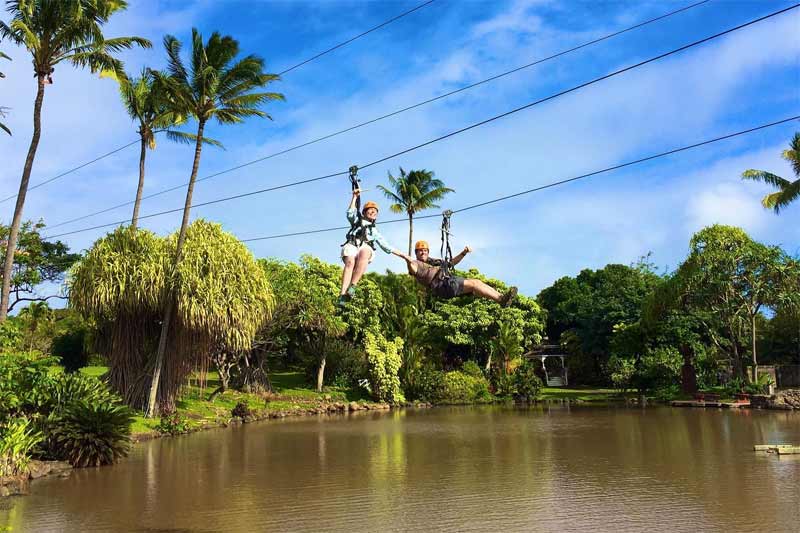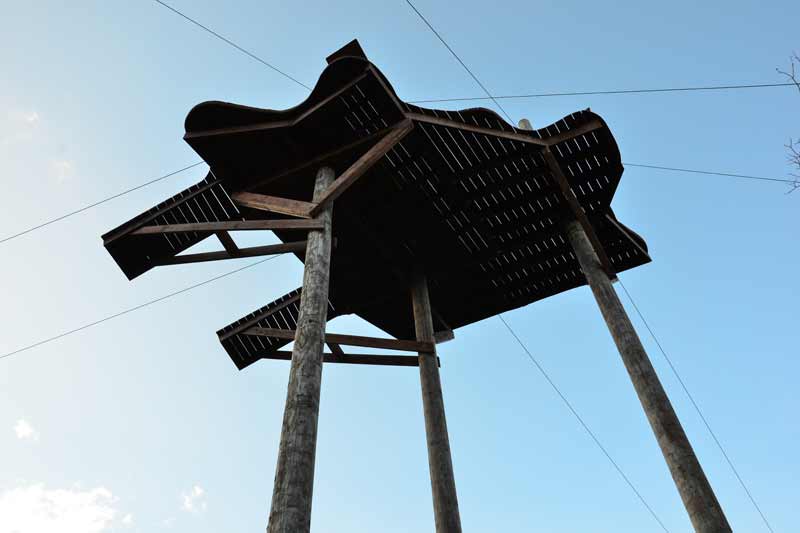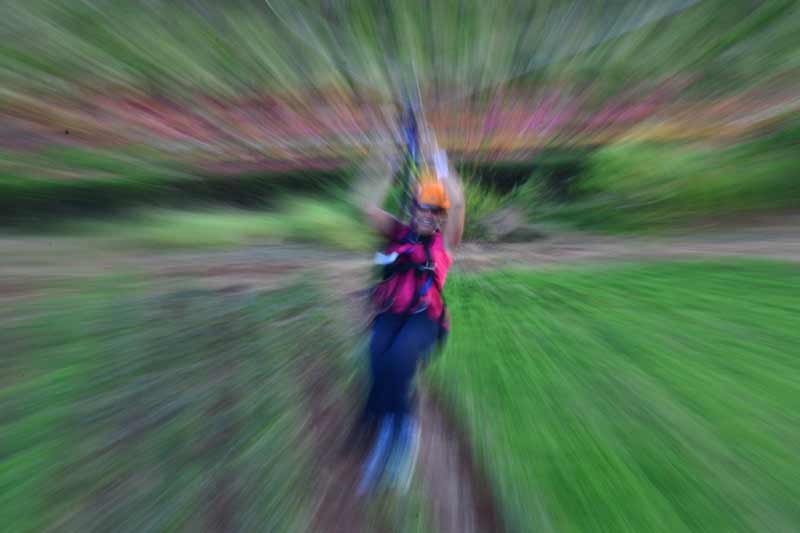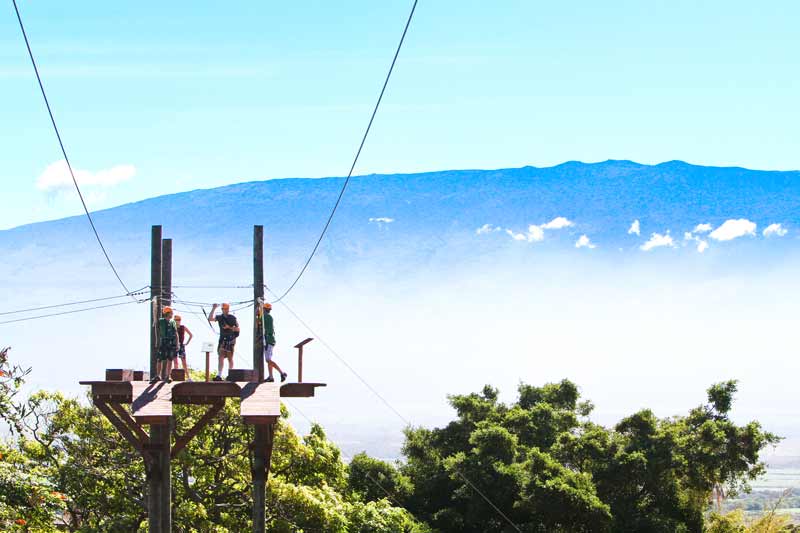 ---
Highlights
Five lines of side-by-side zipping
Zip from one high platform to another
Soar over Maui Tropical Plantation gardens
Weight limit 230 pounds. Minimum age is 5.
---
Description
Maui Zipline at the Maui Tropical Plantation is the one of the most family-friendly tropical adventure on the island! Soar above groves of mango and papaya and swaying palm trees. The whole family can enjoy this fun and exciting tour.
The course has five side-by-side ziplines that range from 300 to 900 feet long. First you will meet your guide and get set up with your gear. Then you will have a short stroll on a well-maintained trail to the top of the observation deck. Take in the stunning bi-coastal views of the ocean as well as the pristine gardens of the tropical plantation below you. Once you are up in the air, you stay high off the ground as you zip from one platform to another. You don't end up back on the ground until the very end of the tour!
The highly trained guides are responsible for your safety, and they will divulge knowledge about Maui's agricultural plants and culture. Each line transports you over the flourishing gardens, and on the final line, you'll journey through palms and over the garden's large tropical lagoon.
For this type of adventure and activity, Maui Zipline is the best value around, and it is the only zipline on Maui that can accommodate children as young as 5 and who weigh as little as 50 pounds. Observers are also welcome to watch most of the action at no charge, which not many other zipline tours allow. Maui Zipline is the perfect opportunity for a fast-paced and exciting experience with the whole family!
---
Cost
Maui Zipline 5 Line Course Rate (MZ1)
$149.00 per Participant (plus 4.167% Hawaii sales tax)
---
---
Details
Schedule: Daily at 9:30am, 10am, 12pm, 2:30pm and 3pm (closed on Thanksgiving, Christmas, and New Year's Day)
Check In: 30 minutes prior to tour time at Maui Tropical Plantation, located halfway between Maalaea Harbor and Wailuku Town.
Duration: Up to 2 hours
Restrictions: Minimum age 5, minimum weight 50 pounds. Maximum weight 230 pounds. No neck or back injuries and no one pregnant. Depending on wind conditions, children who weigh less than 60 pounds may need to zip some lines in tandem with a guide. Children under age 11 must have a parent or guardian accompany them on the tour as a participant. Children 11 and older may participate with a parent or guardian signing a waiver and staying on the plantation grounds during the tour. All participants must sign a liability of waiver.
What to Wear: Participants must wear closed-toed shoes- sneakers or tennis shoes are best. Sunglasses, comfortable clothing and sunscreen.
Reservations: Advanced reservations required and we recommend booking this a month or more before your arrival. This event is "RESERVE NOW PAY LATER"; we need a credit card on file to finalize your reservation but we do not charge you for this reservation until a few days before the beginning of your vacation!
Minimum Notice for Cancellations / Changes: At least 48 hours before the start of the event. All tours go out rain or shine.
Note: This page presents a family-friendly zipline tour. If you are looking for more extreme zipline experience, be sure to see our Flyin Hawaiian Zipline page.
---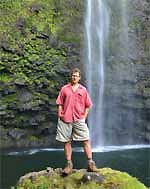 Kevin's Activity Tips:
Maui Zipline fills a nice niche as many families have been frustrate by the 12 year old minimum age on most zipline courses. Kids as young as 5 and who weigh as little as 50 pounds are able to do this course. This course was built not to be the longest, or the fastest or the highest, but the most accessible, fun zipline … especially suited for those who have never done this sort of thing before. This course doesn't have the longest lines, the highest lines, or even the most lines. For those looking for a longer, more extreme zipline tour be sure to look at our Flyin Hawaiian Zipline page. But there are people out there who aren't looking for the most extreme tour out there … and this course is a great introduction to zipping and may be just right for you. And at half the cost of other courses, the price is right. One other advantage is that members of your party are able to watch some of the action from below as there is no admission fee to walk around at the Maui Tropical Plantation.
One other thought … for those who are on a tight time schedule and trying to do a lot of fun things and not enough time on Maui to do them all. This zipline tour is located just about 3 minutes away from Maalaea Harbor, where the vast majority of Molokini snorkel tours begin. For a full day of fun, consider doing a Molokini snorkel tour in the morning, followed by this zipline tour at 2:30pm. Most Molokini tours return to the harbor by 1:00pm … see our Molokini Snorkel Tours page for details.