Alii Nui Royal Sunset Sail
Alii Nui Royal Sunset Sail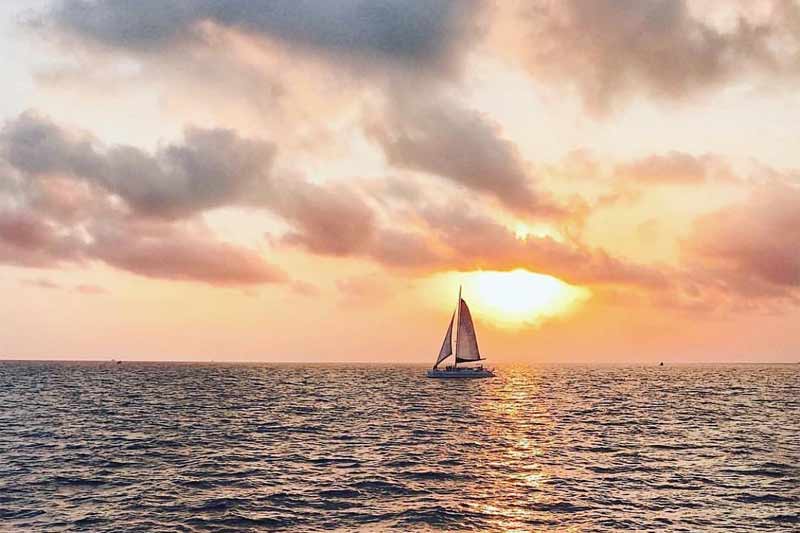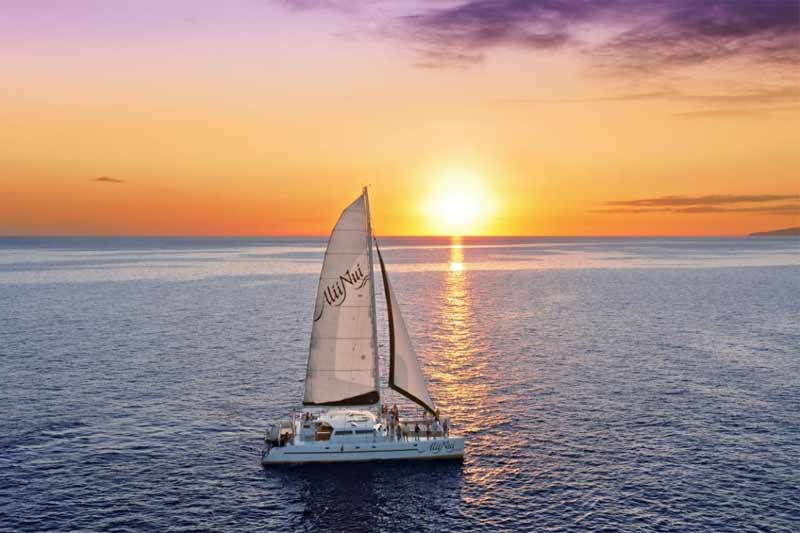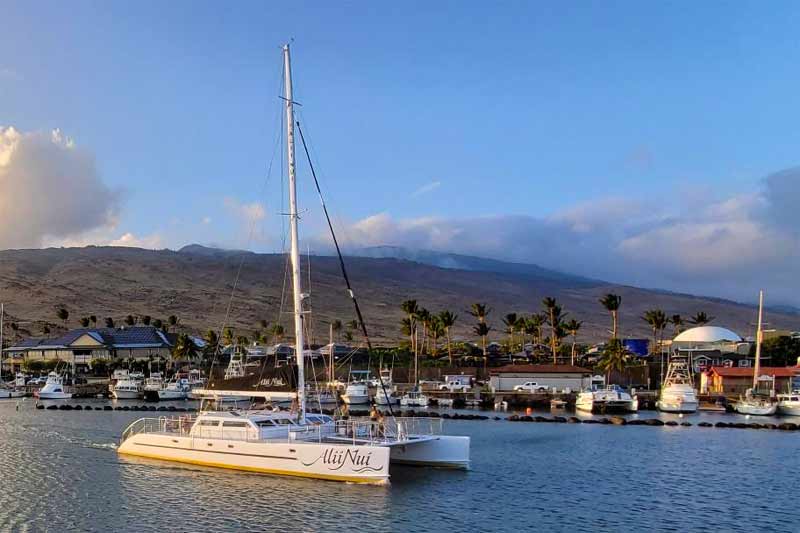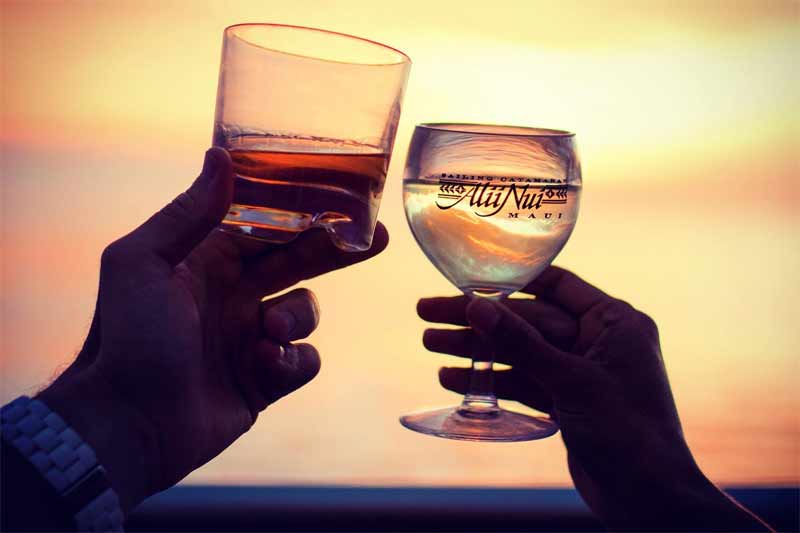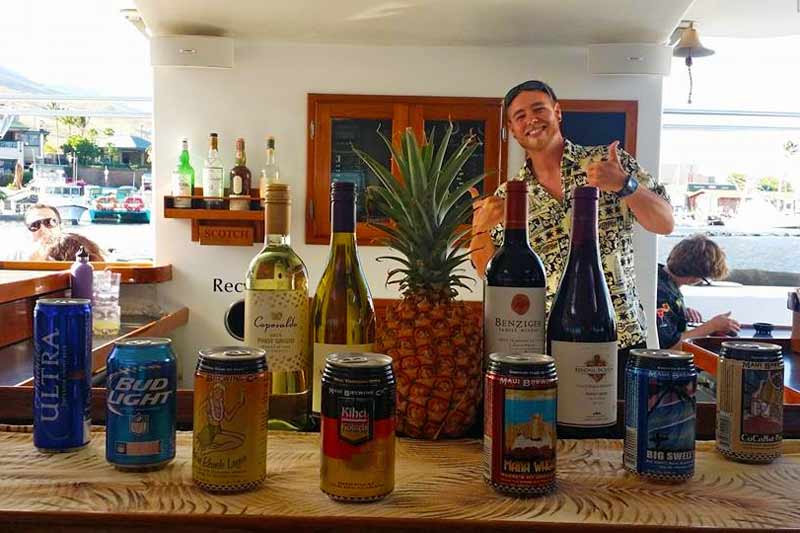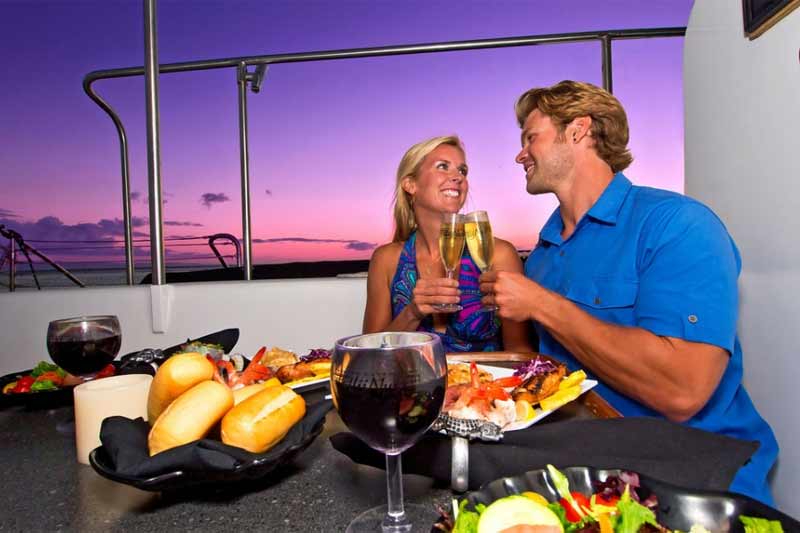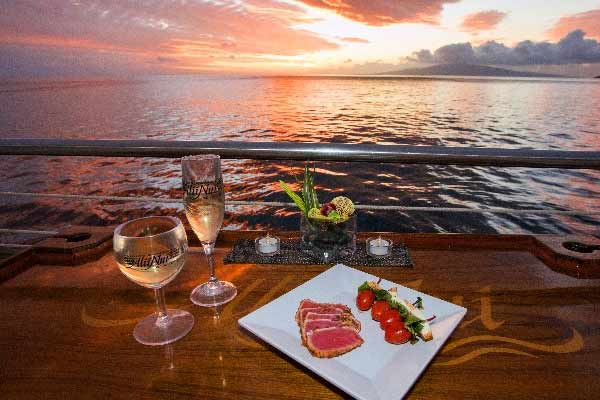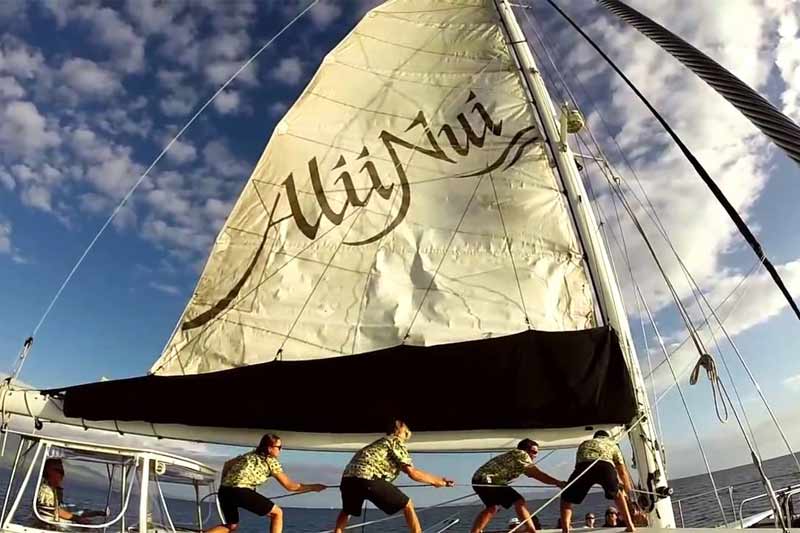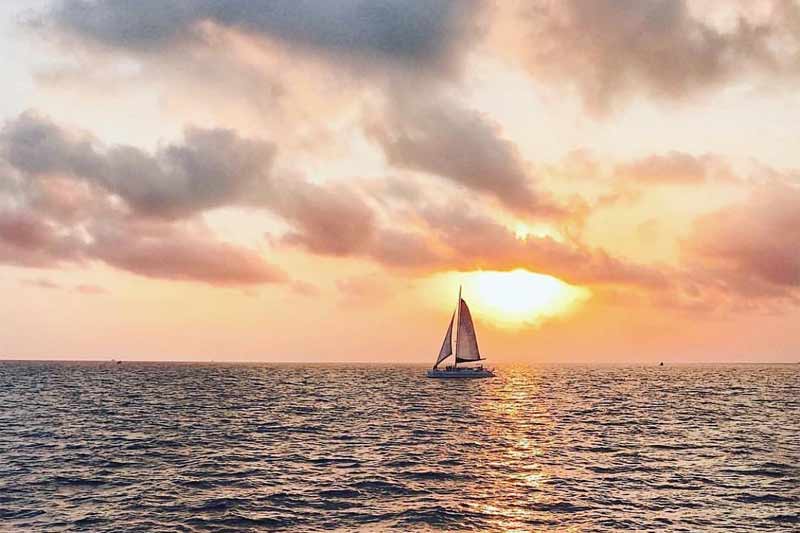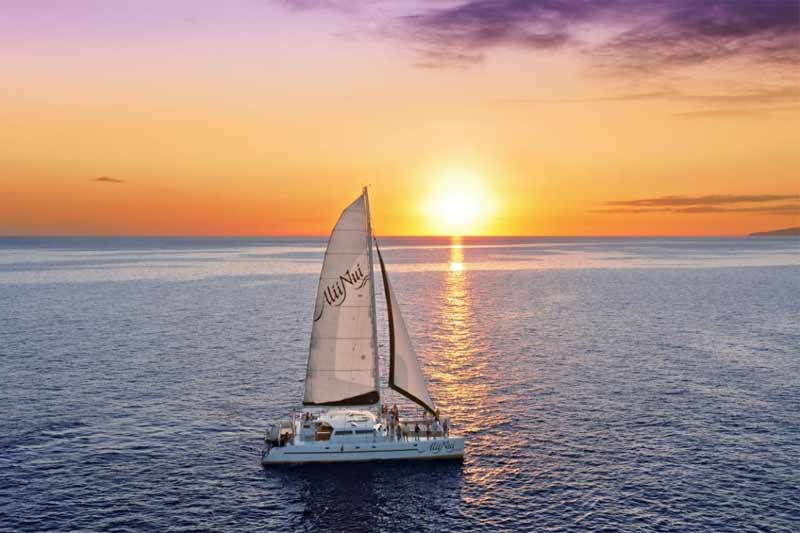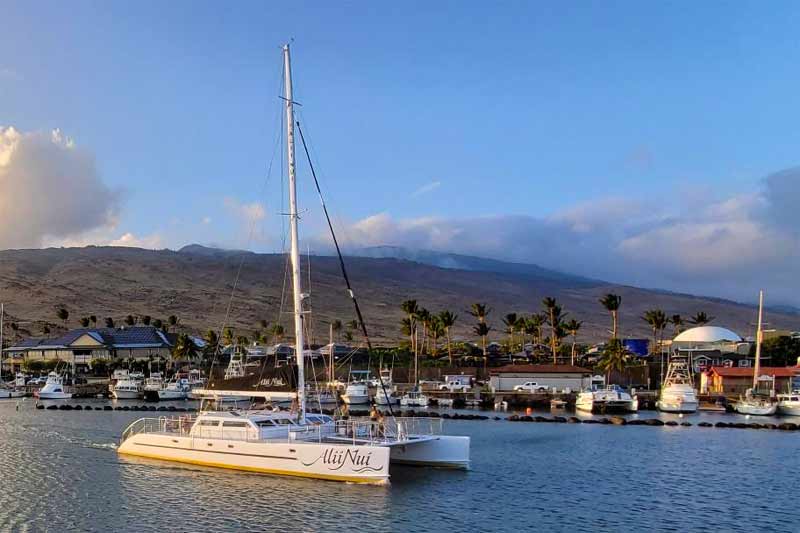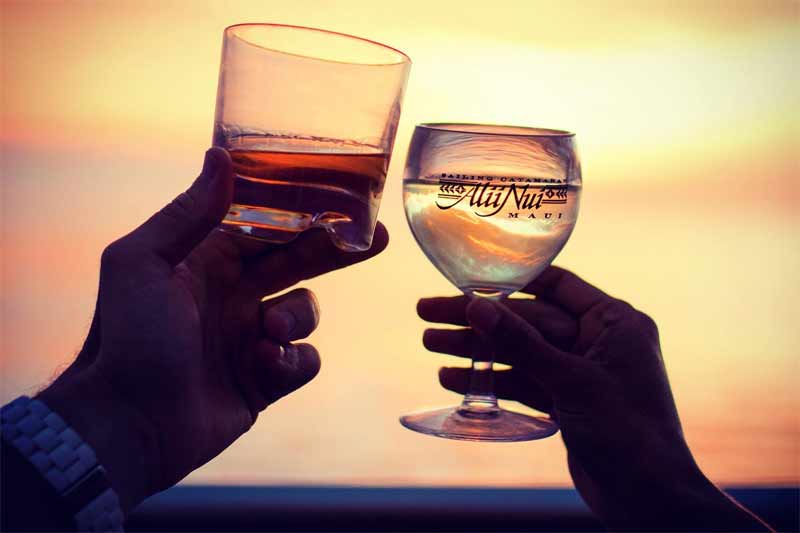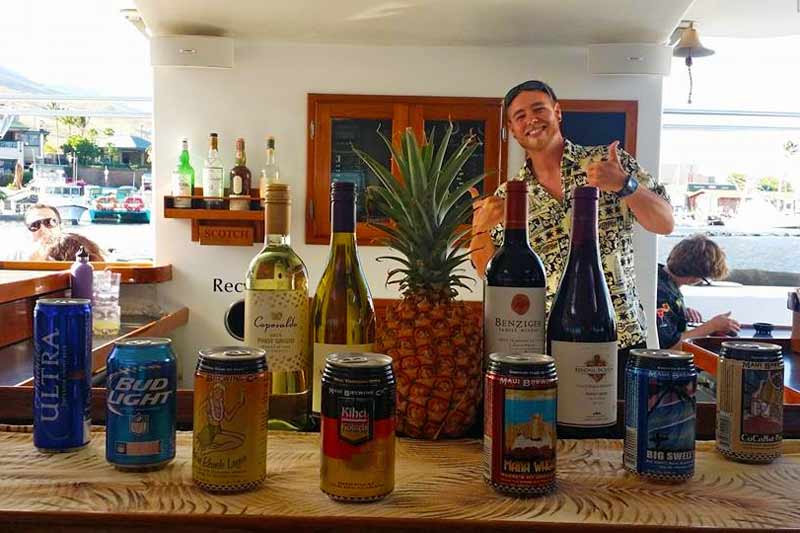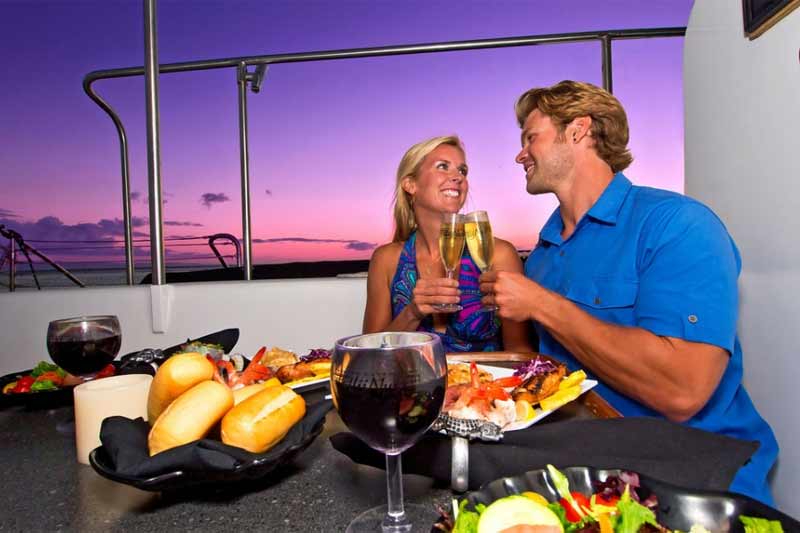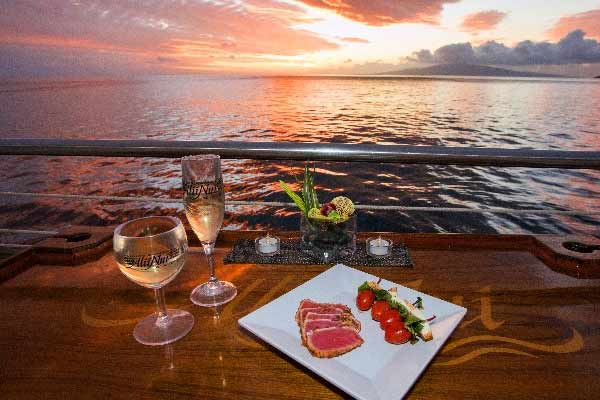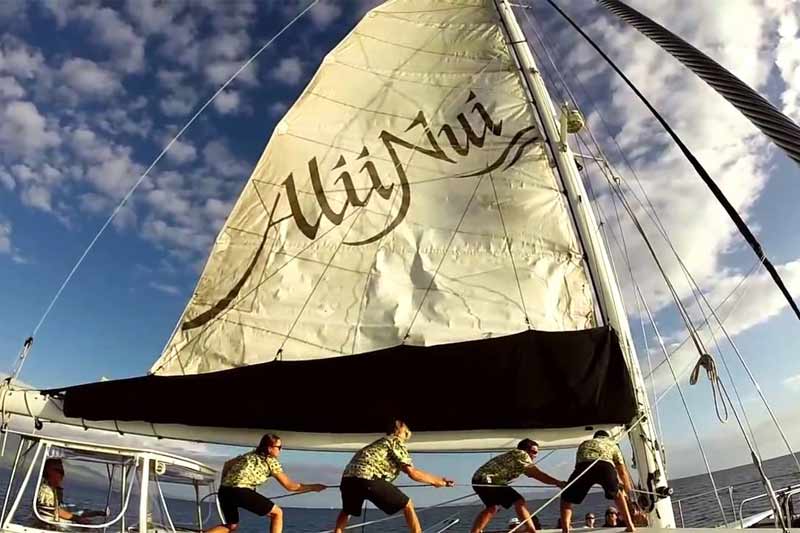 ---
Highlights
Beautiful 65' sailing catamaran
Fantastic views of the sunset, West Maui Mountains, and Haleakala
"Royal Feast" with most extensive selection of any Maui dinner cruise
Full premium open bar for beer, wine, and cocktails
This cruise is adults only ... minimum age is 21
---
Description
The Royal Sunset Sail is Maui's most exclusive dinner cruise, with a well-deserved reputation for providing the ultimate in service and amenities. Alii Nui is a custom built, one-of-a-kind, luxury sailing catamaran. Measuring an impressive 65' from stem to stern and 36' port to starboard, it is truly the premiere sailing catamaran on Maui. The main cabin is equipped with ample table seating and the cruise is limited to less than half of the boat's capacity. Depending on winds, the Alii Nui is under sail whenever possible!
The evening begins with with a wide selection of appetizers, and as the vessel leaves the harbor the premium open bar is available for the duration of the evening. The crew sets the sails and they chase the sun as it sinks into the distant horizon of the waters of the Pacific Ocean. Toast the day's end with a glass of champagne as Maui's dramatic shoreline is bathed in a pallet of spectacular colors.
Alii Nui's Royal Sunset Sail is a unique sailing and culinary event! This casually-elegant dining experience offers seating in the comfort of the cabin, or enjoy your meal top-side on the spacious deck. The Royal Sunset Sail offers a bountiful Covid-compliant crew-assisted buffet served inside the spacious cabin. Dinner selections include Herb-crusted Prime Rib, Kiawe-smoked Baby Back Ribs, Grilled Chicken with Lemon Caper Butter Sauce, Asian Lo Mein with Vegetables,Cajun Seared Ahi Sashimi, Giant Tiger Prawns, Cucumber and Avocado Rolls, California Rolls, Crab Cakes with Herb Aoli, Garlic Herbed Mashed Potatoes, Caprese Skewers with Balsamic Drizzle, Parmesan Crusted Asparagus, and Hawaiian Sweet Rolls.
Dessert course includes Tiramisu Tuxedo Cake, Chocolate-covered Strawberries with Fresh Whipped Cream, Tedeschi Winery Raspberry Dessert Wine, and Kona Coffess or Tea. The premium bar is open all evening and all beverages are included. Select from Mai Tais, mixed drinks with rum, gin, vodka, and tequila, imported, domestic, and local beer, red, white, and sparkling wine, a selection of scotch and after=dinner liquors, as well as soda, juice, and filtered water. ID is required for alcohol consumption, and this cruise is for adults 21 and over only.
Guests may either drive to Maalaea Harbor and check in at slip #74, or experience the comfort and ease of complimentary transportation service available from most resort areas on the south and west sides of Maui. Their comfortable van will pick up and return you to your hotel or condo in style. The elite crew of the Alii Nui invites you to be their special guest for this memorable evening of sailing, cocktails, delicious cuisine, and gorgeous vistas that will undoubtedly be your most memorable dining experience on Maui!
---
Cost
Alii Nui Royal Sunset Sail Rate (MDS3)
$232.82 per Adults (age 18+) (plus 7.167% Hawaii sales/harbor tax)
---
---
Details
Schedule: Daily
Check In: 4:45pm at Maalaea Harbor slip #74. This is the boat harbor in Central Maui just behind the Maui Ocean Center Aquarium along Highway 30. Parking is available for a small fee and can be paid using credit card or using an app on your phone. Allow ample time for parking / arranging payment.
Duration: 2.5 hours from 5:15pm to 7:45pm
Vessel: Custom 65' sailing catamaran coast.
What to Wear: Casual evening resort attire. We also recommend a light jacket.
Reservations: Advanced reservations required and we recommend booking this a month or more before your arrival. This event is "RESERVE NOW PAY LATER"; we need a credit card on file to finalize your reservation but we do not charge you for this reservation until a few days before the beginning of your vacation!
Minimum Notice for Cancellations / Changes: At least 48 hours before the start of the event. All tours go out rain or shine.
Restrictions: This cruise is for adults only. Please bring photo ID to verify age and to permit consumption of alcohol.
---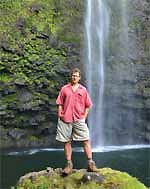 Kevin's Activity Tips:
I haven't done this yet. Scheduled for next Monday!