Lahaina Fire Recovery
We are donating 20% of the profit from ALL FUTURE 2023 MAUI TOUR BOOKINGS to Lahaina fire relief efforts!!!
---
9/15/2023 UPDATE: West Maui resorts are reopening to tourists on October 8, 2023! At this time the need for accommodations for those displaced by the fire has been met so there are no concerns about visitors occupying units that are required to house residents. The resumption of tourism in resort areas north of Lahaina town (Kanapali, Honokowai, Kahana, Napili, and Kapalua) is a CRITICAL COMPONENT of the economic recovery of Lahaina town. You are not only welcome to visit ... your presence is NEEDED and APPRECIATED.
Some areas of Lahaina that were on the edges of the fire were initially closed, but have reopened to the public now, including the Lahaina Cannery Mall and the Safeway grocery store, the Walgreens and shops surrounding it, and the Lahaina Gateway Center. The areas that burneded during the fire are still closed to the public. Those traveling to West Maui resorts and residences north of Lahaina will drive through the affected area on the Lahaina Bypass road which runs above downtown Lahaina. There is no parking or stopping along this stretch of highway. Side streets turning off the bypass, as well as side streets turning off Honoapiilani Highway north of the Lahaina Cannery Mall are barricaded and access is restricted to FEMA workers and those assisting with cleanup and recovery operations. Once you are north of the Lahaina Post Office and Lahaina Civic Center all roads are open and access is normal as this is the northern extent of the fire.
West Maui beach and ocean access is normal in all resort areas of West Maui, as well as areas south of Launiupoko Beach Park. Beaches are closed and there is no ocean access starting at Launiupoko Beach Park stretching through Lahaina town, the Mala Wharf area, and continuing geyond the north end of the junction of Honoapiilani Highway and Front Street. The beach opens again at Wahikuli Wayside Park across the street from the Lahaina Post Office. The areas of beach closure inslude a restriction to boating and other ocean access stretching 200 yards offshore from the closed areas.
The Maui Jim Maui Invitational Basketball Tournament scheduled for November 20-22 has been relocated to Oahu this year. It is normally held at the Lahaina Civic Center, which is currently being used as an importatnt staging area for Lahaina fire recovery efforts.
---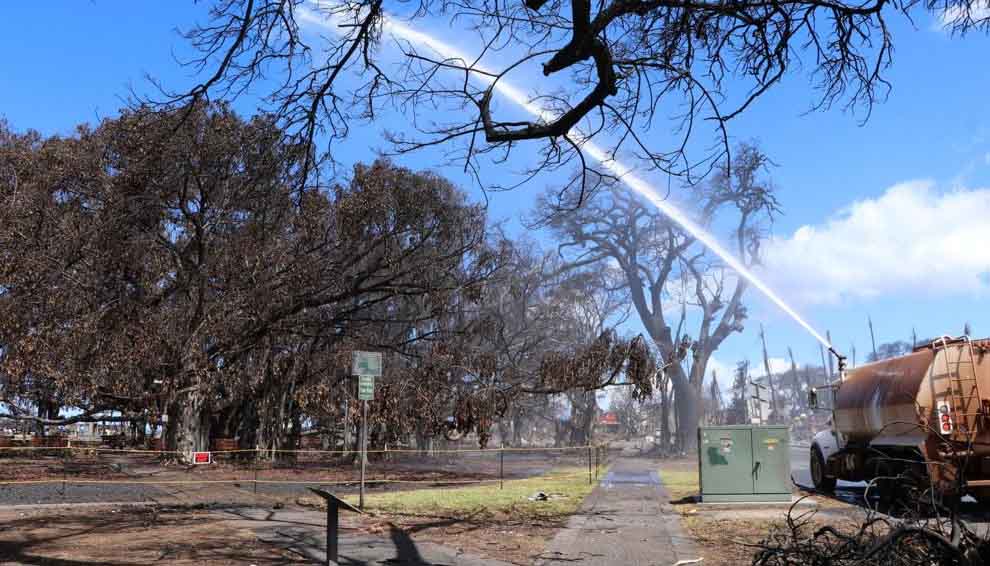 The famous Lahaina Banyan Tree is still alive and is being watered and getting lots of attention. Its survival is a symbol of Lahaina town's resiliency!
---
What areas are impacted by the fire?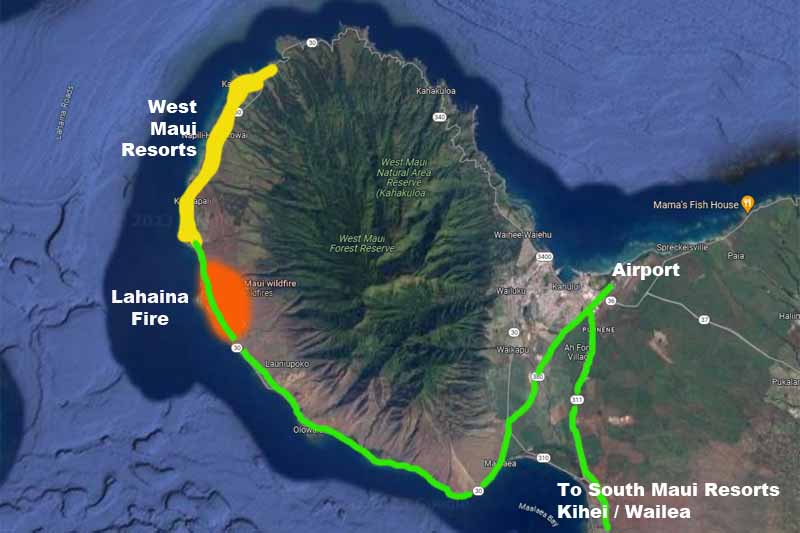 The "fire hurricane" of August 8, 2023 almost completely destroyed the town of Lahaina on Maui's West Side. Lahaina is a historic whaling town, the site of Hawaii's original capital, and in modern-day Hawaii was a residential town that featured shops, restaurants, and tour businesses that catered to those who came here on vacation. Lahaina had a few smaller hotel properties and B&B's, but the major West Maui resorts and hotels are located a few miles north of downtown Lahaina in the Kaanapali, Kahana, Napili, and Kapalua areas. These resort areas did not burn, but were affected by loss of utilities and lack of communication immediately after the fire. These services have been restored. The other major resort area of South Maui, including Kihei and Wailea, was not damaged by fire and is operating normally.
---
Should I avoid coming to Maui on vacation?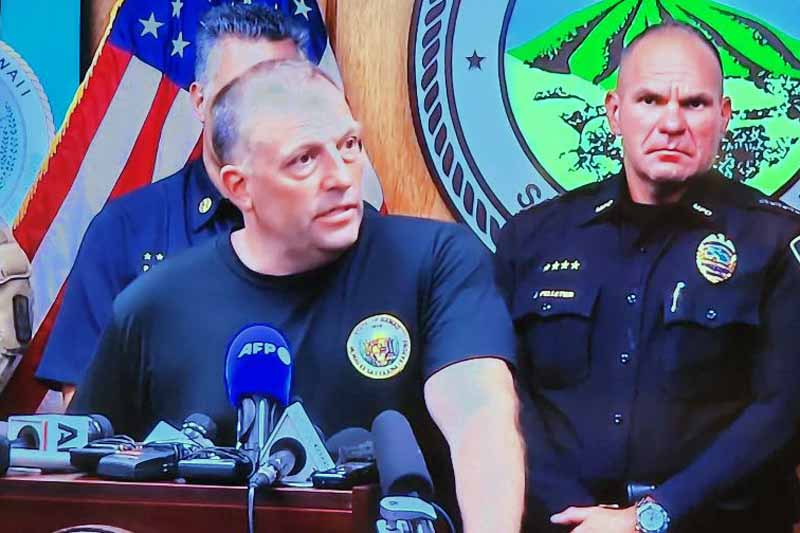 If you already have plans to stay in West Maui anytime in the late summer or early fall of 2023, contact your resort for guidance on whether or not your existing reservation needs to be changed to accommodations elsewhere on Maui. Hotels and condos in West Maui are now accepting reservations for dates on/after October 8, 2023! All other visitor accommodations in other areas of Maui are completely unaffected and are operating normally.
At a press conference on Saturday August 12th, Governor Josh Green stressed the importance of maintaining normal life for the part of Maui that was not immediately impacted by the fire. He was asked whether visitors to the other areas of Maui are impeding recovery efforts and if the governor plans to discourage tourists from coming to Maui this fall. His response was ... "I don't think visitors are impairing anything. All of our people need to survive and we can't afford to have no jobs ... when you restrict travel to a region, you really devastate its local residents in many ways. WE DON'T WANT OTHER BUSINESSES TO LEAVE AND TO HAVE OTHER PARTS OF THE ISLAND DEVASTATED." Echoing that sentiment, Mayor Richard Bissen added "Many of our residents make their living off tourism ... South Maui is open. Kihei, Wailea, is open. MAUI IS NOT CLOSED ... West Maui is." And now with the initial search and rescue phase complete and housing secured for Lahaina residents who lost homes, WEST MAUI is no longer considered "closed." Closure is restricted now to the areas that actually burned during the fire.
Unfortunately we have seen overall Maui visitor arrivals (not just West Maui) take a nosedive and this is hurting businesses island-wide right now. Maui welcomes you to visit and your presence will help with the island's economic recovery. If you come to Maui right now and stay in the Kihei / Wailea area everything will seem normal to you, except you will find the beaches less crowded than usual! And if you stay in a West Maui Resort later this fall you will see fire-damaged areas on the drive to Kaanapali, but everything is normal and beautiful as ever once you reach Kaanapali.
---
What is currently closed / unavailable on Maui?
All visitor-oriented areas on Maui are open and everything is trying to get back to normal island-wide with the exception of West Maui.
Access to West Maui is no longer restricted. The burned areas of Lahaina town are still closed to the public, but the highway is open for access to Kaanapali, Honokowai, Kahana, Napili, and Kapalua. Those resorts will begin accommodating visitors starting October 8th 2023.
Maui Offroad Adventures is located in Naplili and their course was unaffected by the fire. They hope to resume tour operations on October 11, 2023!
Kapalua Zipline's course is well north of the fire. They will resume tour operations on October 9 2023. The Kaanapali Zipline course did not burn, but they lost a warehouse and tour vehicles. They anticipate reopening just in time for the Christmas Holiday week.
West Maui Luaus will gradually begin to resume normal operations. The Royal Lahaina Luau, and Sheraton Kaanapali Luau are resuming at the beginning of October, the Hyatt Luau is starting on October 28th, and the Westin Wailele Luau is resuming the beginning of November.
Kaanapali-based boat tours will be VERY popular (and hard to book last minute) because of the loss of all the excursions that were based out of Lahaina Harbor. Teralani Snorkel Sails and Teralani Sunset Sails will resume at the beginning of October.
Lahaina-based boat tours will not be available for the foreseeable future because the harbor in downtown Lahaina was badly damaged and many boats were lost. Quicksilver, Maui Princess, and Paragon / Sail Maui have vessels that were offshore at the time of the fire but we do not yet have a firm date for those tours resuming. Reefdancer and Atlantis Submarines lost their vessels, as did Makai Adventures, Start Me Up Sportfishing, Ultimate Rafting, Maui Adventure Cruises, and Ocean Riders Rafting.
---
How can I help Lahaina's recovery?
1. Come to Maui as planned and support our local economy. To make it very clear that your money DOES make a difference here, our agency is DONATING 20% OF OUR PROFIT FROM MAUI TOUR SALES for the remainder of 2023 to the local relief organizations listed here on this page!
2. Donate directly to a 501(c)3 Charity that is based on Maui. If you have pleasant memories of time spent in Lahaina, we encourage you to give generously. Some agencies are asking for donations as part of the checkout process when you make a reservation ... we are not using that approach because the money is most effectively distributed (and YOU get the tax deduction) by donating directly to the charity. The three that we recommend are the Maui Strong Fund, the Maui United Way, and the Maui Food Bank.
3. Invest your time ... spend one or two of your Maui vacation days as a volunteer! You can learn about current volunteer opportunities and sign up by registering with Hands on Maui.
---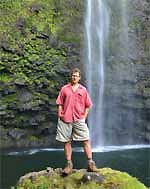 Kevin's Activity Tips:
Lahaina holds a special place in my heart. It is where my life in Hawaii began 25 years ago. It is where this business started. Lahaina is far more than just a place I once lived, worked, and played. Lahaina is more than just a town ... it felt like a dear friend and I am deeply grieving its loss.
The rebuilding of Lahaina will take years, but tourism in West Maui will quickly adjust to the new reality. We will track developments here.