Keana Farms Zipline
---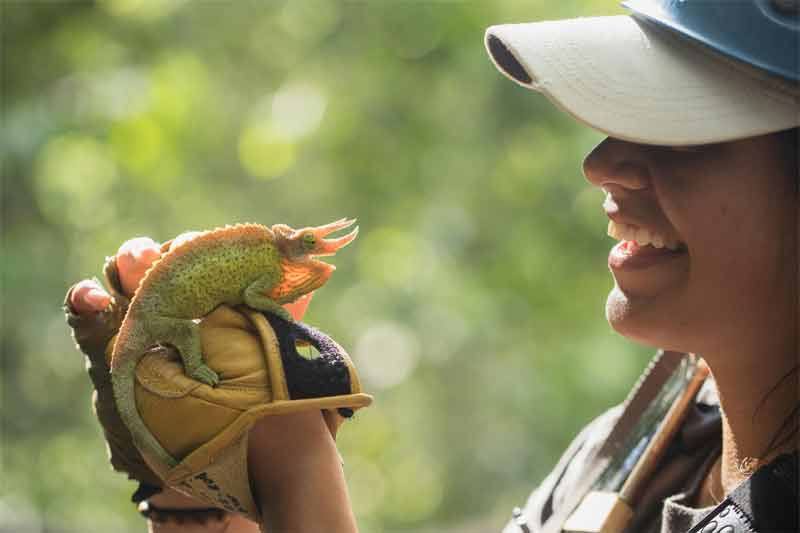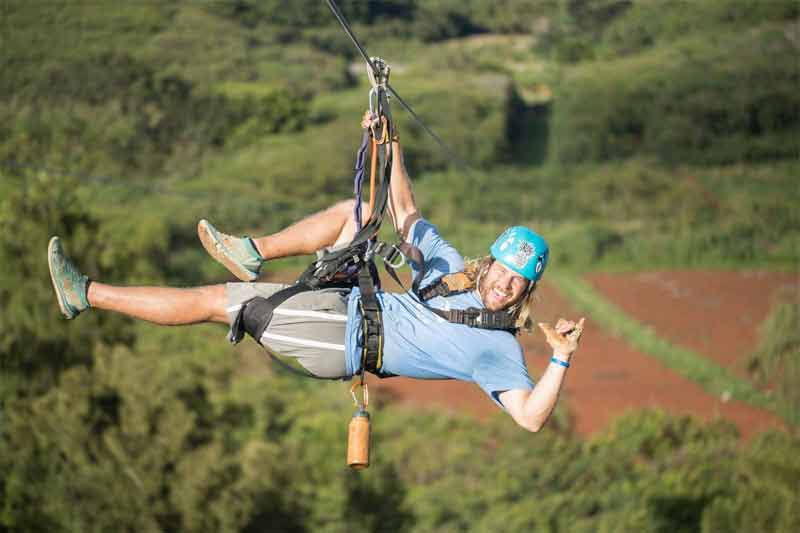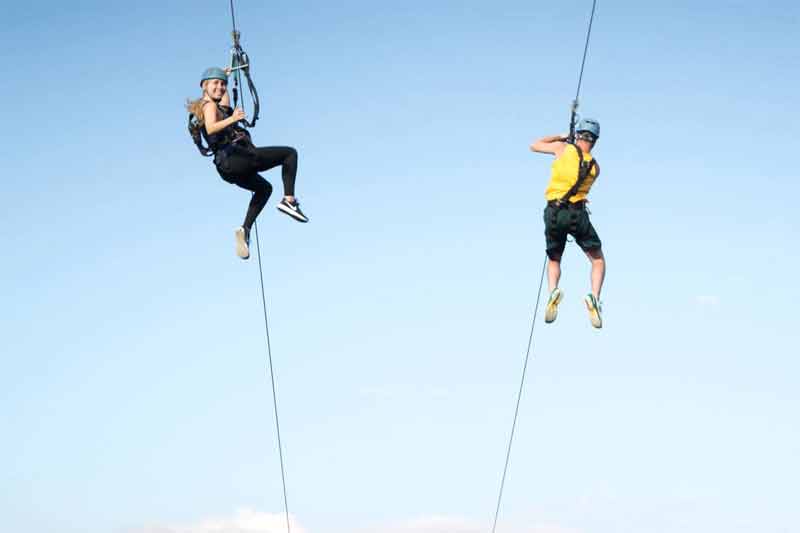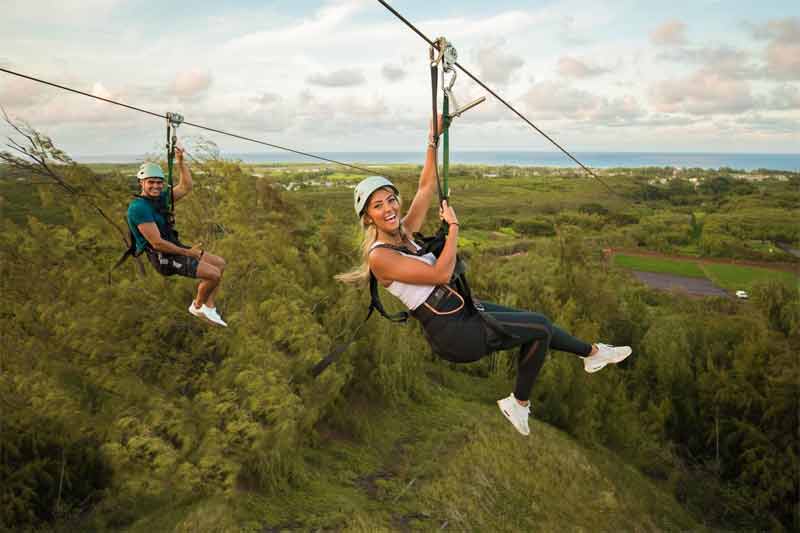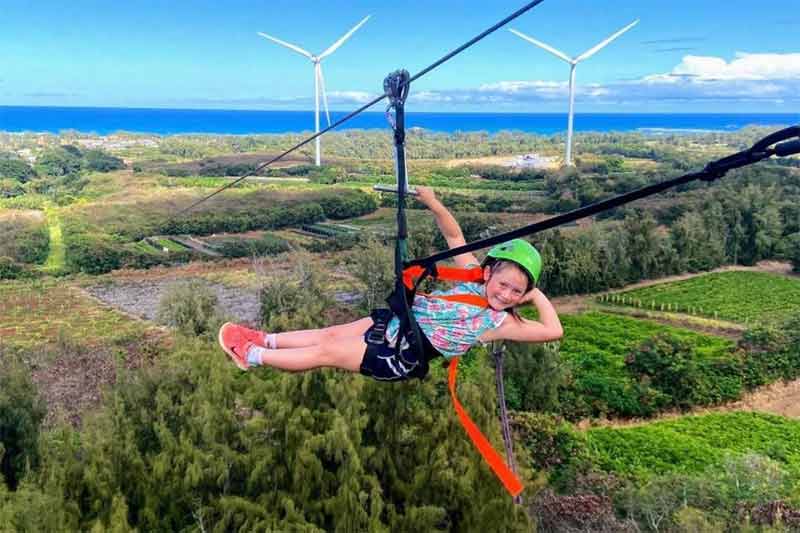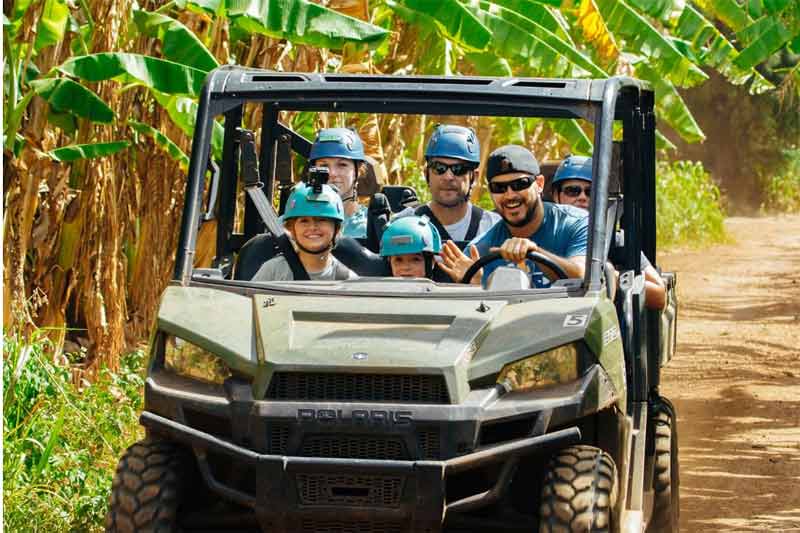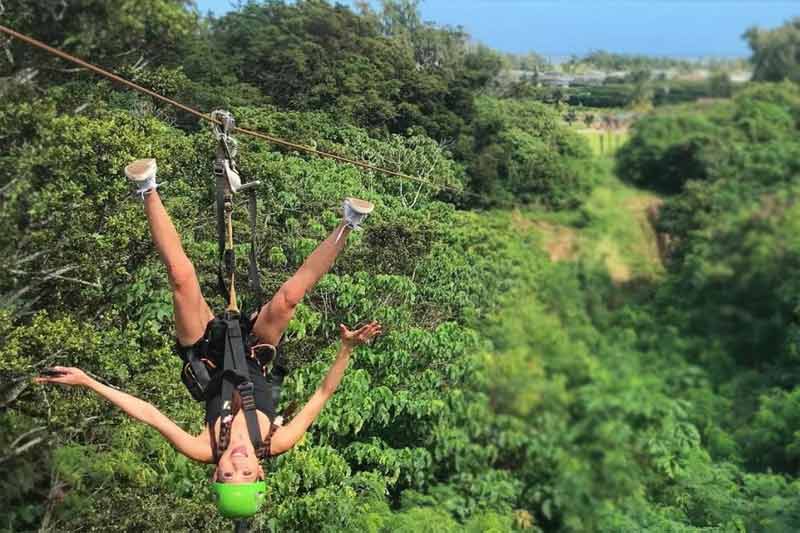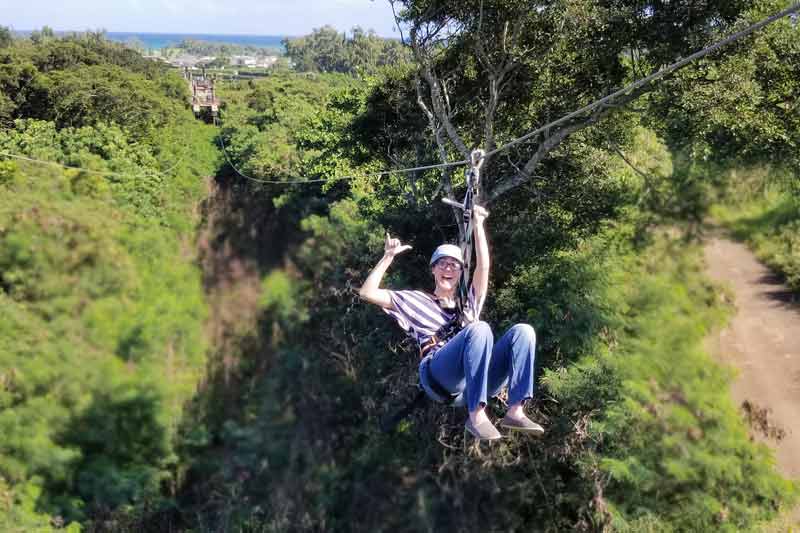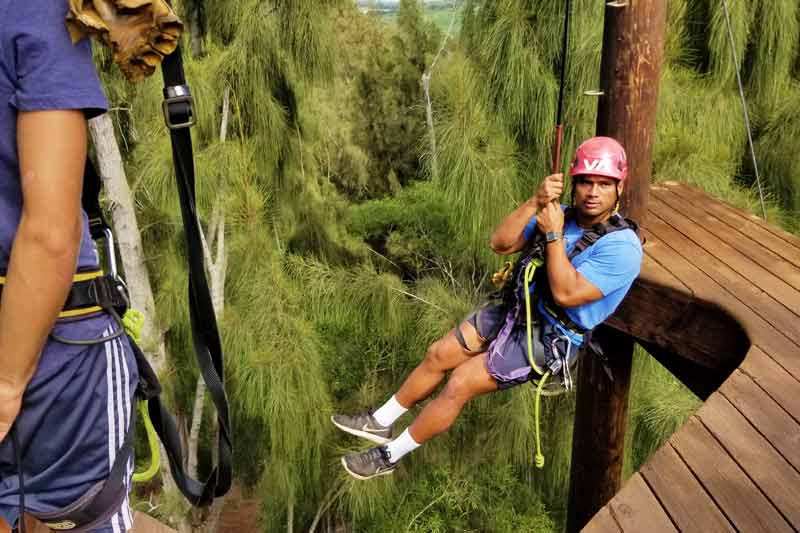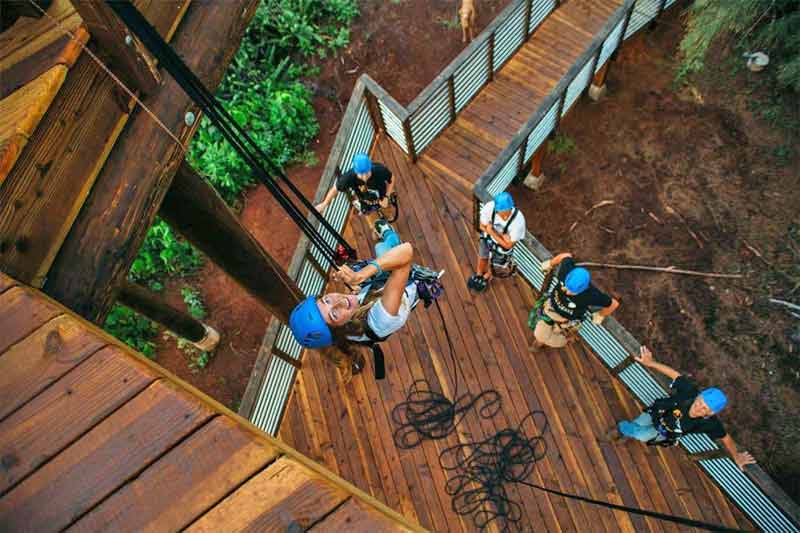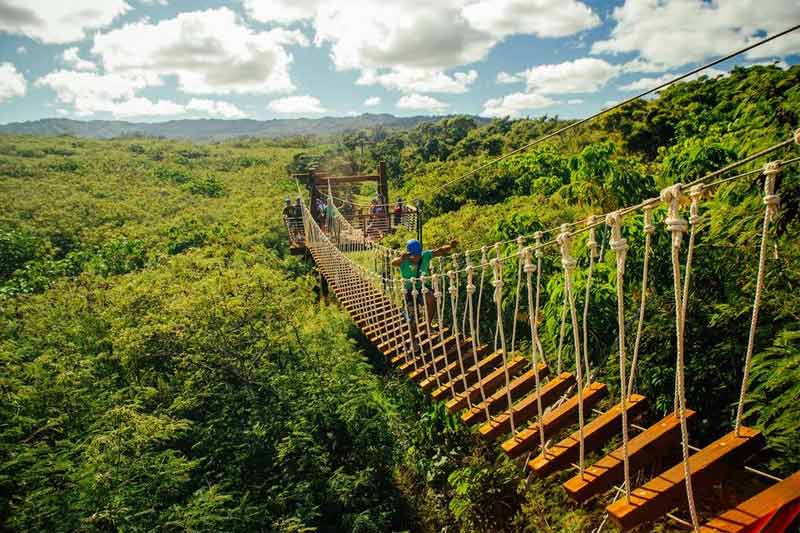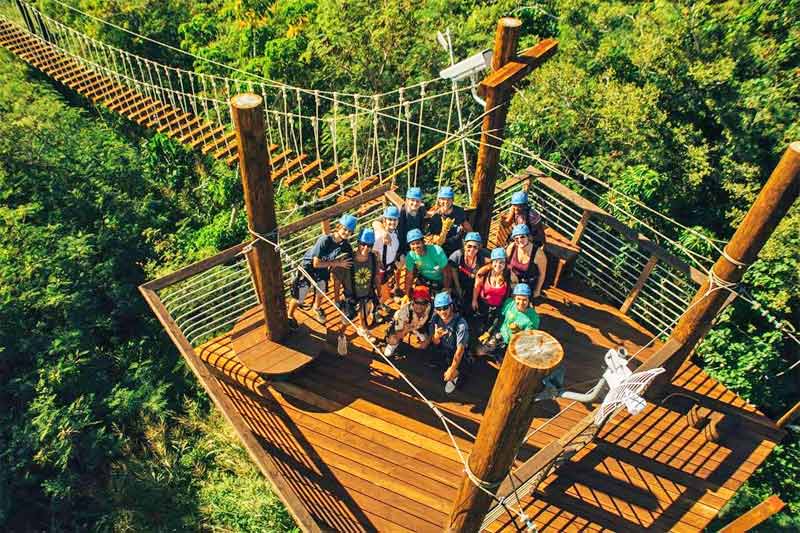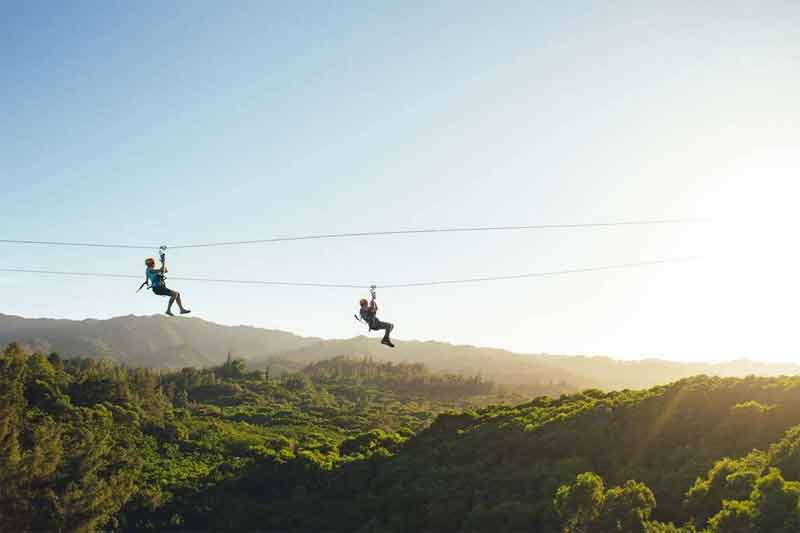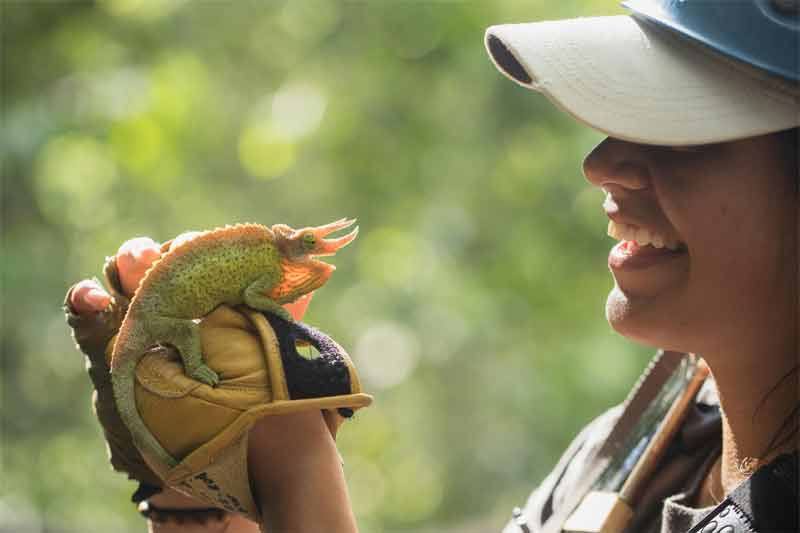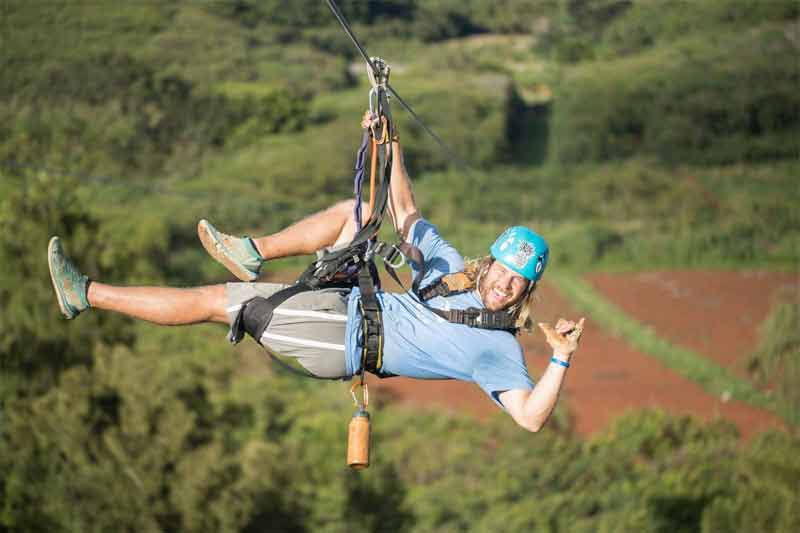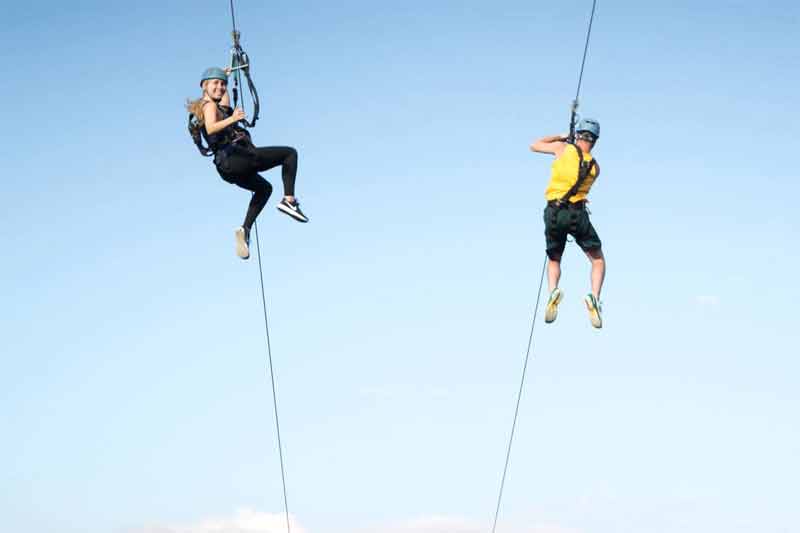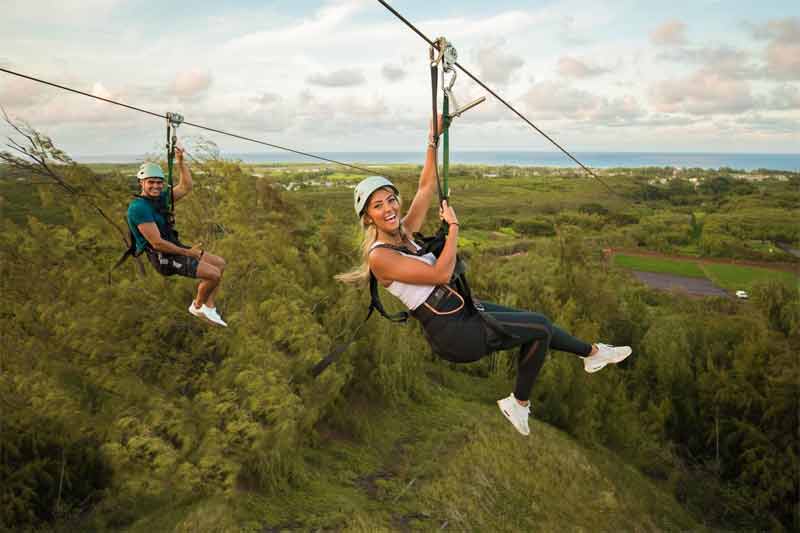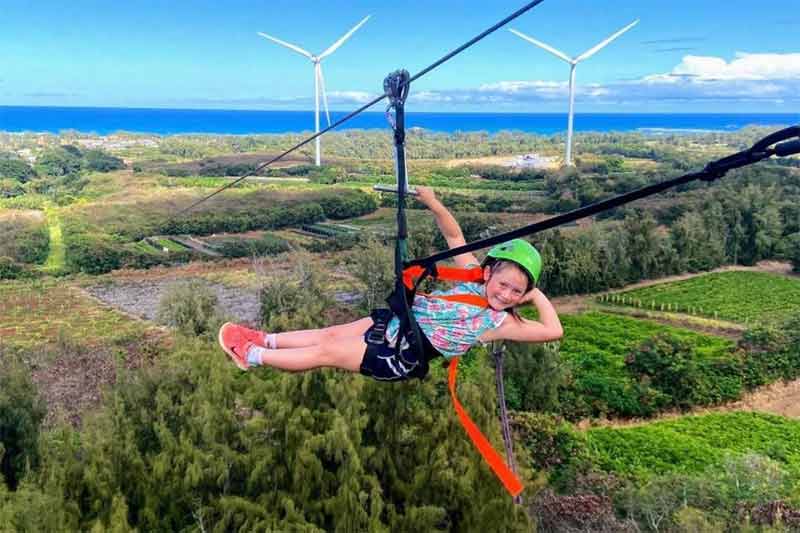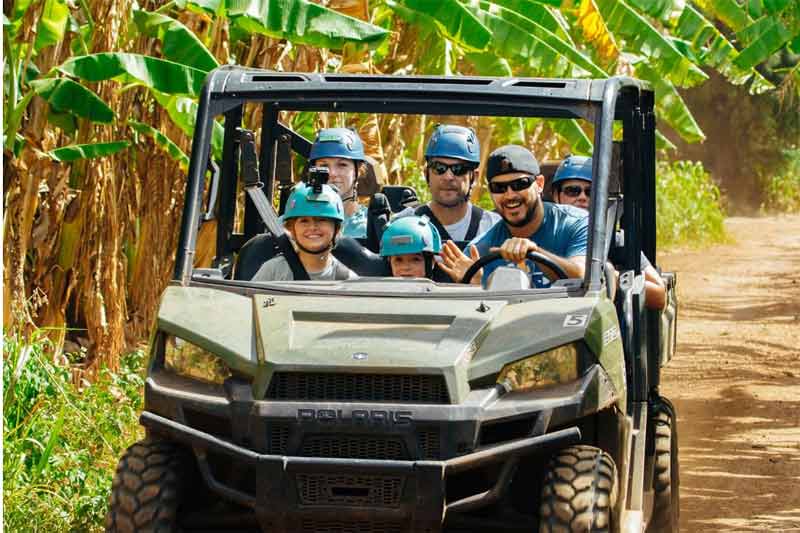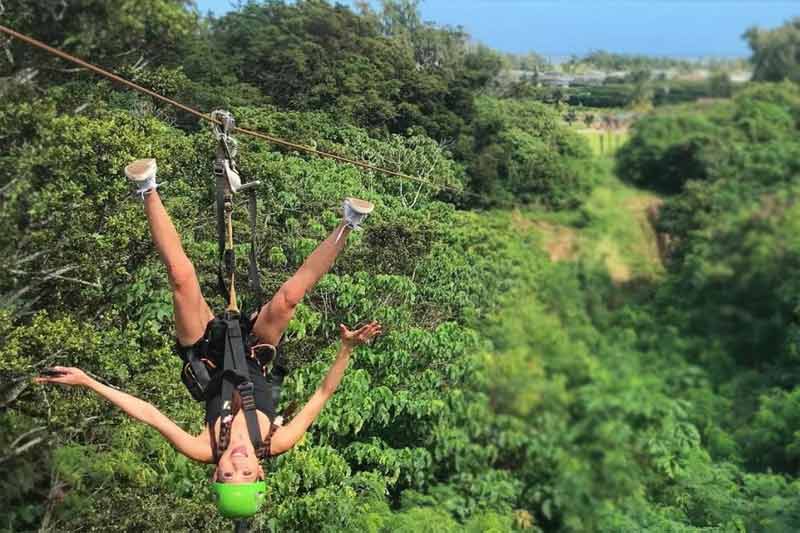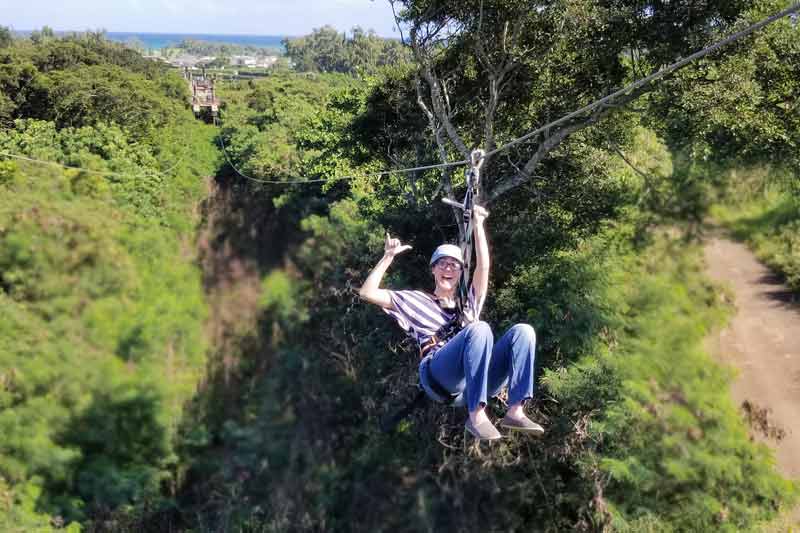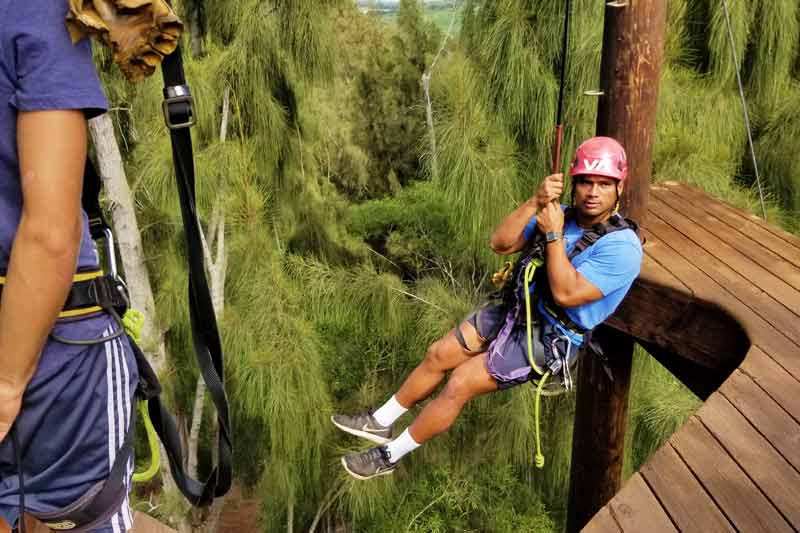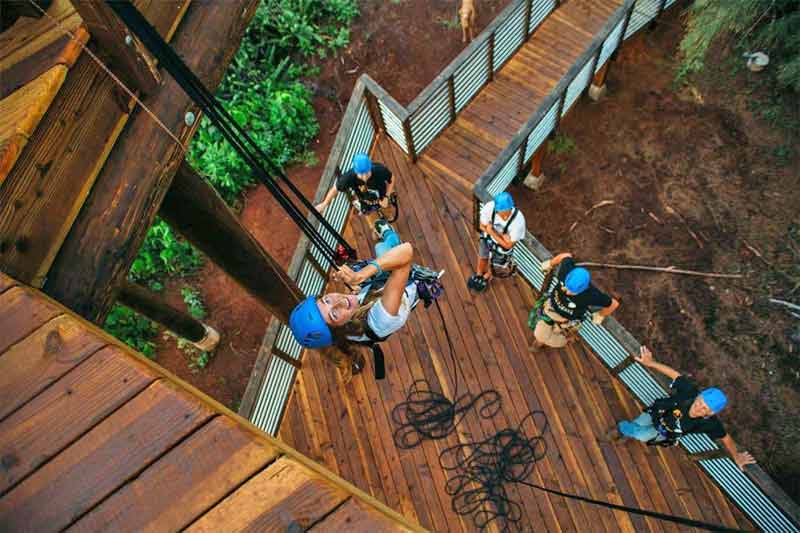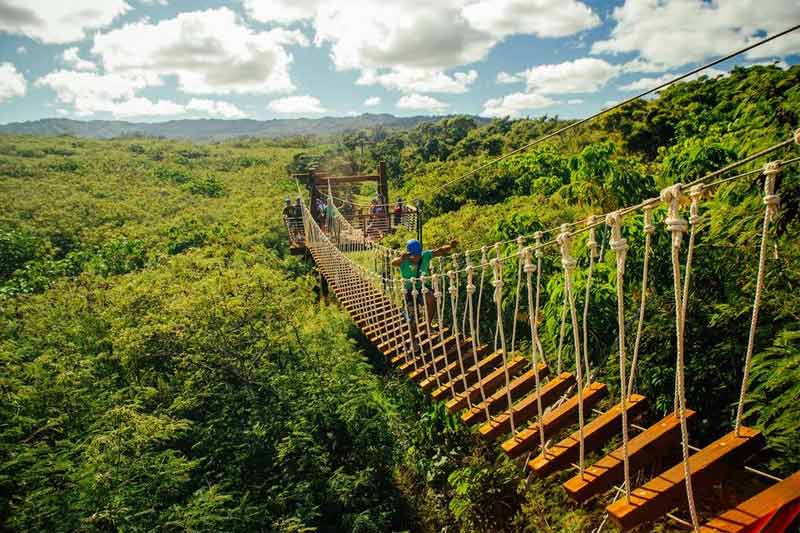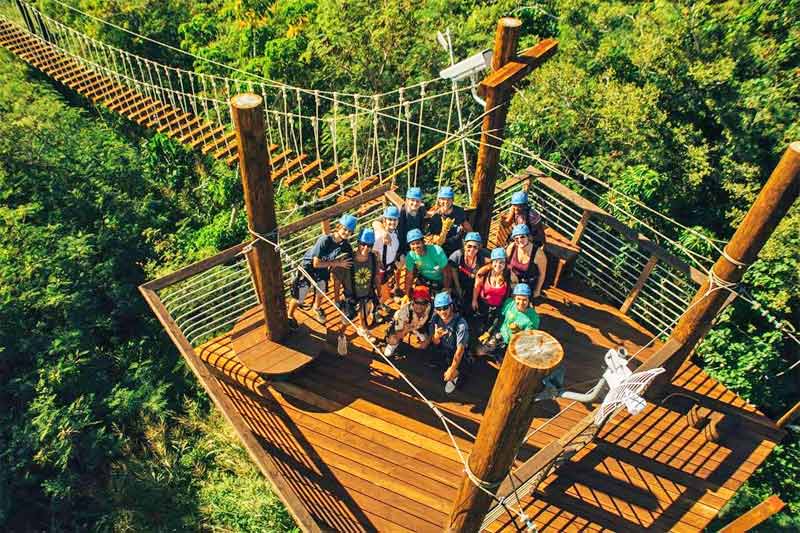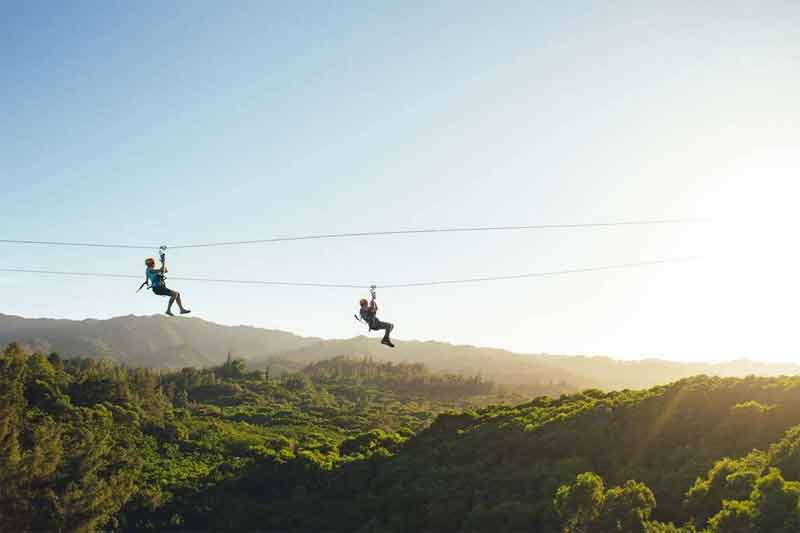 ---
Highlights
Beautiful North Shore location with panoramic ocean views
Longest Zipline on the island of Oahu
8 tandem lines with other vertical challenge elements
Minimum age 7 and maximum weight 270 pounds
---
Description
At Keana Farms Zipline, experience many unique adventures and a tropical farm tour! This zipline consists of 7 dual zip-lines and sky bridges and boardwalks. Enjoy a 2.5 mile ATV adventure to the top, and a couple more surprises...making this the ultimate Hawaiian experience! You will start high in the mountains, with a bird's eye view of a working commercial farm that produces over 1 million pounds of produce each year. The name "Keana" comes from the old historical Ahupua'a of Keana, and the property has been a working agricultural farm for many decades. Then safely zip over the farm, and learn about Hawaiian history and culture along the way.
Keana Farms Zipline difficulty level is easy to moderate and it's great for first time zip liners! The fully trained staff will take care of you from start to finish with all the necessary safety operations. They use the best in zip line braking, the ZIPKEA, which eliminates riders having to "hand-brake". The course design and constructions goes FAR beyond industry safety standards, and they teamed up with structural engineers, professional arborists, and other industry professionals. All equipment exceeds industry standards and is inspected before and after each use.
In addition to the 8 ziplines there are other vertical challenge elements like elevated boardwalks, long suspension bridges, and two unique "jump and rappel" drops controlled by a braking system that lowers you down safely.
Be sure to read our lengthy review of this zipline course under the "Activity Tips" section below!
---
Cost
Keana Farms Zipline Rate (KFZ1)
$179.95 per Participant (plus 7.2% Hawaii sales/harbor tax)
---
---
Details
Schedule: Daily except Sundays ... also closed Thanksgiving Day , Christmas Eve, and Christmas Day.
Duration: About 3 hours
Restrictions: Minimum age is 7 years old. Maximum weight is 270 pounds. If you are under 80 pounds and at least 7 years old, you may participate but you will be required to ride tandem with a guide or another lightweight sibling. Please inform us of any lighter participants in your party so they can make arrangements. If you weight 250 pounds or more, they recommend being in good physical condition. They strong discourage those who have recurring injuries, recent surgeries, or difficulty lifting your legs to your waist. If you are are pregnant, suffer from medical conditions that require immediate attention, or with existing or recurring injuries or who have recently had major knee, back, or leg surgeries you will not be allowed on this tour.
Other Details:They recommend that you be in moderately good health, able to stand on your feet for 3 hours, and comfortable walking half a mile on even terrain. Everyone must sign a participant form. Those under the age of 18 must have a parent and/or legal guardian sign for them, and must have someone 18 or older zip lining with them.
What to Bring and Wear: Closed-toed shoes are required (no Chacos or Five Finger shoes). Wear comfortable and weather appropriate clothes. Rain in Hawaii can come and go, so they recommend wearing clothes that you don't mind getting a little wet. Glasses and sunglasses can be worn, and if you plan on taking them off they recommend having a strap. Bring something to pull back long hair. Bring cameras, GoPro's, and phones at your own risk. They highly recommend having straps or secure pockets. If you'd rather leave them behind, they take photos along the way of every tour which are available for purchase after your tour. Bring any necessary medication such as inhalers, nitroglycerine pills, or epi-pens. Dangling jewelry including long necklaces and hoop earrings are not allowed. They do not allow unsecured items (phones, keys, water bottles, etc) that can fall out while ziplining. They do not recommend wearing short shorts, dresses, skirts, swimsuits, baggy clothes, backpacks or fanny packs (unless for medication). They provide small, complimentary lockers for your phone and car keys, but everything else must be left in your car or at home.
Reservations: Advanced reservations required and for those who are planning ahead this event is "RESERVE NOW PAY LATER"; we need a credit card on file to finalize your reservation but we do not charge you for this event until a few days before the beginning of your vacation!
Minimum Notice for Cancellations / Changes: At least 48 hours before the start of the event.
---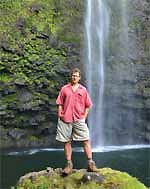 Kevin's Activity Tips:
This will be a long review. If you want to save yourself some time, the summary is simple. Keana Farms Zipline is the best one on the island of Oahu and you should do it! Just go ahead and click the "Reserve Now" button.
Still here? OK ... let me tell you why it's the best.
Keana Farns Zipline is located just north of the town of Laie on Oahu's northeastern tip. The drive from Waikiki takes on average about an hour and 15 minutes. It's just long enough that the first thing I had to do when I arrived at their location was ... well, you know. Hit the rest room. One thing that many businesses fail to realize is that the rest room is often the FIRST chance to make an impression. Walking into this zen-inspired rest room made me feel like I had stepped into a spa!
I know this is an odd way to start an activity review, but that rest room tells you everything you really need to know about this tour. It is first class, hi-tech, organized, efficient, and provides a great vacation experience. The check-in uses I-pads for signing liability waivers. The shaded deck area where you gear up for your tour has large TV monitors used to show video highlights and touchscreens that are used to view and purchase photos that are taken during your tour. The harnesses and helmets are meticulously laid out for your group and guides assist putting things on and adjusting straps.
The first zipline is accessed by climbing a tower just behind the check-in building. If you have anyone in your party who isn't zipping, this gives them a chance to watch your first zip line ride ... after this you head up the mountain on an ATV to get to the very top of the course and spectators can't go there.
At most courses the first line is typically a trainer line and ridiculously short. Not here at Keana Farms. This first line would be a medium-length line at most other zipline courses. It is a decent ride and WAY up off the ground. The only downside to this ... if you are a first-time zipper and you are apprehensive about this experience, there is no easing into this tour. The very first line requires you to just step off the platform and trust the equipment.
After the first line you descend stairs from the landing platform and board the ATV's that are waiting to take you to the very top of the course. On the ride there you'll pass through the farm, an impressive tropical plantation with acres of banana, papaya, eggplant, taro ... they grow over a MILLION pounds of produce here a year! On the 2 mile ride to the top the driver stopped for a moment to pick allspice and curry leaves for us to sample.
When we reached the top the panoramic view looking out over the course and to the ocean below is expansive and tranquil. Each line seemed to get either longer ... or higher ... or both. This course has 8 tandem lines, and with two people zipping at a time there is VERY little wait time from line to line. There are three guides per group; one guide clips the two who are zipping into the line, and one guide is at the end of each of the two lines to receive you at the other end.
Keana Farms Zipline has a custom-designed proprietary braking and retrieval system that works REALLY well. When you hit this brake, it latches onto your zipline pulley. In cases where the wind was blowing in your face and you don't have quite enough momentum to make it to the landing platform, the brake can be moved further out on the line. Once you make contact with the brake you are locked in, and then the guides can pull the brake back to the platform (with you still attached). This prevents the need for line retrievals ... cases where someone who doesn't quite make it all the way to the end drifts backwards out to the middle of the line. Nothing can slow down a zipline tour to a grinding halt like having to send a guide out to the middle and pull someone back in. This doesn't happen here ... and this system works so well that they are selling this technology to other zipline courses.
In addition to the 8 ziplines, there are other adventurous elements thrown in to keep things interesting. After the third line you clip into a device and are told to just jump off the platform. You fall for second, then the device gently and safely lowers you to the platform below. It's sort of like a rappel, only you have no control or responsibility. You just jump.
A few lines later there is a platform without any steps leading up. How do you get up there??? You have to pull yourself up using a clever block-and-tackle pulley system. It isn't difficult and no upper body strength is required. It does, however, fall into the category of "exercise" as you will feel like you did some work on the ascent. The feeling of accomplishment is worth it!
This course also has some long, scenic boardwalks and suspension bridges leading from line to line. One of the bridges has steps that are spaced a foot or so apart ... just far enough apart that you could fall through if you tried hard enough ... and you are clipped into a belay line for safety. It's funny to watch people on these suspension bridges; some people have far more "fear of height" issues when crossing this bridge than they do when they are dangling on the ziplines. Whoever designed this bridge must have an evil sense of humor too ... just when you feel like you have mastered the bridge and are almost near the end you hit a spot where it looks like an extra rung (or two) is missing and you have to almost hop from one rung to the next!
One line is REALLY long (2400 feet), another line you ride backwards, and another line they encourage you to zip upside down. And how do you get down from the final platform? One more of those "jump off and rappel down" only this one drops you fast enough to get your heart racing on the way down!
Keana Farms Zipline is the best on Oahu ... state of the art equipment, efficient operation, longest lines, diverse rappeling, climbing, suspension bridge elements ... we enthusiastically recommend this course. It caters to people looking for adventure. The only person I wouldn't recommend this to is someone who has been talked into zip lining by someone else and is apprehensive about the concept. You don't need previous zipping experience to do this tour, but you do need a sense of adventure and a normal (not excessive) fear of heights.