Sea Life Park Dolphin Interactions
---
Sea Life Park Dolphin Interactions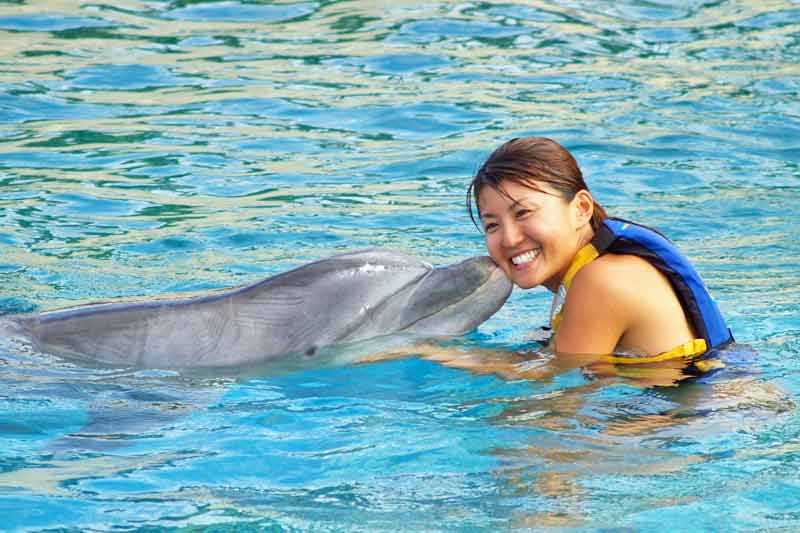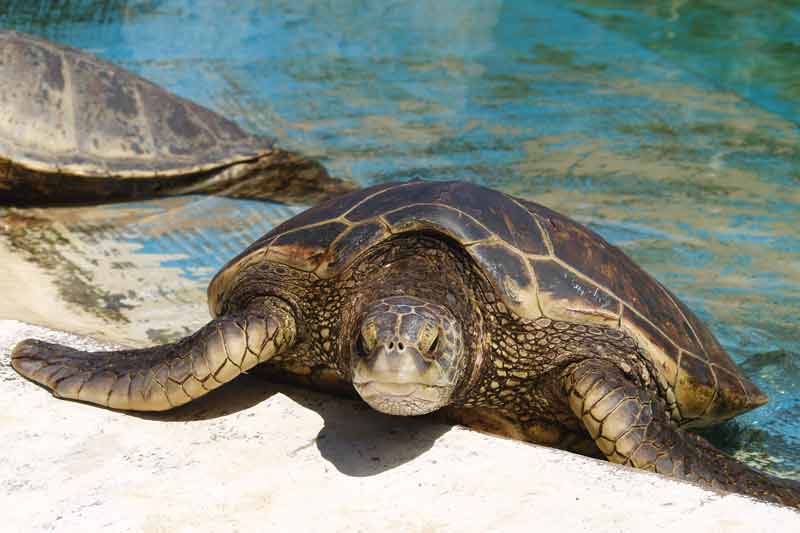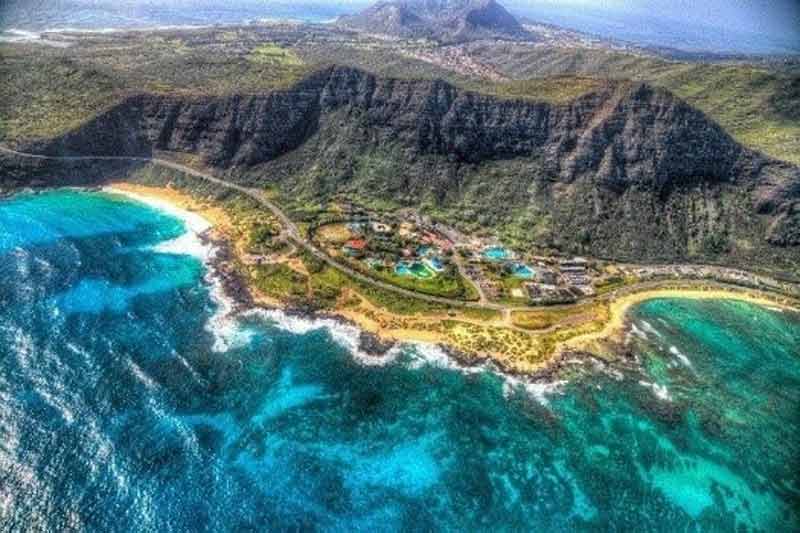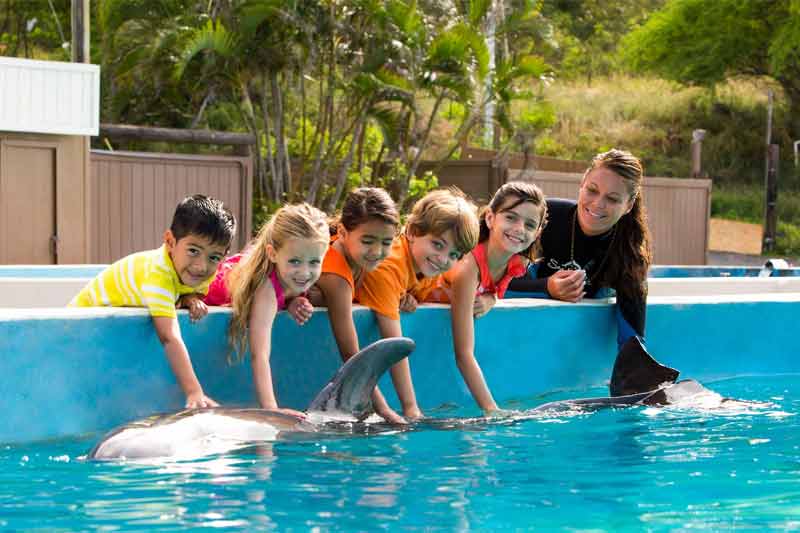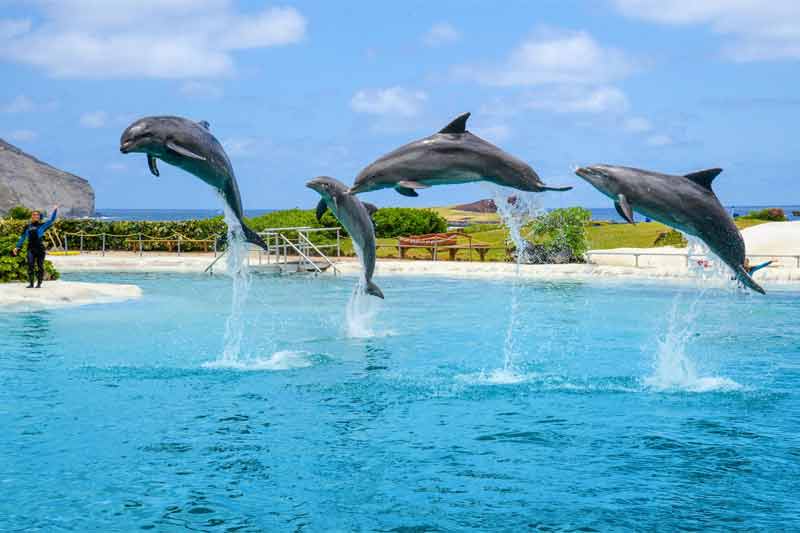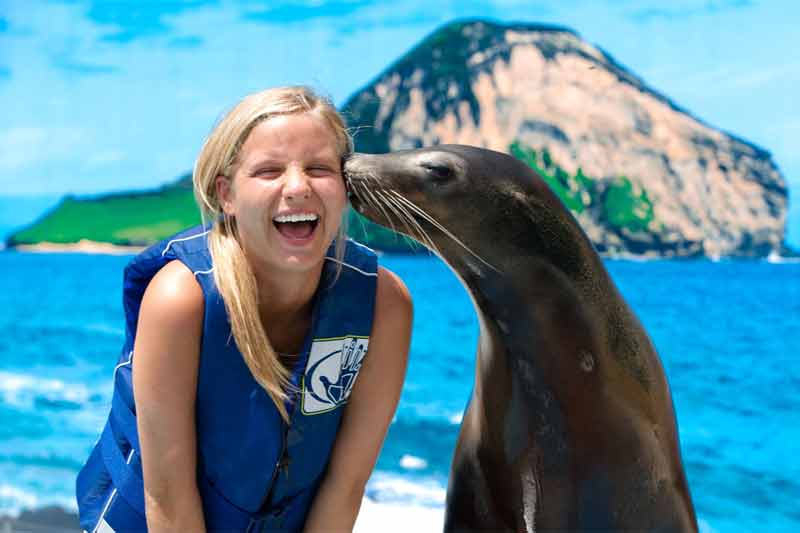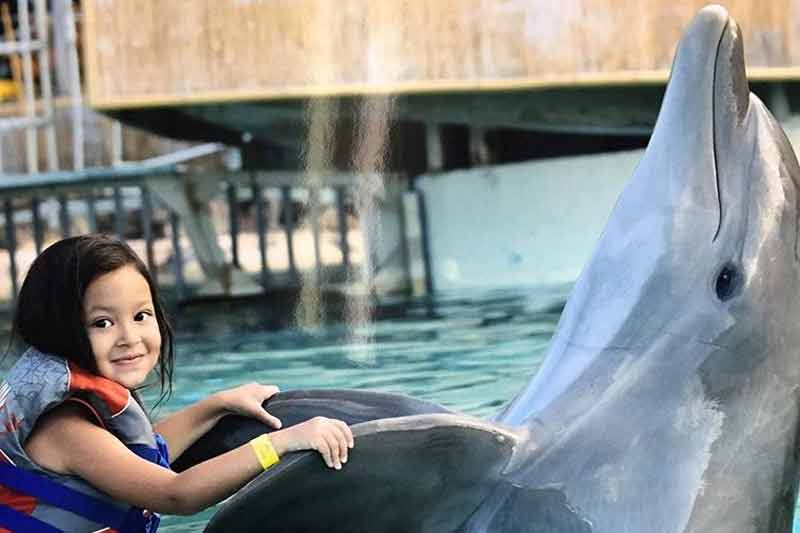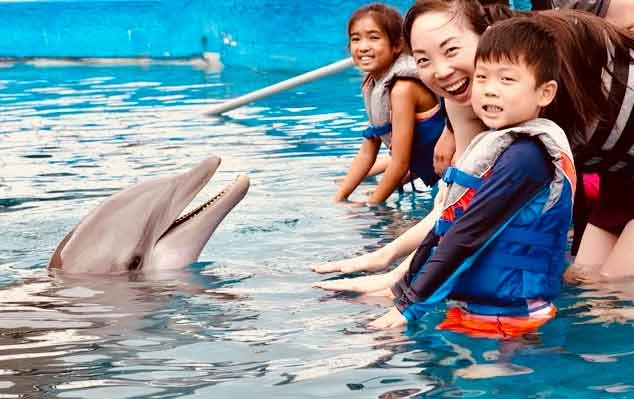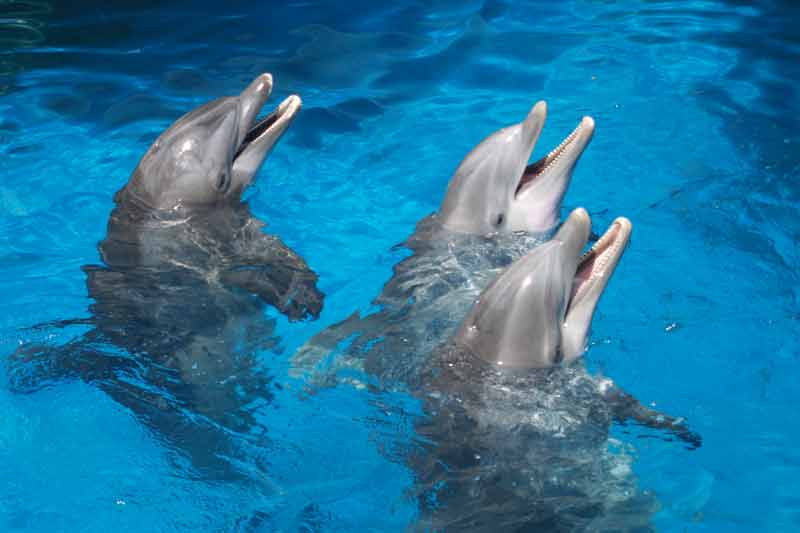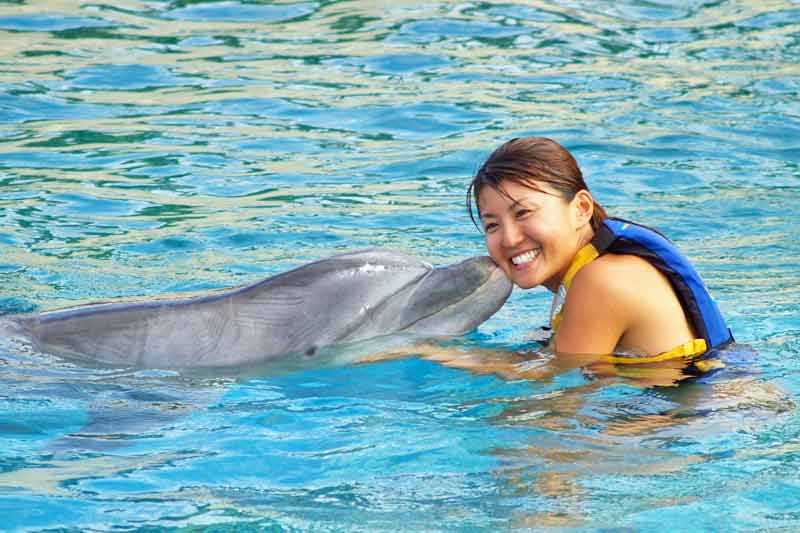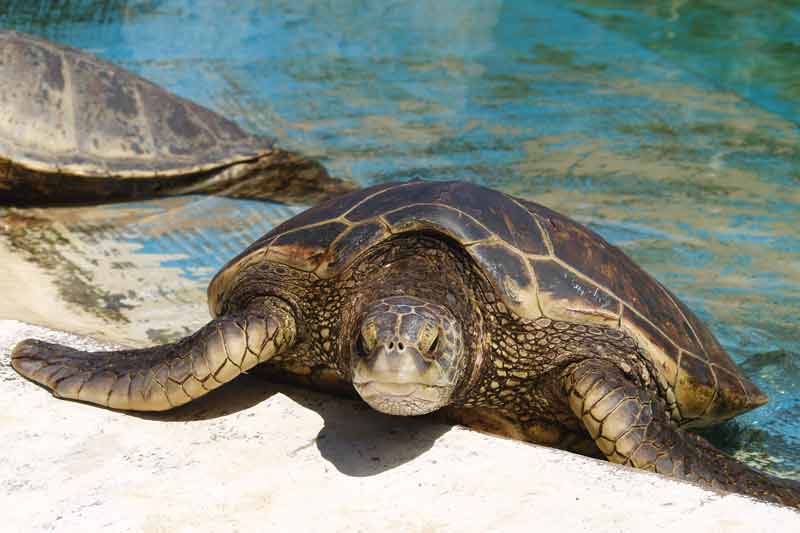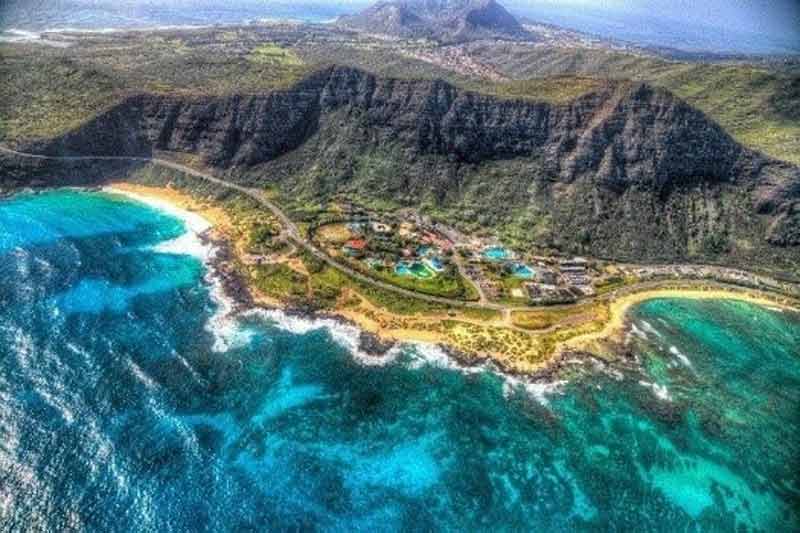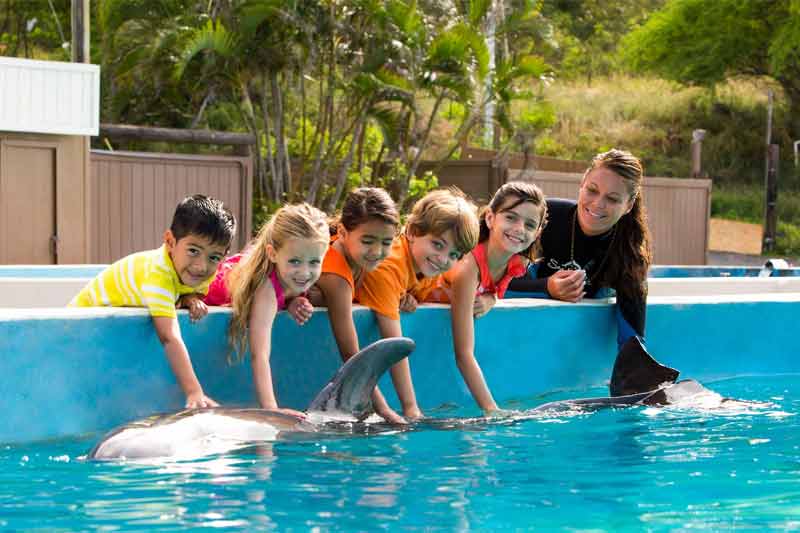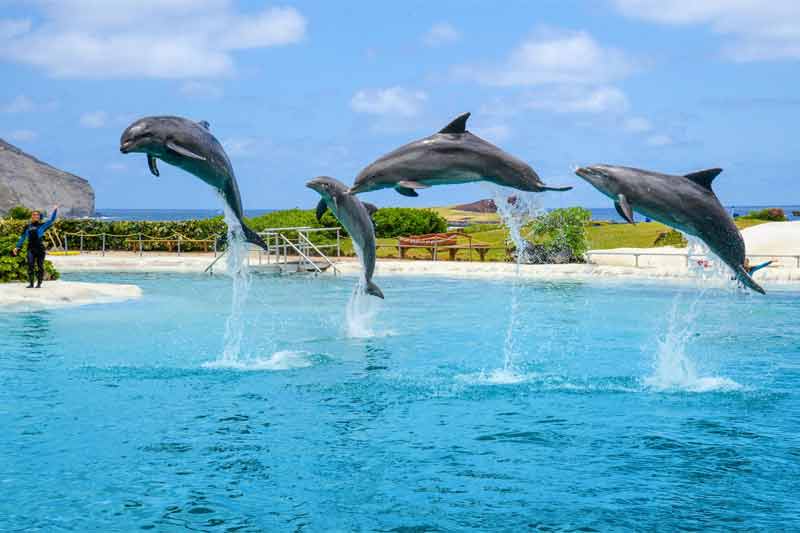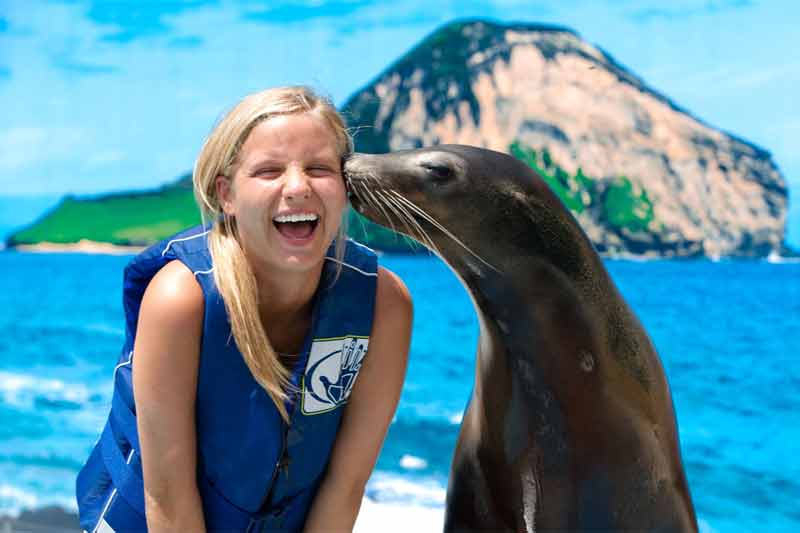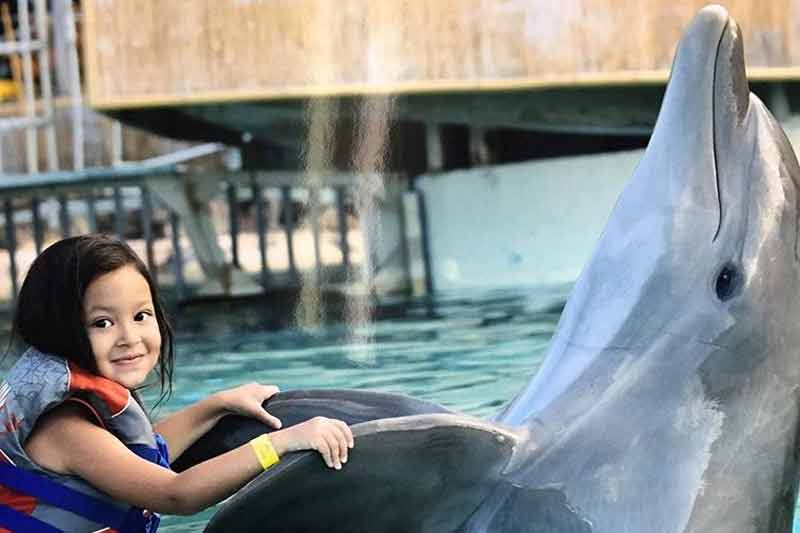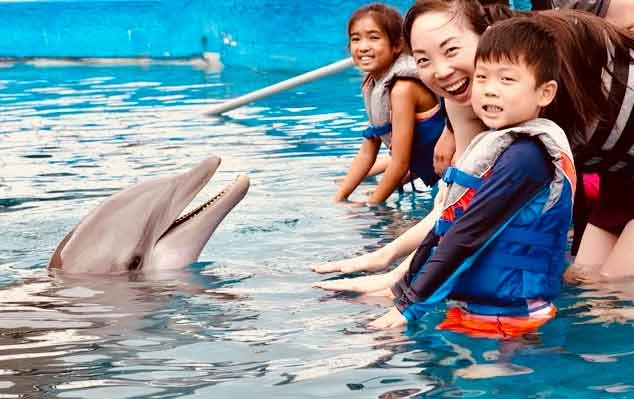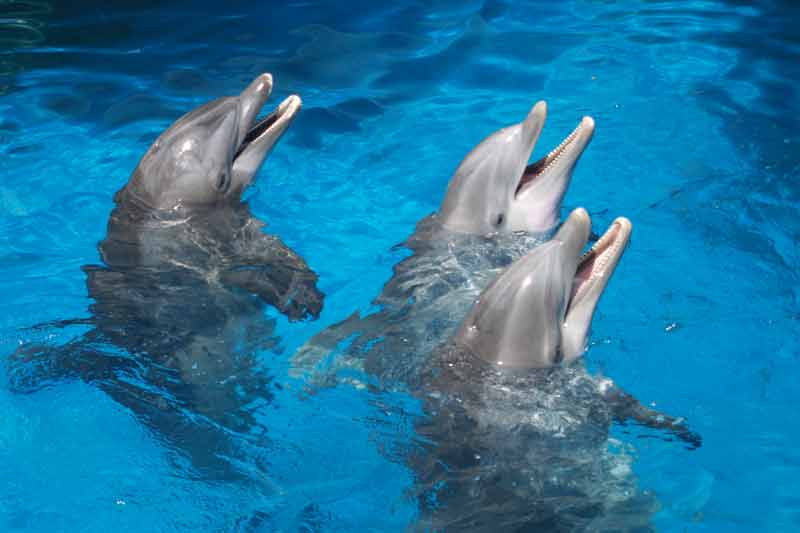 ---
Highlights
Personal and up-close dolphin interactions
Dolphin Encounter is in waist-deep water
Dolphin Aloha is a backstage stay-dry encounter
Dolphin shows, reef exhibits, sea lions, penguins, and sea turtle habitat!
---
Description
Sea Life Park is located on Oahu's windward coast, about 30 minutes from Waikiki at scenic Makapuu Point. Get up close and personal with a fantastic array of marine life and make amazing discoveries about the inhabitants of our aquatic world. You can watch the performances or wade right in with the wildlife. Ever wondered what it's like to be an animal trainer or an aquarist? Now you can find out in one of Sea Life Park's special interactive programs. Stay dry or get wet, it's up to you! Sea Life park was featured in the hit movie 50 First Dates!
---
---
DOLPHIN ENCOUNTER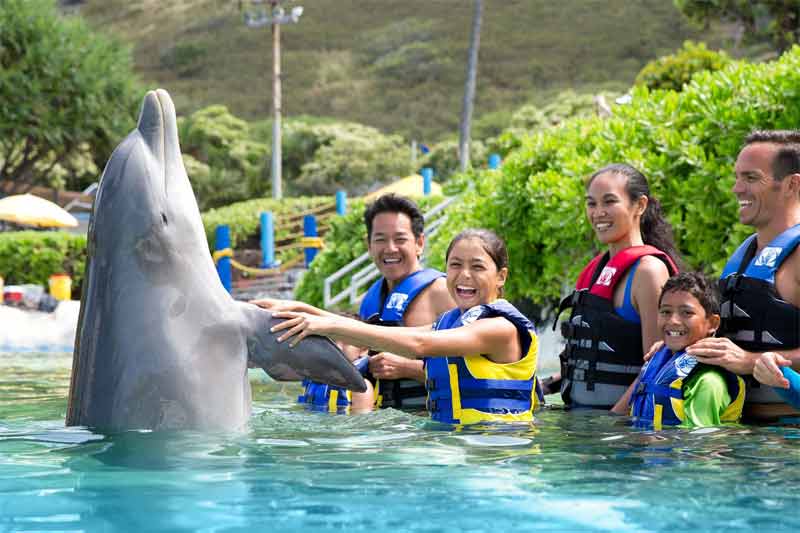 Learn about the intriguing world of dolphins … from a waist deep platform guests observe the dolphins while they perform high energy behaviors. Dolphins play and kiss and dance with participants! For those who feel comfortable, the program offers the opportunity to move off the platform into slightly deeper water.
Schedule: The Dolphin Encounter is held Friday through Tuesday at 9:45am, 11:00am, and 2:00pm.
Duration: 45 minutes (30 minutes in the water)
Restrictions: Children ages 3-7 years old must be accompanied by a paying adult. All children under age 8 and/or less than 55" tall must have an adult participating with them during the interaction (one adult per younger child required). No pregnant women allowed on this interction.
Dolphin Encounter Rate (SLP3)
$188.47 per Participant (age 3 and up) (Hawaii sales tax included)
---
DOLPHIN ALOHA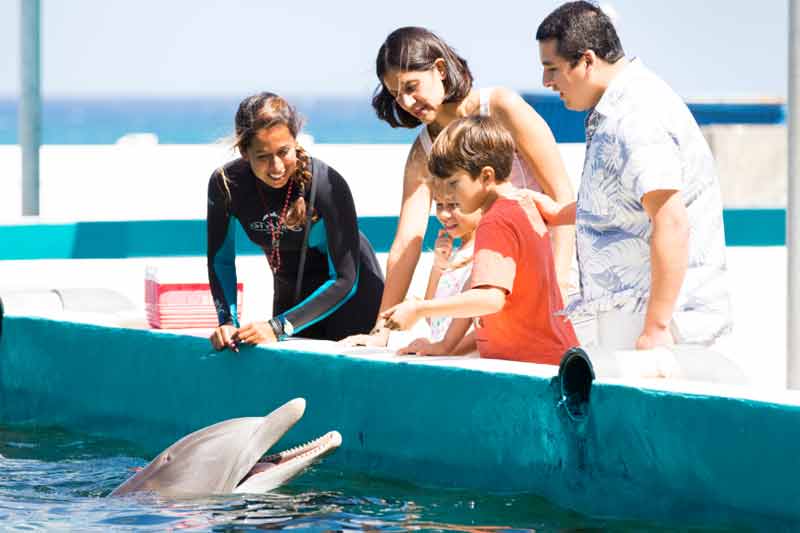 This is a new interaction that allows participants to interact with dolphins close-up without getting in the water. Guests wear regular street clothes … no swim wear required. Go to a backstage pool where you will feed and pet dolphins and interact with them while they perform a variety of learned behaviors.
Schedule: Dolphin Aloha is held Friday through Tuesday at 11:30am and 2:20pm.
Duration: 20 minutes
Restrictions: Children under 12 must be accompanied by an adult over the age of 18. (one adult per younger child required).
Dolphin Aloha Rate (SLP4)
$94.23 per Participant (age 3 and up) (Hawaii sales tax included)
---
Park Admission Rates:
Complimentary park admission is included for those doing one of these interactions. Additional members of your party who are not participating in the interaction will pay the park admission rate of $47.11 per Adult and $47.11 per Child (3-12). Infants 2 and under are free.
---
---
Details
Schedule: Sea Life Park is currently open Friday through Tuesday from 10am to 4pm
Transportation: Not currently being offered.
Parking: There is a nominal charge for parking at Sea Life Park.
Restrictions: Use only biodegradable sun lotion to protect the animals and their environment. To avoid dolphins from swallowing foreign objects, NO jewelry (including piercing jewelry) or anything that can potentially fall off in the water, such as sunglasses, glasses, rings, bracelets, necklaces, hair ties. Failure to comply may result in declining participation to the program with no refund
What to Bring and Wear: Swimwear and a change of clothes for interactions in the water. Street clothes are fine for the Dolphin Aloha.
Reservations: Advanced reservations required ... A credit card is required to secure your space but for those who are planning ahead our office does not charge your card until a few days before your vacation. This event is "Reserve Now Pay Later."
Minimum Notice for Cancellations / Changes: At least 48 hours before the start of the event.
---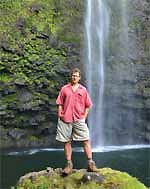 Kevin's Activity Tips:
Sea Life Park's dolphin interactions are very popular and often sell out WEEKS in advance during the busiest time of year. If you are driving yourself to the park we recommend that you arrive shortly after the park opens and take time to enjoy the shows and attractions, and then do your interactive program in the afternoon. This way you'll be dry while you walk around the park and you'll be in the water during the heat of the day.
Schedules do change occasionally but the current times for each event are listed above. If the time segment that you've selected is full, we'll book you for the next closest interaction time. Check-in is 30 minutes prior to your interactive program.
Most of our clients who rent cars just drive themselves to the park, which typically takes about 30 minutes from Waikiki, but it can take longer during peak traffic periods. If you don't have a car, there are public transportation options available. Your hotel will be able to direct you to the best option.
No advanced reservations are needed for ADMISSION ONLY to Sea Life Park ... but you DO need advanced reservations for any of the programs listed on this page!!! Sea Life Park typically offers more advanced "swim with dolphins" interactions but their current schedule has been scaled back to the Dolphin Encounter and Dolphin Aloha. We hope additional interactions will be offered again in the spring/summer of 2022.