Salute to Pearl Harbor - Arizona Memorial
---
Salute to Pearl Harbor - Arizona Memorial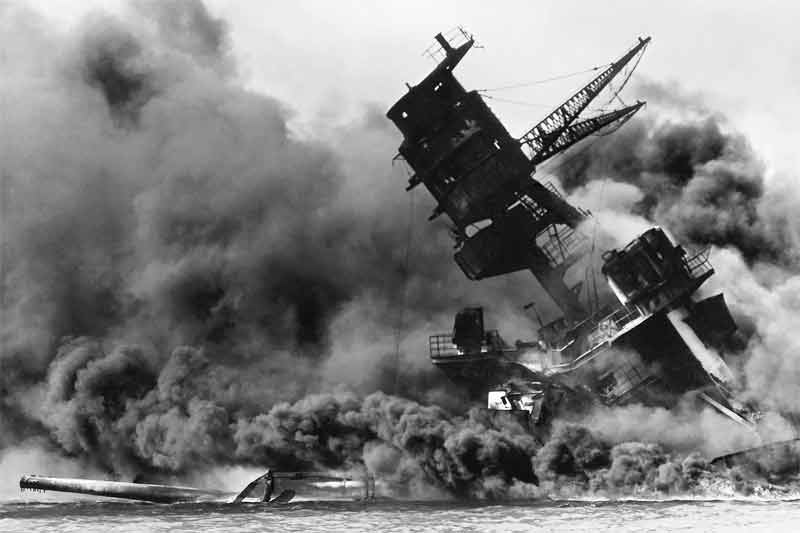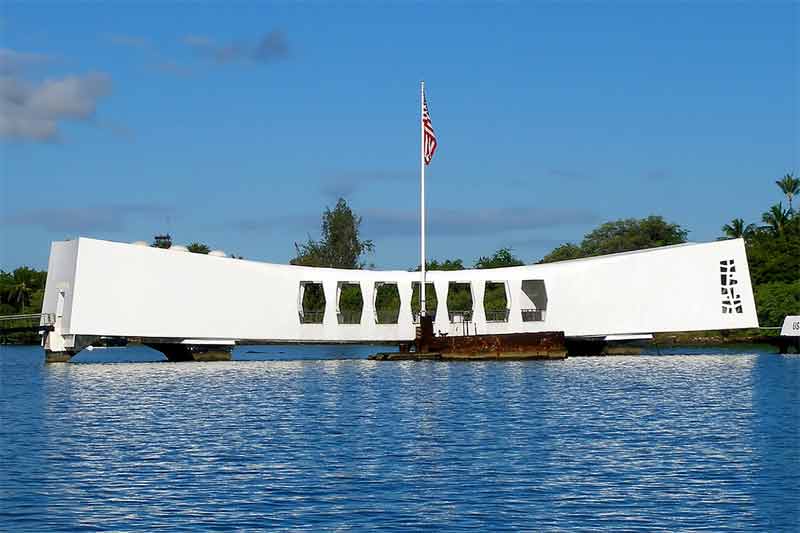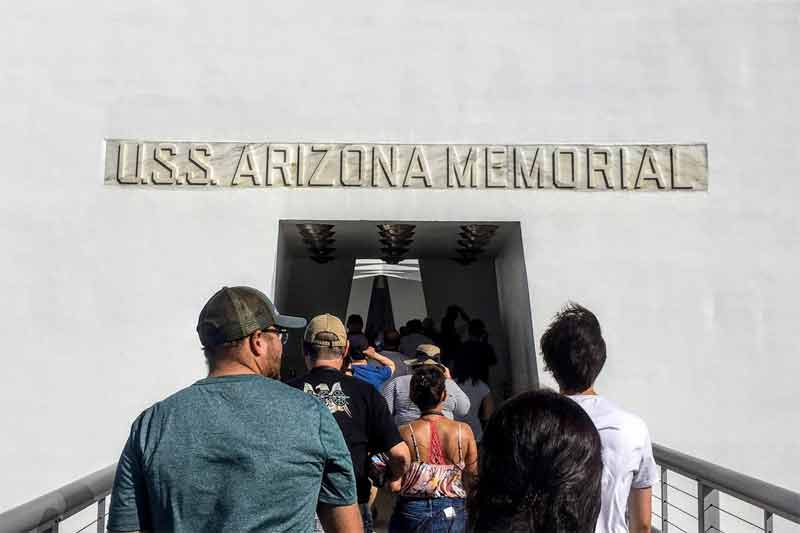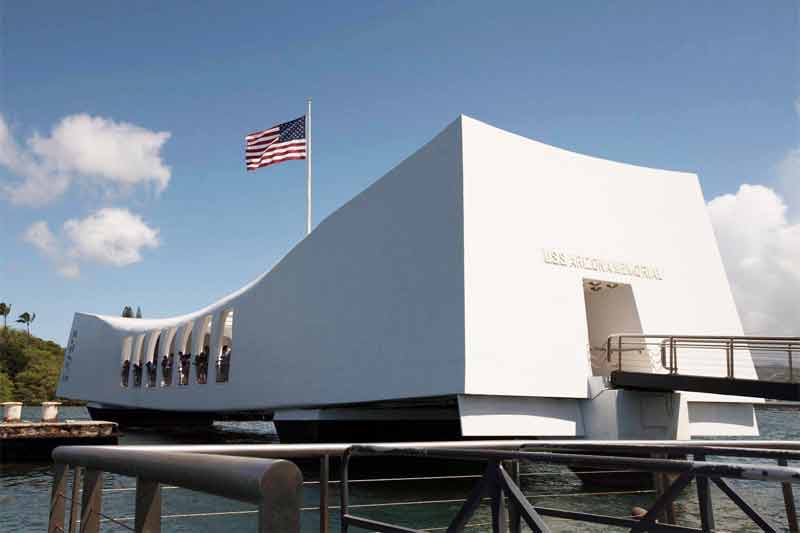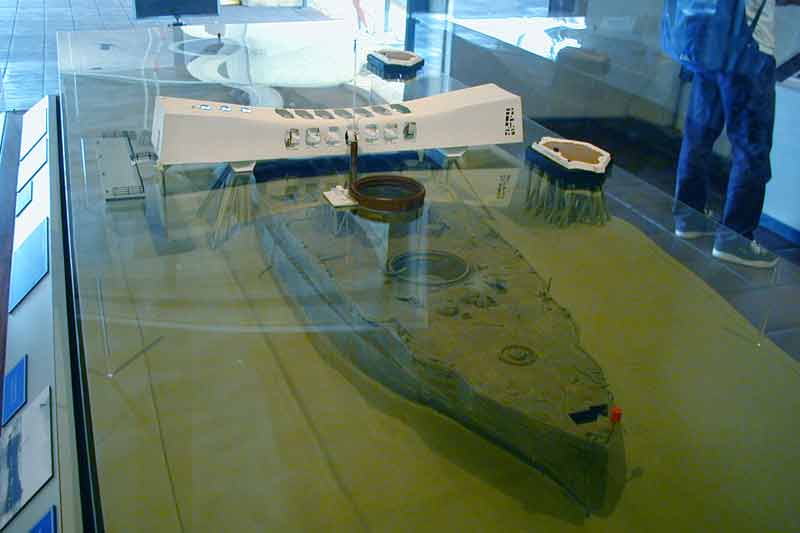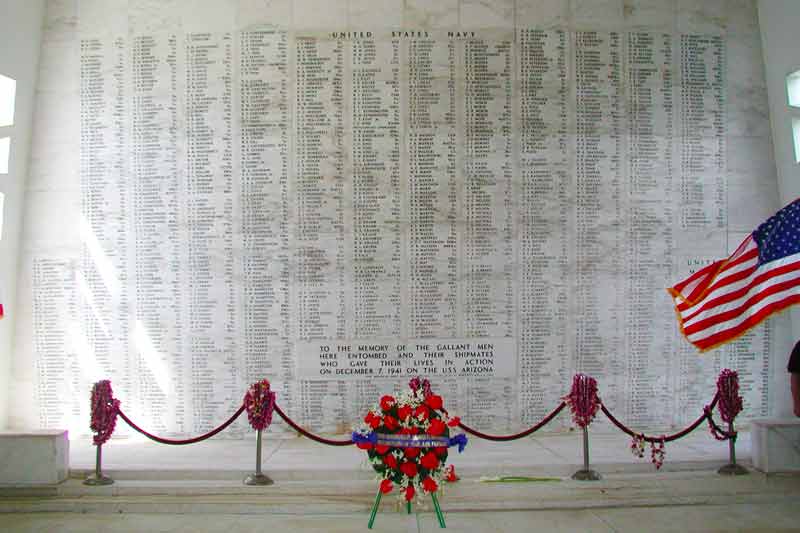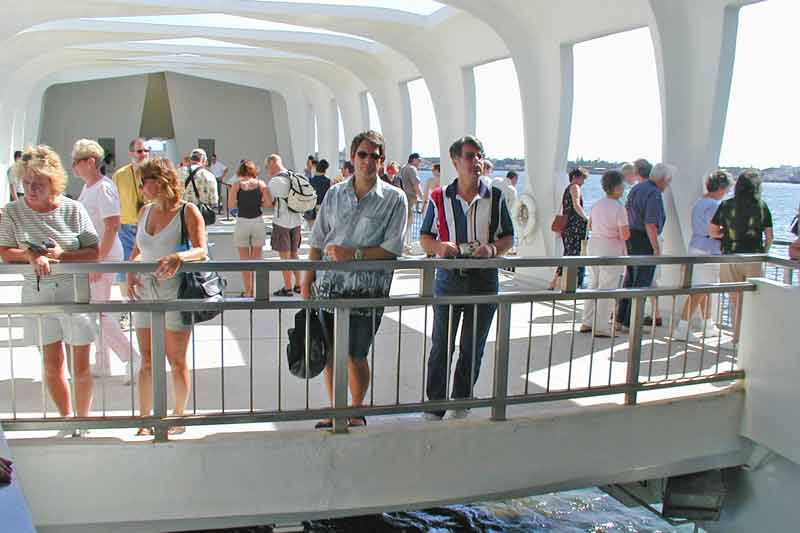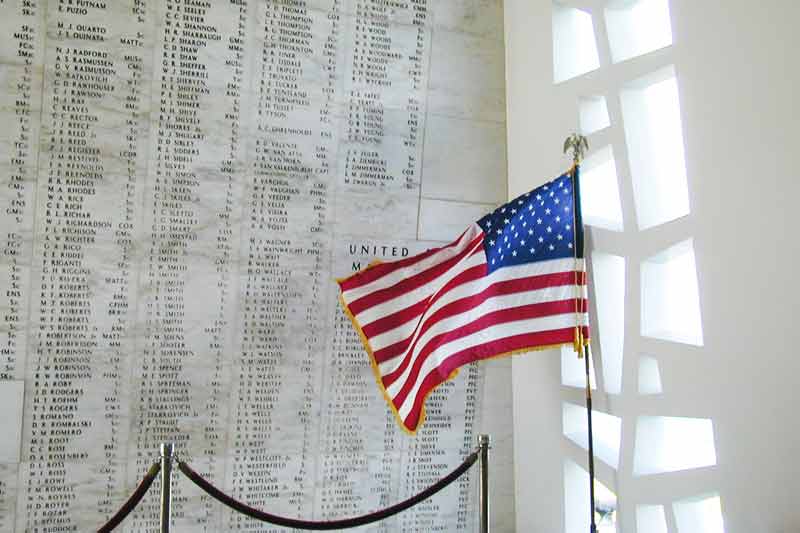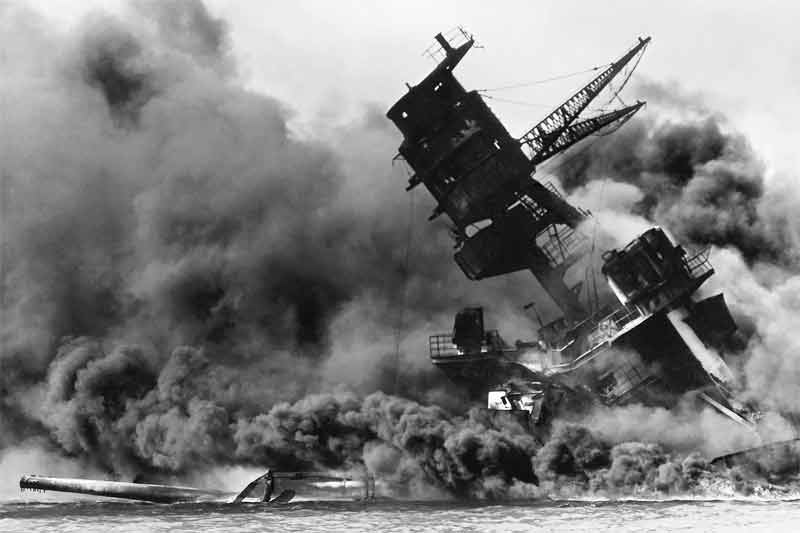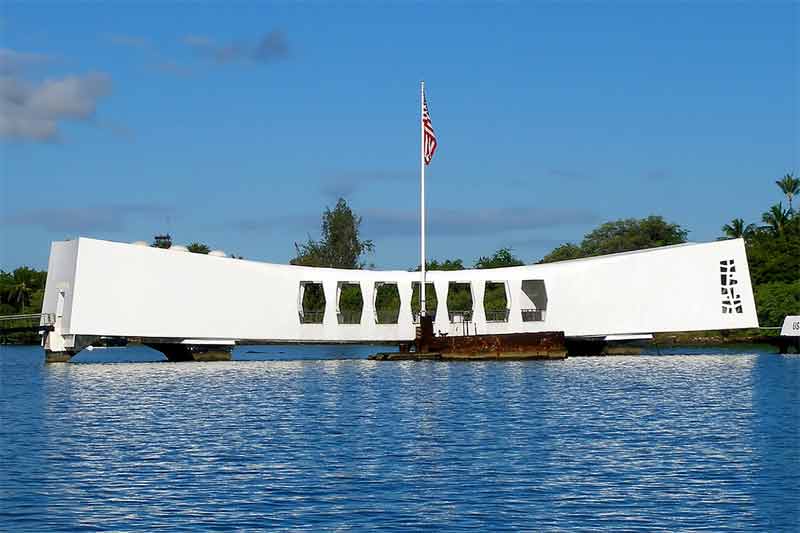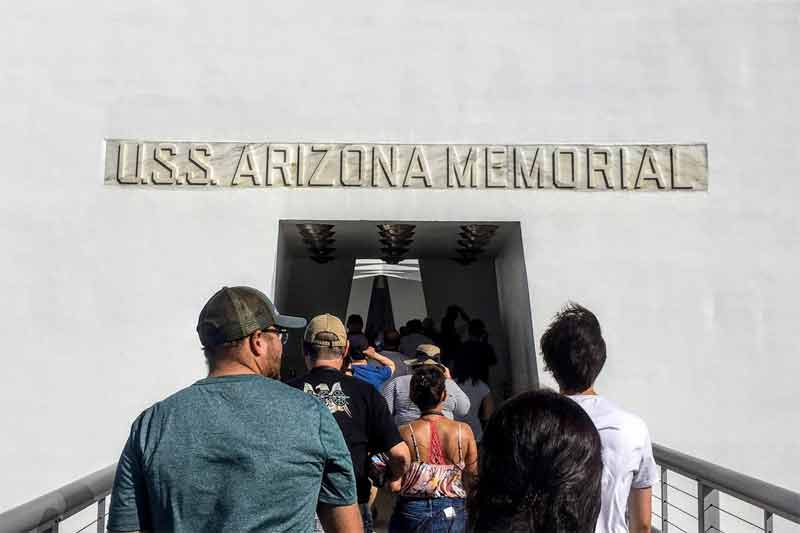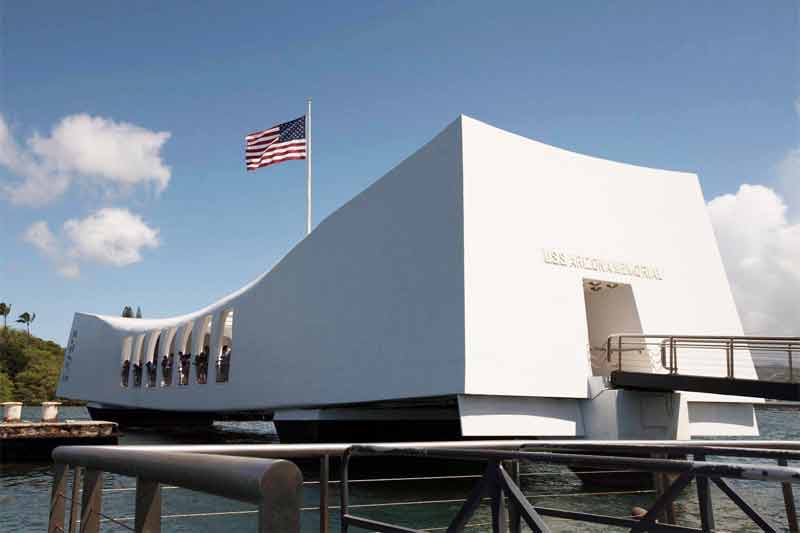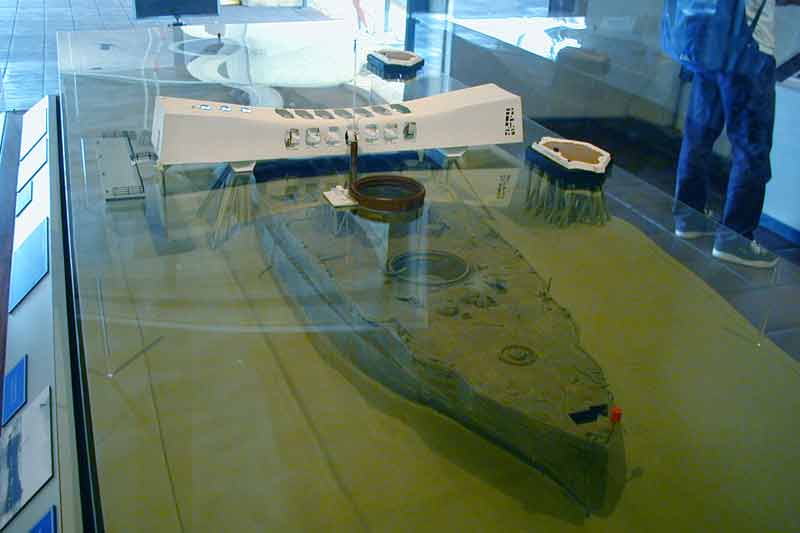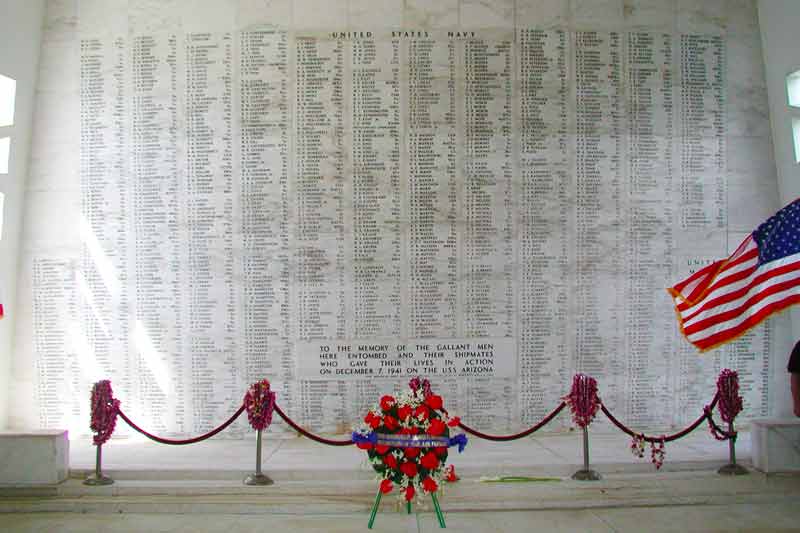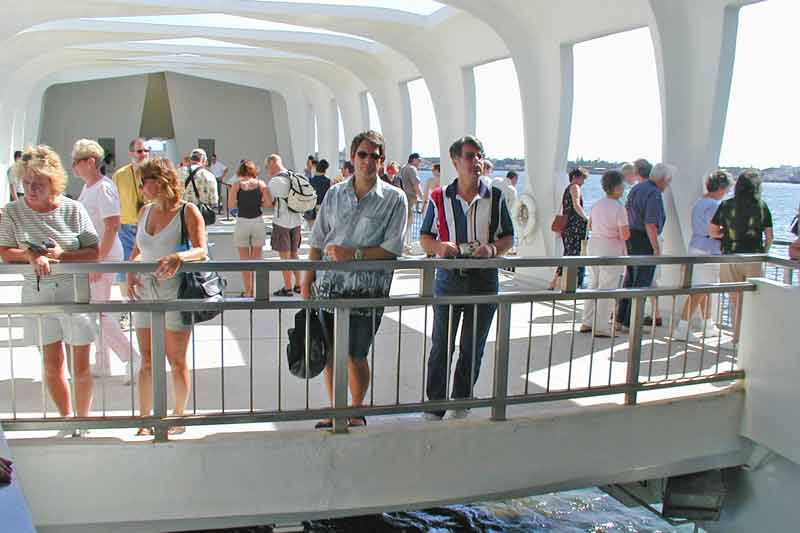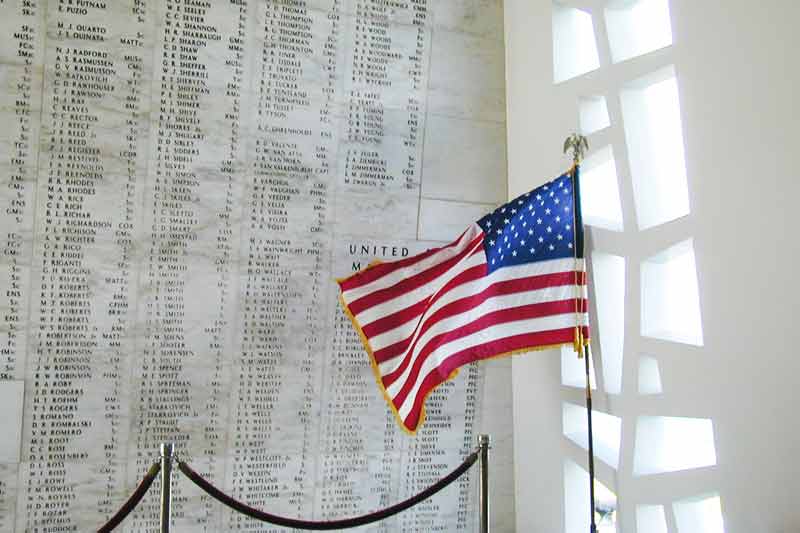 ---
Highlights
Two morning tour times available daily for Waikiki Pickup
Ko'Olina pickup available on Wednesdays and Fridays
Arizona Memorial and Pearl Harbor Visitors Center
Narrated Honolulu City Tour option available on return to Waikiki
---
Description
No trip to Oahu would be complete without visiting Hawaii's most popular tourist attraction … the USS Arizona Memorial. The Salute to Pearl Harbor Tour is a great choice for those who want to visit Pearl Harbor but don't want to spend an entire day there. It includes the Arizona Memorial visitor's center, documentary film, and the ferry boat ride which takes you out to the memorial. From there you will gaze down into the water where just below the surface lies the decks of USS Arizona, final resting place for many of the 1177 crew members who lost their lives on December 7, 1941. These excursions are all done in smaller 25 passenger mini-coaches. This gives each guest more personal attention from the guide, and the oversize windows in these mini-coach vehicles offers superior visibility.
---
Packages
A Salute to Pearl Harbor Rate (ENOA77)
$44.00 per Adult, $34.00 per Child (3-11), Infants (2 and under in lap) FREE (plus 4.7% Hawaii sales tax)
This tour is abou 5 hours in length.
Reserve Waikiki Pickup
---
A "City Tour Upgrade" is offered at 11:00am which is the same as the Salute to Pearl Harbor but includes a drive through the historic sites of downtown Honolulu on the way back to Waikiki and includes views of the Hawaii State Capitol building, Iolani Palace, and a brief stop at the King Kamehameha Statue. This tour is about 5.5 hours in length.
Pearl Harbor/City Tour Rate (ENOA88)
$51.50 per Adult, $32.50 per Child (3-11), Infants (2 and under in lap) FREE (plus 4.7% Hawaii sales tax)
Reserve with City Tour Upgrade
---
Because Ko'olina is on the other side of Pearl Harbor from most Oahu hotels (in Waikiki), the regular Pearl Harbor tours do not pick up there. Enoa has added a special Salute to Pearl Harbor Tour with Ko'olina hotel pickup on Sundays and Wednesdays with a slightly higher rate than the Waikiki tour. The downtown city tour option is not available from Ko'Olina.
A Salute to Pearl Harbor from KOOLINA Rate (ENOA77k)
$55.00 per Adult, $45.00 per Child (3-11), Infants (2 and under in lap) FREE (plus 4.7% Hawaii sales tax)
Reserve Ko'olina Pickup
---
Details
Schedule: Daily, with the exception of Thanksgiving Day, December 7th, Christmas Day, and New Year's Day.
Waikiki Pickup Locations: There are five pickup points in the Waikiki area ... when you tell us where you are staying, we will arrange pickup at the meeting point closest to you. If you are staying outside of Waikiki you will park in the municipal lot at the Honolulu Zoo and walk approximately 5 minutes to the Aston Waikiki Beach Hotel. Those staying in Ko'Olina area have a special tour that picks up there on Wednesdays and Fridays and can be reserve by clicking here.
Pickup Time: Two tour times are often offered for Salute to Pearl Harbor with pickup around 7:30am and 9:45am. The Pearl Harbor / City Tour upgrade is offered with pickup around 11:00am. Your email confirmation will tell you the exact pickup time and location for pickup nearest to where you are staying.
What to Wear: Tour participants should wear respectful attire (shoes must be worn and no swimwear allowed). Due to heightened security no bags, purses, or strollers are permitted at the Memorial. Storage of these items is available for a nominal fee. Cameras and small, hand-carried wallets are permitted.
Reservations: Advanced reservations required and for those who are planning ahead this event is "RESERVE NOW PAY LATER"; we need a credit card on file to finalize your reservation but we do not charge you for this event until a few days before the beginning of your vacation!
Minimum Notice for Cancellations / Changes: At least 48 hours before the start of the event.
Note: On rare occasions due to unforeseen circumstances beyond their control (weather or mechanical issues), the Navy may suspend boat operations to the USS Memorial at anytime. There will be no refunds in these cases. You will still be able to enjoy the USS Arizona exhibits, watch the documentary film, enjoy the visitor's center, and get good photos of the Arizona Memorial from the shore.
---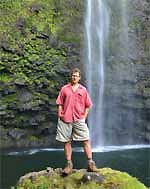 Kevin's Activity Tips:
A visit to Pearl Harbor is a must-do activity for anyone coming to Oahu. The USS Arizona Memorial is one of our nation's most sacred places. Regardless of your interest in history or WWII, a visit to this shrine is an emotional experience. If you have never been … you should go. The documentary film prepares you well for what you are about to experience, because when the film ends and the doors open, everyone boards the Navy shuttle boat in hushed silence. The boat ride to the memorial only takes a few minutes. When you are on the Memorial, you'll look down into the water and see the outline of the Arizona's remains knowing that it is the final resting place for hundreds of US servicemen.
One tip for photographing the memorial … when you are re-boarding the boat for the return to the vistor's center, try to get in the last row. As the boat pulls away from the Arizona, you will get your best photo from there.
This particular tour is a "short tour" for those who don't want to spend the entire day at Pearl Harbor. We do suggest though that you do the "City Tour" version as it includes some dites of interest on the drive back to Waikiki from Pearl Harbor.