OAHU ZIPLINE TOURS
Three completely different zipline experiences on Oahu ... one of the east side with Jurassic Park scenery, one on the north side the longest lines and scenic ocean views, and one on the west side with a unique coral crater setting.
---
---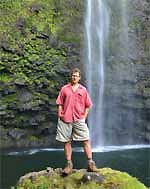 Kevin's Activity Tips:
Finally! For years Oahu was the only one of the major Hawaiian islands that didn't offer a zipline tour ... for some reason permitting issues were a greater hurdle here. That has now changed and there are three zipline courses for you to choose from. Kualoa Ranch on the east side of the island, Keana Farms on the north shore, and Coral Crater on the west side. All of them are miles and miles away from Waikiki ... if you have a rental car ziplining is a good thing to combine with a full day of "holo holo - ing" (Hawaiian for traveling around).
Which zipline to do? Well, here is a basic summary of each to point you in the right direction. Number of lines: Kualoa 7, Keana Farms 7, Coral Crater 6. Longest Line: Kualoa 1300 feet, Keana Farms 2600 feet, Coral Crater 900 feet Shortest Line: Kualoa 200 feet, Keana Farms 500 feet, Coral Crater 300 feet Highest Point off Ground: Kualoa 100 feet, Keana Farms 150 feet, Coral Crater 65 feet Maximum Weight: Kualoa 280lbs, Keana Farms 270lbs, Coral Crater 275lbs Minimum Weight / Minimum Height / Minimum Age: Kualoa -- at least 70 pounds and 4'8" tall with waist 22" or larger Keana Farms -- 7 year old ... no minimum weight but those under 80 pounds must ride tandem with a guide or a lightweight sibling Coral Crater -- 6 year old with minimum weight of 60 pounds to zip alone. Children between 40 and 60 pounds may be able to zip tandem with a guide.
All in all, Kualoa Ranch is a sweet spot in combining adventure, scenic beauty, choice of other activities, etc. Keana Farms is the highest, longest, fastest, maybe the most intimidating for people who have never done this before. Coral Crater has the most flexible weight and age limits, friendly for first-time zippers.