KUALOA RANCH
Kualoa Ranch is a beautifully scenic property on Oahu's windward side. An impressive list of movies and TV shows have been filmed in this scenic area. The majestic cliffs and spires of the Kualoa Mountains, the lush greenery of the Ka'a'awa Valley, the ancient fishponds on the south side of the property, the quintessential view of Chinaman's Hat (Mokolo'i Island) provide a scenic backdrop for a day of fun and adventure. Kualoa Ranch is not just a working cattle ranch; it is an "activity club" offering a fun-filled day during your vacation. Everyone should do SOMETHING at Kualoa Ranch during an Oahu vacation. Without visiting here, you will be missing out on the best the island has to offer in terms of SCENERY you will see ALL THE TIME on TV after you return home from your vacation.
---
---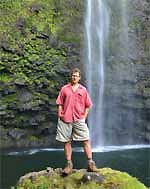 Kevin's Activity Tips:
Kualoa Ranch is an incredibly scenic property and you'll recognize it from countless movies and TV commercials that have been filmed here. The current highlight of these tours for me is the movie set props that have been left behind at the scene of filming of a King Kong movie … a giant gorilla skull and triceratops bones scattered around with mountain of jagged rock spires as the backdrop. You'll get photos here that will be instant hits on Instagram.
Whichever way you decide to experience Kualoa Ranch, you MUST plan ahead. In the summer of 2021 we saw unprecedented demand for these tours. They were selling out COMPLETELY every space 4-5 weeks in advance!!! If you are coming during a busy time and you don't plan ahead and order months before your arrival you will not get on one of these tours!!!