OTHER OAHU OCEAN FUN
For people who live here in Hawaii the ocean is our playground! Our Oahu Menu above has a category for snorkeling, and we've got a category for sunset cruises. We've also got this category to cover all the OTHER OCEAN FUN that you might consider during your vacation. Look around ... you probably want to do something here on this list! If you do, reserve it now! Many of these events sell out weeks in advance during peak travel periods!
---
---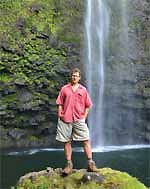 Kevin's Activity Tips:
Grab some reef-safe sunscreen for the activities in this category ... you're going to need it. Well, maybe you'll only need SPF15 for the submarine ... after the boat ride out to the dive site you will be spending this event below the surface as you dive 100 feet down into another world where the sun's rays are GREATLY filtered by all that water between you and the surface. It's a REALLY unique experience!
Whale Watching is a seasonal event ... humpback whales are here in large (REALLY LARGE) numbers from December to April every year. If you are visiting during those months we highly recommend you spend time out on the water in a dedicated whale watch. There's nothing like the experience of seeing a whale so close to your boat that you can actually hear it breathe!
We included Sea Life Park in this category because, while technically it isn't DONE in the ocean, you are participating in interactions that tie you directly to the ocean. If you've dreamed of being in the water close up to dolphins, this is your chance. We also have dolphin watching listed as part of the tours on our snorkeling page, but due to recently enacted Federal Regulations there is no longer any swimming with wild dolphins allowed in Hawaii waters, so these interactions at Sea Life Park are really popular now.
All the other events here in this category are for active travelers who are in pretty decent shape ... these events are not really "tours" as much as they are "activities." Kayaking, Surf Lessons, Stand Up Paddleboarding, Parasailing and Jet Skiing ... we can't tell you which of these things to do. This category is for YOU to decide as you answer the question, "What sounds like (ocean) FUN???" Do that! And we're here to help!