OAHU SUNSET CRUISES
There is nothing like the feeling of being out on the water in the evening ... enjoying the breeze, watching an amazing sunset over the ocean, and gazing on the dazzling lights of Honolulu and Waikiki. From full sit-down dinner cruises to casual cocktail sails, we've got the right boat for you!
---
---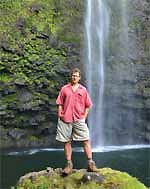 Kevin's Activity Tips:
Watching a sunset from the deck of a boat is a completely different experience than watching from the beach. Sunsets are three dimensional … and there is no better way to realize the 360 degree view than to get out on the water. Not only does the sky turn different shades of pink and orange, the mountains are painted with this colorful brush as well. Get out on the water and REALLY enjoy a sunset!
Occasionally I've heard clients say "We could have gotten a nicer meal for the same money in a restaurant." I think that's stating the obvious … you aren't just paying for a meal on a dinner cruise … you are paying to go out on a boat, and as a boat owner I can tell you that they are EXPENSIVE to operate and maintain. If you don't get your expectations too unrealistically high you'll have a great time.
If you are celebrating a special occasion or want to have a REALLY fine dining experience out on the water, I definitely recommend the Star of Honolulu Five Star Dining. This is an ultimate luxurious and romantic experience … and is an exception to the "you'll get better food in a restaurant" opinion!