Majestic Sunset Cruises
---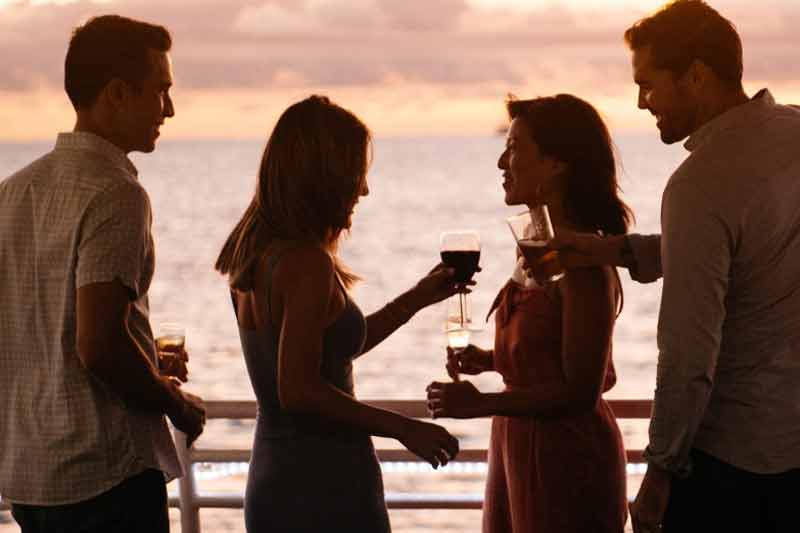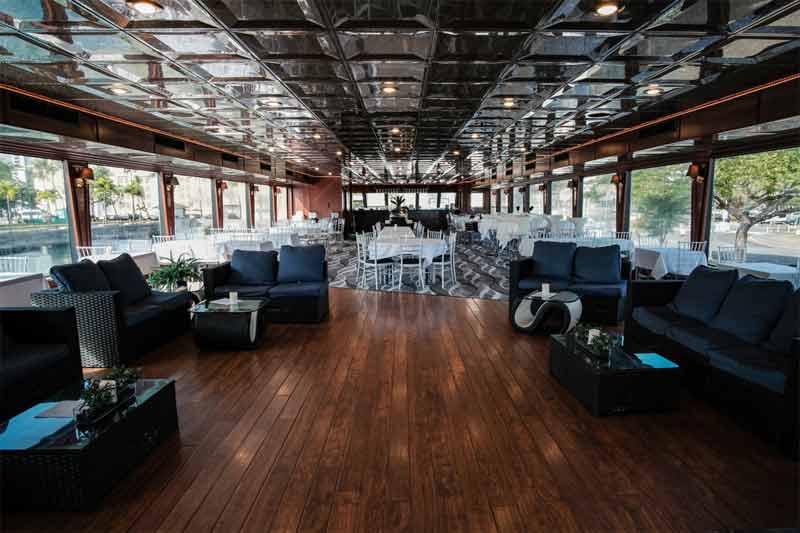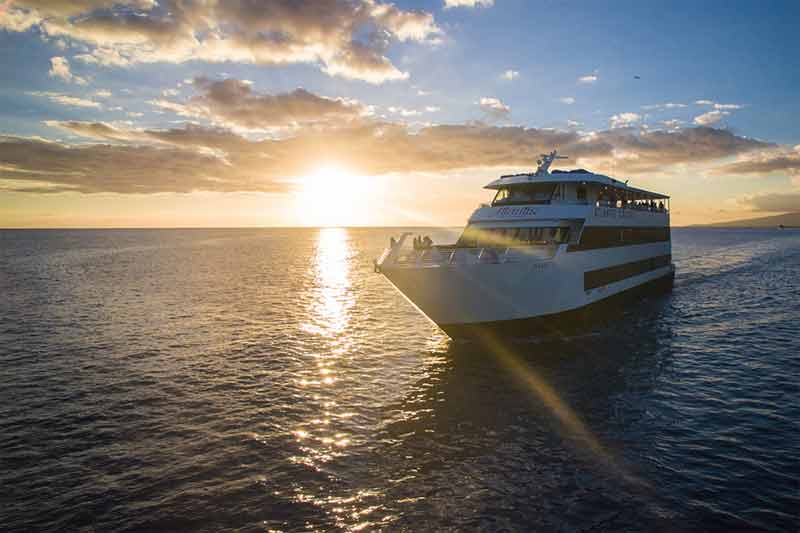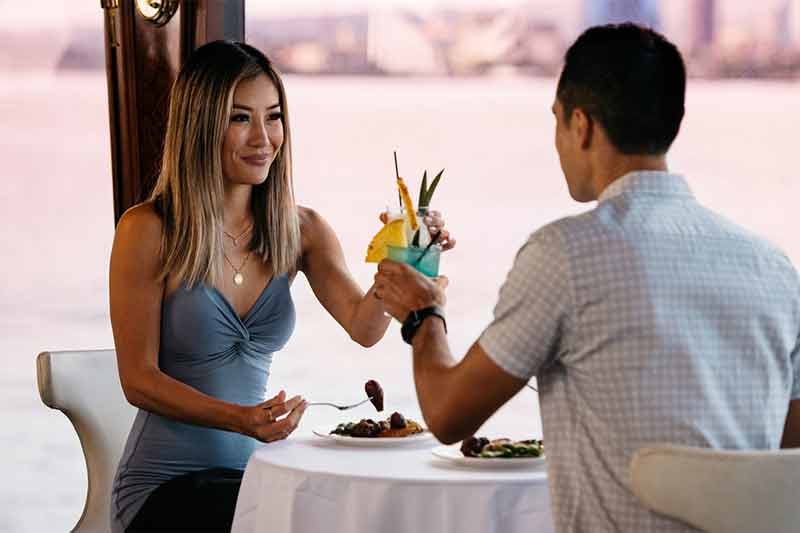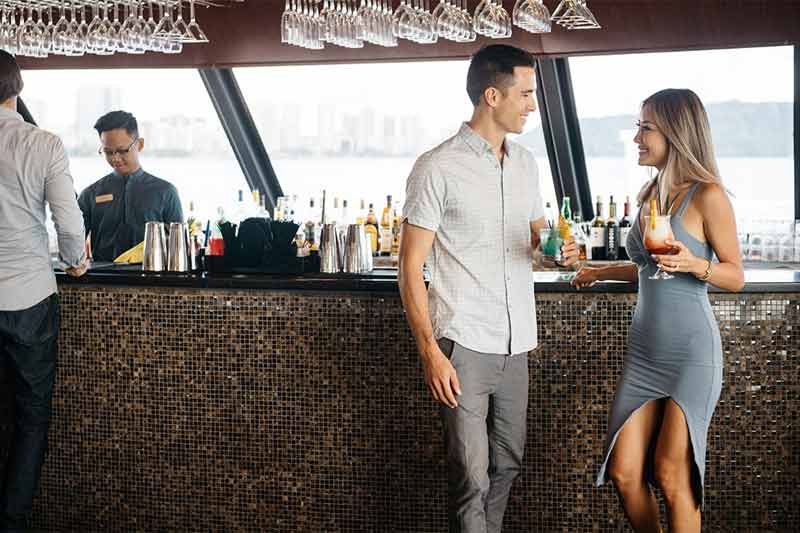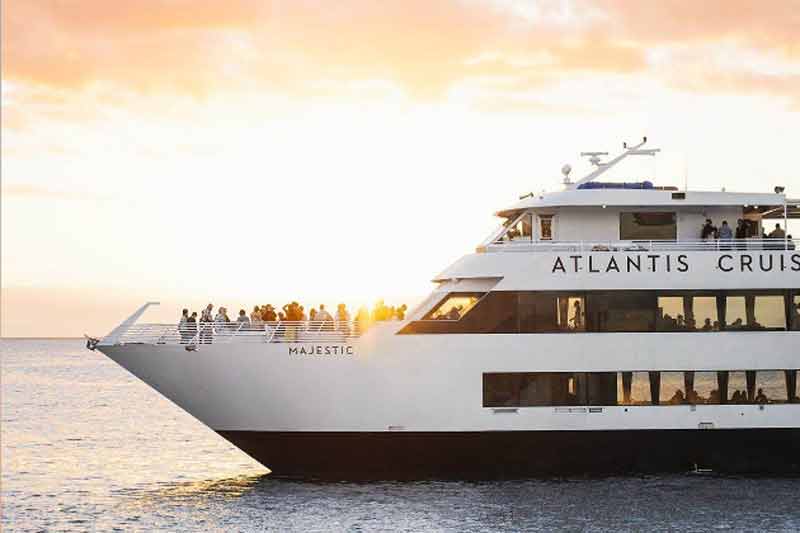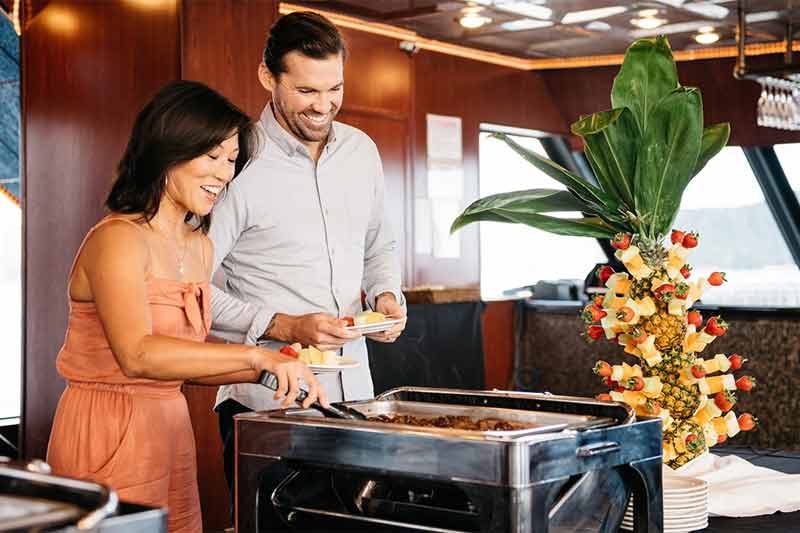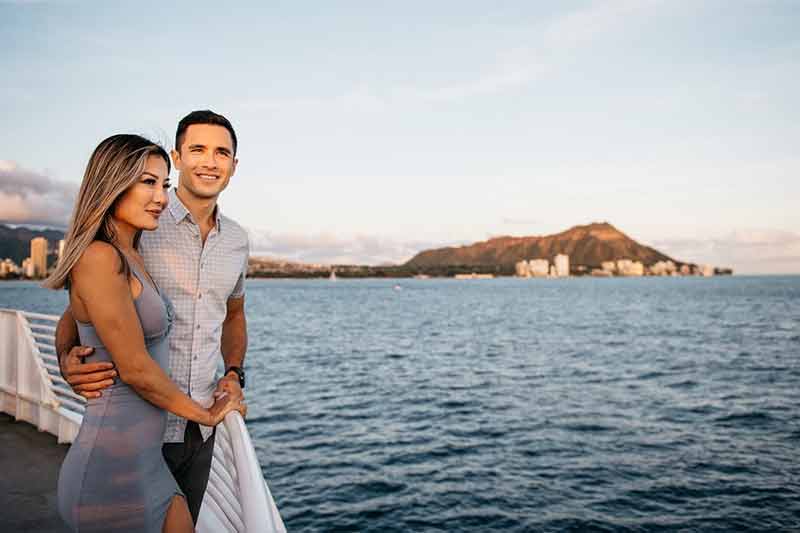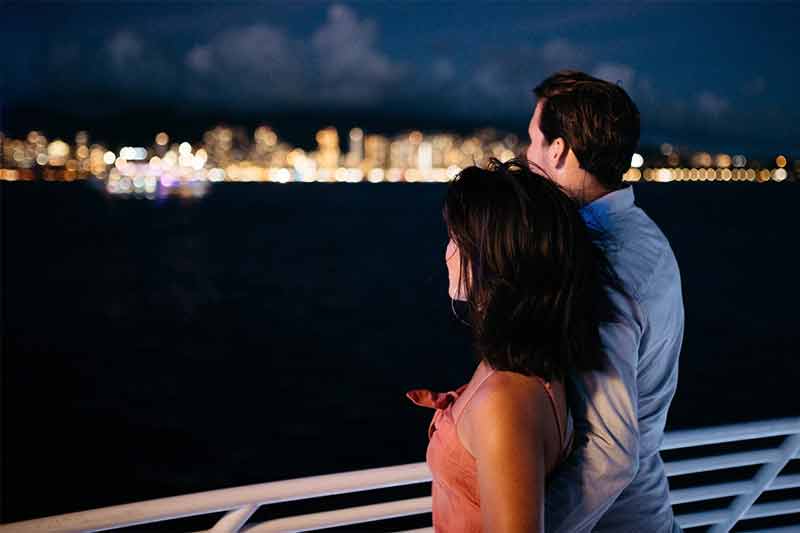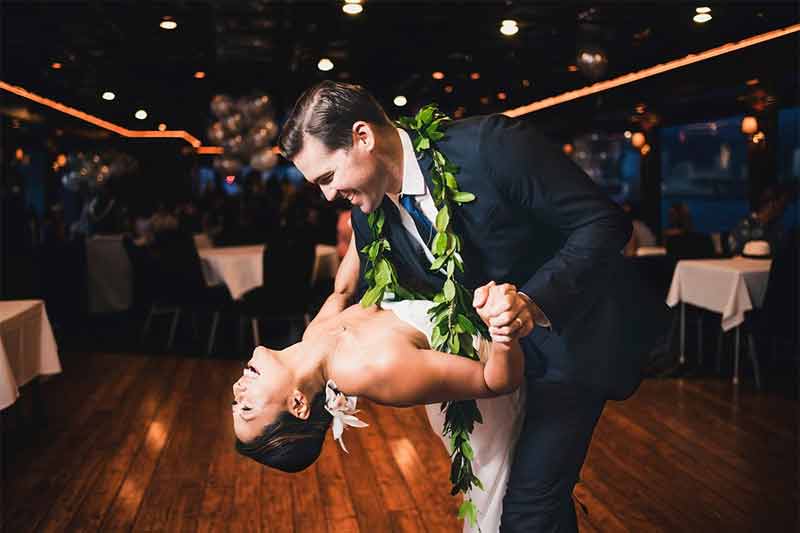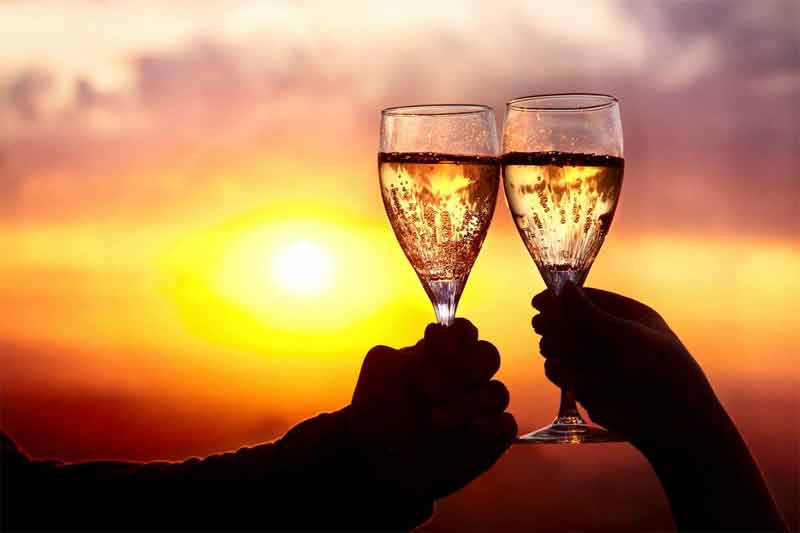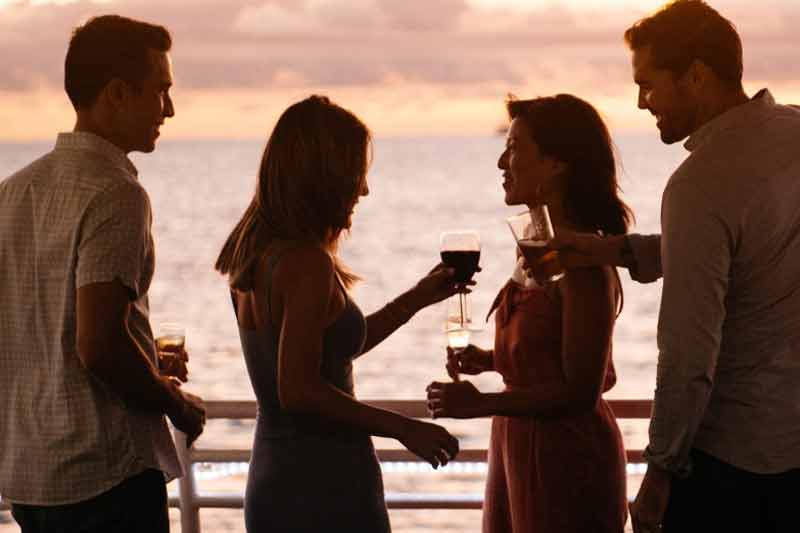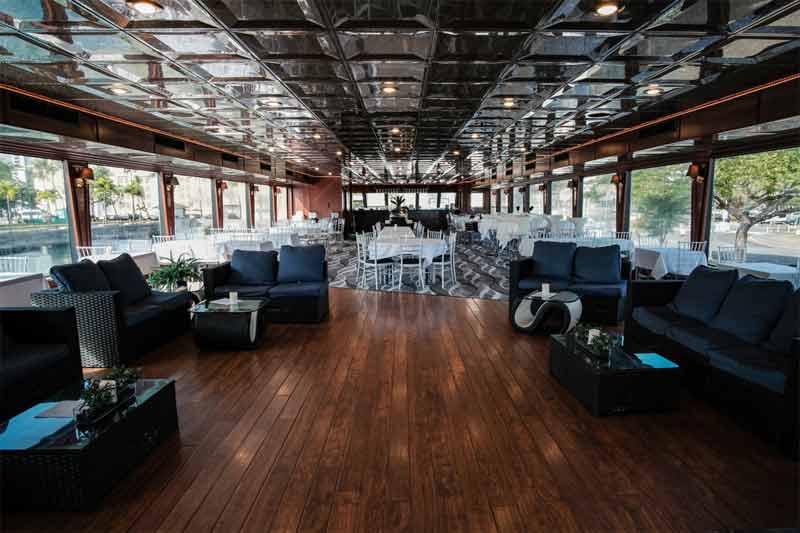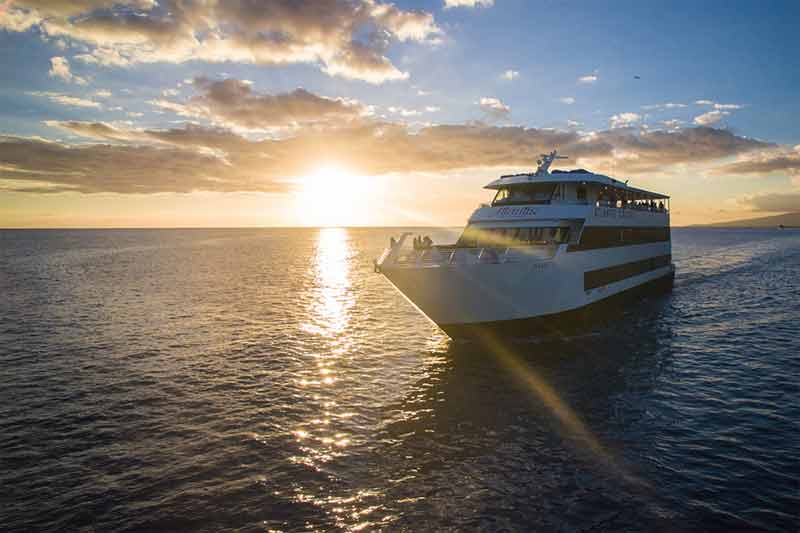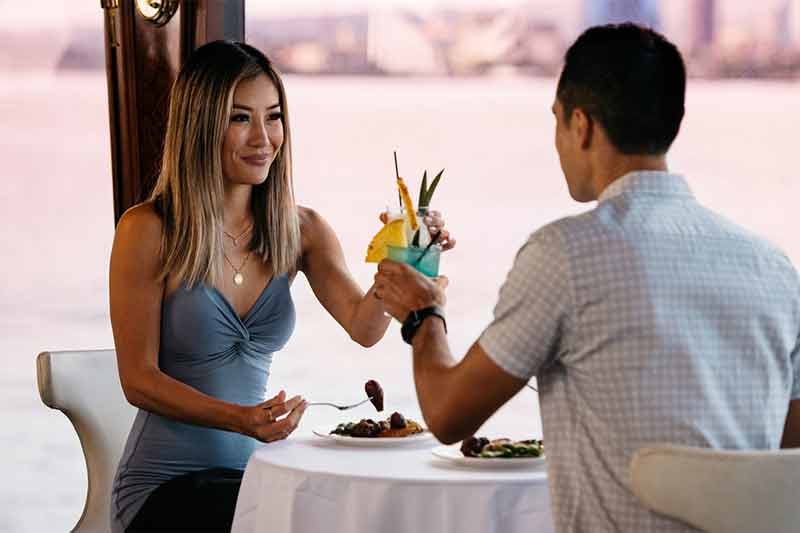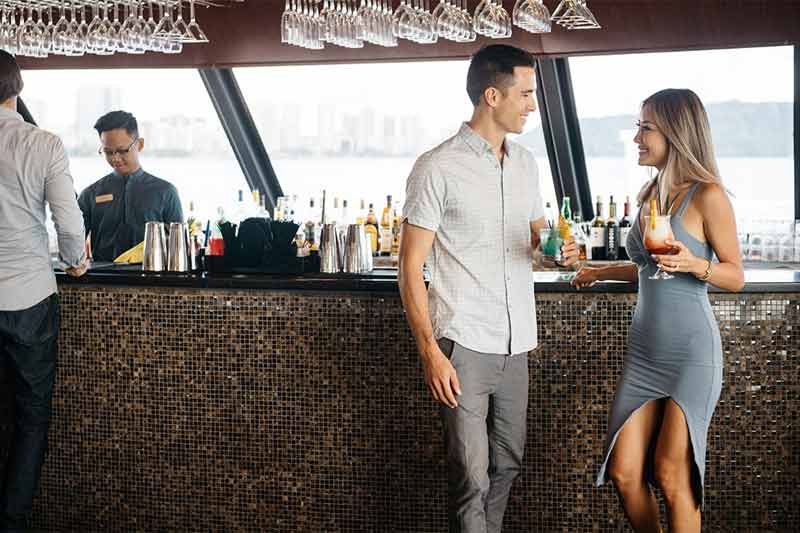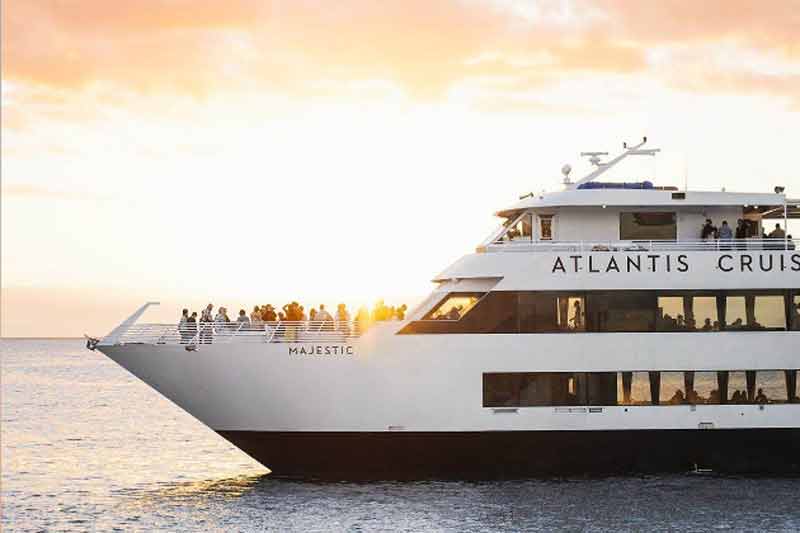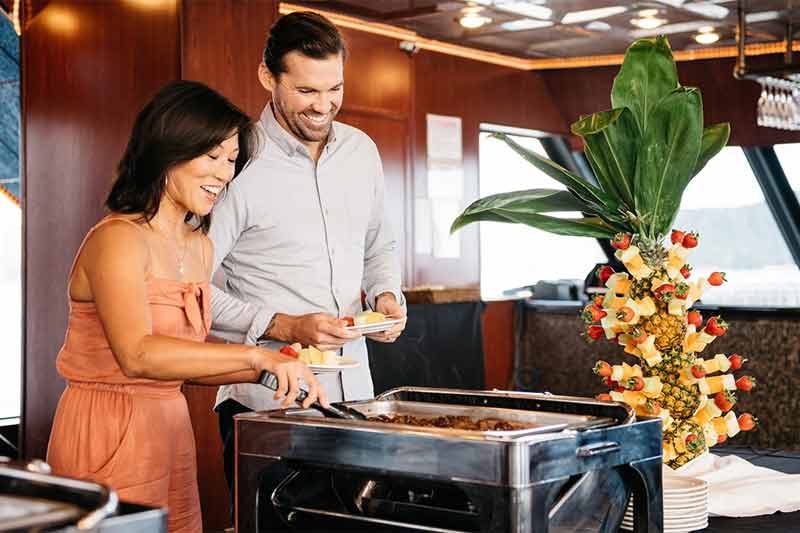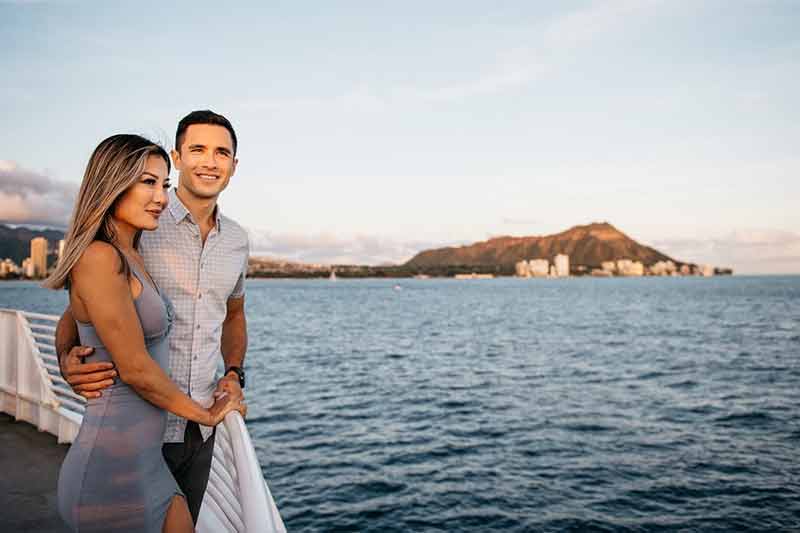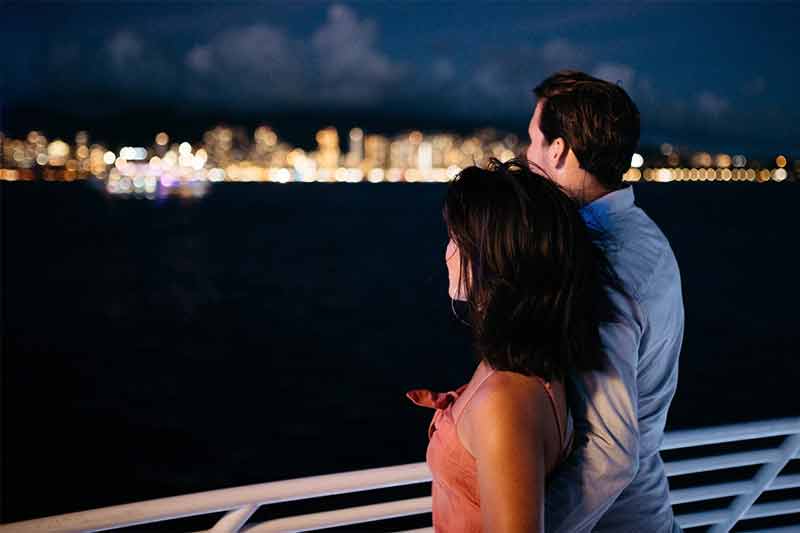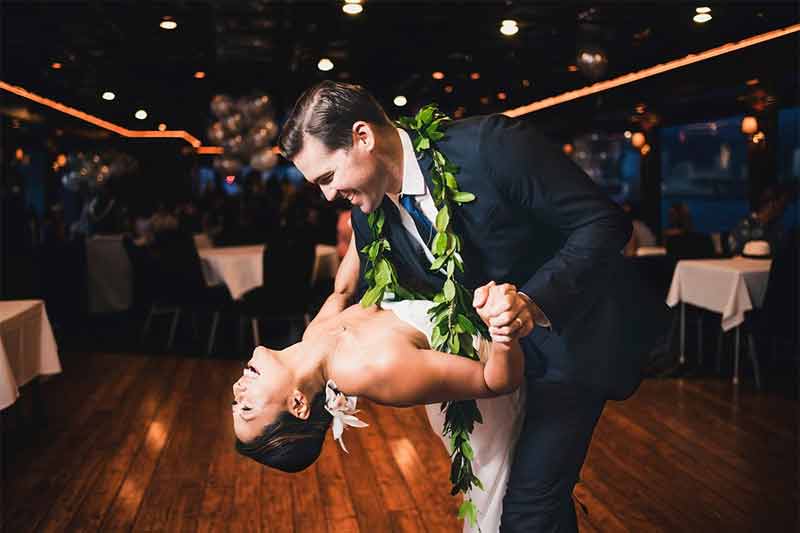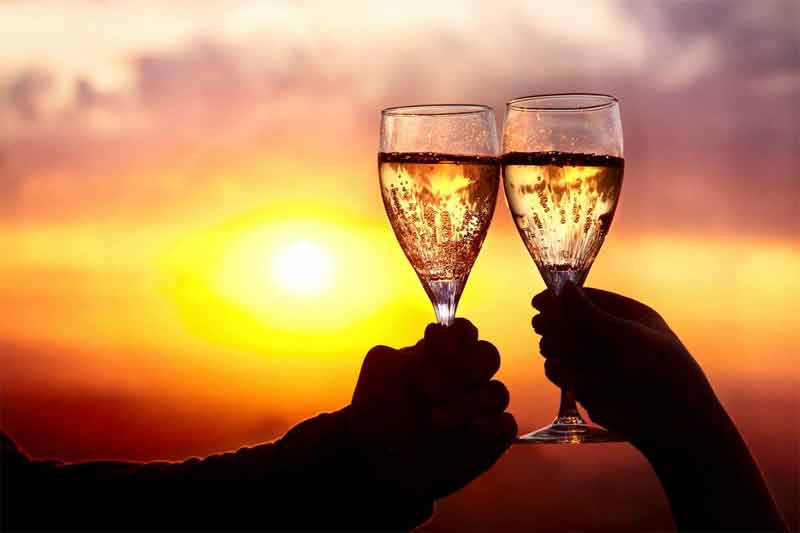 ---
Highlights
150 foot motor yacht with "Seakeeper" stabilization
Departure from Aloha Tower at Honolulu Harbor
Beautiful sunset and twinkling Honolulu skyline views
Currently offering a Sunset Cruise only
---
Description
Majestic is currently operating a SUNSET COCKTAIL CRUISE only at this time.
Enjoy an evening on the waters off Waikiki in the new state-of-the-art vessel called the Majestic! The Majestic Sunset Cocktail Cruise is conducted aboard a sleek, yacht-like 150 foot vessel which features two expansive air-conditioned decks surrounded with panoramic windows and high ceilings, and a large open-air observation deck on top. Cutting-edge stabilization "Seakeeper" technology ensures a comfortable cruise on the ocean.
Everyone receives a complimentary welcome cocktail as the cruise begins. Additional cocktails and packaged snacks may be purchased during the cruise. As you enjoy cocktails you will take in the views of Waikiki, Diamond Head, Kahala Coastline, and Oahu's south shore.
The Majestic features a fully stocked bar and the selections available for purchase include their signature cocktails, standard well drinks, and a variety of beers and wines. Here is a list of their original signature cocktails crafted by talented bartenders:
Neal's "Sweet Escape"
Grey Goose Vodka, Simple Syrup, Lime Juice, Fresh Strawberry, & a Splash of Soda Water.
Tara's "Shaka"
Lemon drop inspired martini that's both delicious and beautiful.
Justin's "Sweet Wahine"
Grey Goose Vodka, Grand Marnier, Cranberry Juice, Grenadine, & Orange Juice.
Ruyu's "Pineapple Sunrise"
Tanqueray Gin, Pineapple Juice, Lemon Juice, Grenadine, & Pineapple Garnish.
Majestic Mele
Soho Lychee Liqueur, Vodka, Lemonade, & a Splash of Cranberry Juice.
Sunset Beach
Coconut Rum, Raspberry Liqueur, Orange, Pineapple & Cranberry Juices.
Diamond Head Dream
Melon Liqueur, Vodka, Pineapple Juice & a Splash Of Sprite.
---
Cost
Majestic Sunset Cocktail Cruise Rate (MAJ9)
$79.00 per Adult, $39.50 per Child (3-12), Child (under 3) FREE (plus 7.712% Hawaii sales/harbor tax)
---
Location
GPS Location: Check in is at dock 6 of the Aloha Tower Marketplace and the address is 155 Ala Moana Blvd, Honolulu, HI 96813 Click to view map
---
Details
Schedule: Currently they are operating DAILY and time adjusts seasonally to the sunset. 6:00pm to 7:30pm in the summer and 5:15pm to 6:45pm in the winter.
Transportation: Is currently not offered. Guests will check in at downtown Honolulu Harbor. Parking is available for a fee.
What to Bring and Wear: Casual resort attire. A light jacket is suggested as it can get cool out on the ocean after sunset.
Reservations: Advanced reservations required ... the tour operator will charge you for these seats when your reservation is confirmed.
Minimum Notice for Cancellations / Changes: At least 48 hours before the start of the event.
---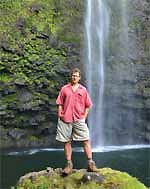 Kevin's Activity Tips:
Oahu is our favorite place to do a sunset cruise because it combines Hawaii's natural scenic beauty with the Honolulu city lights at dusk. The vessel itself looks very nice ... three rows of round tables with huge nearly floor-to-ceiling windows gives everyone a great view on the lower deck. The second deck features a cocktail lounge with attractive and comfy leather sofas, a dance floor, live entertainment, and more nearly floor-to-ceiling windows like those on the lower deck. There is also an open-air bow area in front of the bar on this second level. The third and uppermost deck is an open-air viewing area with a covered roof. We really liked the ability to wander anywhere on the ship ... this is NOT a cruise where you are stuck at your table all night.
The entertainment was small ... one hula dancer, one singer, one band-in-a-box musician playing the guitar ... but they sounded great and did an admirable job of attracting people's interest. I thought it looked a little like a "tough crowd" when we first started the evening; by the end of the show everyone in the lounge was laughing and smiling. And here's the nice thing ... if you don't WANT to watch the show you don't have to ... you can go outside to the bow and enjoy the view, or head to the upper deck. It's your choice whether you want to have fun with the crowd in the lounge or go outside in search of a romantic spot to enjoy the night air.