Dolphins and You
---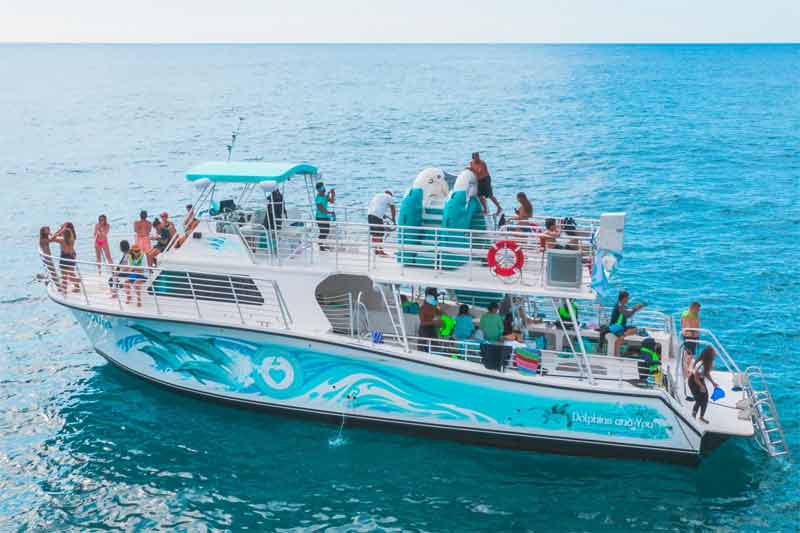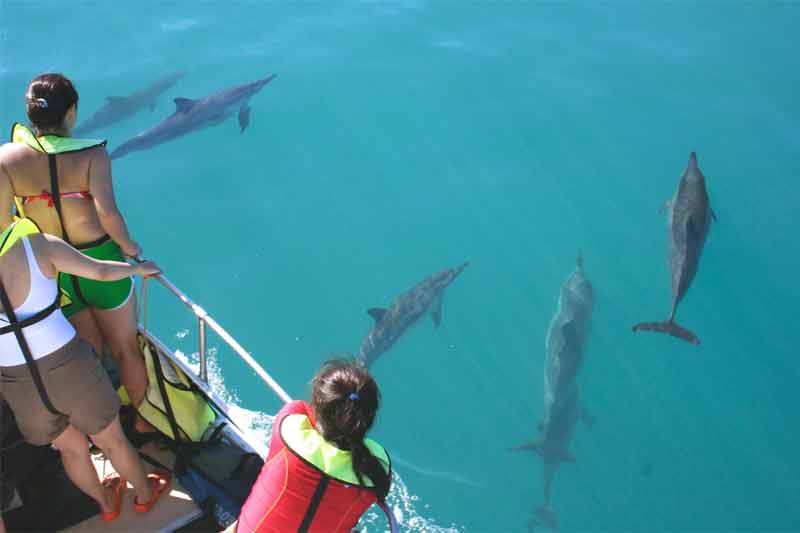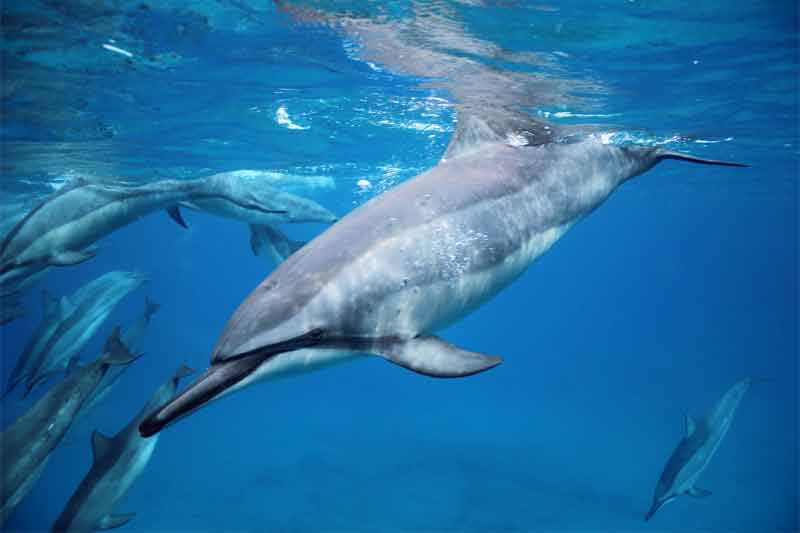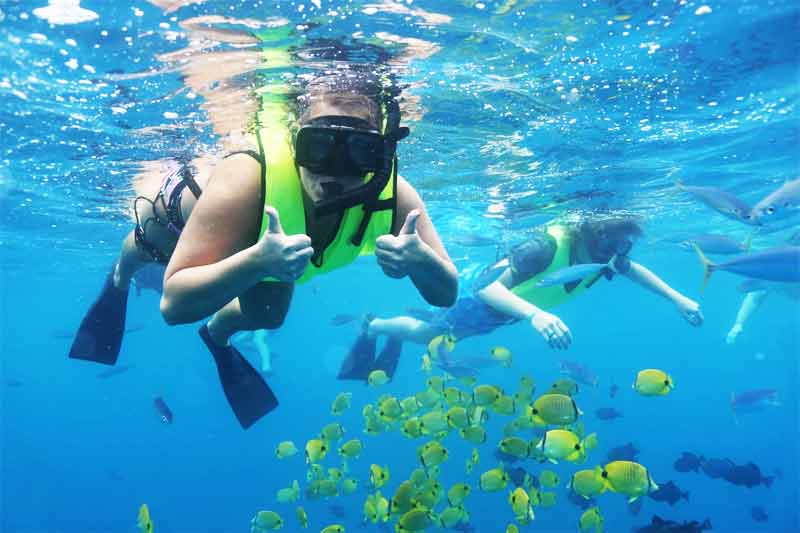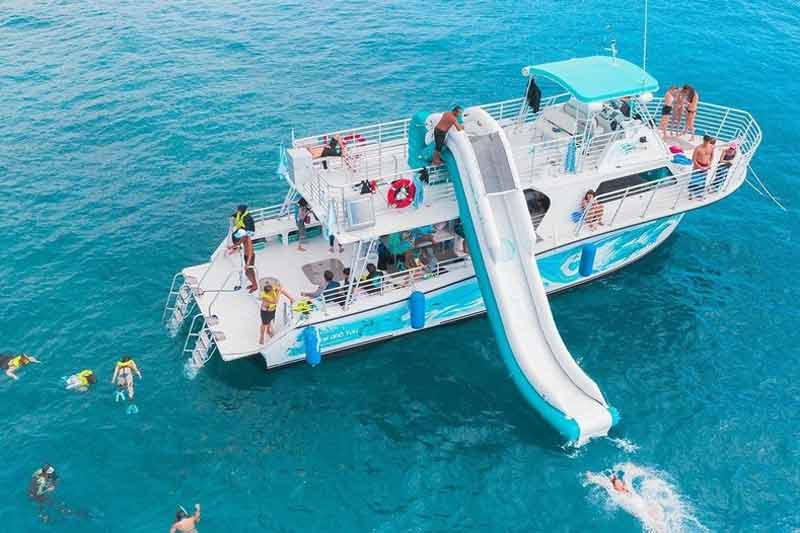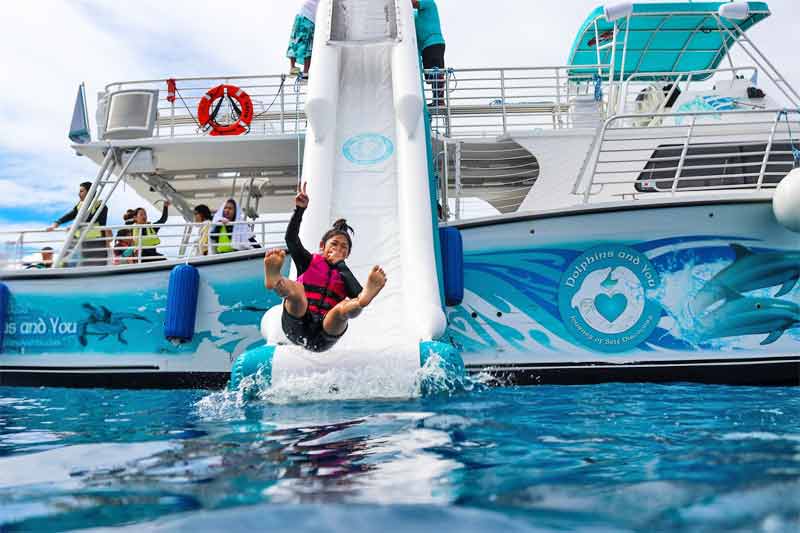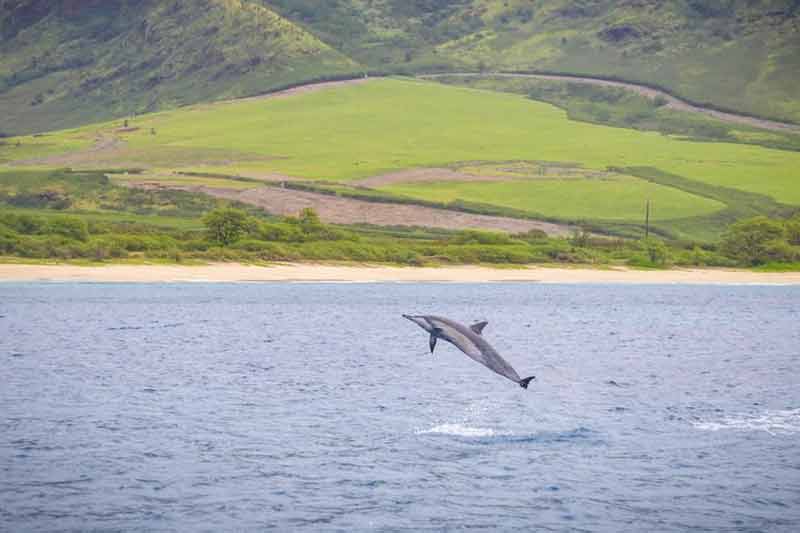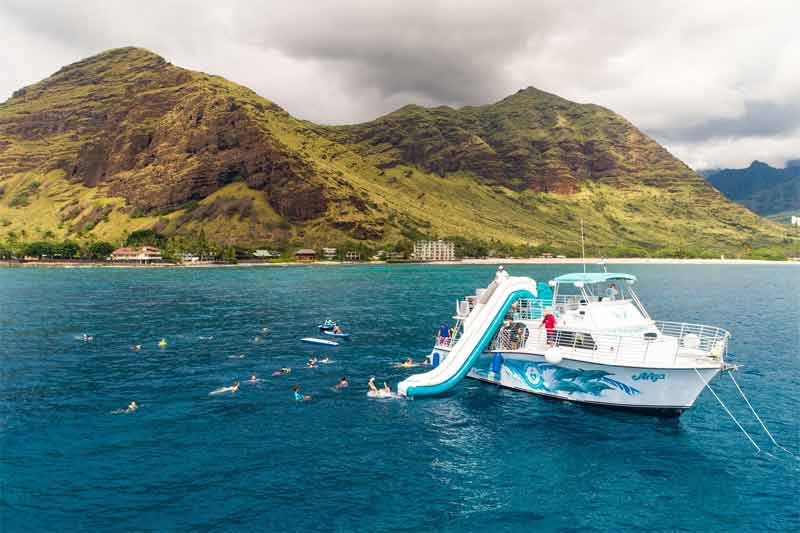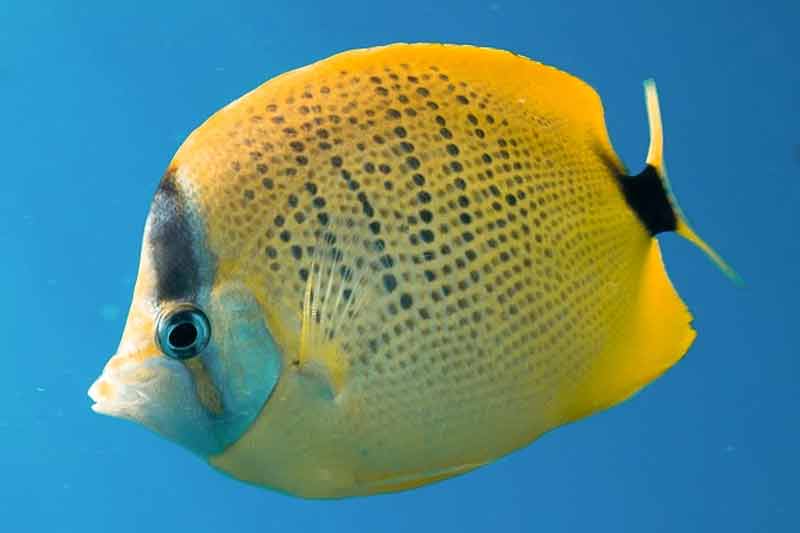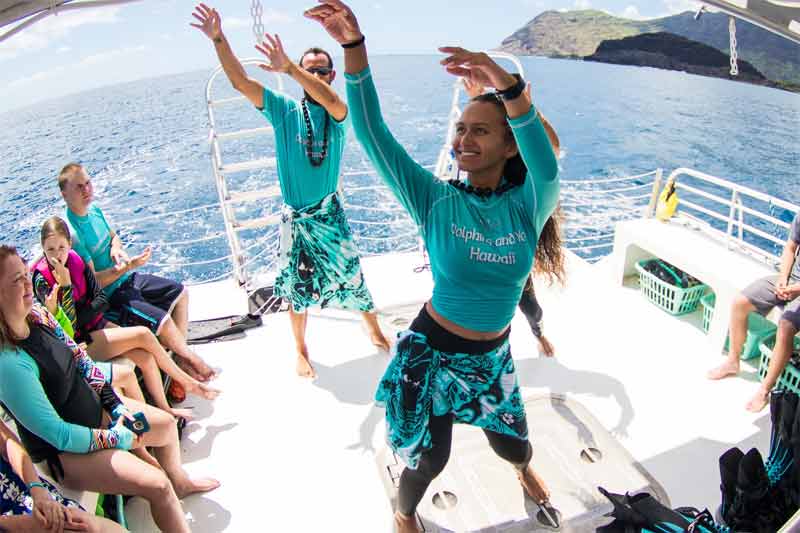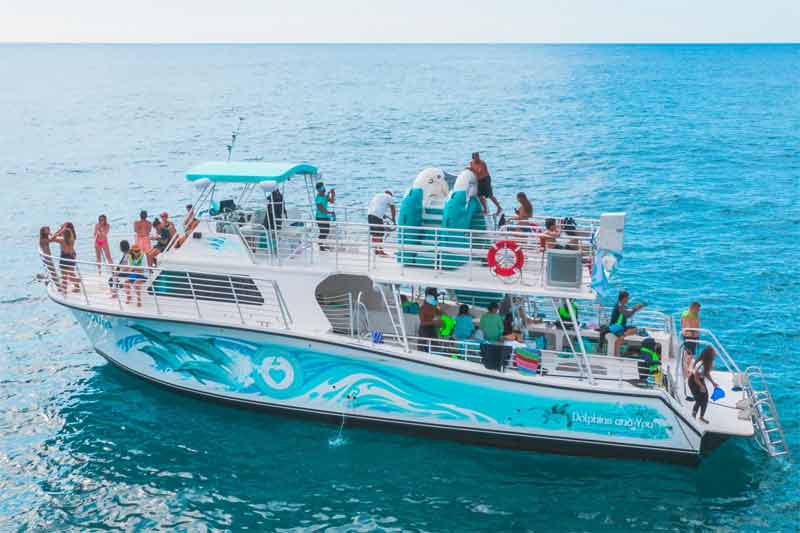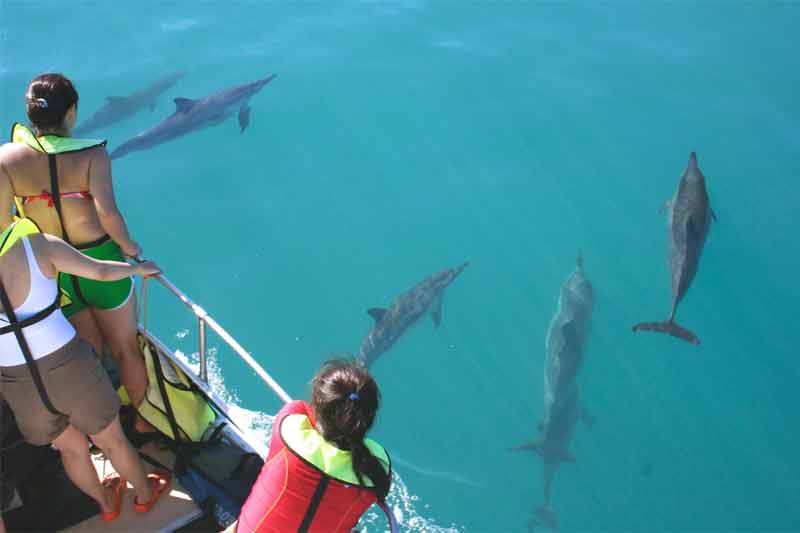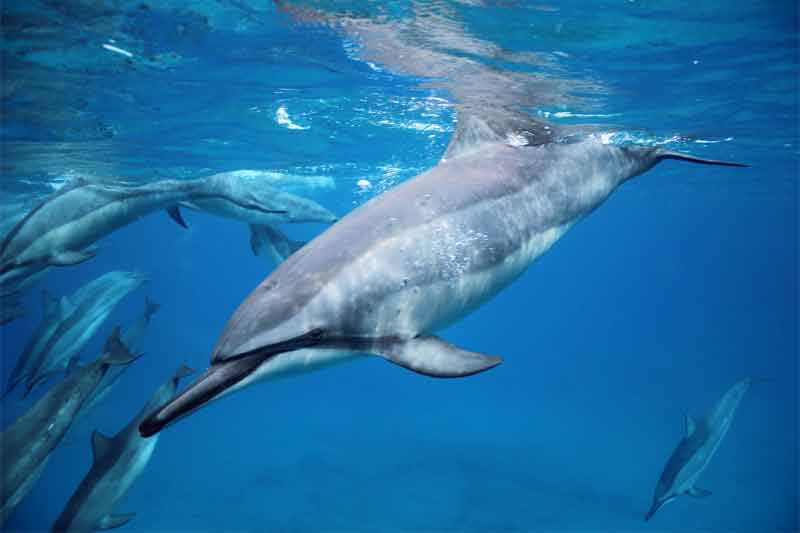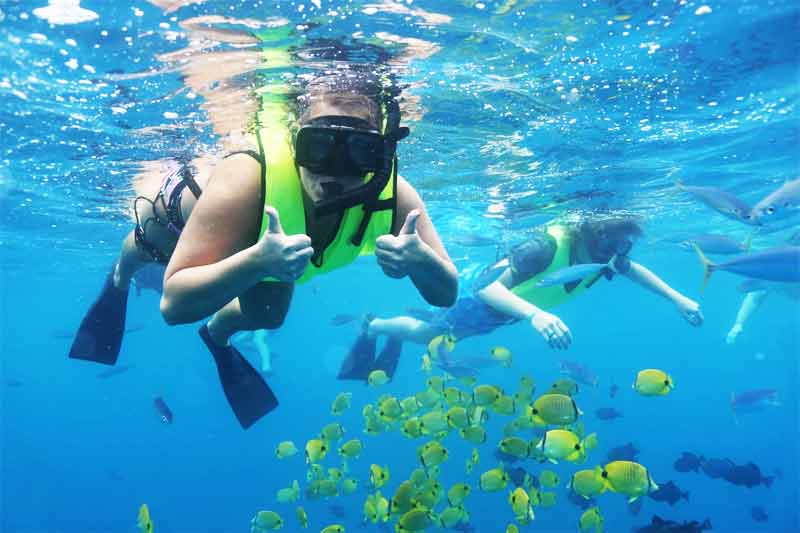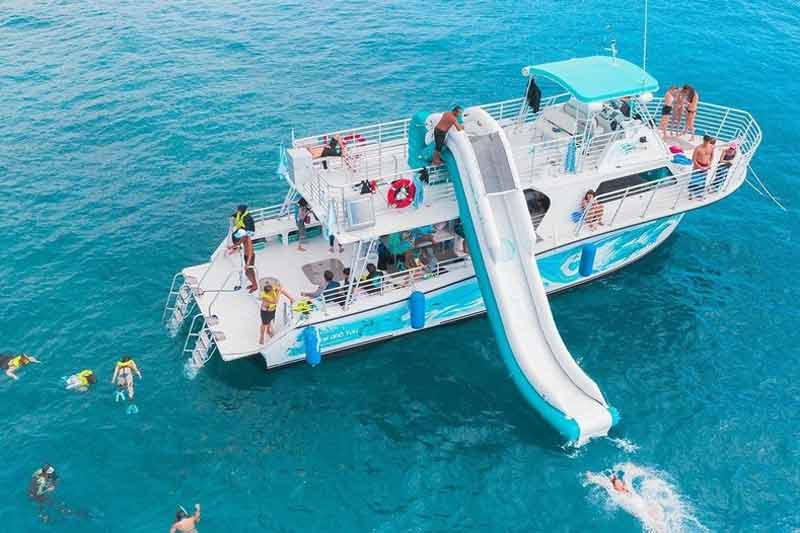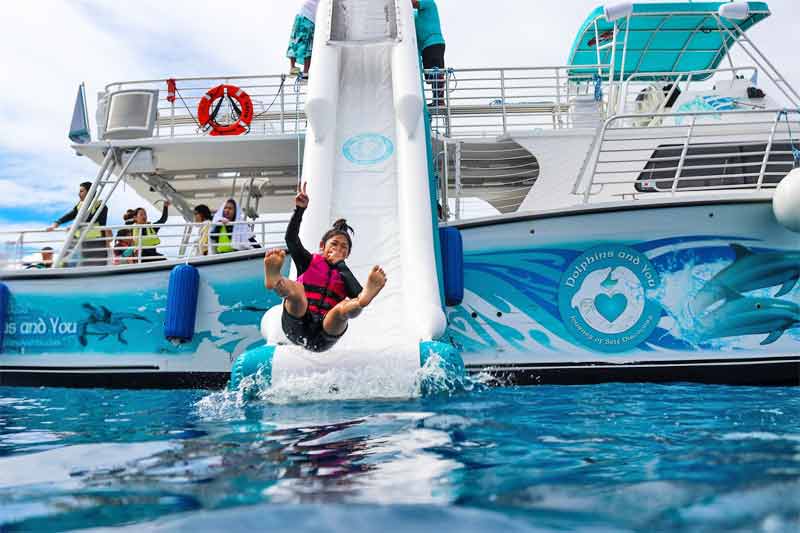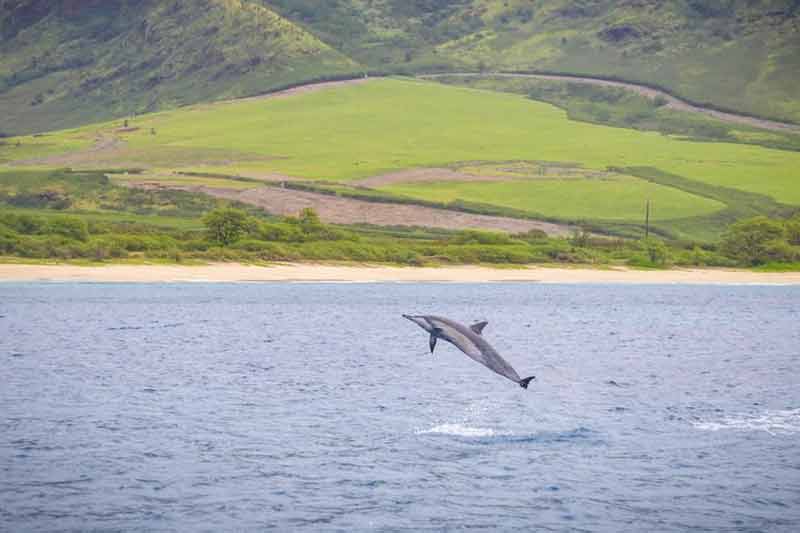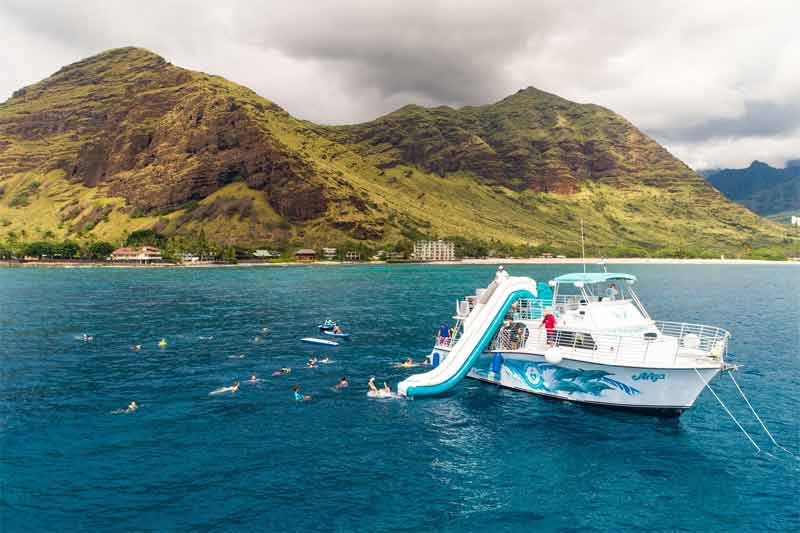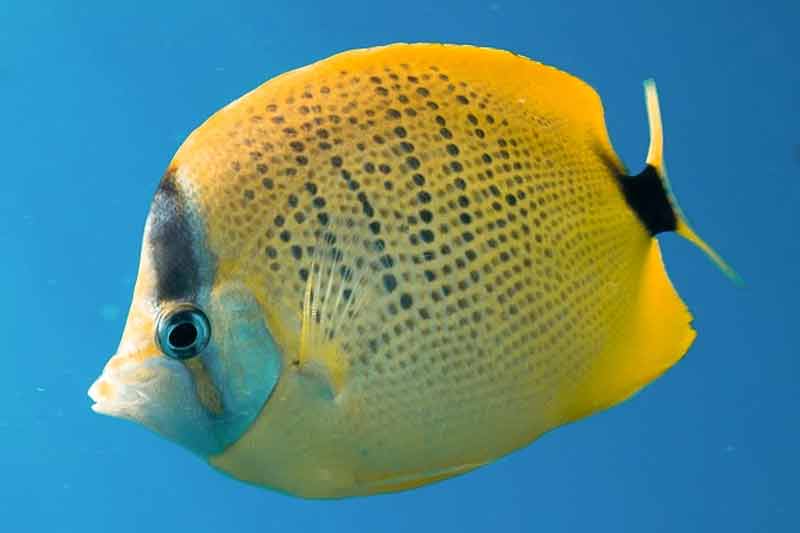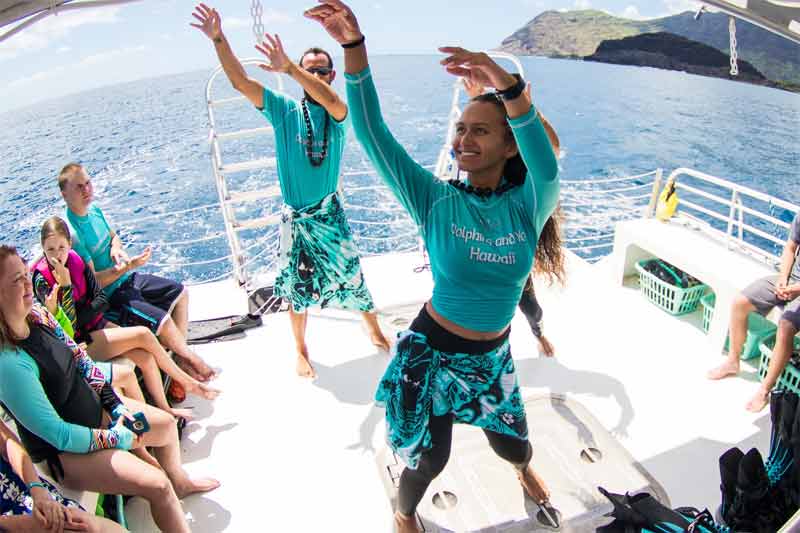 ---
Highlights
Dolphin Watching and Reef Snorkeling
Free Transportation from Waikiki
Very large, very fun inflatable waterslide!
Entertaining and informative crew
---
Description
Dolphins and You tours give you a truly life-changing experience ... on Oahu's west coast lies a pristine ocean paradise that is barely touched by the modern world. Their "locally grown" crew members are all masters of the sea and filled with aloha spirit! Each is CPR, First-Aid and LifeSaver licensed. Plus, they're amazing ukulele players, singers and hula dancers!
First, their WiFi-equipped shuttle will transport you on the one-hour drive to Oahu's West Coast. The local tour guide will provide an important briefing and answer any questions you might have. Youʻre welcome to take a quick nap before we arrive! Once you arrive at Waianae Harbor, you board their state-of-the-art new boat! Their ship, Ariya, has two decks, surround-sound, an expansive bow and two bathrooms.
As you begin your boat ride, you will learn and recite a Hawaiian chant called, "E'ho mai". It is a prayer to the gods of the sea for a safe trip with plentiful dolphins. You will cruise the West Side in search of dolphins. Spinner Dolphins are known for their acrobatic-like spinning skills and long-snouts.
The tour continues on to one of the best coral reefs in Hawaii! Here you will snorkel with tropical fishes, honu (green sea turtles), manta rays, and you may even see whales in the winter! In addition to snorkeling, you can ride their kayak, try some stand-up paddle boarding, enjoy a fantastic water slide, and bounce on the inflatable trampoline! They have a wide array of water activities, or just sit back on the boat and relax in the sun!
After a fun-filled day in the ocean, sit back and relax on the way back to the harbor with a live ukulele performance and hula show.
Two tour times are offered daily:
FIRST TOUR 7:00am to 10:00am Waikiki pickups begin around 5:15am and return to your hotel is around noon.
SECOND TOUR 11:00am to 2:00pm Waikiki pickups begin around 9:30am and hotel return is around 4:00pm.
---
Cost
Dolphins and You Rate (AYC1)
$189.00 per Adult, $146.00 per Child (2-11) (Hawaii sales tax included)
---
Location
GPS Location: Complimentary pickup included from Waikiki Hotels. For those driving the address of Waianae Small Boat Harbor is 85-471 Farrington Hwy, Waianae, HI 96792 Click to view map
---
Details
Restrictions: No children under 2 permitted on this tour.
Gear Provided: Snorkel, mask, fins and flotation devices. For those who would like a wet suit they are available to rent for $10.
Included: Lunch is now included on both tours. Lunch choices are Huli Huli Chicken, Asian Snapper, or Stir Fried Veggies.
What to Bring and Wear: bathing suit, towel, sunscreen, waterproof camera and a light jacket. Wear a rash shirt and/or swim shorts if you're looking for more protection from the sun. Bring cash or card for wetsuits or photo packages.
Reservations: Advanced reservations required ... for those who are planning ahead this event is "RESERVE NOW PAY LATER"; we need a credit card on file to finalize your reservation but we do not charge you for this event until a few days before the beginning of your vacation!
Minimum Notice for Cancellations / Changes: At least 48 hours before the start of the event.
---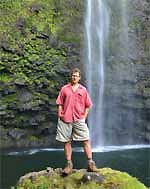 Kevin's Activity Tips:
I recently had the chance to check out Dolphins and You and I can tell you that this is a first-class operation in every way! This is one tour operator that is really "on it!" From the "wake up" call they gave us 30 minutes prior to pickup, the video instruction for first-time snorkelers in the motorcoach ... from the professional photography they offer on the tour to the quality of the boat and the snorkel gear ... from the friendliness and professionalism of the staff to the care and concern they demonstrate to our ocean resources ... the guys are just top notch.
I can honestly say the crew on this boat is the most outgoing, friendly, engaging, and just down-right FUN group I've ever seen on a boat tour! They will have you laughing and dancing guaranteed. And they are extremely attentive to the needs of guests ... whether it is refilling your beverage or adjusting your snorkel gear ... you have the feeling that they are there to help you in any way they can.
The morning we went out was a bit misty early on ... and the dolphins were nowhere to be found at first. We cruised all the way up to Ka'ena Point, the very western tip of Oahu. That was an added bonus; I had never seen it from the ocean, and we were the only boat that went that far in search of the dolphins. I was about to give up hope, but the captain did not! She found a nice pod of spotted dolphins a little further off shore than usual.
We then headed to shallow water for our reef snorkel, and while there the crew inflated the giant water slide that takes off from the second deck and gives an outrageous ride down before unceremoniously plopping you into ocean. This is easily the best waterslide of any of the Hawaii snorkel boats!
I highly HIGHLY recommend this company!