OAHU ADVENTURES
Oahu is an Adventure-lover's paradise, with outstanding tours and activities that are focused on the land and its unique beauty. From Downhill Bicycle coasting with stops at scenic Honolulu overlooks, to waterfalls hikes in the jungle, to ATV tours where dinosaurs once roamed (in the movies), if you get bored on your Oahu vacation that's your fault! And don't wait until you get here to book these tours. Many sell out WEEKS in advance (especially anything with the word "Jurassic" in the title!!!).
---
BIKE TOURS
ATV TOURS
HORSEBACK RIDING
MORE ADVENTURE
---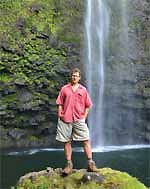 Kevin's Activity Tips:
Wihtout a doubt the most popular activity in this section, and the hardest to get reservations for unless you are planning a month or more in advance, is the Jurassic Valley Raptor ATV tour at Kualoa Ranch. A very similar experience ... but done with a very different kind of vehicle ... is the Jurassic Park E-bike Tour. That's actually MY favorite way to experience Kualoa Ranch. If you have not yet tried riding an e-bike you are in for a treat! You still have to peddle, but when you do ... wow! You just take off and go ... even uphill. You bike around feeling like Lance Armstrong. And the bikes allow for a quick mount and dismount, so you can stop at more movie locations and take photos with King Kong's skull and still have time to grab a photo standing in Godzilla's giant footprint.
I also like the DOWNHILL bike ride ... a very soft, easy bike ride coasting down from the top of Mount Tantalus. The views of downtown Honolulu's skyline are impressive, with the beautiful aqua blue backdrop of the Pacific Ocean. Consider combining this downhill bike with the waterfall hike combo tour that's also found on the downhill bike tour page! It's a great way to do two completely different events in one day!