Circle Island Tours
---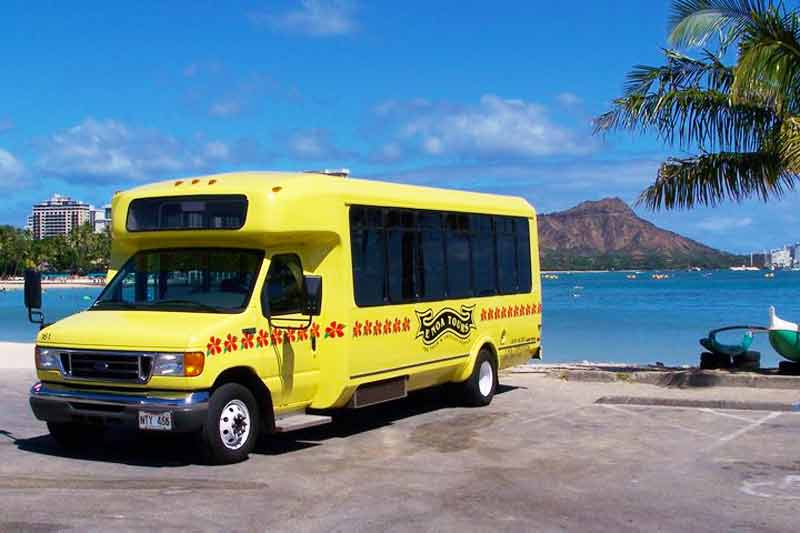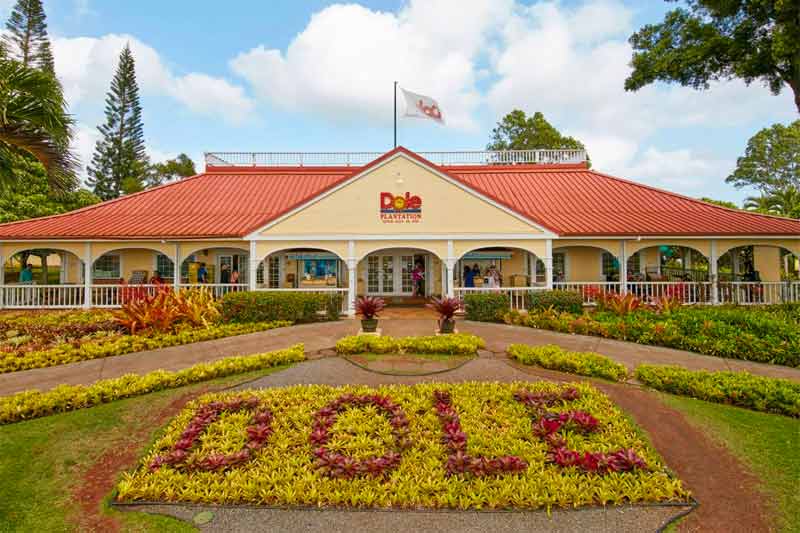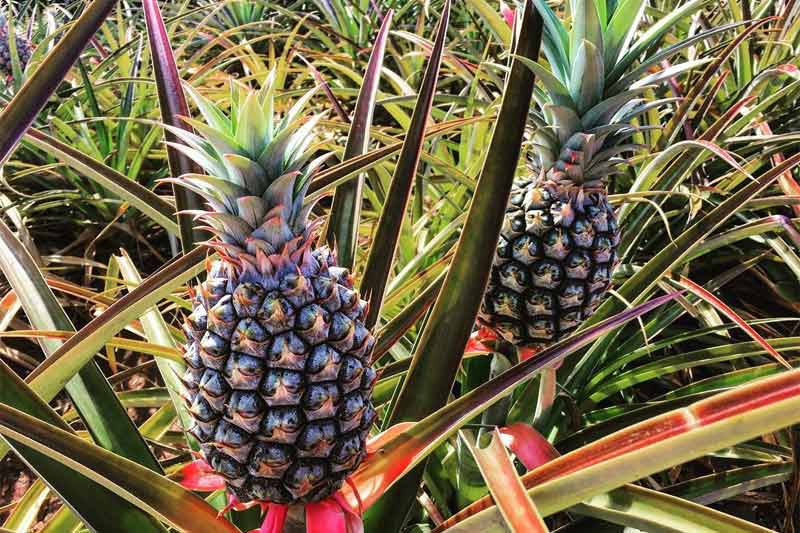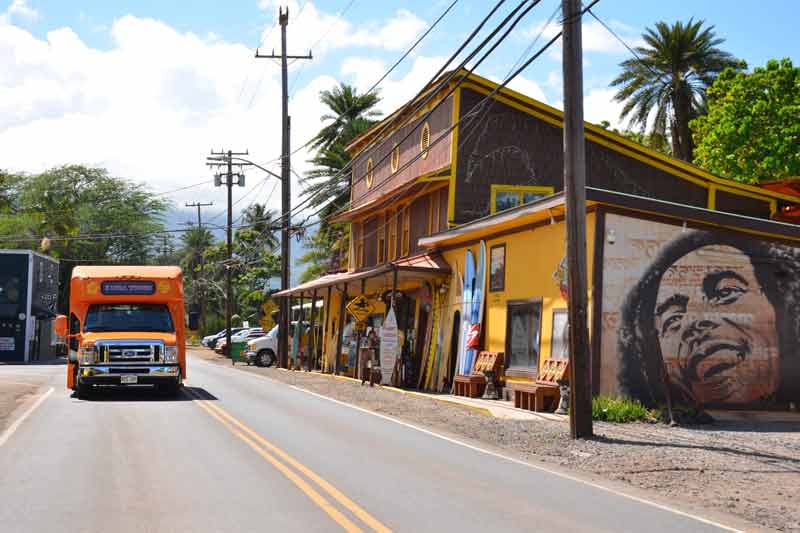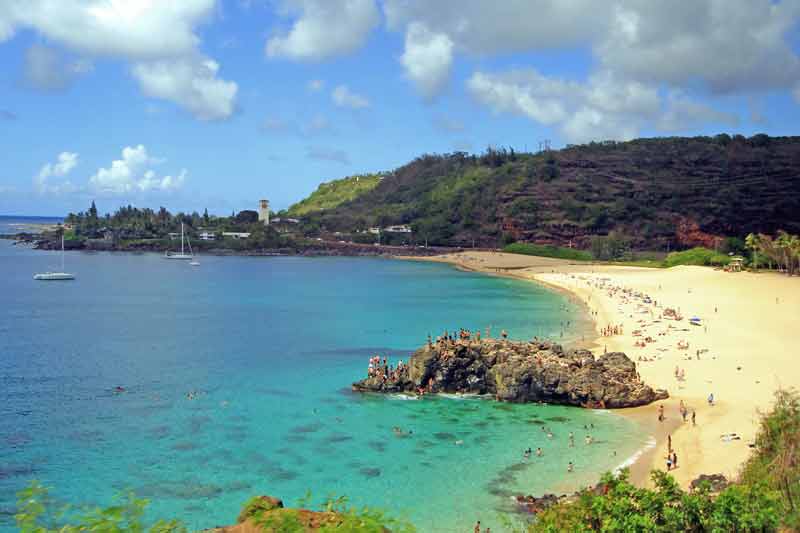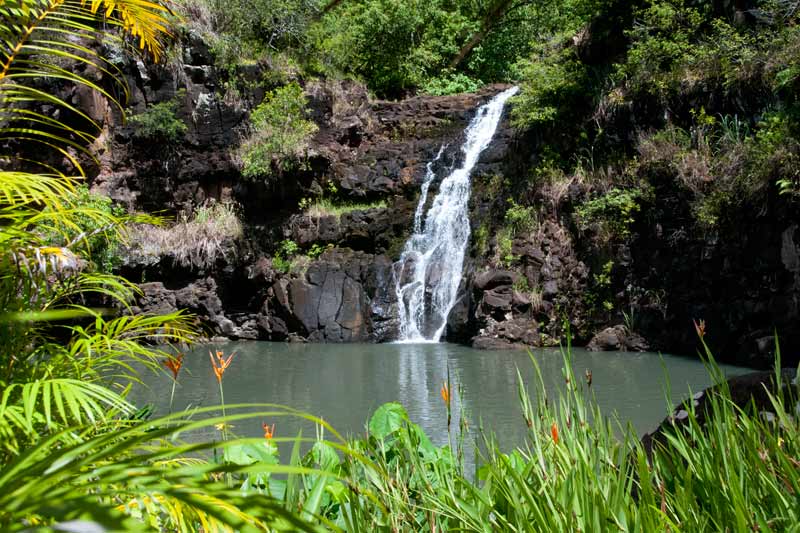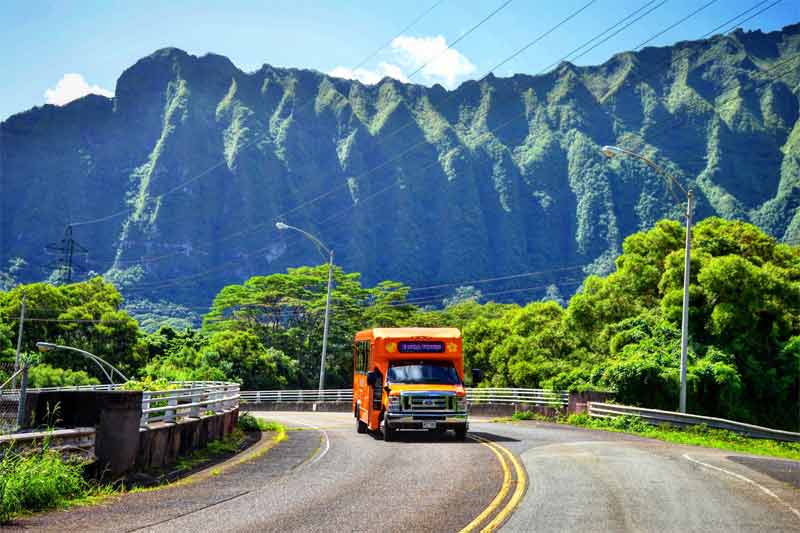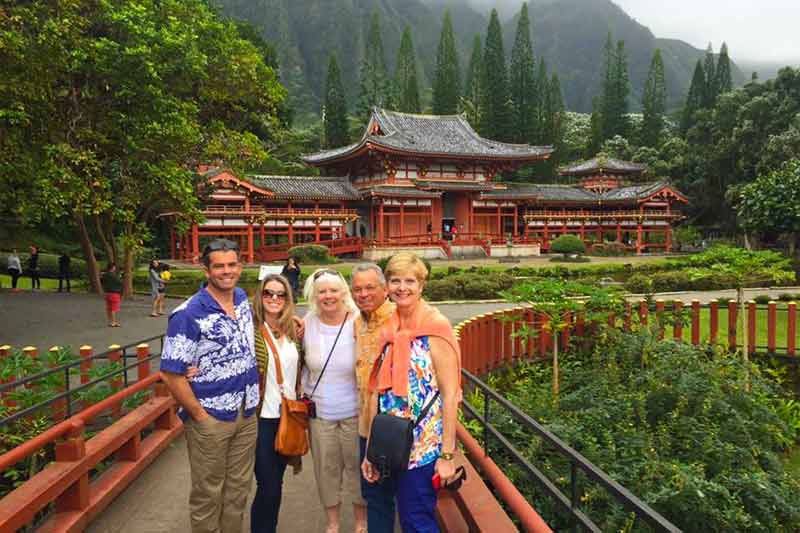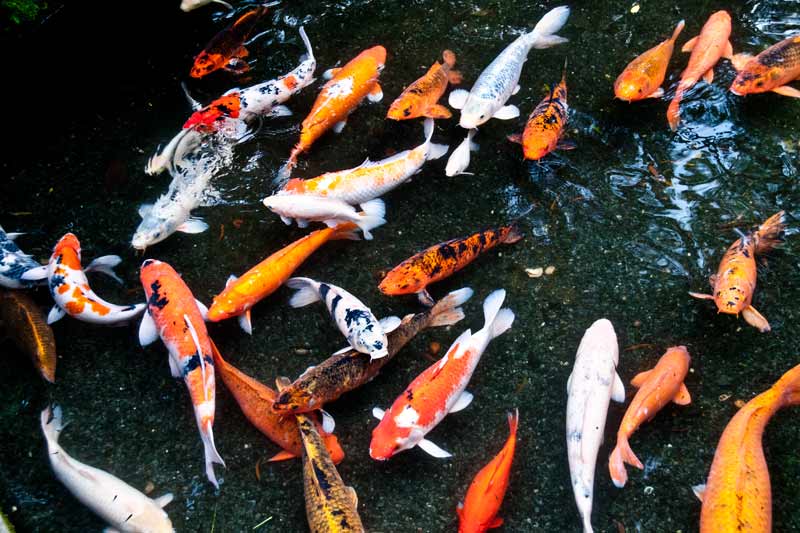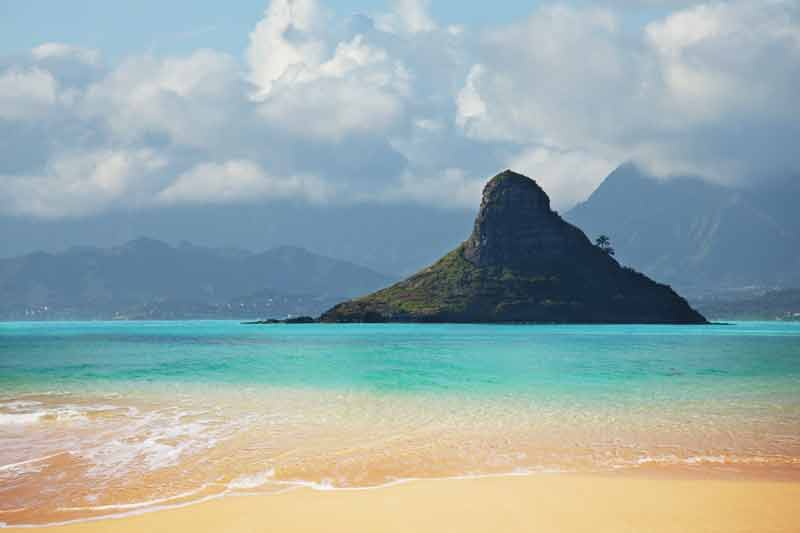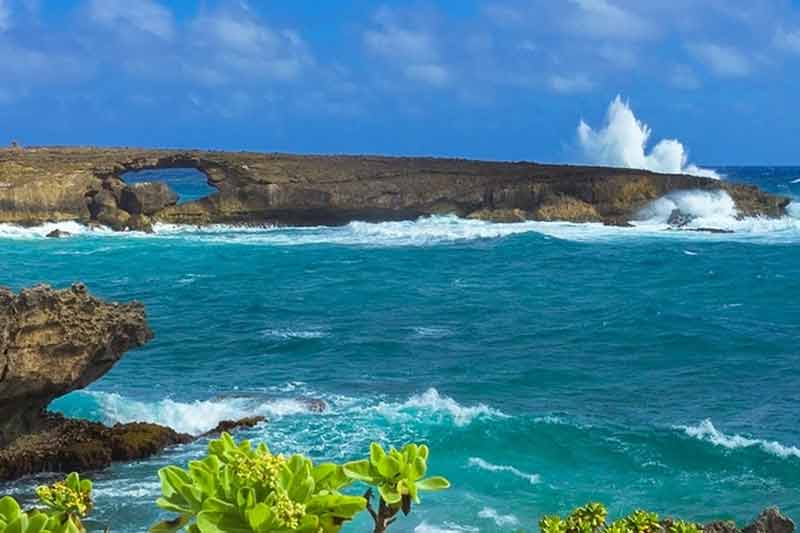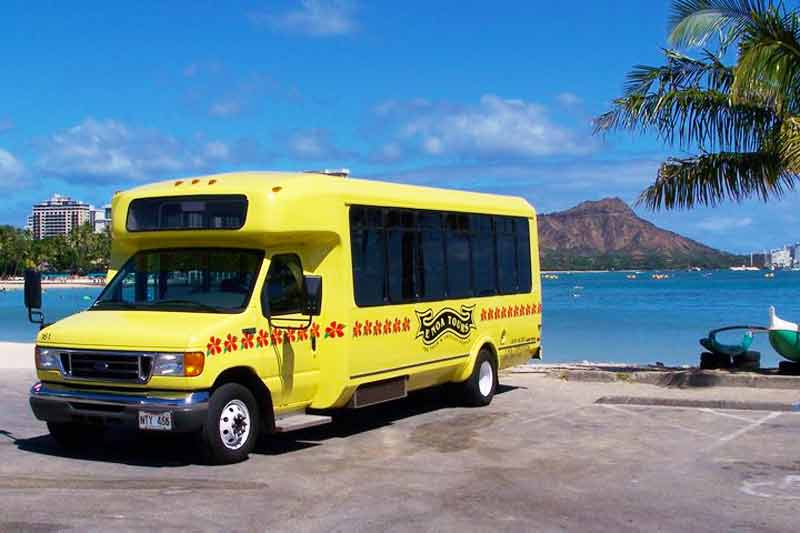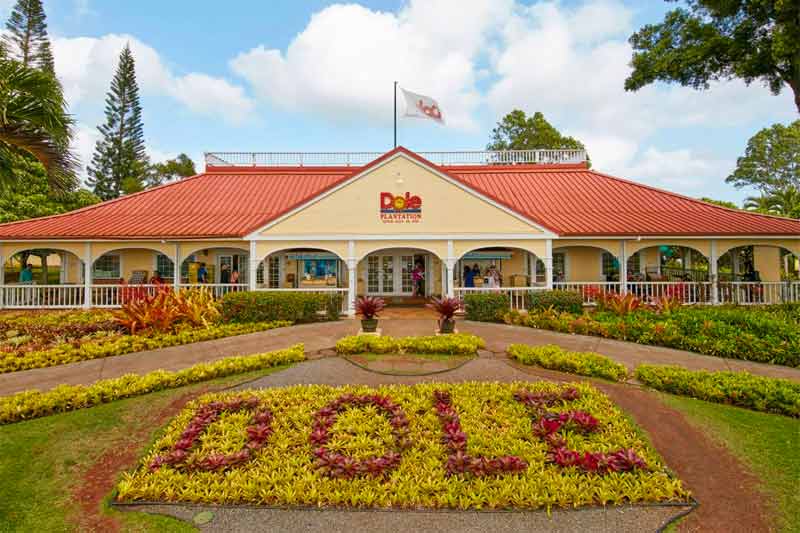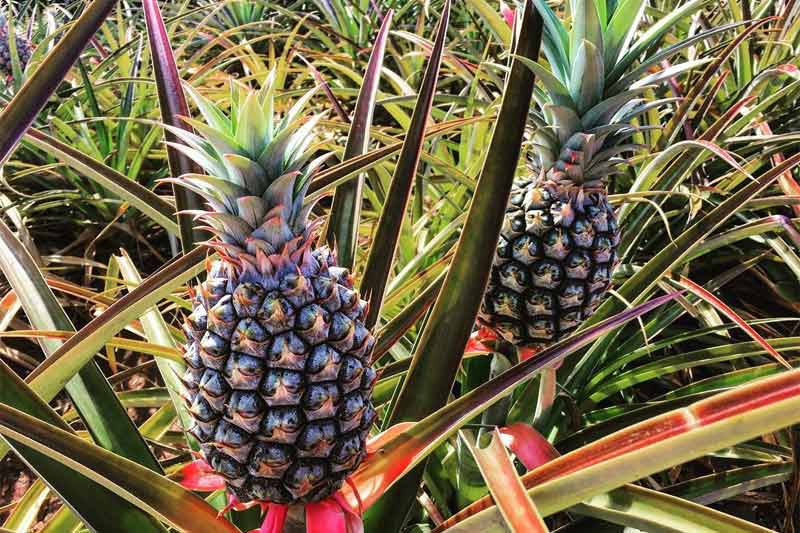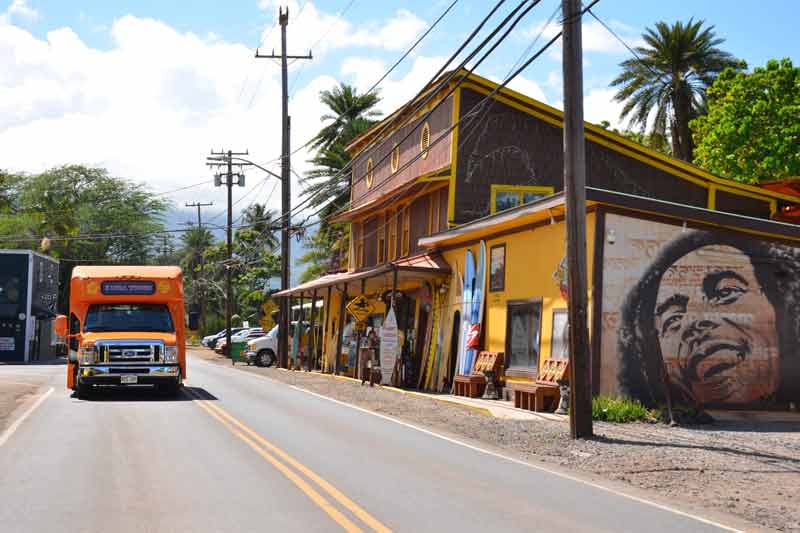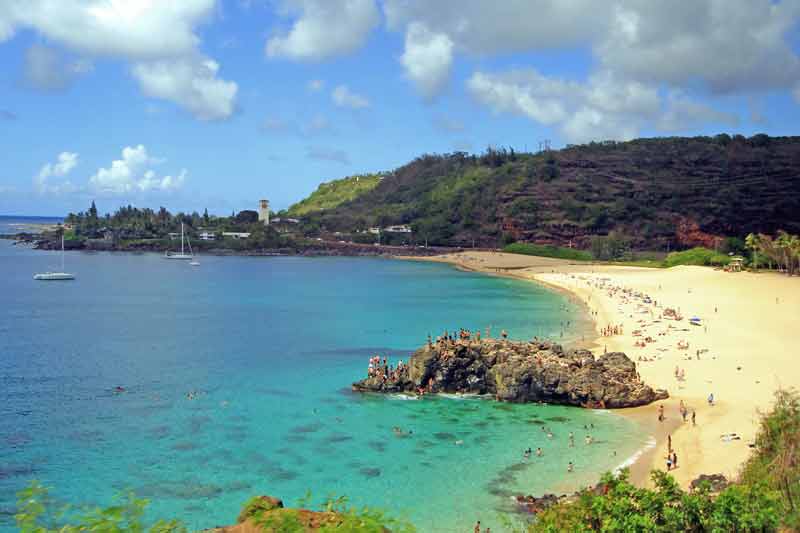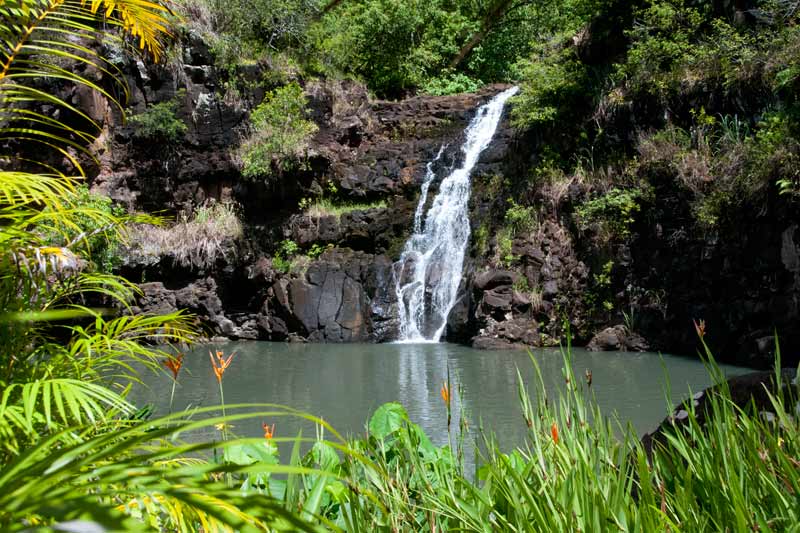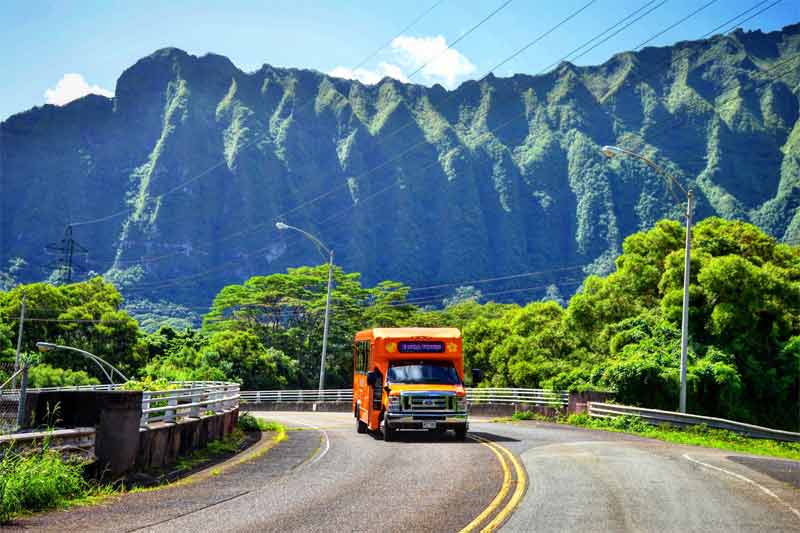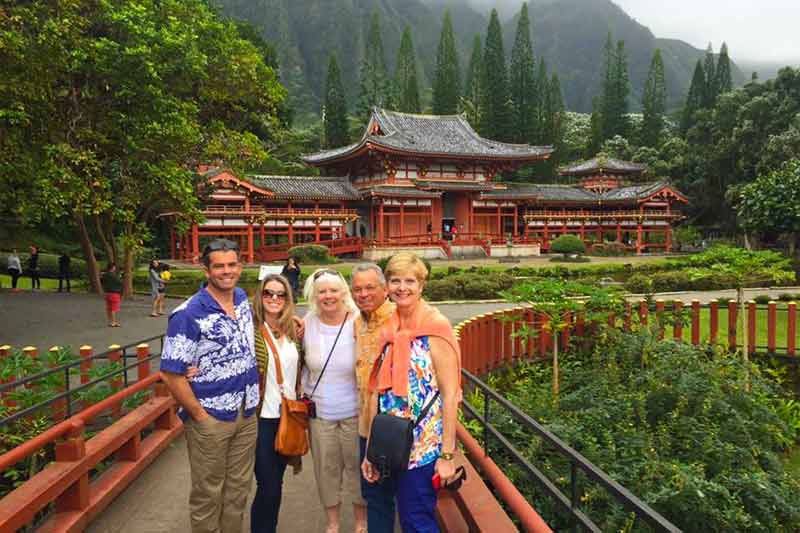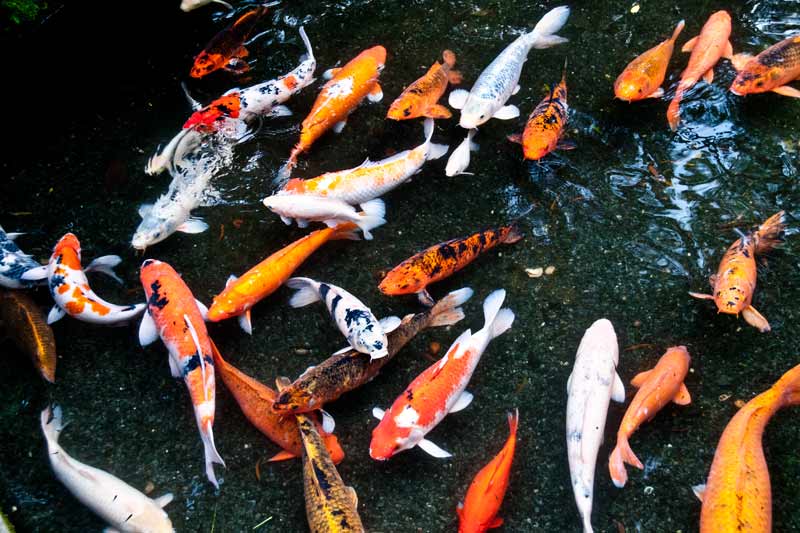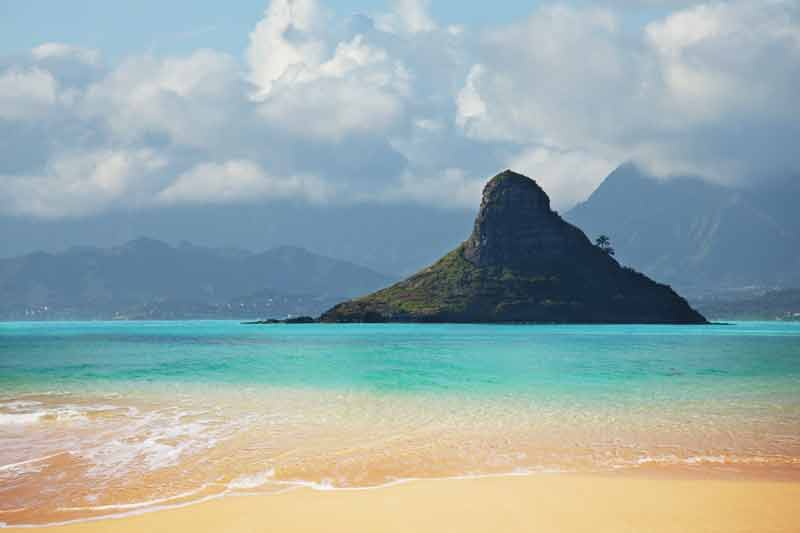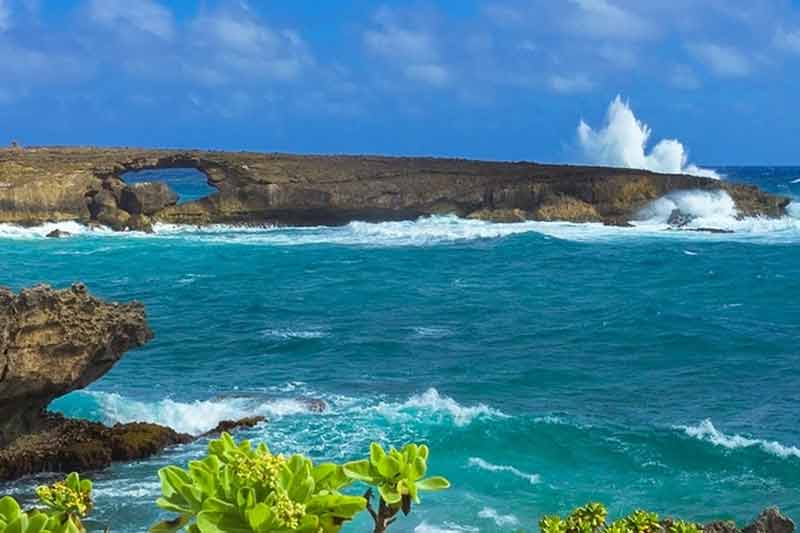 ---
Highlights
All-day sightseeing tour on mini-coach with oversized windows
Driver / guide personalizes your experience with their favorite stops
Lunch included at a local favorite food truck or restaurant
Admission to Waimea Falls and Byodoin Temple included
---
Description
Oahu is a beautiful island, but to truly appreciate all this gem has to offer, you MUST get away from the high rise hotels of Waikiki. The island's north shore offers scenic beaches with impressive winter swells and world-class surf. Kaneohe Bay's miles of offshore reef and sand bars paint a unique oceanscape. The spires of the Pali cliffs on the windward side are reminiscent of Hawaiian postcards from days of old. Central Oahu features miles of pineapple fields and gives you the opportunity to enjoy a sample of this sweet, mouth-watering field-ripened fruit!
These excursions are all led by guides who have been certified by the state of Hawaii and are done on premium 25 passenger motorcoach vehicles with oversized viewing windows. You'll see more, learn more, and have more dialogue with your guide. Avoid the big 55 passenger buses … THIS is the best way to see the island. This tour is different from all others, specifically redesigned to spend the most time "off the bus," at each stop so that you can discover all of the things that make this island magical. All admissions at all stops are included in the price of the tour. Just bring money for snacks and souvenirs. Lunch is included in the tour price, and your driver will update you on daily menus and lunch stop options from his or her favorite places to eat.
Official Stops made on this tour include:
Nu'uanu Pali Lookout – The first stop of the day is at one of the most scenic and historic places in all of O'ahu. Learn the story about how King Kamehameha united all of the Hawaiian Islands under one monarchy as we visit the very spot where a famous battle took place.
Byodo-In Temple – As we drive along the Ko'olau mountain range we stop to discover a hidden gem tucked away from the main road. Byodo-In Temple was featured by National Geographic in "20 of the world's most beautiful Buddhist temples," noting its architectural details and awe inspiring surroundings.
Tropical Farms – Famously known as "The Little Country Store On Your Way to the North Shore" it's a great place to try different local snacks and learn how to crack open some macadamia nuts.
North Shore Lunch Stop – Your driver will update you on the daily menu and determine a great place for everyone to enjoy a delicious lunch before driving alongside the world famous North Shore O'ahu coastline on our way to the next adventure.
Waimea Valley and Falls – Follow your E Noa tour guide on a short hike to a 45' waterfall where you can swim. Learn about the ancient history of Waimea Valley and why it's considered to be a very significant and religious site.
Dole Plantation – End the day with a drive through Haleiwa Surf Town and beautiful pineapple fields before stopping at the Dole Plantation. Don't forget to try the world famous DoleWhip frozen dessert, a perfect treat under the Hawaiian afternoon sun!
BONUS STOP(S) – "E Noa" means freedom. In addition to the stops listed above, our tour guides are known to prepare something unique and special for every adventure.
That is just the list of offical stops. The actual sightseeing you will do along the way is impossible to list. There is one jaw-dropping view after another on this tour including the famous little offshore island known as Chinaman's Hat, the famous mountain range at Kualoa Ranch featured in many Hollywood films, surfing beachs of Waimea Bay Sunset Beach, Laie Point, Haleiwa Town, and so much more!
---
Cost
Majestic Circle Island Tour Rate (ENOA11)
$132.80 per Adult, $101.60 per Child (3-11), Infants (2 and under in lap) FREE (plus 4.7% Hawaii sales tax)
---
Majestic Circle Island Tour from KOOLINA Rate (ENOA11k)
$145.50 per Adult, $114.30 per Child (3-11), Infants (2 and under in lap) FREE (plus 4.7% Hawaii sales tax)
---
Details
Schedule: Tuesday through Saturday. Morning pickup at Waikiki hotels is around 8:00am. Approximate return is 5:30pm.
Waikiki Pickup Locations: There are five pickup points in the Waikiki area ... when you tell us where you are staying, we will arrange pickup at the meeting point closest to you. If you are staying outside of Waikiki you will park in the municipal lot at the Honolulu Zoo and walk approximately 5 minutes to the Aston Waikiki Beach Hotel.
Ko'Olina Pickups: Those staying in Ko'Olina area have a special tour that picks up there on Tuesdays and Fridays.
What to Wear: Dress comfortably and wear good walking shoes. Bring a bathing suit and towel if you would like to take a quick dip at Waimea Falls!
Reservations: Advanced reservations required and for those who are planning ahead this event is "RESERVE NOW PAY LATER"; we need a credit card on file to finalize your reservation but we do not charge you for this event until a few days before the beginning of your vacation!
Minimum Notice for Cancellations / Changes: At least 48 hours before the start of the event.
---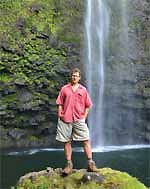 Kevin's Activity Tips:
Oahu really is a beautiful island, but to really appreciate its beauty you have to get out of the city (Honolulu/Waikiki) for a day! This point was really drilled home to us recently when we went along for the ride on one of these tours. Our motorcoach was heading over the Pali when the entire coastal vista of the windward side of Oahu came into view. Everyone in the vehicle seemed to gasp all at once and there was a collective "woooooooow" from the entire group! Do yourself a favor and get out of the concrete jungle of Waikiki during your vacation!
We highly recommend these tours with Enoa for a variety of reasons. Firstly, this tour company is only located on Oahu … it is their specialty and they are experts on this island. Secondly, all of their guides are personable and knowledgeable, certified by the state of Hawaii to conduct tours. Thirdly, and most important, their tours are conducted on 25 passenger minicoach vehicles with oversized windows for superior visibility, and NOT on giant 55 passenger buses! The big bus tours have a tendency to crawl along at a snails pace because it takes so long to get people on and off the vehicle at each stop. The more people you have on board, the better the chance someone is going to be slowing you down all day. With a smaller group, you spend more time seeing the sights and less time waiting to move on to the next stop. Also, the smaller group size gives you more personal interaction with your driver / guide.