OAHU SIGHTSEEING
Oahu is a stunningly beautiful island, but a surprising number of visitors spend the vast majority of their time in Waikiki. Don't miss the best Hawaii has to offer; let us help you really SEE the island! It's too beautiful to miss! Here are some great sightseeing options for you to consider.
---
---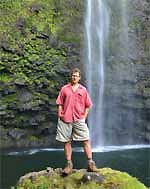 Kevin's Activity Tips:
Without a doubt the BEST sightseeing is from the air, and while helicopter tours ARE on the pricier side, I don't think it makes much sense to spend thousands and thousands of dollars on airfare to Hawaii, expensive accommodations, meals, etc. but not spend a few hundred more to REALLY SEE the island when you get here! I actually recommend a helicopter tour around the island to help get the "lay of the land" and an overview, then do a Circle Island Tour to visit the places you saw from the air up close and personal a few days later.
Depending on how many are in your group, you might also consider a Private Tour ... these are priced per vehicle and are actually quite affordable if the number of people in your party lines up well with the number of seats in the tour van. The private tour option allows you to customize your itinerary; you basically reserve the date and the guide will contact you and help you plan an itinerary.