Movie Site Tours
---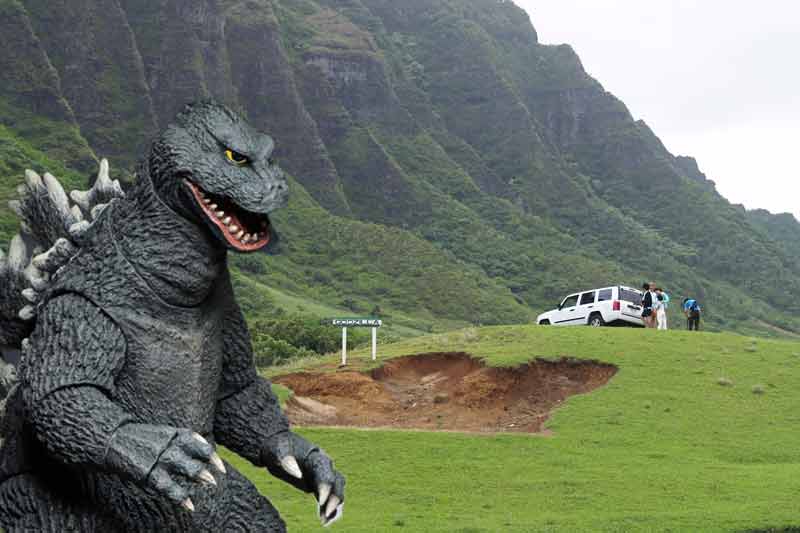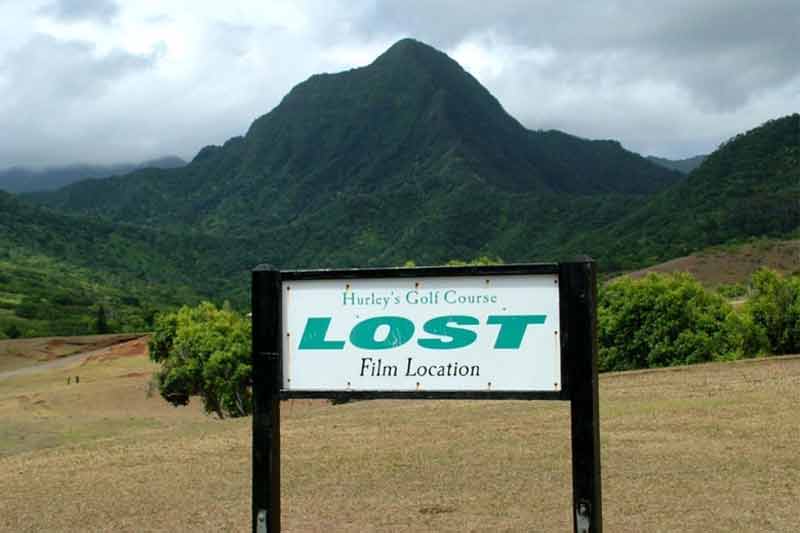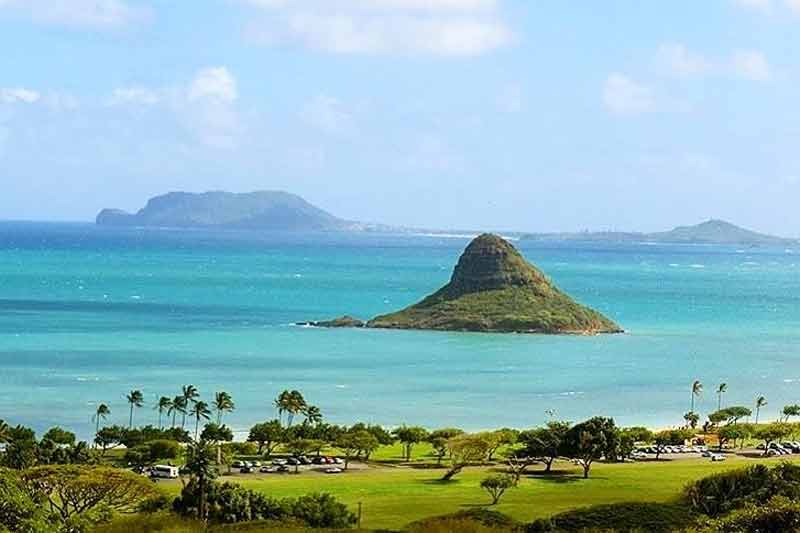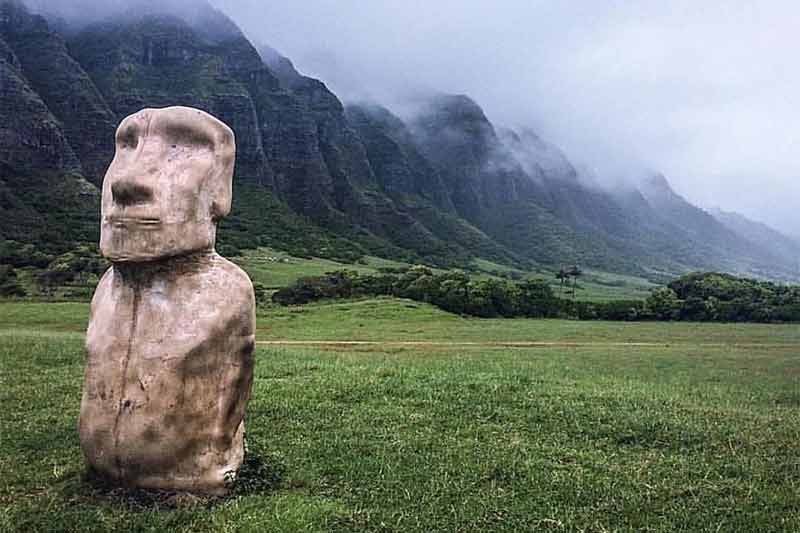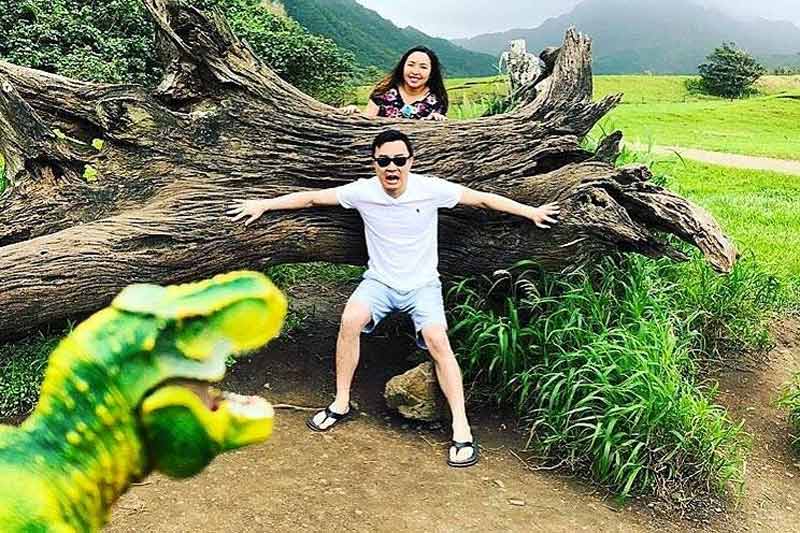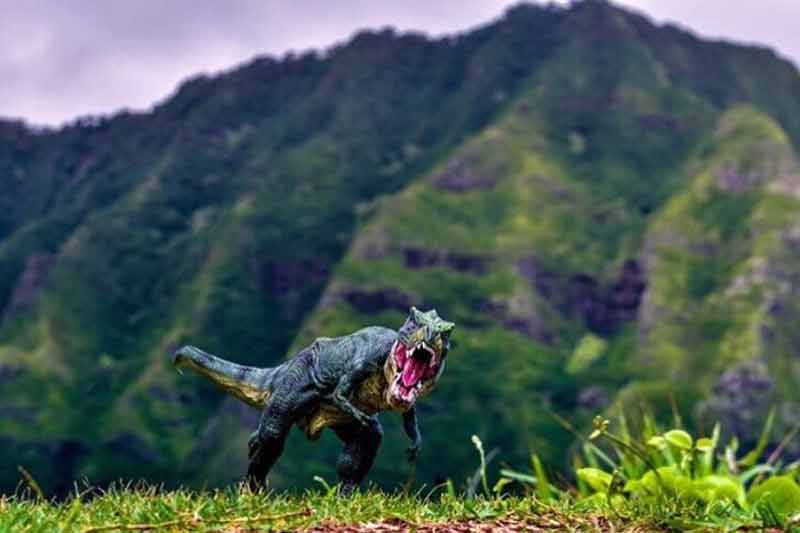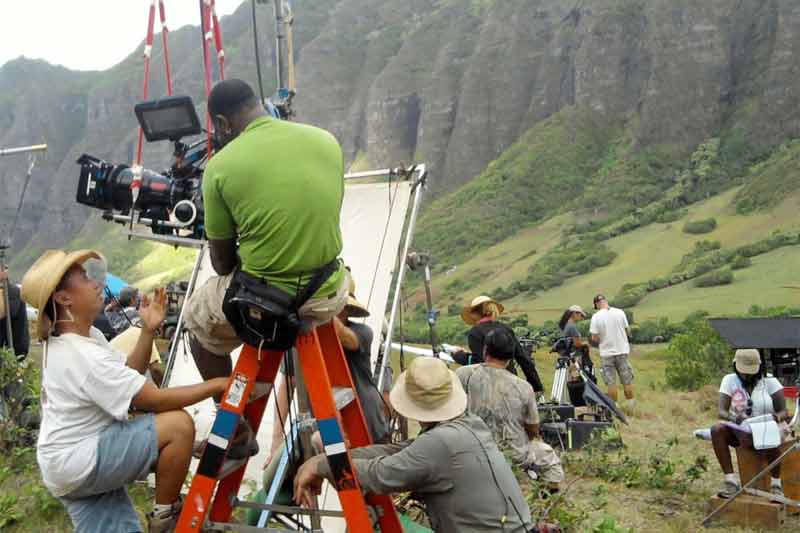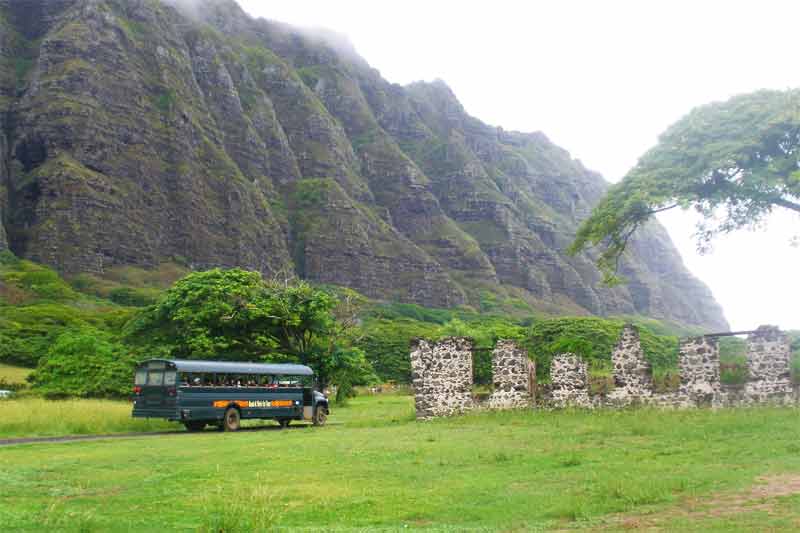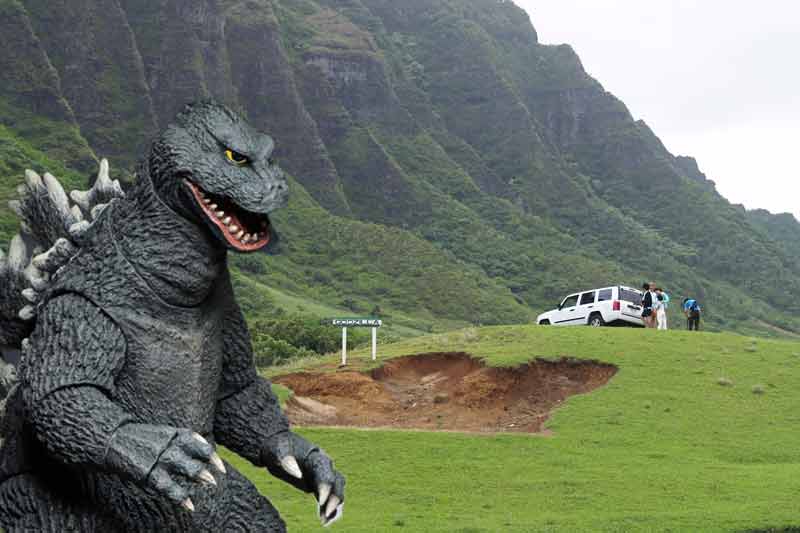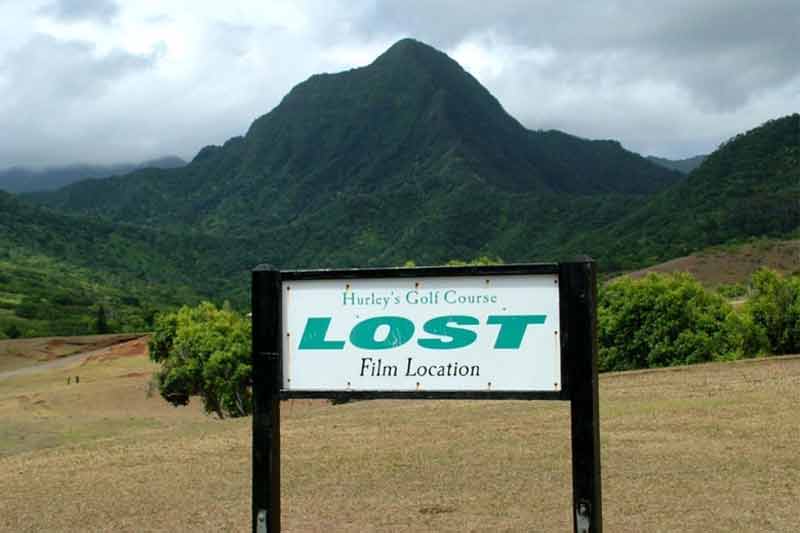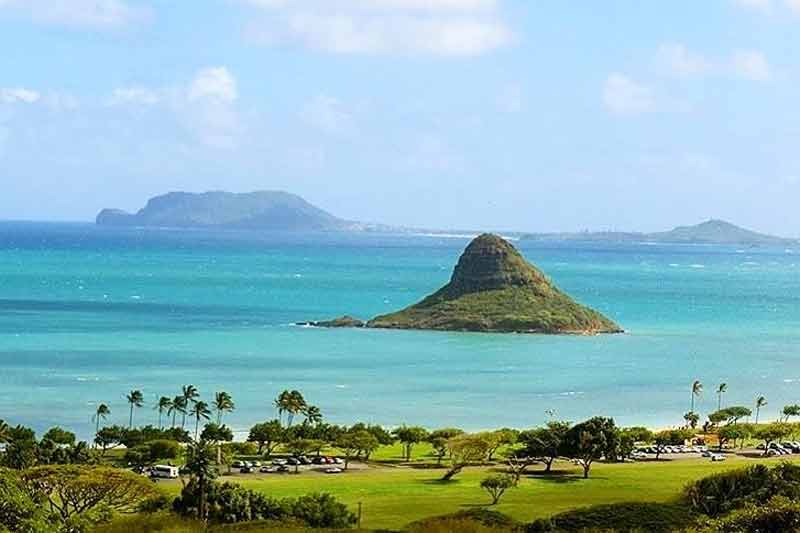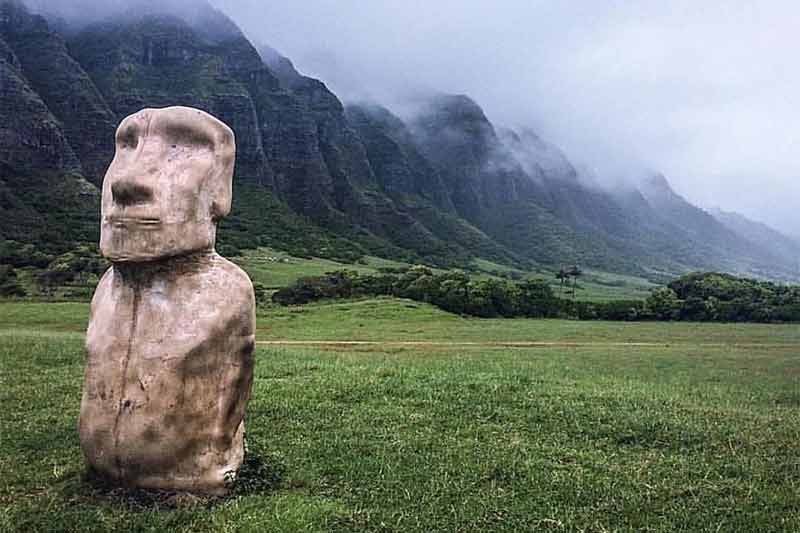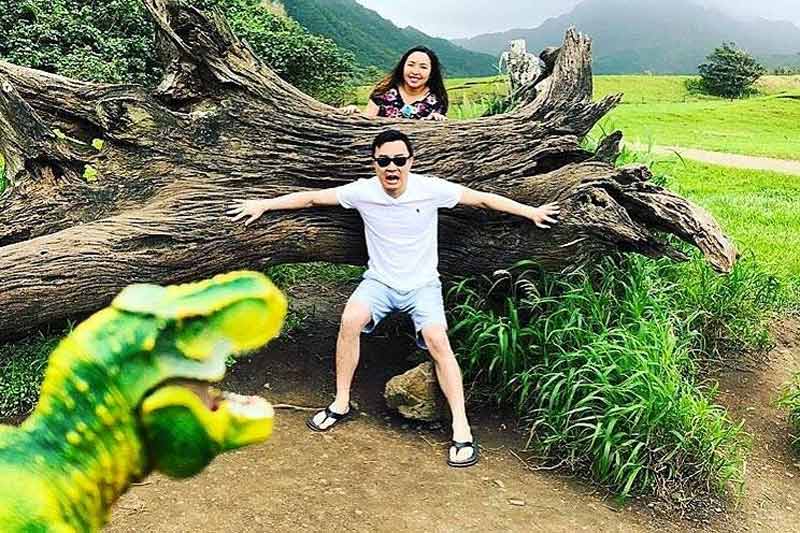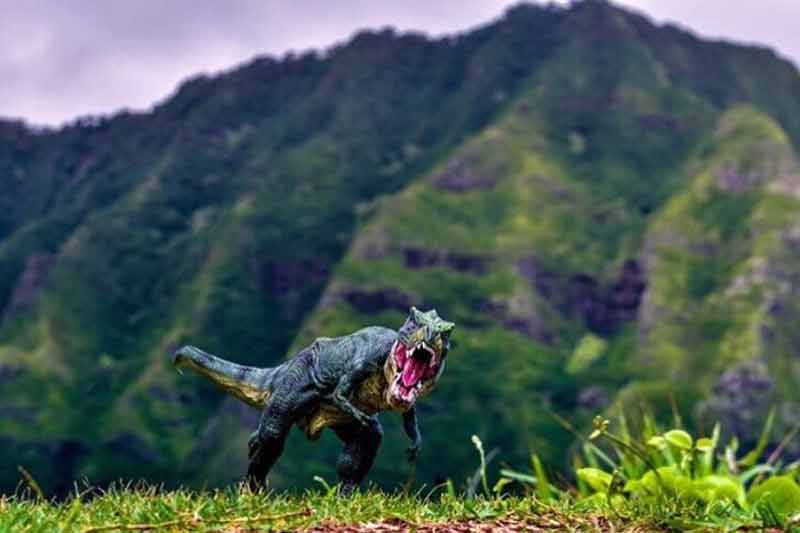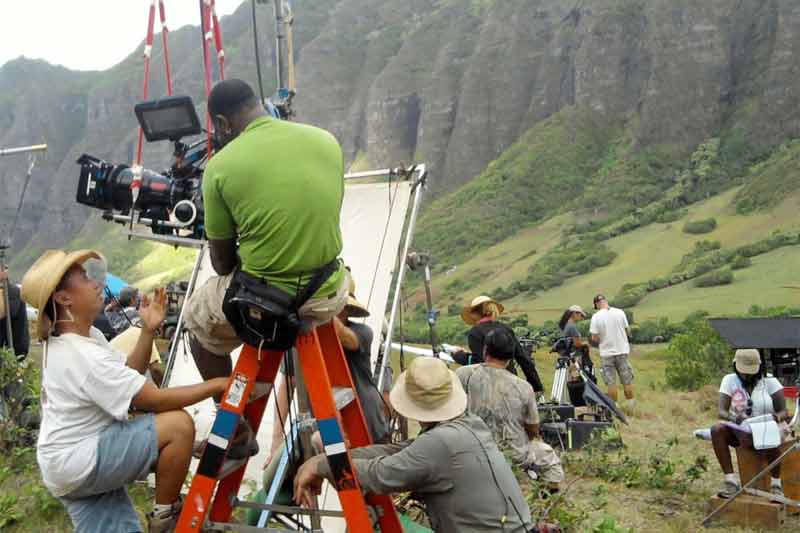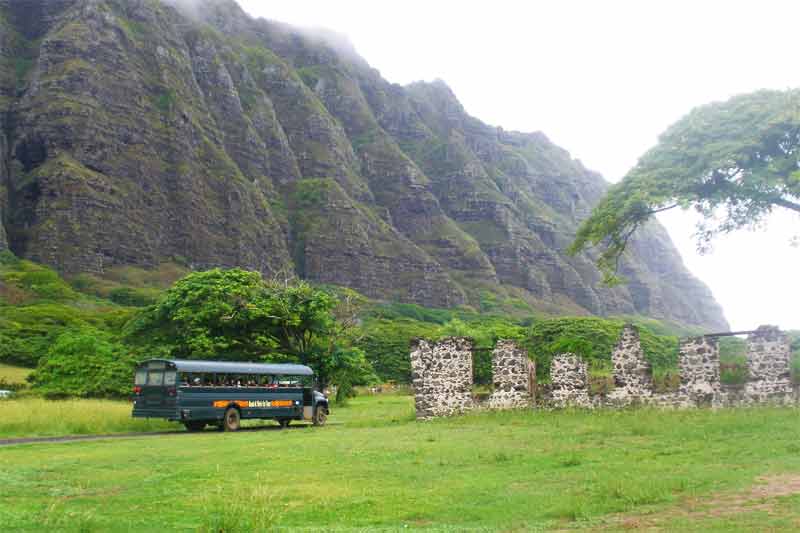 ---
Highlights
90 Minute Movie Site Tour - Single Event
6 Hour Kualoa Experience - 3 tours in 1!
2.5 Hour Jurassic Park Adventure
All tours include incredible Kualoa Ranch Scenery
---
Description
Hollywood loves Kualoa Ranch, which is why it is host to movie site tours! An impressive list of movies and TV shows have been filmed in this scenic area. The majestic cliffs and spires of the Kualoa Mountains, the lush greenery of the Ka'a'awa Valley, the ancient fishponds on the south side of the property, the quintessential view of Chinaman's Hat (Mokolo'i Island) ... all these features and more have attracted production companies and will continue to do so as long as the cameras continue to roll.
Ready for a partial list? The modern iteration of Hawaii 5-0 premier's OPENING SCENE featured a WWII military bunker that is visited on this tour. The walls of this bunker are lined with historic photos of the ranch and scenes from many of the movies that were made here. Many many more scenes from Hawaii 5-0 have been shot here over the years! And then there's the previous hit show LOST ... many episodes were shot here including Hurley's golf course. Fantasy Island ... Byrds of Paradise ... and who can forget Magnum PI? Let's move on to the blockbuster movies ... Jurassic Park, Tears of the Sun, Mighty Joe Young, Godzilla, Pearl Harbor, You Me and Dupree, George of the Jungle, Windtalkers, 50 First Dates (see also our Sea Life Park page).
There are other tours at Kualaoa Ranch that visit movie sites, like the horseback riding, ATV Raptor, and E-bike tours ... but the activities on this page are specific to sightseeing at the movie locations at Kualoa Ranch.
---
---
HOLLYWOOD MOVIE SITE TOUR - SINGLE EVENT - 90 Minutes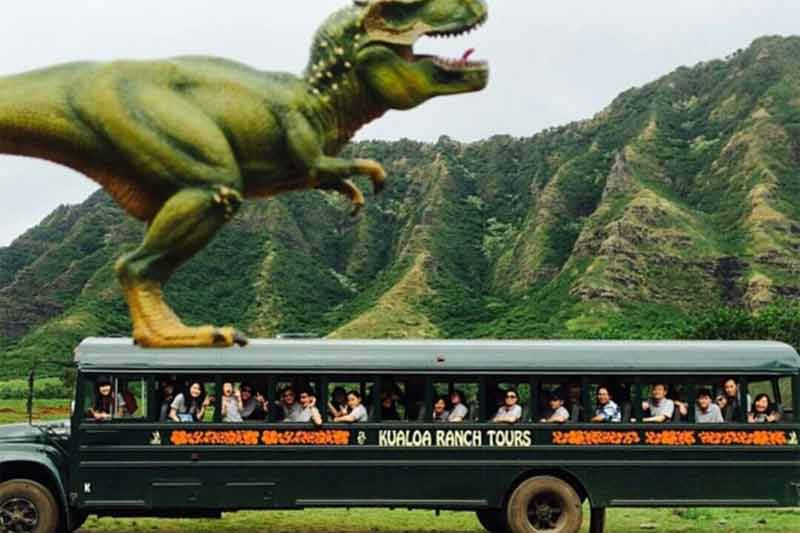 Hop aboard a vintage school bus for a 90 minute tour, with stops at movie sites from a wide variety of movies including Jurassic Park, King Kong, Godzilla, 50 First Dates, Lost, Hawaii 5-0, and Magnum PI. A stop is also made at a World War II bunker which now contains a collection of movie posters, props, and memorabilia.
Schedule: Daily at 9:15am, 10:30am, 12:45pm, and 2:30pm with checkin 45 minutes prior to your tour time.
Restrictions: Minimum age is 3 years old.
Hollywood Movie Sites Tour Rate (KUA4_nt)
$51.95 per Adult, $36.95 per Child (3-12 years old) (plus 4.7% Hawaii sales tax)
---
BEST OF KUALOA EXPERIENCE - 6 Hours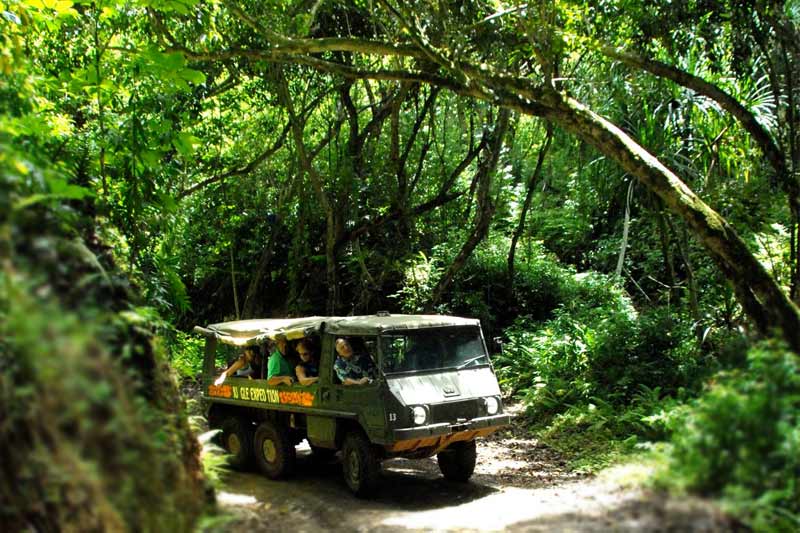 This full-day experience is 3 tours in 1!!! This tour also includes a nice lunch!
1) Hollywood Movie Site tour listed above, done aboard the vintage school bus.
2) Jungle Expedition - a 90 minute open-air 4WD excursion in a Jeep-like vehicle going deeper into the ranch and additional movie sites, including locations used for Jumanji, Kong Skull Island, and Jurassic World. You'll get completely different views of the Ka'a'awa Valley and Hakipu'u Valley from higher elevations.
3) Aloha Aina - a farm tour showcasing flowers, fruit, and fish farming techniques in the nearly 1000 year old ancient Hawaiian fishpond!
Schedule: Wednesday through Sunday at 9:15am with checkin 45 minutes prior to your tour time. Transportation is also available from Waikiki for this package at a cost of $30 per person, with pickup between 7:00am and 7:30am.
Restrictions: Minimum age is 3 years old. Pregnant women may do the Movie Tour and aloha Aina tour but will need to "sit out" the Jungle Expedition.
Kualoa Experience Package Rate (KUA3_nt)
$149.95 per Adult, $99.95 per Child (3-12) (plus 4.7% Hawaii sales tax)
---
JURASSIC ADVENTURE TOUR - 2.5 Hours
This deluxe 2.5-hour Jurassic Adventure Tour will take you to all of the iconic sites in both Hakipu'u and Ka'a'awa Valleys. Check out the spots made famous in Jurassic Park, Jurassic World and also Jurassic World Fallen Kingdom. While other movie sites are seen on this tour, all the stops and interactions with the guide will focus on the Jurassic franchise for you dinosaur lovers out there! This entire tour is done in a 16 passenger open-air 4WD expedition vehicle with 360 degree panoramic views. Buckle up and enjoy this bumpy rainforest trek to visit sets from Jurassic World like the Indominus Rex paddock with its 60 foot walls, the bunkers and authentic dinosaur cages used in Jurassic World: Fallen Kingdom. Visit the most famous field of all the Jurassic franchise where the dinosaurs run through the prairie in Jurassic Park.
Schedule: Daily at 9:15am, 10:30am, 12:30pm, and 1:45pm with checkin 45 minutes prior to your tour time
Restrictions: Minimum age is 3 years old. No pregnant women are permitted on the Jurassic Adventure Tour due to the bumpy 4wd ride.
Jurassic Adventure Tour Rate (KUA16_nt)
$139.95 per Adult, $69.95 per Child (5-12 years old) (plus 4.7% Hawaii sales tax)
---
---
Details
Transportation: Currently not offered at this time except for the Best of Kualoa Expeience Package.
Restrictions: Minimum age for these tours is 3. Pregnant women may not participate in the Jurassic Adventure Tour due to the bumpy 4wd ride. They may do the Hollywood Movie Site tour as a single event, and if they sign up for the Best of Kualoa Experience Package, they may do the Movie Site and Aloha Aina tours but need to sit out the Jungle Expedition.
What to Bring and Wear: Comfortable clothing and walking shoes.
Reservations: Advanced reservations required ... A credit card is required to secure your space but for those who are planning ahead our office does not charge your card until a few days before your vacation. This event is "Reserve Now Pay Later."
Minimum Notice for Cancellations / Changes: At least 48 hours before the start of the event.
---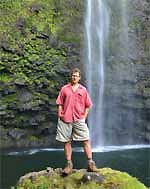 Kevin's Activity Tips:
Kualoa Ranch has some of the most spectacular landscapes in Hawaii … that's the reason so many of the Hollywood films and TV shows have shot scenes here. If you do a movie site tour at Kualoa Ranch now, years from now you will recognize scenes in future movies that at this moment are nothing more than dreams in the minds of their producers! This area has been and will continue to be a "Mecca" for the entertainment industry for years to come.
The best deal here is the Best of Kualoa Package … which allows you to "make a day out of it" when you go to Kualoa Ranch. Since lunch is included and you get to do three completely different Kualoa experiences, you get to see the most (obviously) on this all-day experience. If you are just wanting to see the basic sights at Kualoa Ranch on a day when you are driving around the north shore and have other things to see and do, then maybe the 90 Minute Hollywood tour or the 2.5 hour Jurassic Adventure would work for you.
For those utilizing the ranch's transportation from Waikiki, pickup is between 7am and 7:30am depending on your hotel. Those driving themselves to the ranch for one of the packages should arrive no later than 8:30am. If you are doing the Hollywood Movie Site Tour as a single event, or doing the Jurassic Adventure Tour, your checkin is 45 minutes prior to your stated tour time and will specifically be listed in your email confirmation.