Blue Hawaiian Helicopters - Oahu
---
Blue Hawaiian Helicopters - Oahu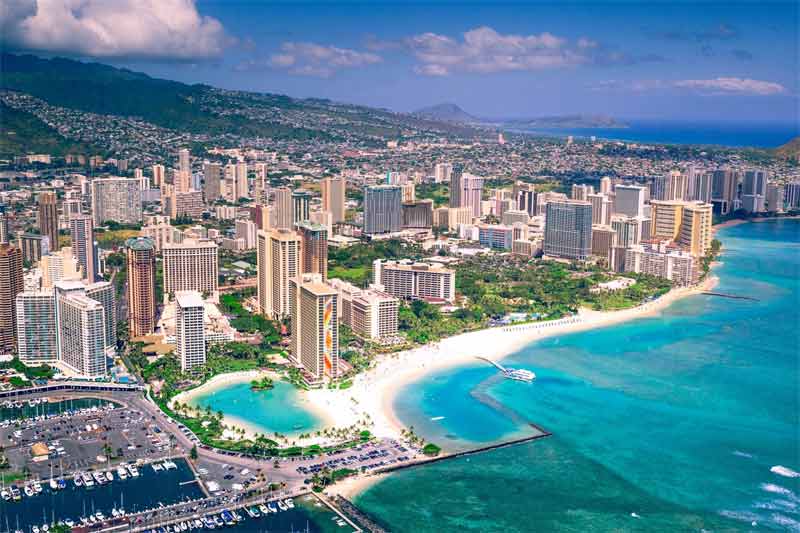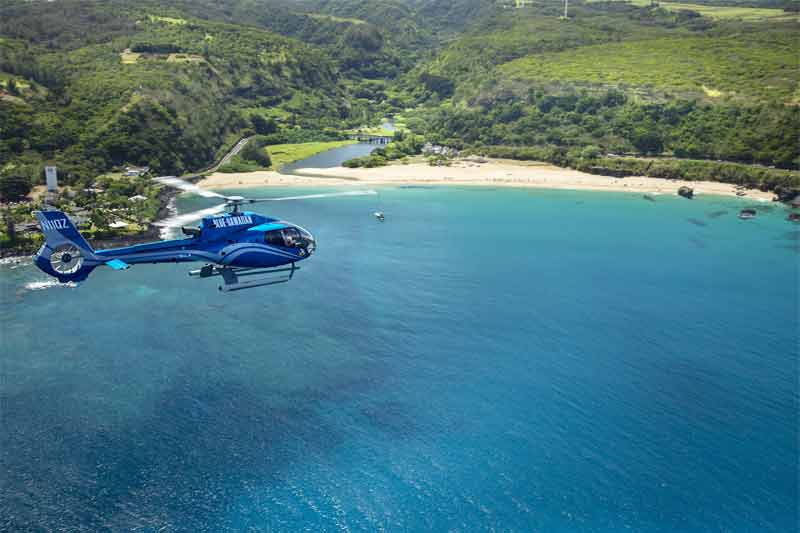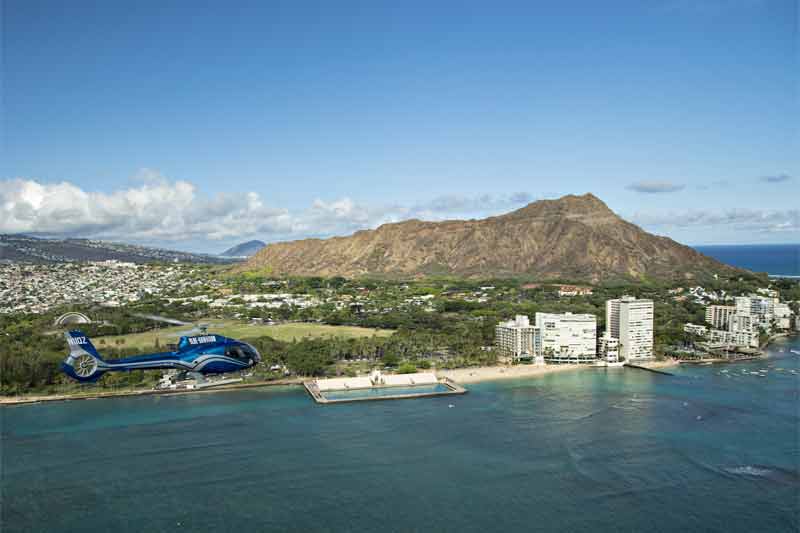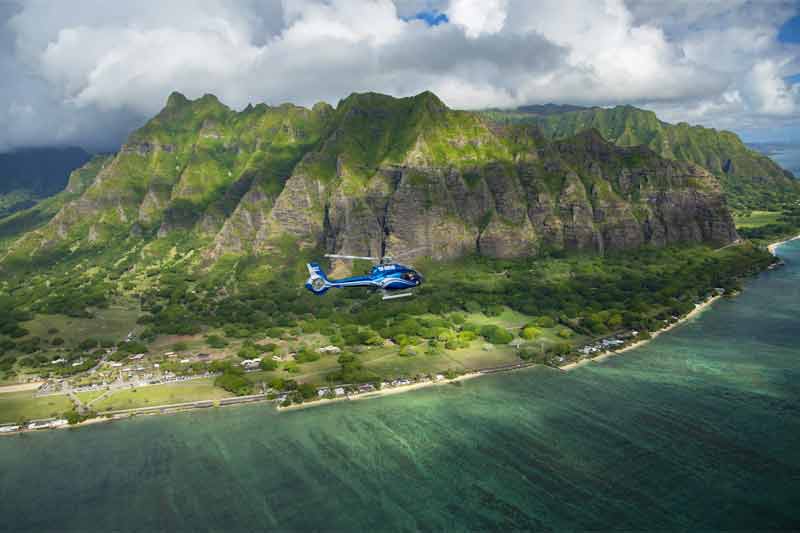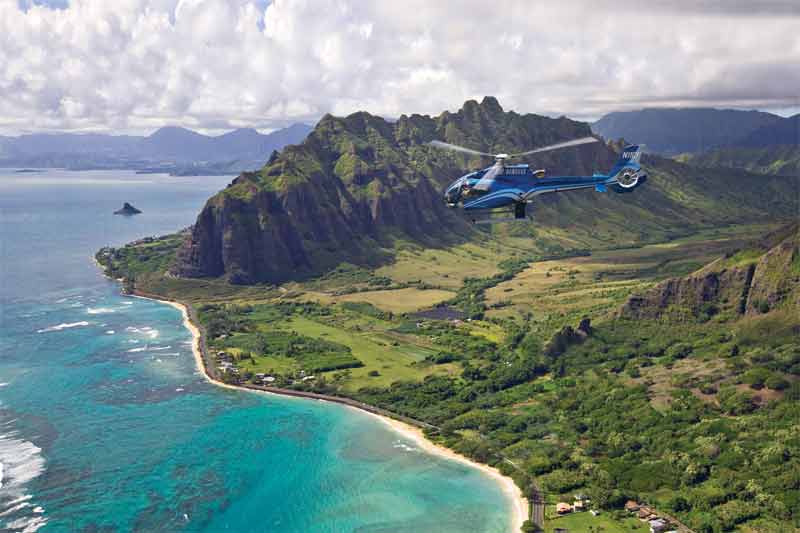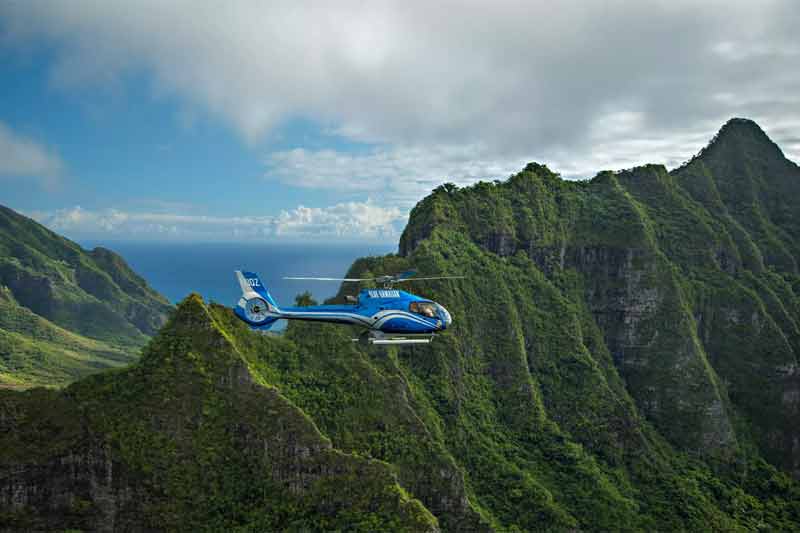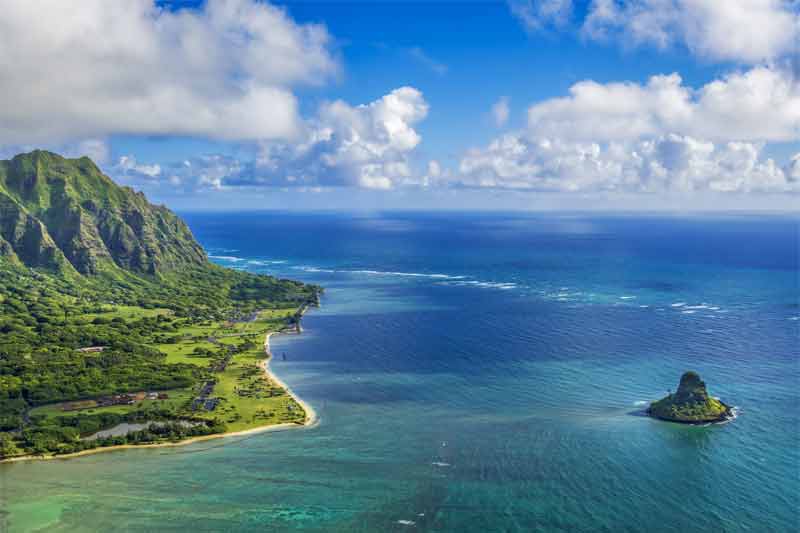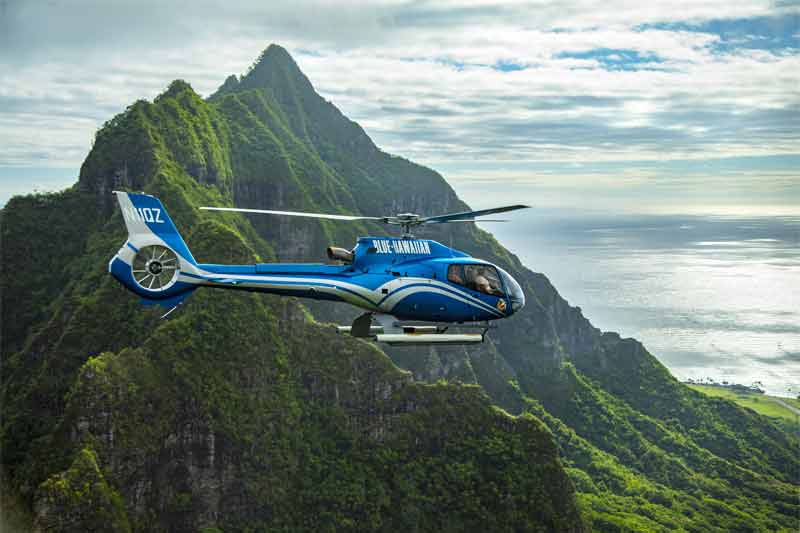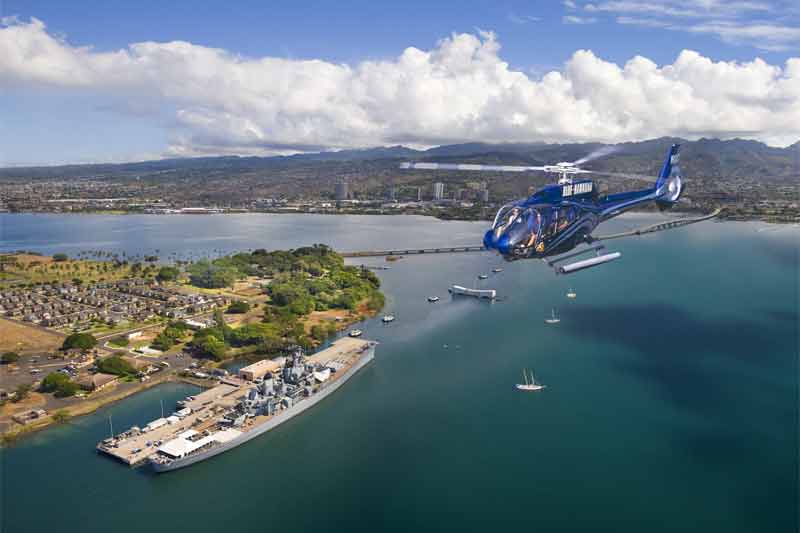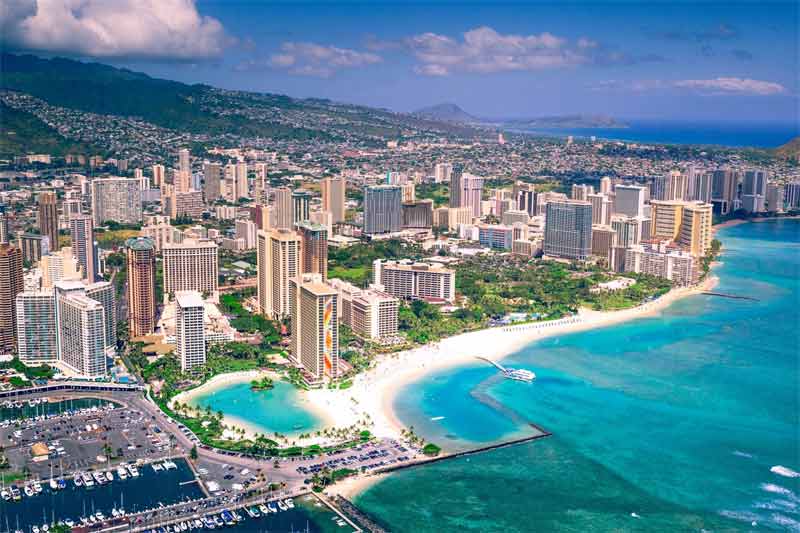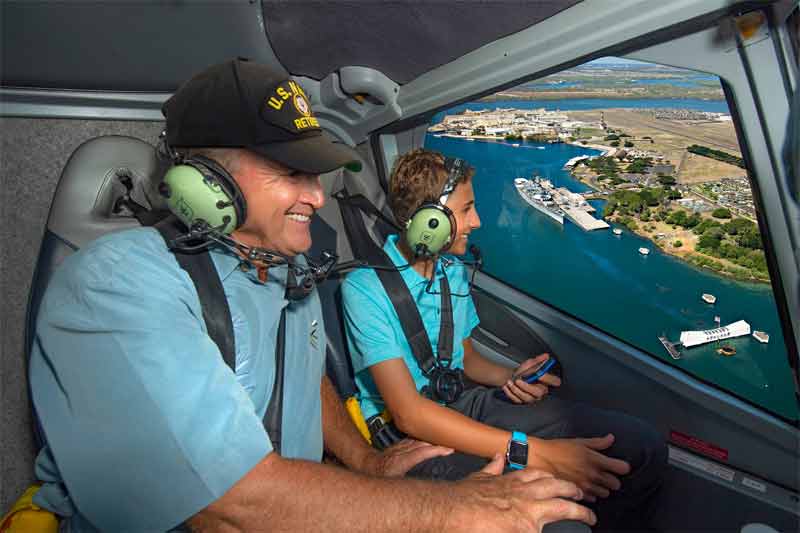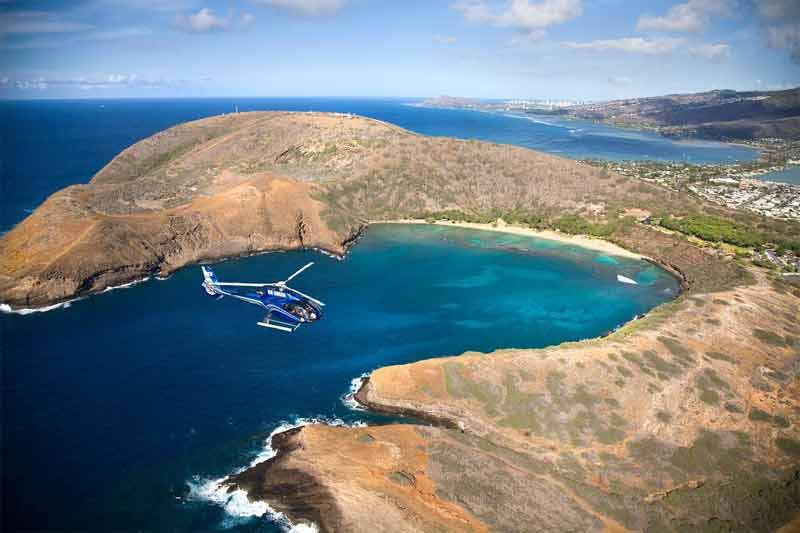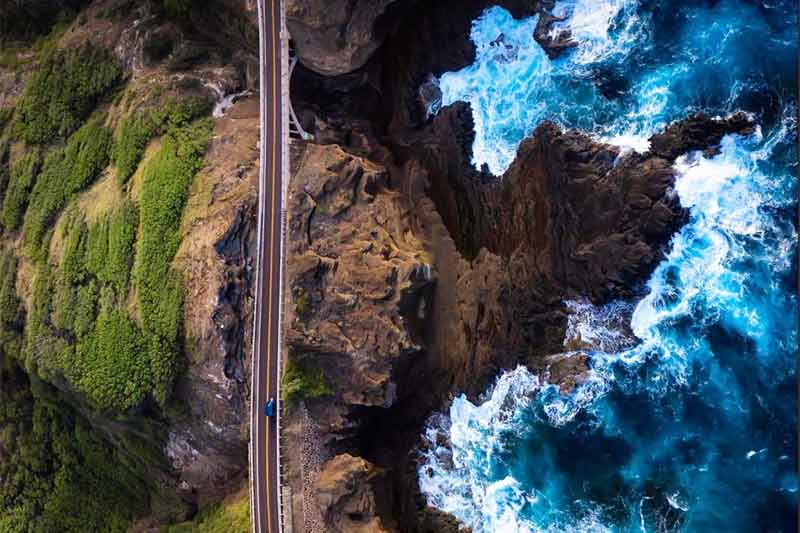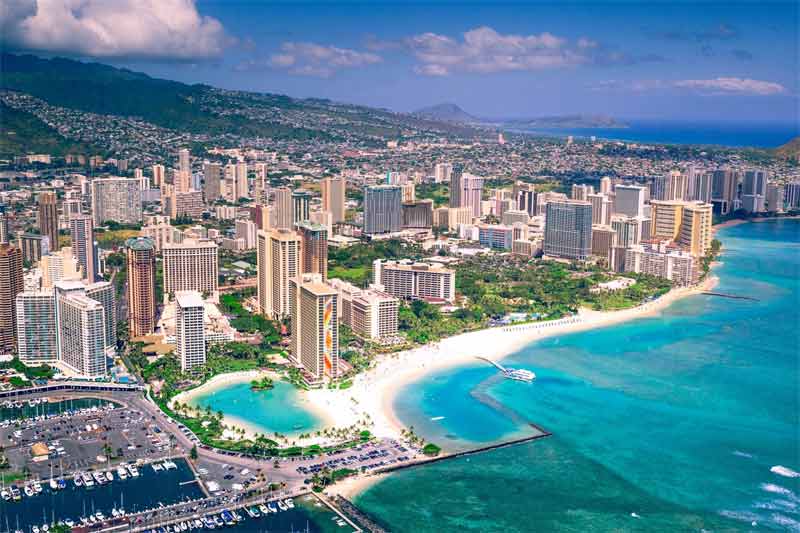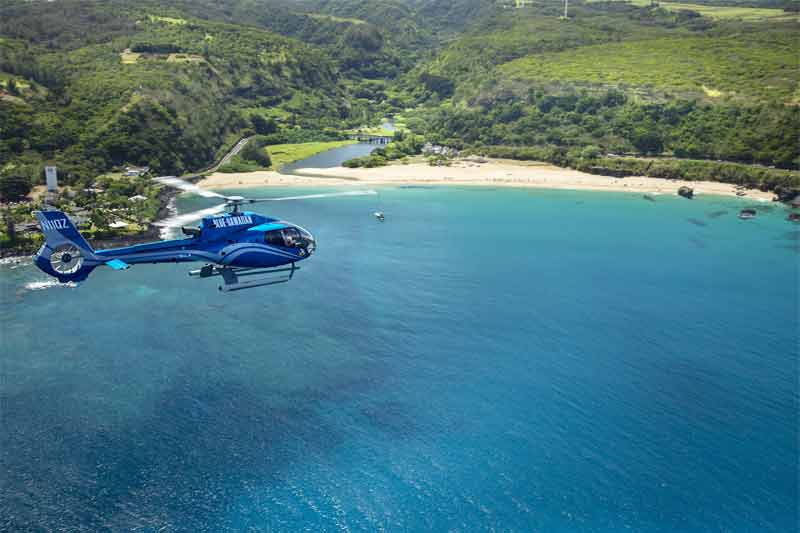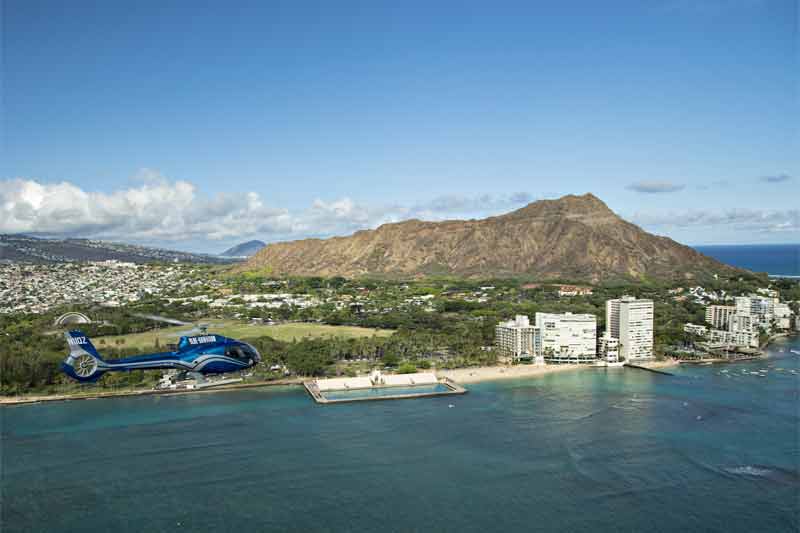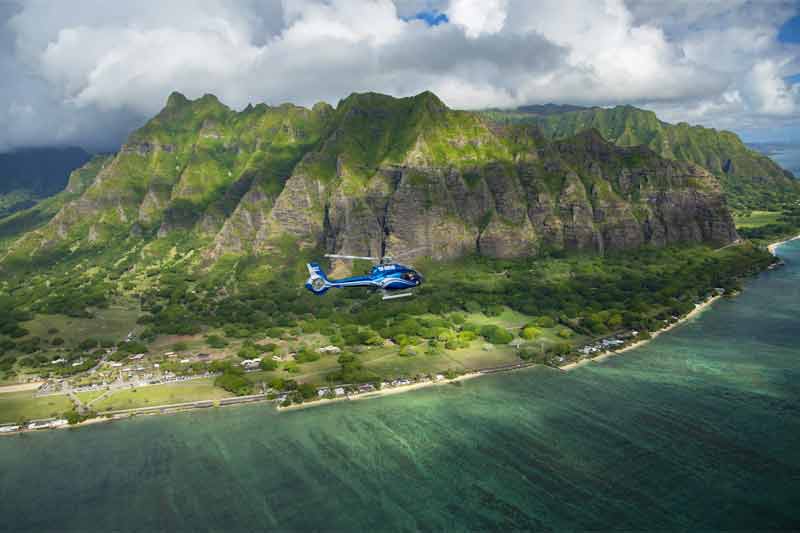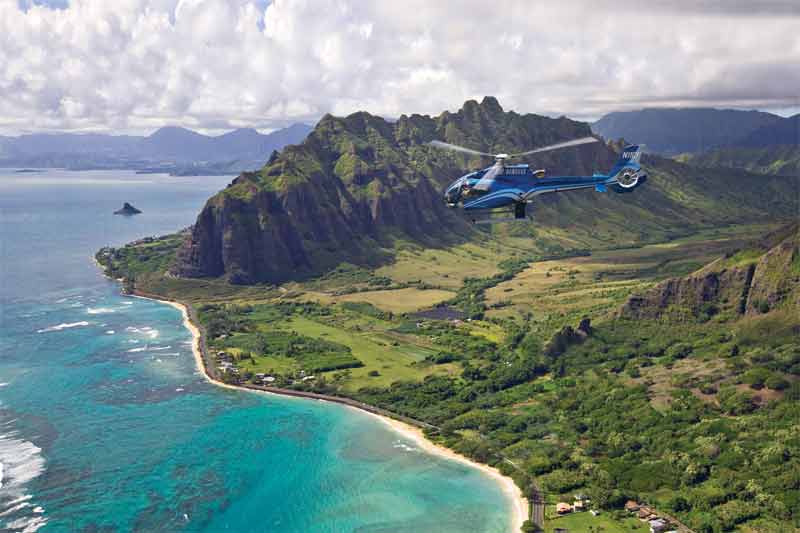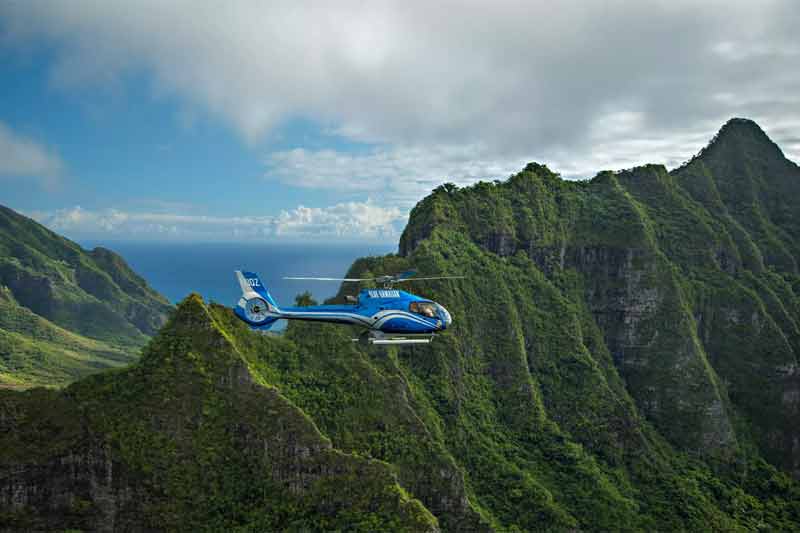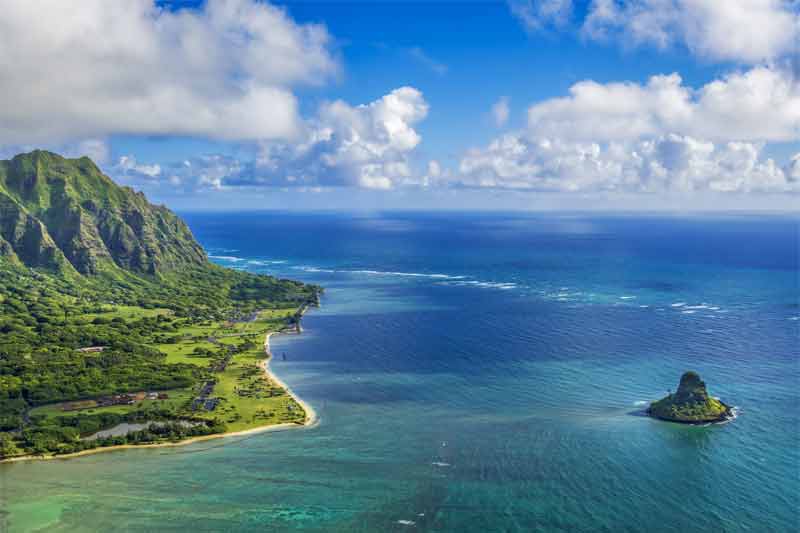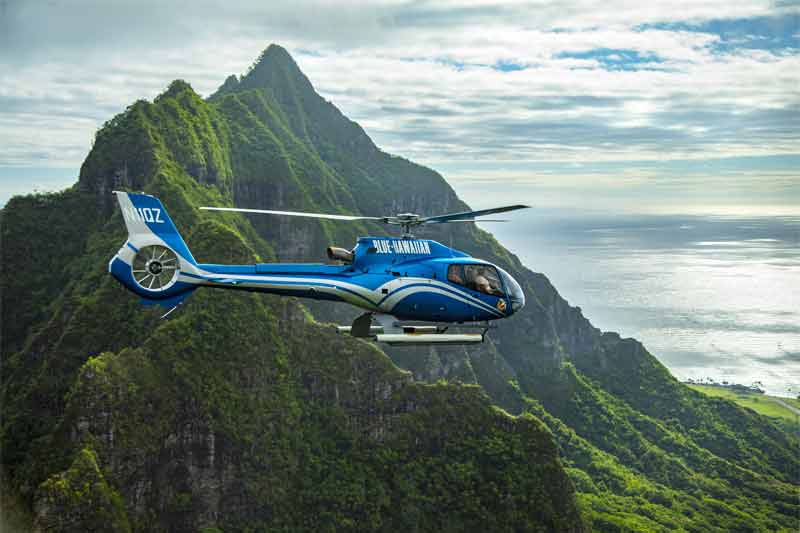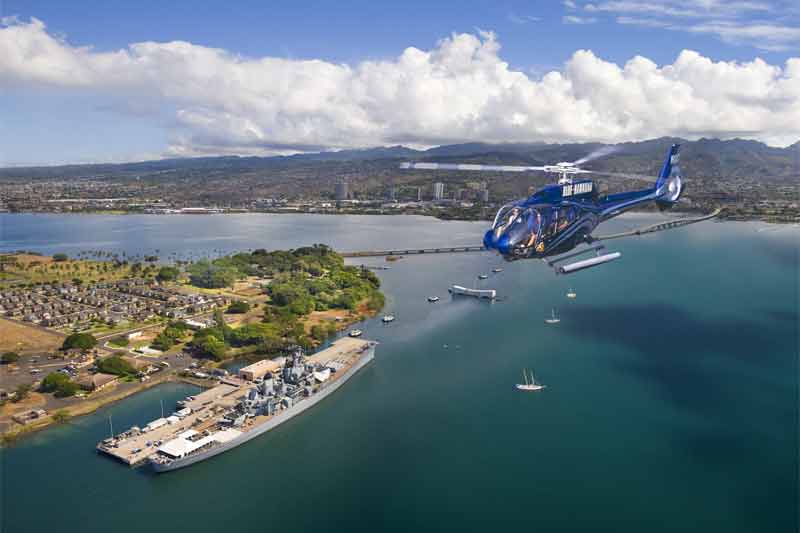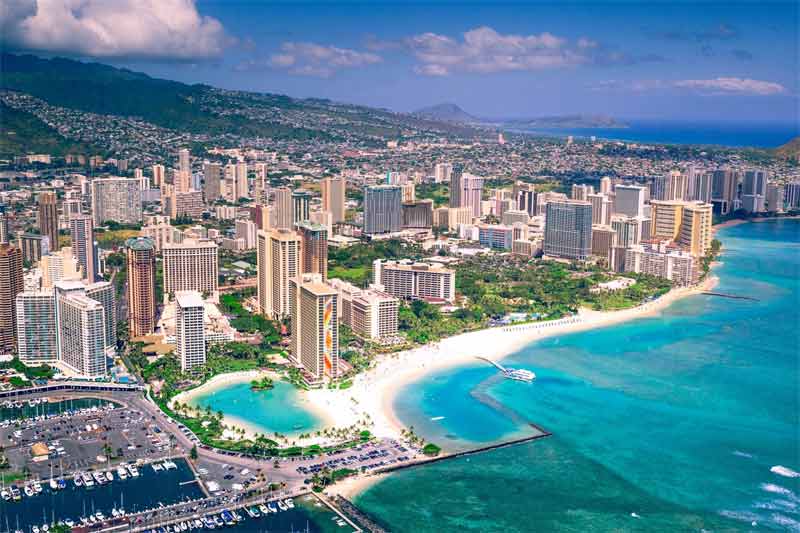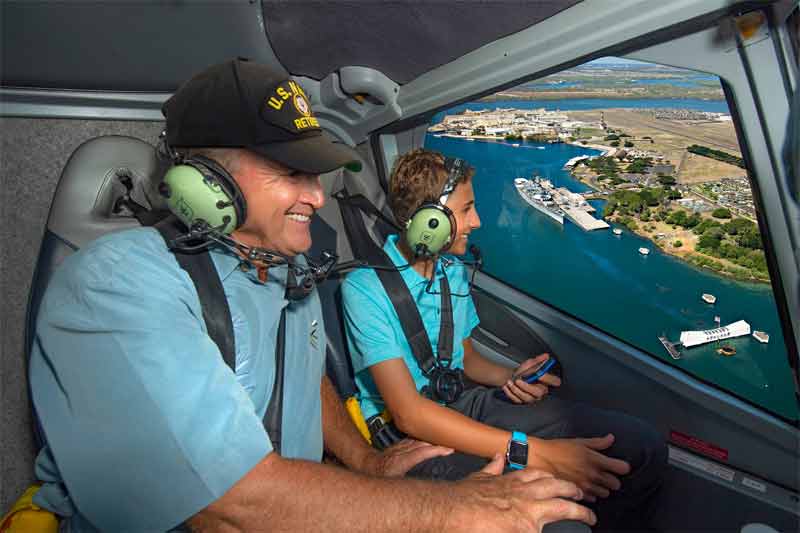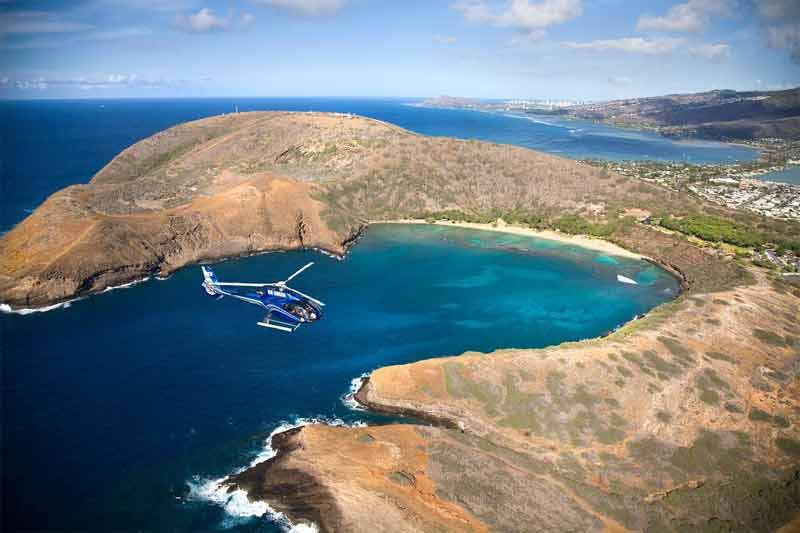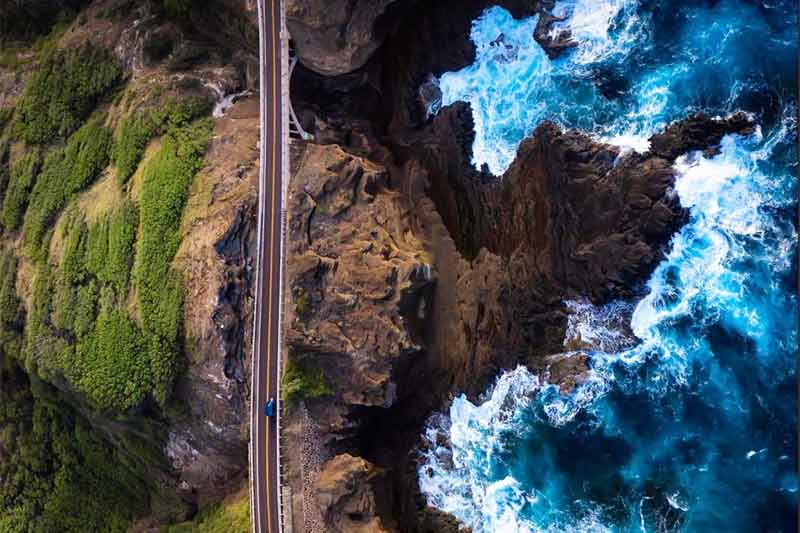 ---
Highlights
State-of-the-art Eco-star Helicopters
Newest, most technologically advanced touring helicopter
Departure from Honolulu Airport
Six passengers plus the pilot
---
Description
Blue Hawaiian Helicopters flies tours over the island of Oahu in their fleet of Eurocopter / Airbus EC-130 Eco-stars, considered to be the "state-of-the-art" in touring helicopters worldwide. This is a wide-bodied 6 passenger aircraft that incorporates the latest in cutting-edge technologies, materials, systems, safety features, and avionics, and offers incomparable passenger comfort and sweeping views. They are based in the General Aviation area of Honolulu Airport, and offer two different flight lengths.
---
Packages
60 Minute COMPLETE ISLAND OF OAHU
On this one hour tour you'll experience all the spectacular sights that make Oahu so unique. You'll take off from Honolulu airport and fly above the the powerful historic sights of Pearl Harbor and the Arizona Memorial. Then, just beyond the modern metropolis of Honolulu's downtown, awaits the most breathtaking natural scenery. Soar above Diamond Head, the beautiful iconic cone-like crater overlooking the coast and the pristine coral reefs of Kaneohe Bay. Next, you'll explore the gorgeous lush jungle of Nuuanu Rainforest; Sacred Falls, Oahu's tallest waterfall; and the surfing mecca of the North Shore. But that's not all! On this tour you'll also view the panoramic sights of the sprawling Dole Plantation and the Waianae mountain range. Explore the island's most spectacular sights on this Oahu aerial tour, for memories that will last a lifetime.
60 Min. Complete Island Oahu Rate (BHH3)
$455.00 per Passenger (Hawaii sales tax included)
---
45 Minute BLUE SKIES OF OAHU
Oahu is full of so much surprising beauty, the only way to experience it all is from the air! In this one amazing tour, you'll see the phenomenal scenery of this Island's hidden rainforests, lush valleys, and stunning historic sights. You'll glide over the vivid turquoise coral reefs of Waikiki, look down into the extinct volcano of Diamond Head, view crescent-shaped Hanauma Bay, white-sand Waimanalo beach, Chinaman's Hat and the beautiful coral formations in Kaneohe Bay. You'll soar over the cliffs of the Nuuanu Valley rainforest, then fly along the breathtaking coastline to legendary Sacred Falls and the panoramic Dole Pineapple Plantation. On your Blue Skies of Oahu adventure you'll also have the powerful emotional experience of witnessing Pearl Harbor, the Arizona Memorial and the Battleship Missouri.
45 Min. Blue Skies of Oahu Rate (BHH2)
$379.00 per Passenger (Hawaii sales tax included)
---
---
Details
Schedule: Monday through Friday
Transportation: Not offered at this time. All guests meet at the Blue Hawaiian location in the General Aviation area of Honolulu Airport which is accessed from Lagoon Drive (not from the main terminal area).
What to Wear: Dress comfortably, because their aircraft is temperature controlled. Wear dark clothing to minimize reflection in photos. Smartphones are allowed and must be in airplane mode. Selfie sticks, extendable wands, iPads, tablet computers are not permitted. No hats, scarves, bandanas, purses, bags or camera bags.
Restrictions: Passengers weighing over 240lbs will be required to purchase a comfort seat at 50% of the retail value. For your safety, please do not scuba dive within 24 hours of departure.
Reservations: A credit card is required in order to finalize your reservation with Blue Hawaiian and they will charge for your seats at the time your space is confirmed by their office.
Minimum Notice for Cancellations / Changes: At least 48 hours before the start of the event.
---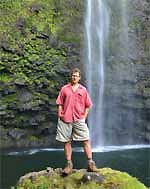 Kevin's Activity Tips:
It never ceases to amaze us that people spend thousands of dollars to come to Hawaii, but think it is too expensive to spend another $300 or so to REALLY see the islands from a helicopter. There is so much beauty that you cannot see any other way. Do yourself a favor and SPLURGE! You will thank us.
Best time of day to fly? Mid-morning provides the best lighting and least cloud cover. These times are the most popular and sell out in advance; you have an advantage over most people if you are reading these words before you come to Hawaii. Get your reservation made now so that you can get the best flight time available.
A word about body weights ... almost all helicopter companies in Hawaii charge extra for passengers who weigh over 250 pounds. In the case of Blue Hawaiian's wide bodied Eco-star helicopters that line is slightly higher at 260 pounds. Guests who weigh over 260 pounds will be charged a capacity surcharge of 50% of the cost of a second seat. When you make a reservation you need to include your body weight and PLEASE be VERY ACCURATE when you state your body weight ... this information is required by the FAA for the safe balance of the aircraft. Understating one's body weight can cause real problems at flight time, and in extreme cases can cause someone to be bumped from the flight without a refund.
The exact seating in the aircraft is determined at the flight time based upon safely balancing the aircraft. For those who REALLY want to sit up front and don't mind paying extra to guarantee it, FIRST CLASS seating is now offered by Blue Hawaiian for $100 per seat (and you have to buy BOTH seats). Because of the weight and balance issues with the aircraft, not everyone can be accommodated in first class seating. When making a reservation using the form on the right side of this page, include a note in the form field where the passenger weights are listed that says "first class seating please." If you are a party of more than two and request first class seating for everyone, you will be split up between multiple flights. In our opinion the upgraded seating isn't worth it. It's a lot more fun to fly together!
This is the best choice for those who are somewhat nervous about taking a helicopter flight. The combination of the newest aircraft with the latest in technology, collision avoidance, and other safety features and operated by a company with Blue Hawaiian's reputation should give you a boost of confidence.