OAHU HELICOPTER TOURS
Oahu is a stunningly beautiful island, and there is no better way to see the island than from the air! We offer a variety of helicopter tours that will take your vacation to the next level (literally!). Each of these companies flies a different model helicopter ... with varying capacities and features. The one thing that they all have in common though ... bird's eye views of paradise!
---
---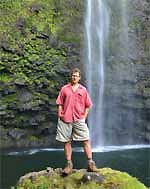 Kevin's Activity Tips:
Helicopters are like a "magic carpet ride" that almost instantly transports you to an elevated perspective of the paradise around you. The island looks different from the air ... you can see how the mountains and the ocean and reef all tie together. Do yourself a favor and take one of these tours.
Each company here delivers a little something different. Magnum Helicopters gives that "high adventure" experience of flying with no doors in the helicopter that was featured in the TV show "Magnum PI." The doors-off approach gives you a more wind-blown experience; three out of the four passengers are seated along the open door, and the fourth passenger sits between the pilot and the other front seat passenger in what is probably the very BEST seat in the Hughes 500 ... with the front-center view straight out the windshield.
Blue Hawaiian Helicopters offers a very different touring experience. Their helicopter model is a Eurocopter Eco-star, the state-of-the-art helicopter with climate control. This wider-bodied helicopter seats six ... two up front with the pilot and four in the second row. It is a very high-end helicopter experience.
Situated in between is Rainbow Helicopters. They fly a model known as a Robinson R-44, which is an executive-styled helicopter (that means the one that some rich people own ... haha). This helicopter seats four.