Ocean Riders - Lanai Rafting
The Ocean Riders - Lanai Rafting is currently unavailable for the foreseeable future due to the damage Lahaina sustained during the 8/8/2023 fire. For the latest on West Maui's recovery and the availability of tours, see our
Lahaina Fire Recovery
page.
---
Ocean Riders - Lanai Rafting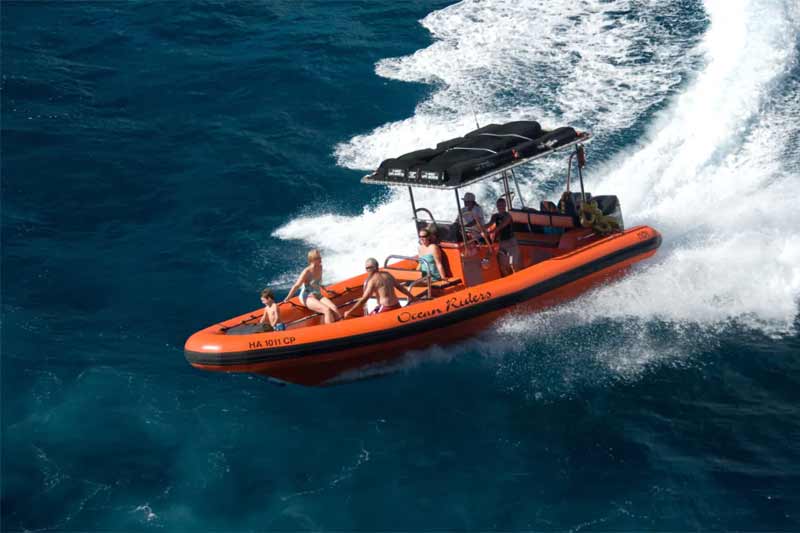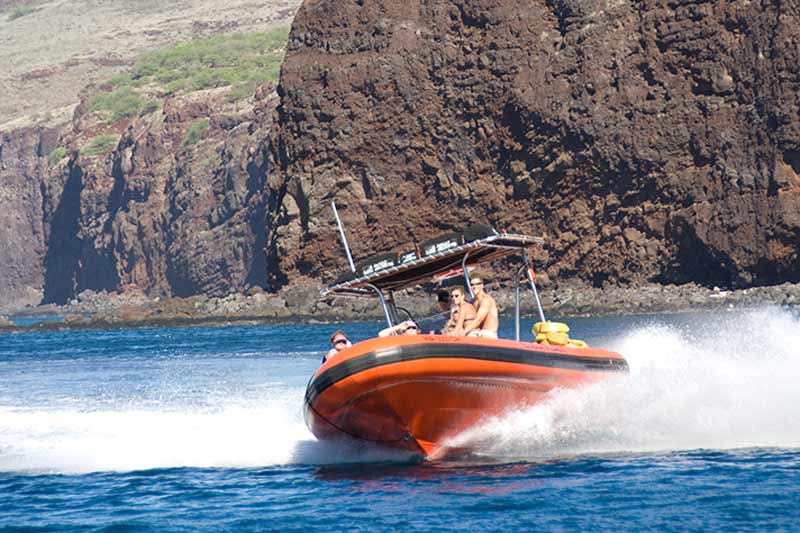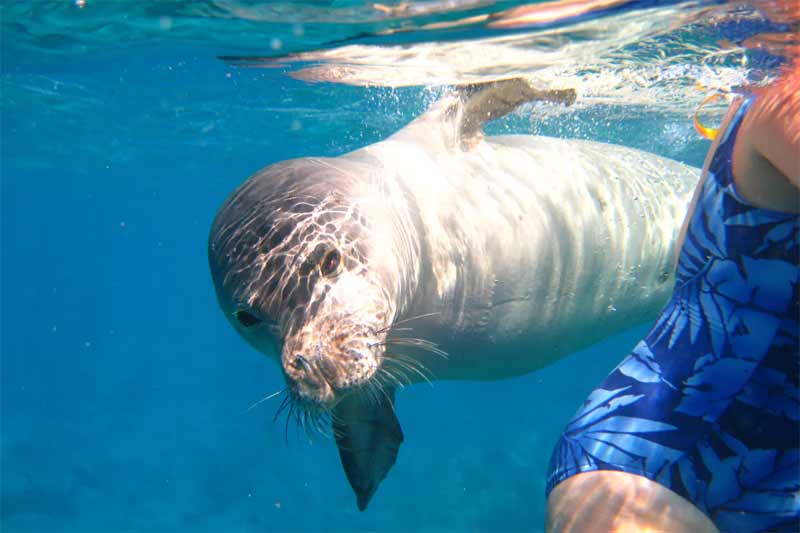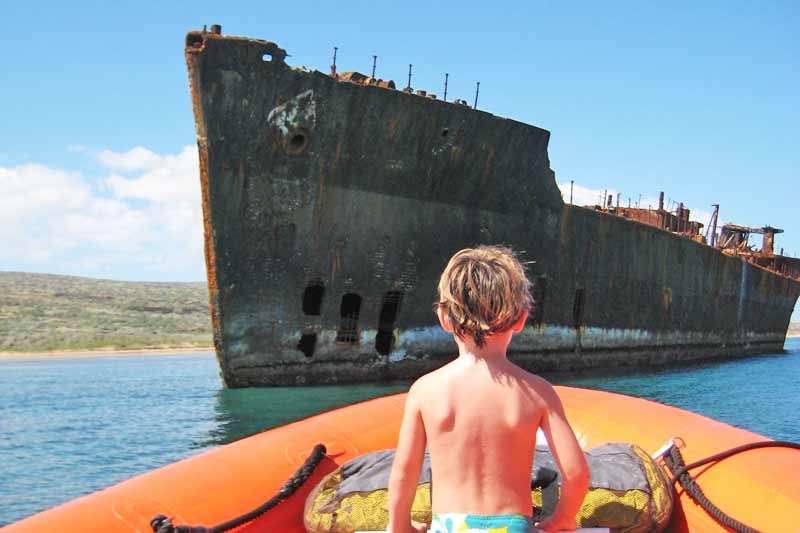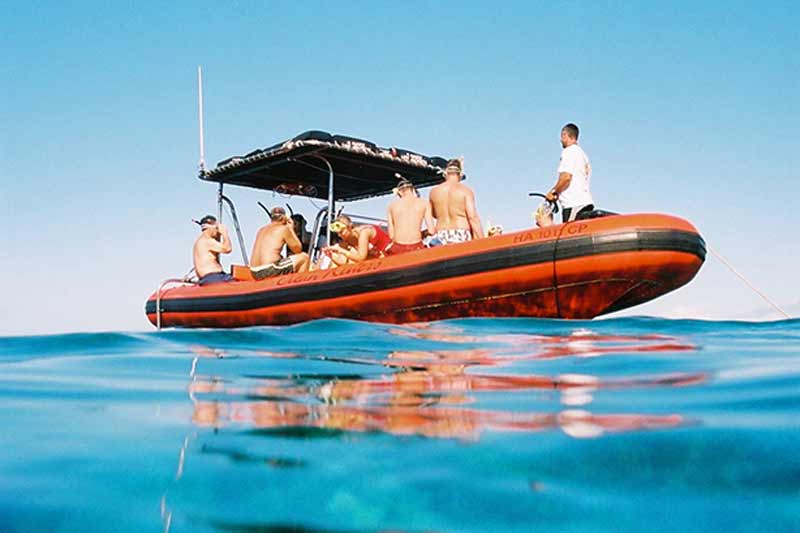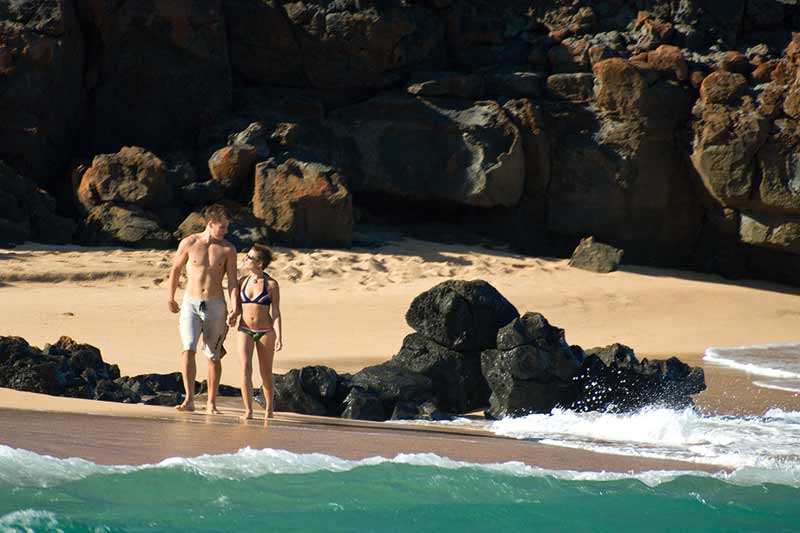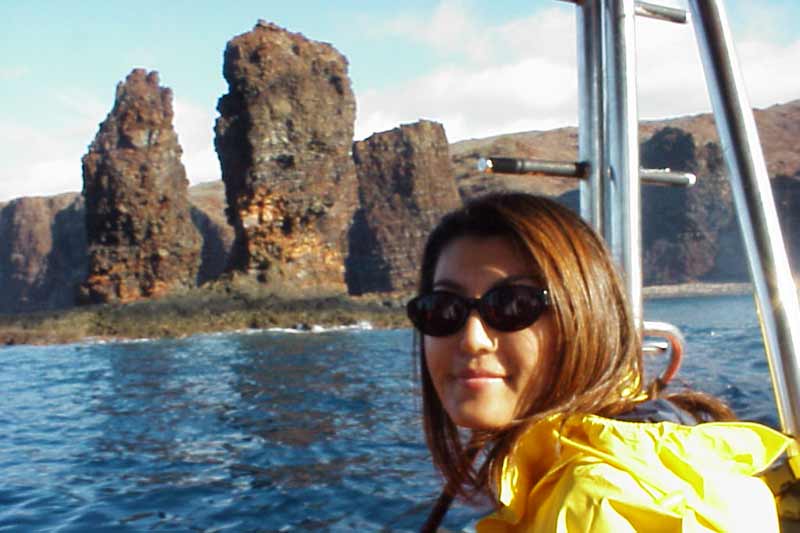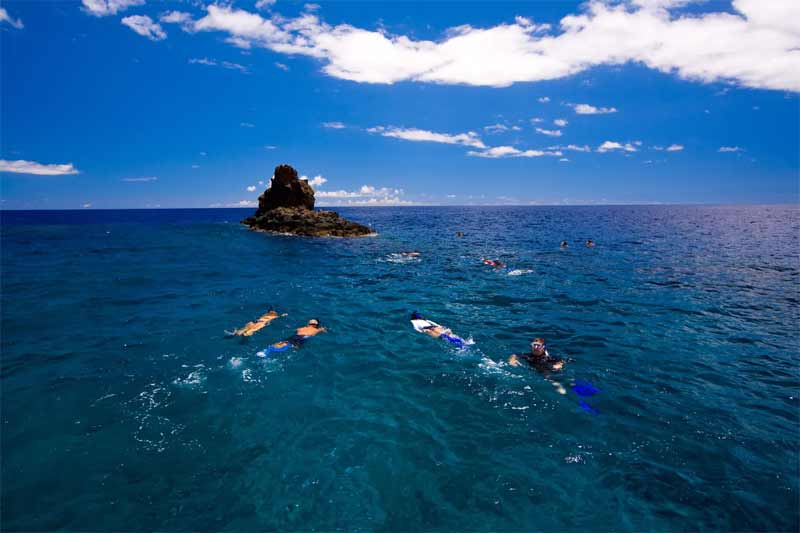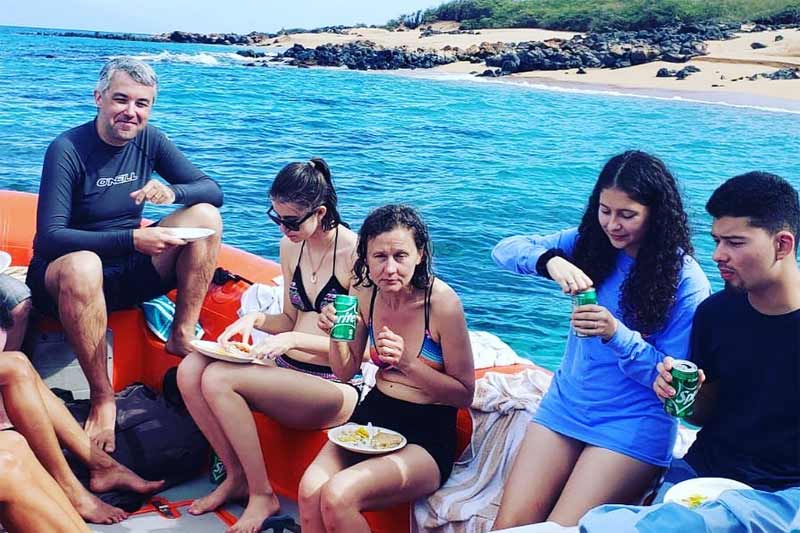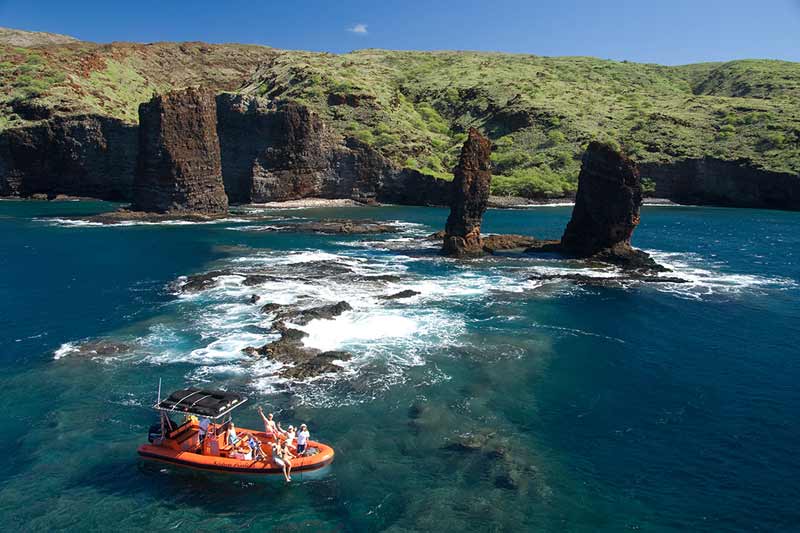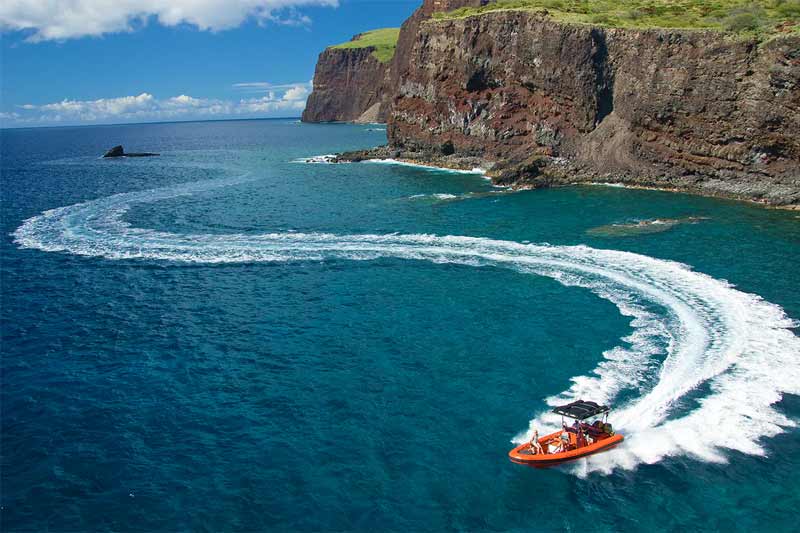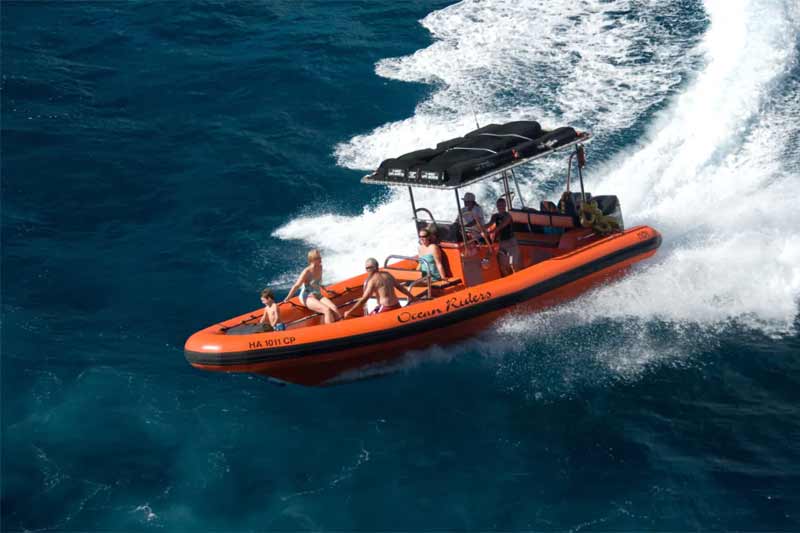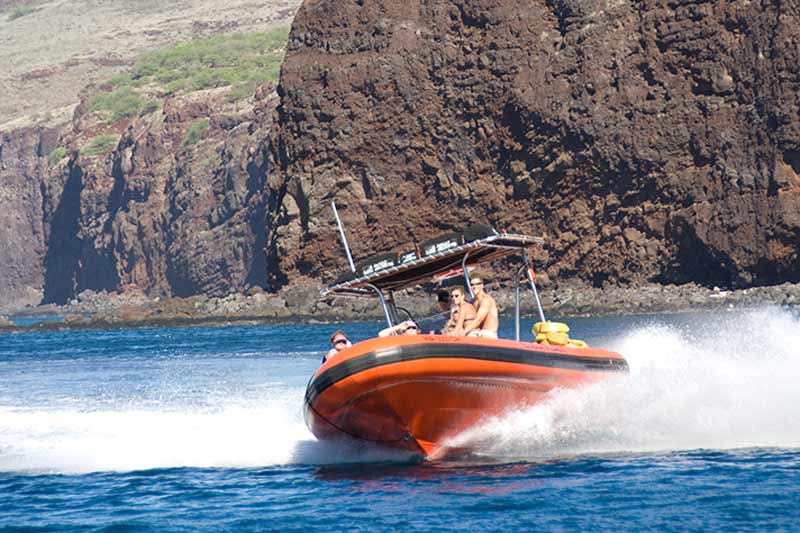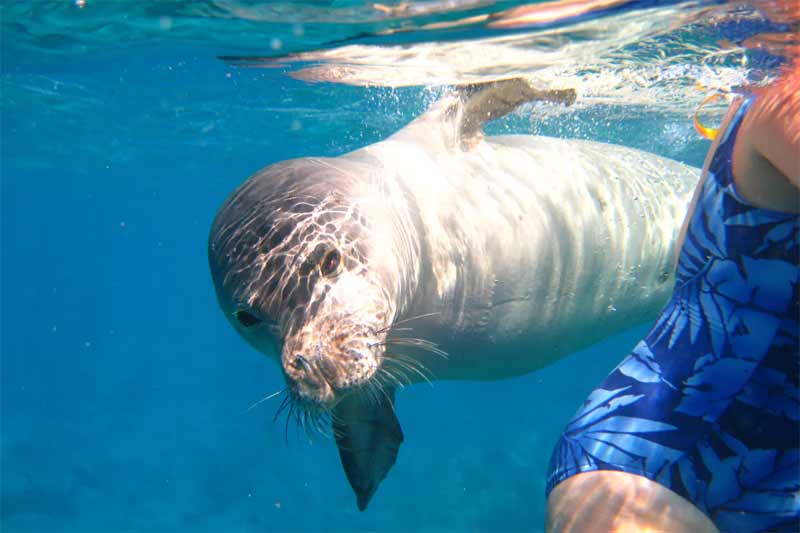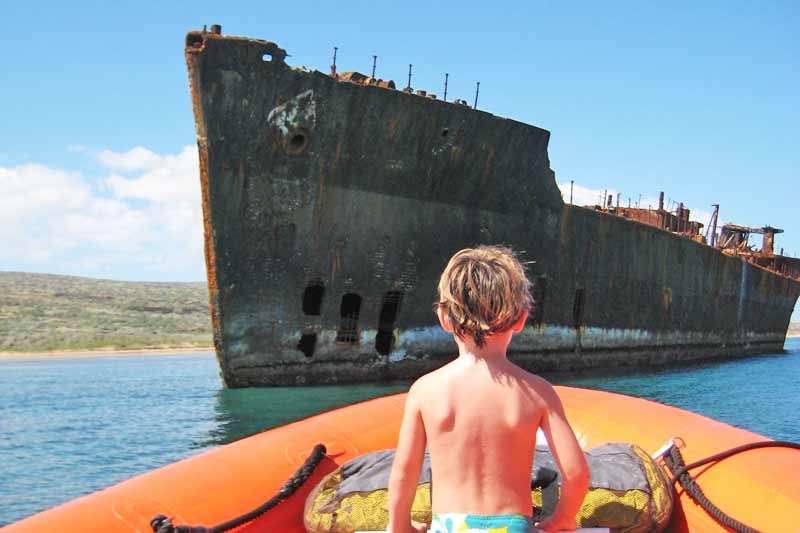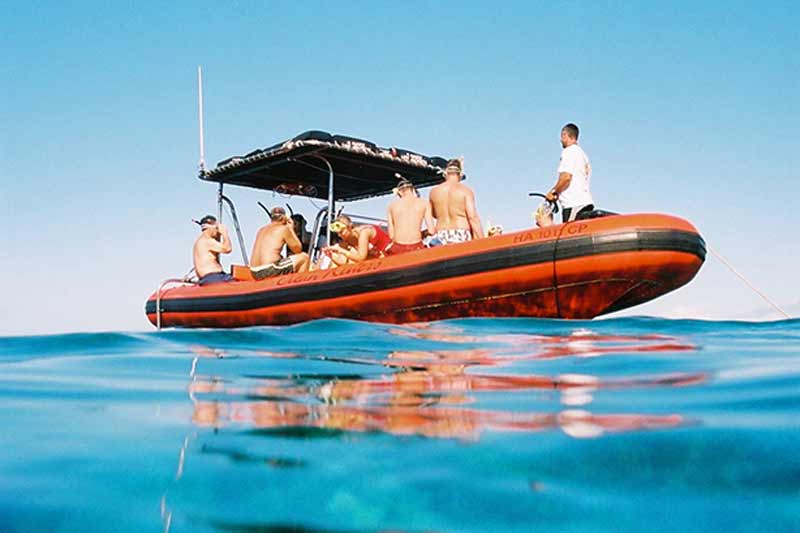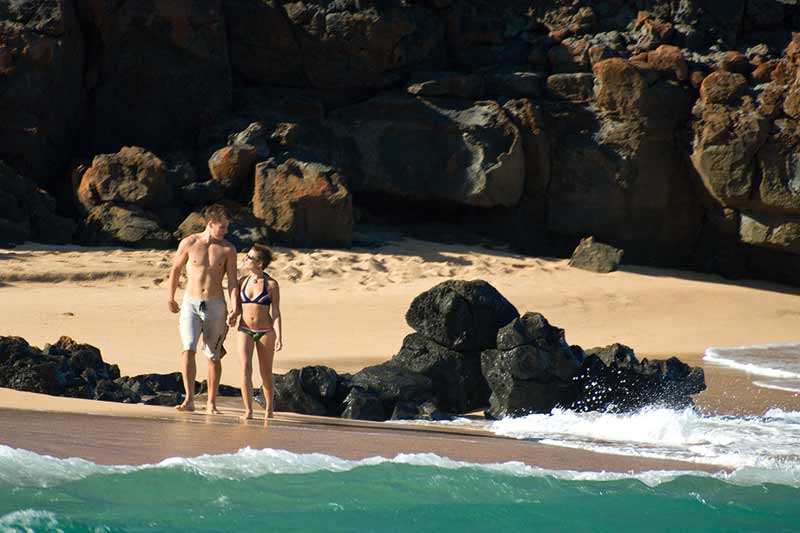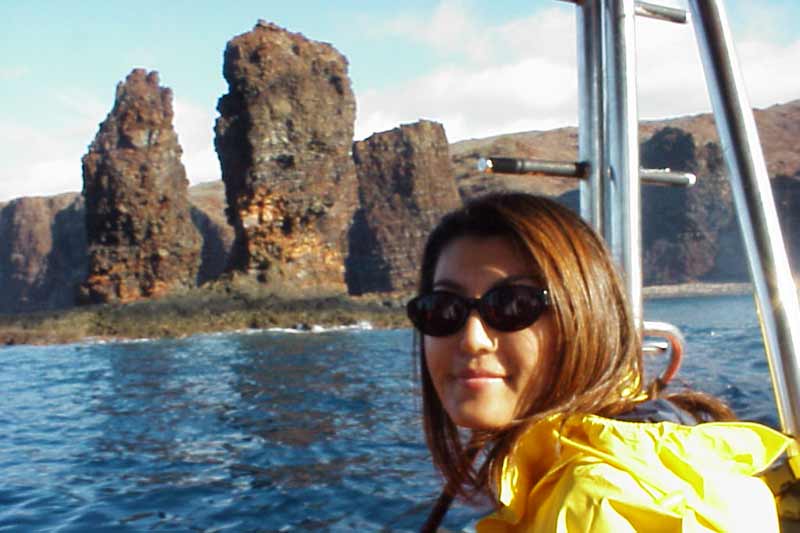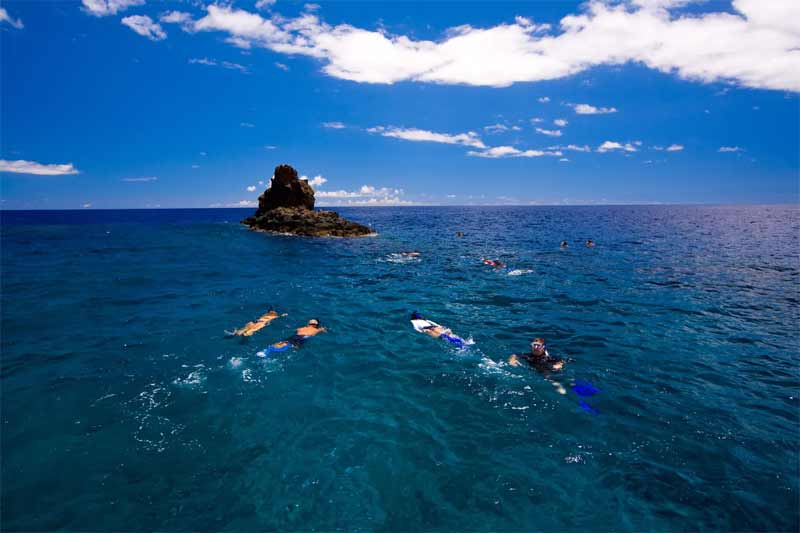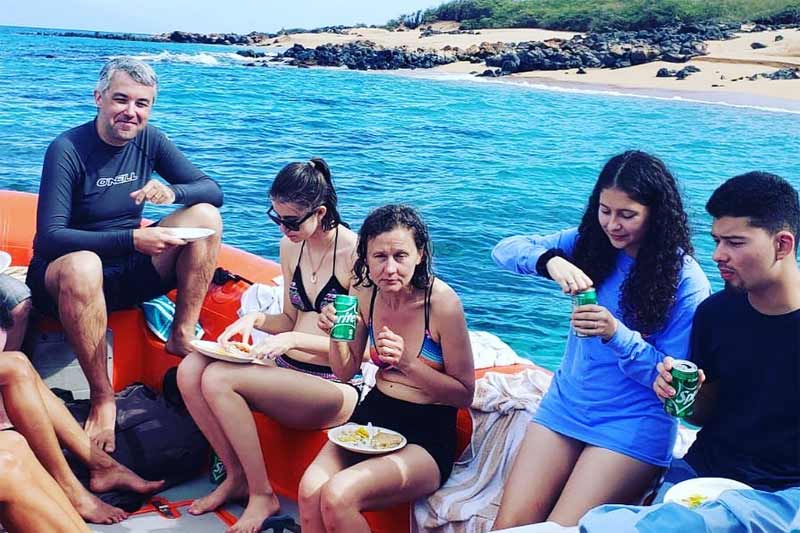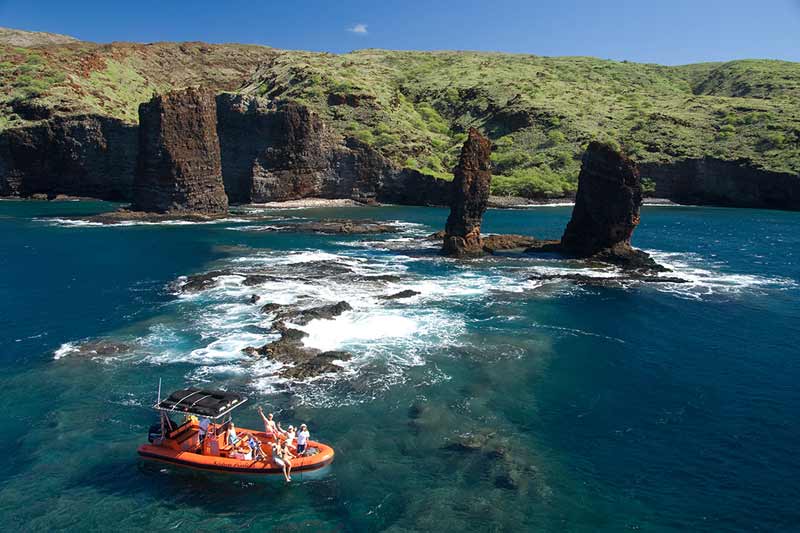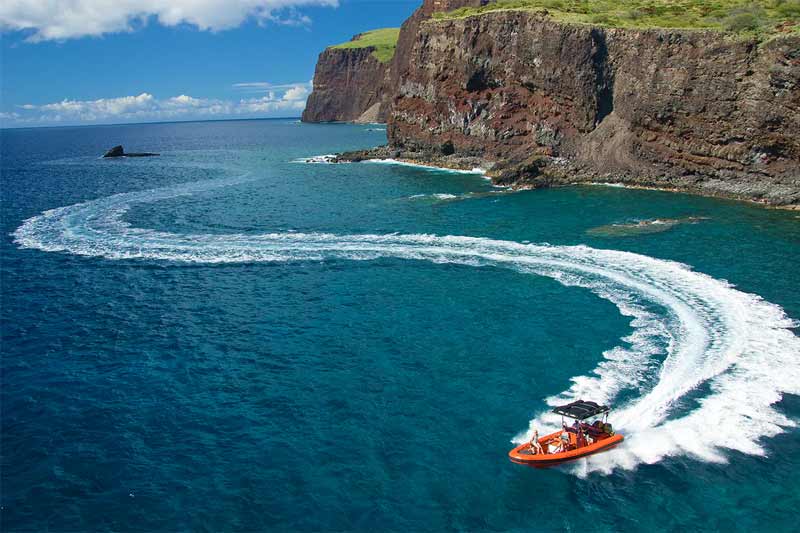 ---
Highlights
Adventurous zodiac raft departing from Mala Wharf in Lahaina
Completely circle the entire island of Lanai!
See shipwrecks, remote beaches, sea caves, lava pinnacles
Two or three excellent snorkel sites
---
Description
Ocean Riders zooms in and out of every nook and cranny of the Lanai coastline, sometimes at breathtaking speeds! Lanai has some unbelievable scenery and wild rock formations on the back side … places that very few people who live in Hawaii have ever seen … but with Ocean Riders you get to see it all! For thrill seekers, this is the trip for you! It also offers you the ultimate get-away adventure. They are going to snorkel at places where other snorkel boats just don't go. On a normal day they will snorkel at three different spots … sometimes four. And if there are dolphins anywhere along the route … Ocean Riders will find them!
Ocean Riders features a deep-V rigid hull inflatable raft that is 30 feet in length and capacity is limited to 18 guests per tour. The boat is powered by twin 250hp engines … this boat is truly the Ferrari of snorkel tours on Maui!
Ocean Riders Full-day tour is the ultimate Lanai adventure, completely circling the island in a zodiac raft. They are the only tour operator that consistently circumnavigates the entire island of Lanai year-round. On a normal tour you will see shipwrecks strewn along the north shore of Lanai. They anchor in shallow water and you have the opportunity to swim in and walk around on an isolated, remote beach where there is no hotel or road in sight! Your captain will pull inside a sea cave carved out of the cliffs by giant storm swells over the centuries. Witness the cliffs of the Kona Coast of Lanai … and see Shark Fin, one of our favorite snorkel spots in Hawaii and one of the few places where pyramid butterfly fish can be seen.
NOTE: By request Ocean Riders occasionally does a shorter 4 hour HALF-DAY trip along the south coast of Lanai. The HALF-DAY trip does not circle the entire island, but has time to snorkel at two locations. Live availability on the reservations form will show which tour is on the schedule for your date.
---
Cost
Ocean Riders Full-day Lanai Rate (OR1)
$182.00 per Adult, $182.00 per Child (5-12) (plus 4.167% Hawaii sales tax)
---
Ocean Riders Half-day Lanai Rate (OR2)
$134.00 per Adult, $134.00 per Child (5-12) (plus 4.167% Hawaii sales tax)
---
---
Details
Schedule: Monday through Friday at 7:00am
Check In: 6:30am checkin at Mala Wharf in Lahaina.
Duration: The full-day Lanai trip is 7-8 hours in length. Their half-day tour that they do occasionally is 4-5 hours in legth.
Vessel: 18 passenger 30' zodiac-type deep-V rigid hull inflatable raft currently limited to 14 guests.
Tour Includes: Snorkel gear, continental breakfast, lunch, juice, soda, and water
What to Wear: Wear swimsuits and bring a towel and sunscreen. We also recommend a light jacket.
Restrictions: Children under 5 are not permitted. Not recommended for persons with severe back or neck injuries or pregnant women. This activity is not accessible by wheelchair or walker. Rough ocean conditions are sometimes encountered. Sound like the sign posted at the entrance of a roller coaster??? Maybe a little ... but after all, this trip is the ADVENTURE of a lifetime. There are a few days per year that the winds don't permit going all the way around, but circling the island of Lanai (or going to the north shore of Molokai) is always their goal.
Reservations: Advanced reservations required and we recommend booking this a month or more before your arrival. This event is "RESERVE NOW PAY LATER"; we need a credit card on file to finalize your reservation but we do not charge you for this reservation until a few days before the beginning of your vacation!
Minimum Notice for Cancellations / Changes: At least 48 hours before the start of the event. All tours go out rain or shine. Inclement weather conditions are usually temporary and rain gear is provided. Cancellations due to weather are extremely uncommon and all parties are instructed to appear at the boat ramp no matter what the weather seems to them.
---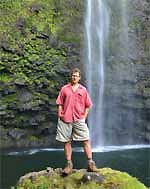 Kevin's Activity Tips:
Ocean Riders and their full-day circumnavigation of the island of Lanai is THE trip for the die-hard adventurer. Ocean Riders is an awesome tour ... if you are up to the challenge. When you leave the harbor at 7:00am be aware that it will be 7 or 8 hours before you will see another white porcelain seat with chrome handle on the side of it. When nature calls nature is the answer! When you've gotta go, you jump in the water. Aside from this, there is no more awesome ocean snorkeling and sightseeing adventure on Maui! This tour can be rough at times ... but in terms of the amount and variety of snorkeling, the overall distance the tour covers, and the value you get for your dollar ... this is the best itinerary in Hawaii for those of you die hards out there!
Particularly fascinating on this tour is the scene of the giant shipwreck encountered off the north shore of Lanai. The boat "sank" in the sense that is was hopelessly grounded on sand and reef and rock. The hull was made out of CONCRETE of all things ... might have something to do with the fact that the boat got stuck. haha It is really quite a sight ... like a scene out of a movie. I'm surprised it hasn't been used for one yet. Maybe I'll write a script based around this shipwreck. Any suggestions???
The scenery on the back side of Lanai is dramatic. There are lava rock pinnacles called the "Three Sisters" that are very photogenic, and there is a giant sea cave they pull into. The sheer number of snorkel sites the Captain has to chose from is astounding. It's a great tour, and a great ocean experience! Highly recommended!!!