Maui Parasailing
Available May 16th to December 14th
---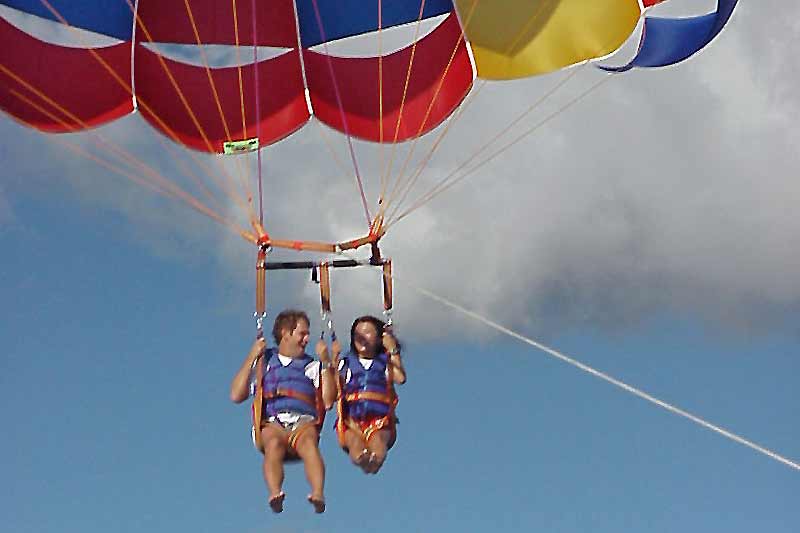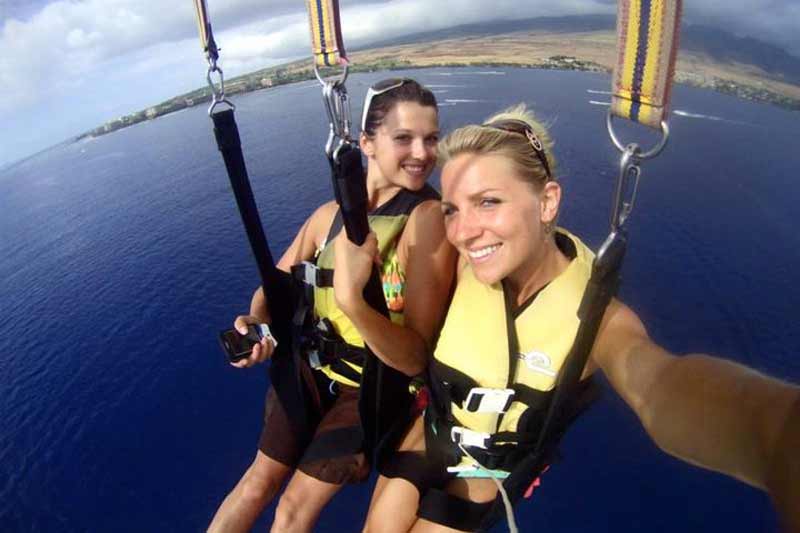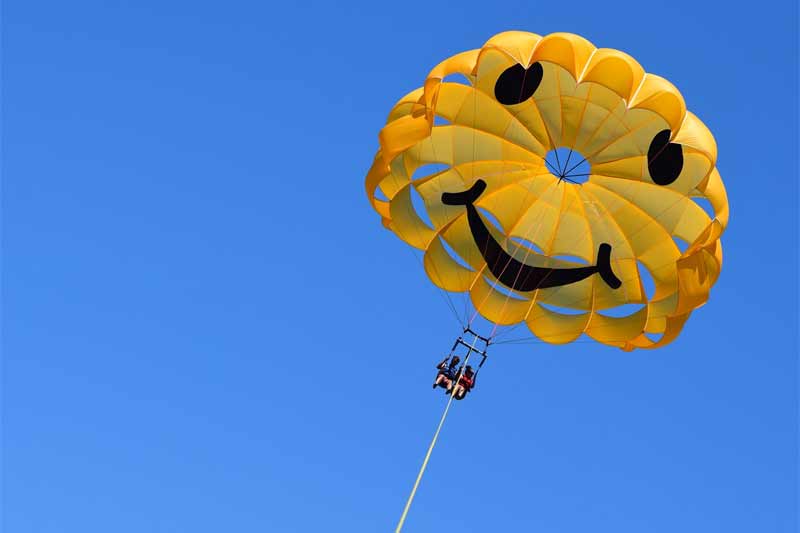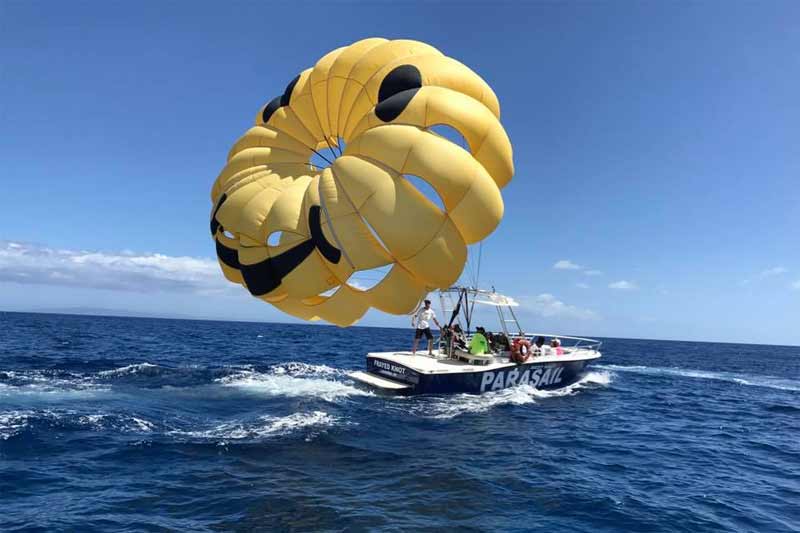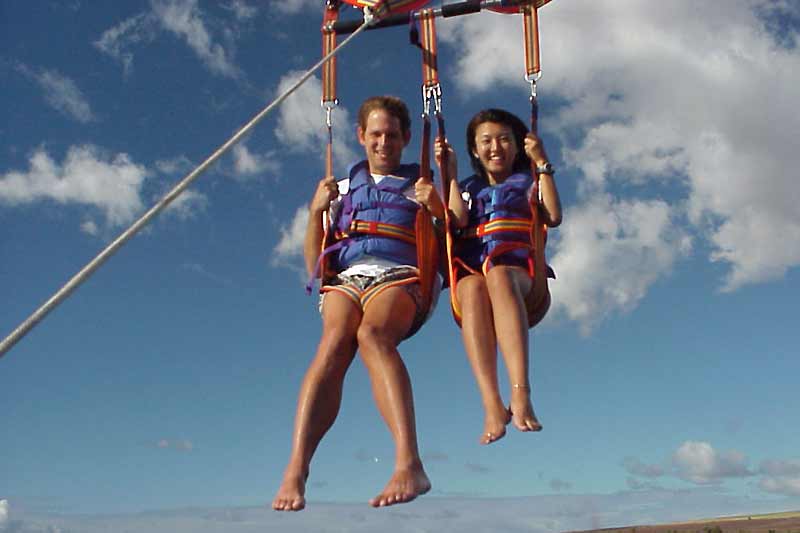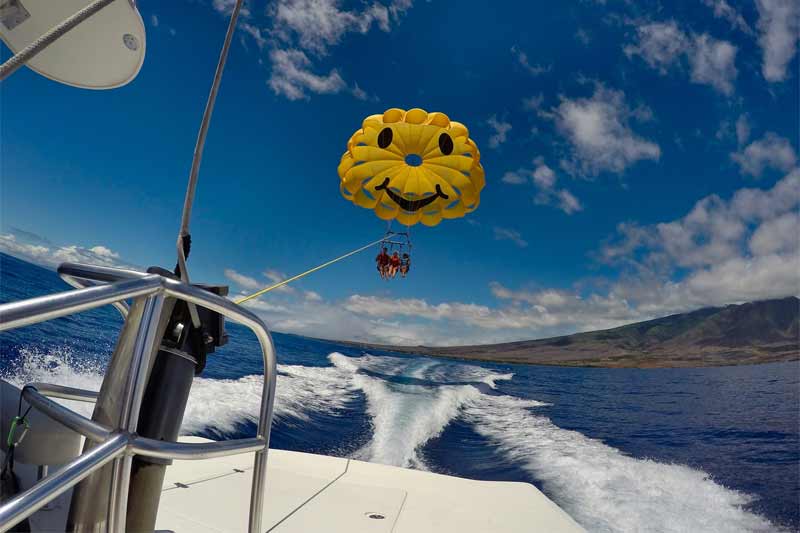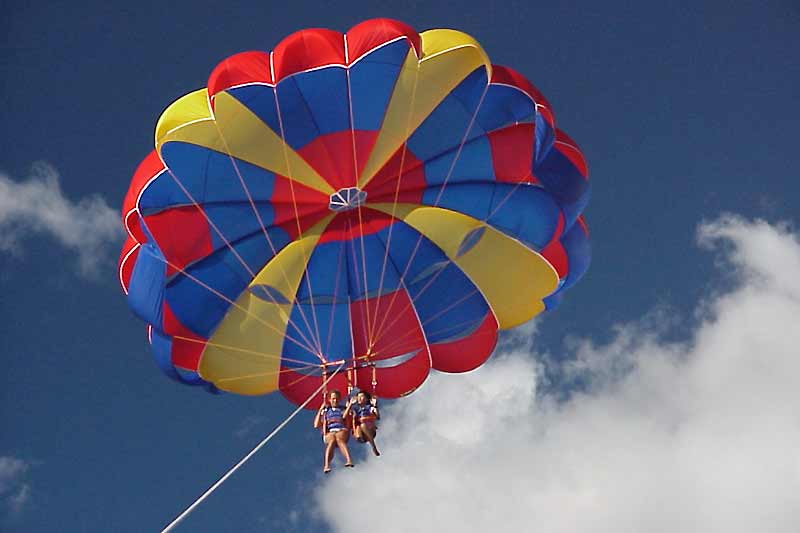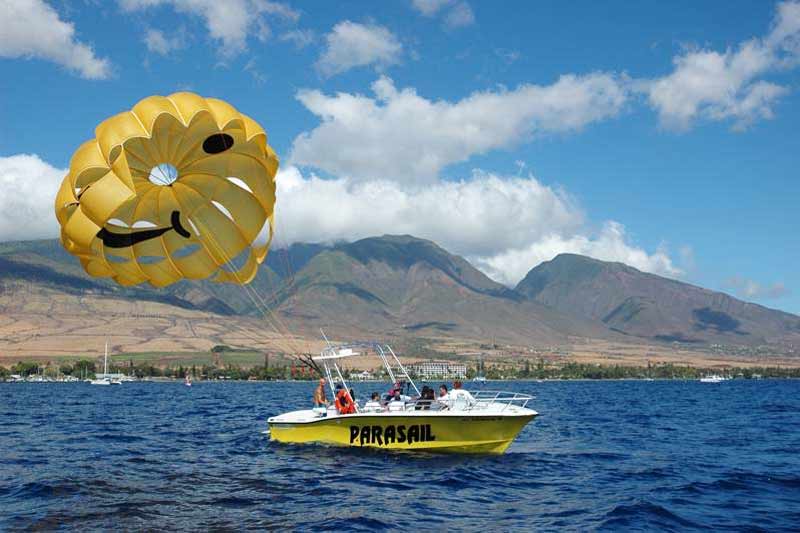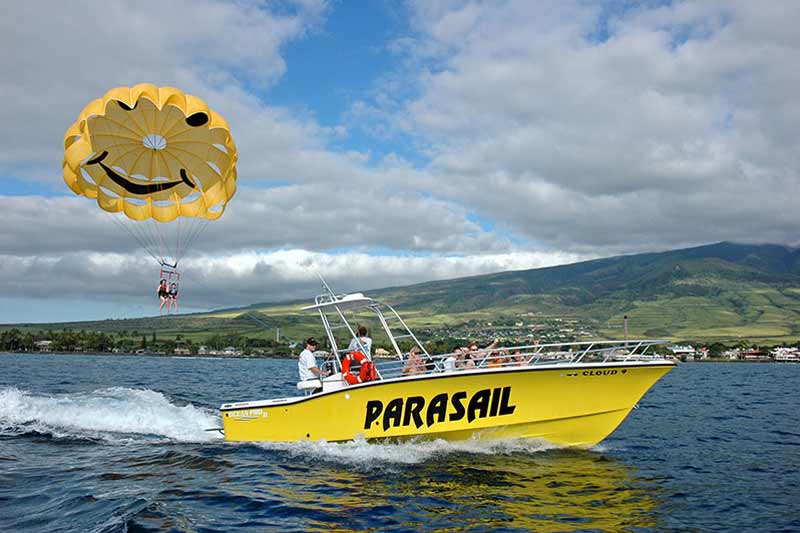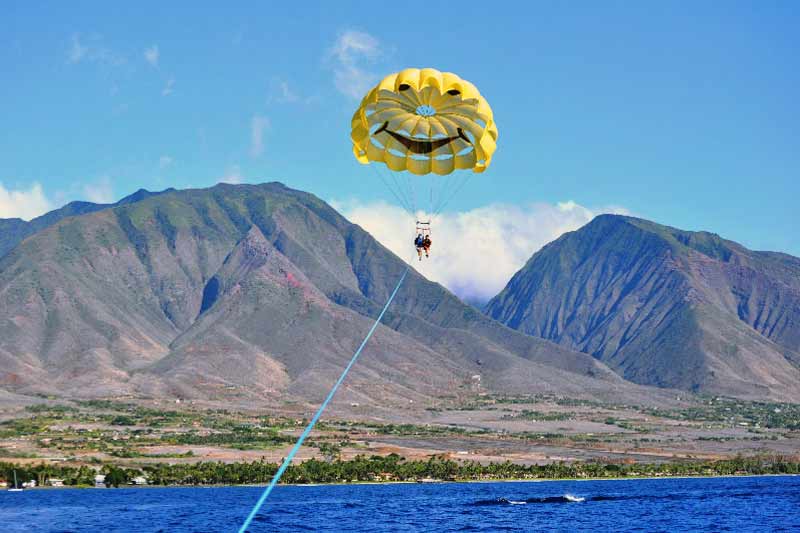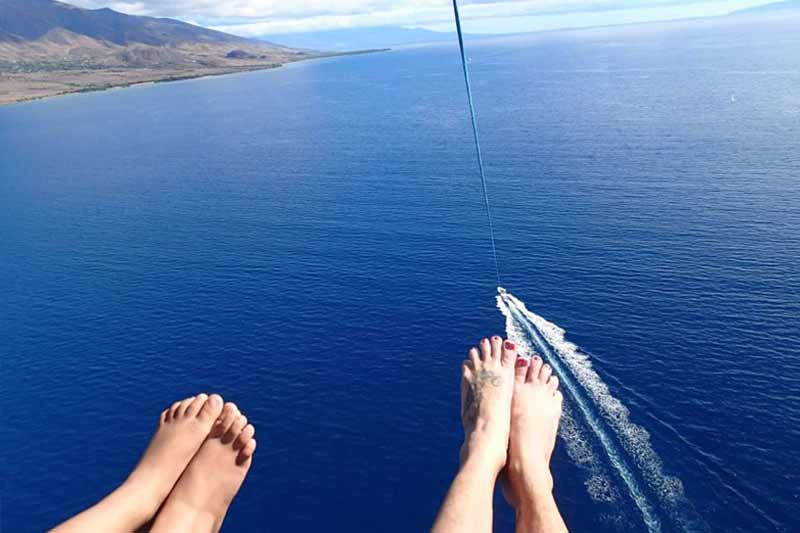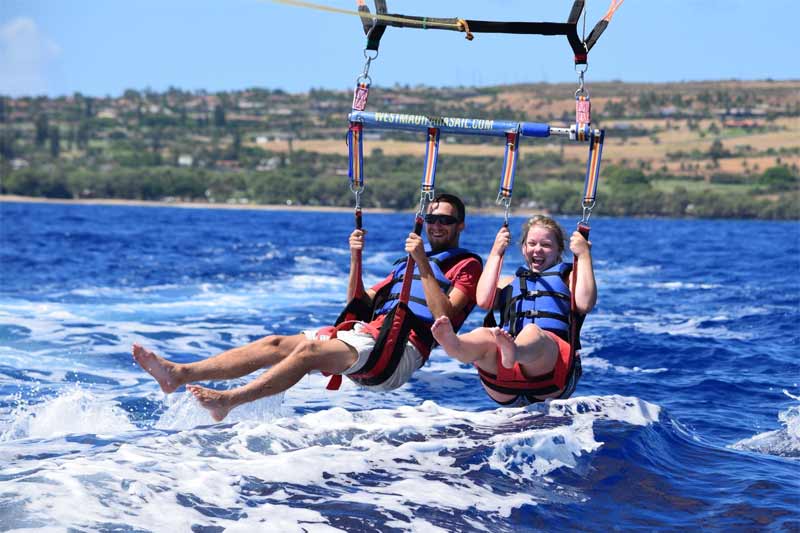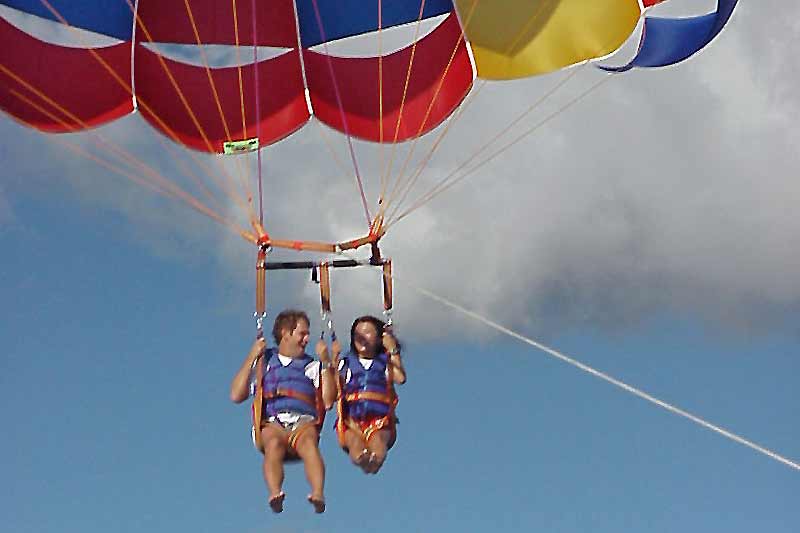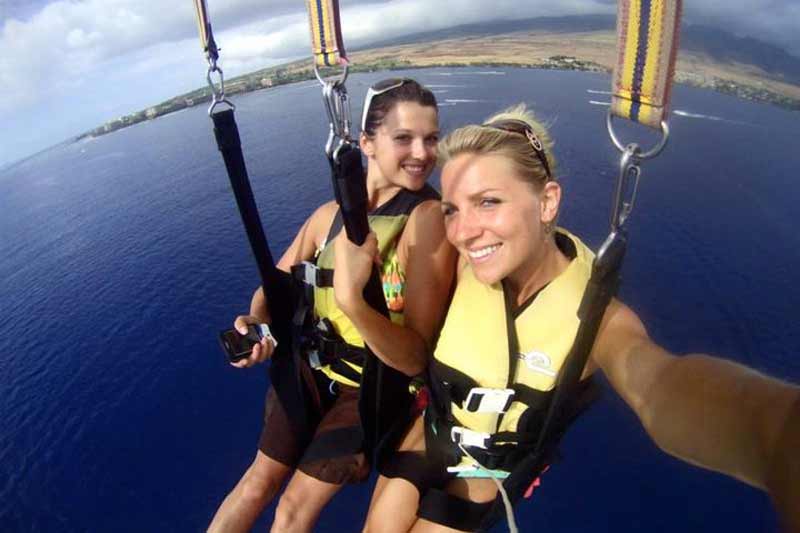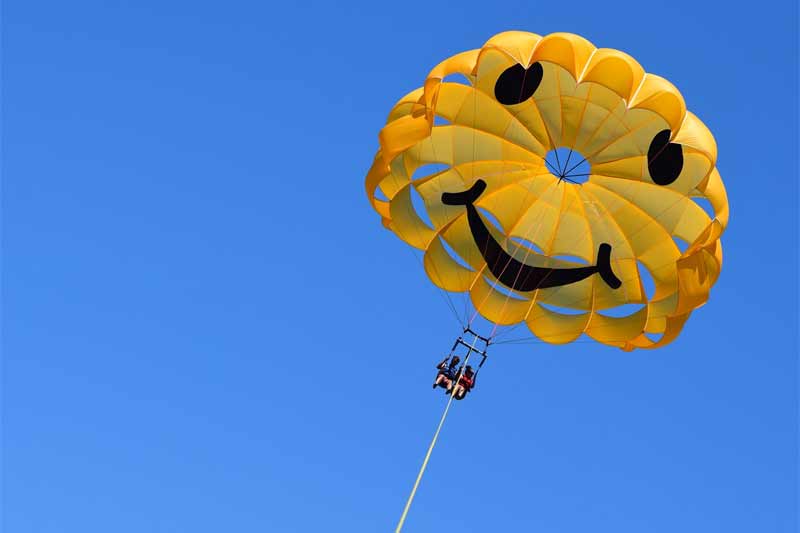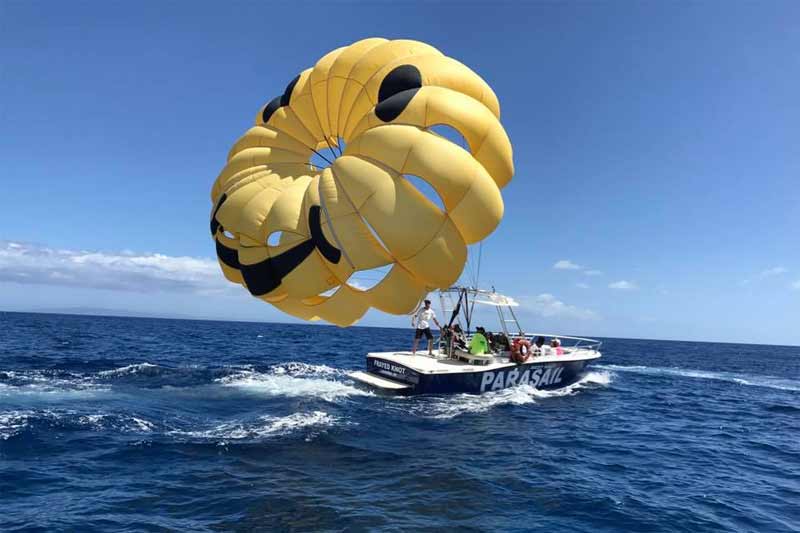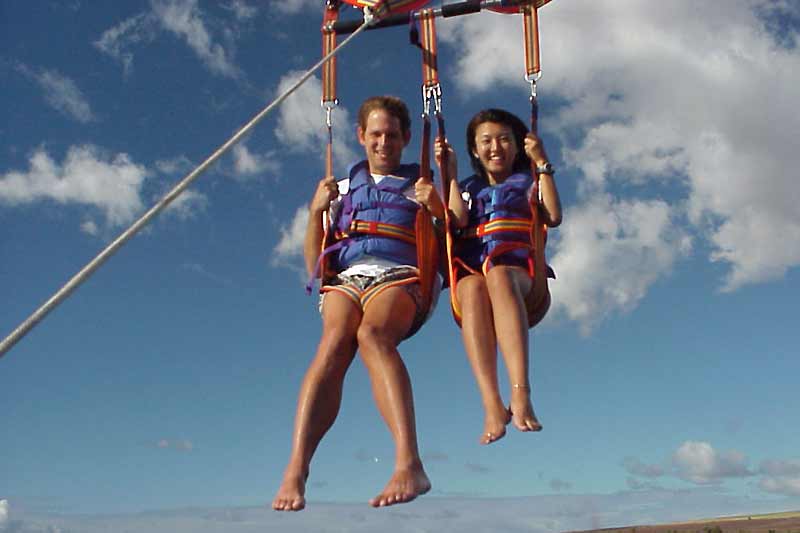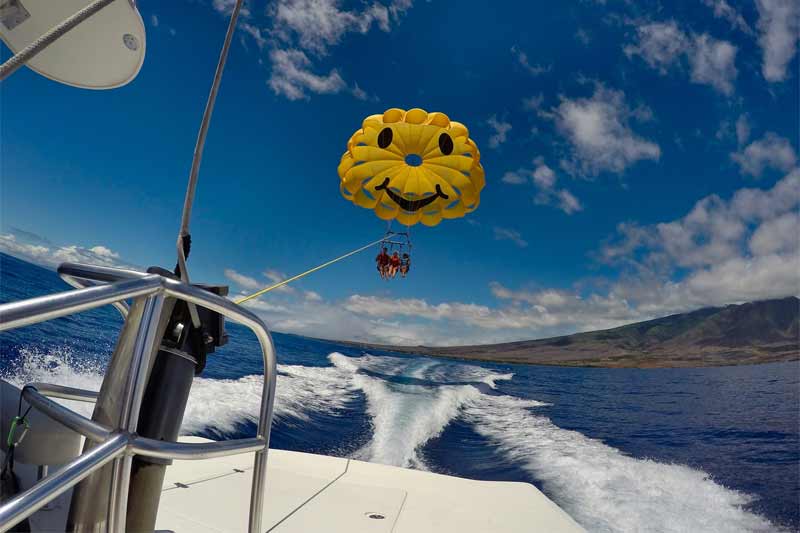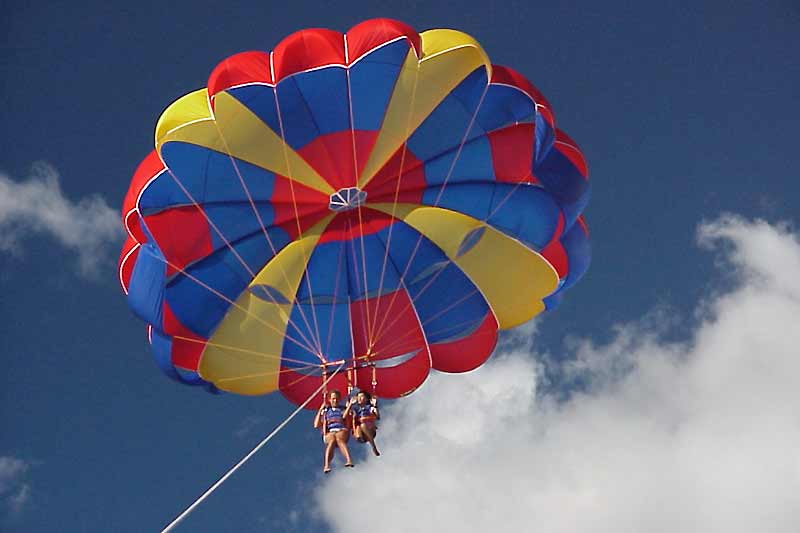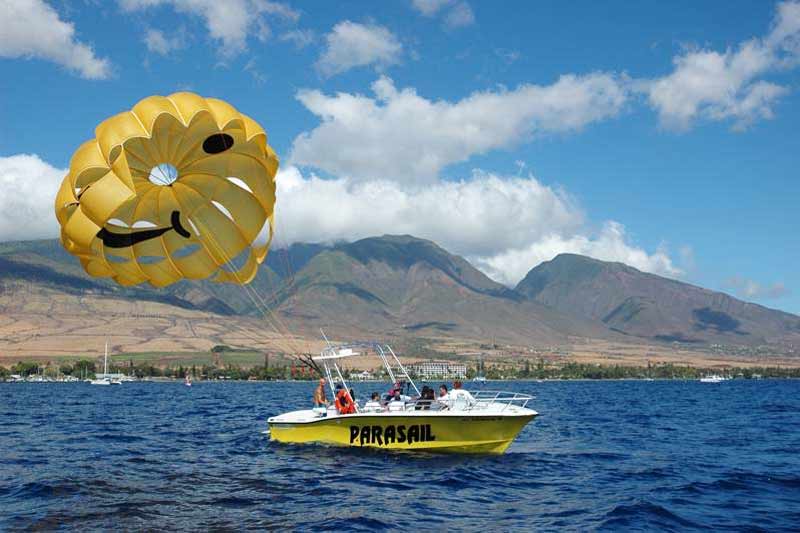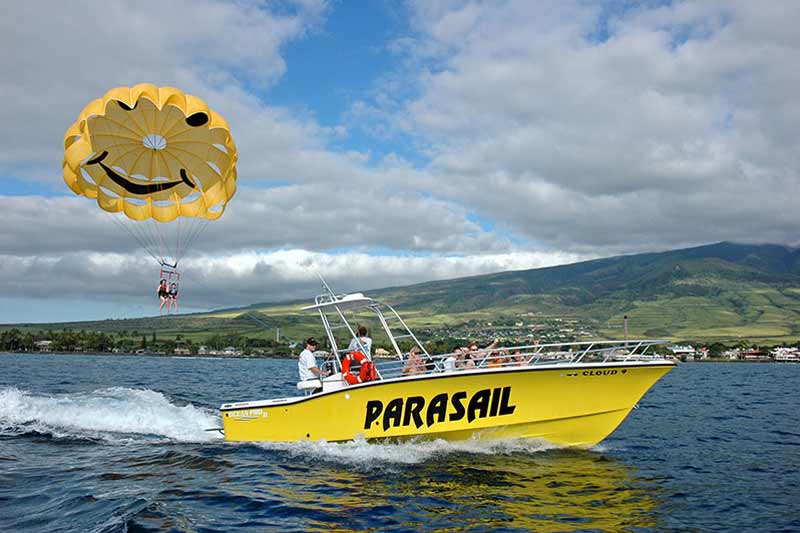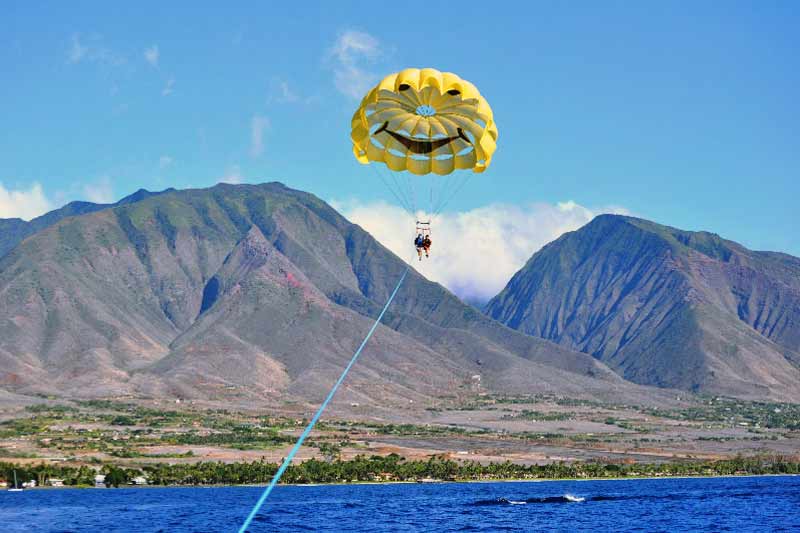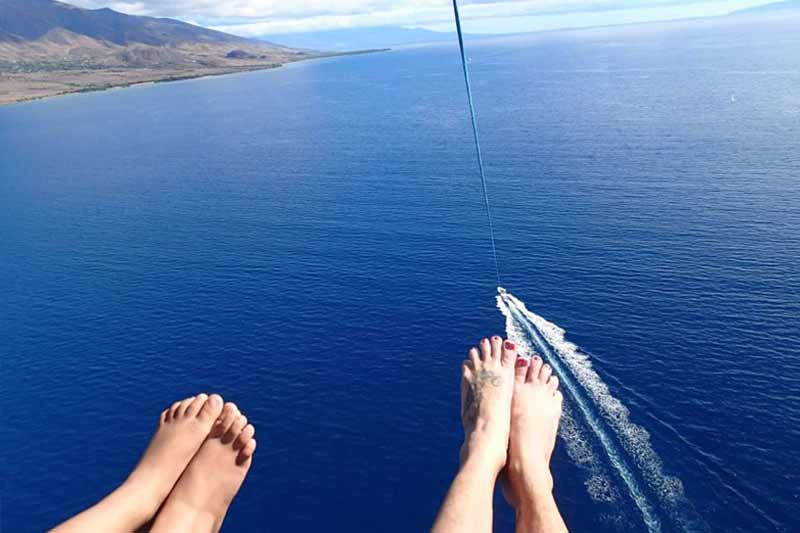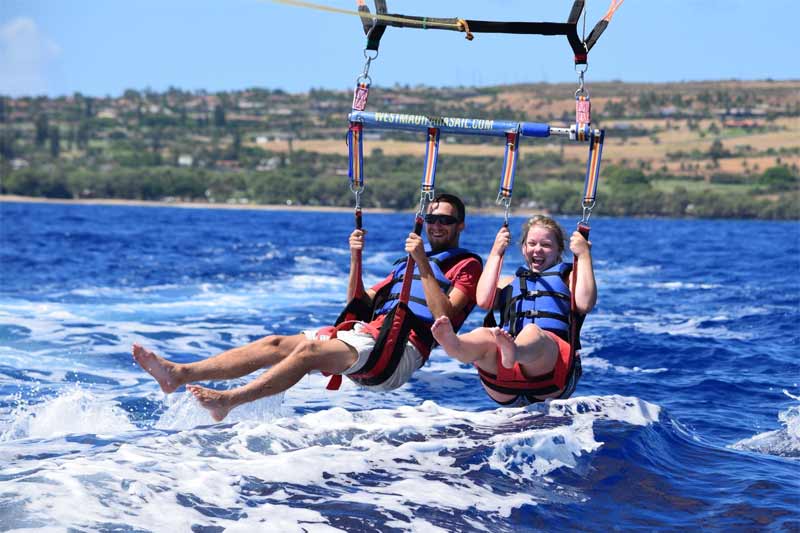 ---
Highlights
Two locations ... Lahaina Harbor and Kaanapali Beach
Soar high over the ocean on a 1200' line!
Launch from rear deck of a specially-designed boat
Single, tandem, and triple flights available (based upon weight)
Seasonal activity available May 16 to December 14 each year
---
Description
Parasail in paradise … almost anyone can fly … young, old, single or in tandem (or even triple depending on body weights and wind conditions) … it's something for everyone to enjoy and experience. Absolutely no experience is necessary and there is nothing to learn … you just sit back and enjoy the ride. You begin your flight seated on the back deck of the boat … your harness is attached to the parasail, and as the boat begins to accelerate, you feel the vessel sliding out from underneath of you and WHOOOSH … off you go! The length of your flight is about 8-10 minutes in the air. At the end of the ride the crew reels you in like a fish, and you land like a feather standing up on the back deck of the boat.
We offer parasailing flights with West Maui Parasail, and they have two locations … downtown Lahaina from Lahaina Harbor slip #15 and from Kaanapali Beach at the Kaanapali Beach Hotel just north of Whaler's Village Shopping Center. Parasailing is priced PER PERSON and the cost for each flier is the same whether you fly single, tandem, or triple. One observer is allowed PER VESSEL. Larger parties can have multiple observers accommodated by splitting you into different boats (subject of course to availability).
If you are planning in advance, we recommend that you book an early or mid-morning flight time. Parasailing sometimes cancels in the afternoons during windy periods. Of the two locations, Lahaina is a little less windy than Kaanapali. For this reason we recommend that you reserve the Lahaina location unless you happen to be staying at a Kaanapali Hotel and you can just walk to the Kaanapali location. If you are reserving Kaanapali, it is especially important to select a morning flight time!
---
Cost
Parasailing - Lahaina Harbor Rate (WMP1l)
$150.00 per 1200 Flier, $85.00 per Observer (Hawaii sales tax included)
---
Parasailing - Kaanapali Beach Rate (WMP1k)
$150.00 per 1200 Flier, $85.00 per Observer (Hawaii sales tax included)
---
---
Details
Schedule: Daily from May 16 to December 14 each year.
Check In: 30 minutes prior to your tour time at the location you reserved. Lahaina Harbor slip #6 OR Kaanapali Beach, under the yellow umbrellas near the Whaler's Village Shopping Center.
Duration: About an hour and 45 minutes including checkin time.
Vessel Capacity: 12 guests plus crew.
Restrictions: Their minimum age to parasail is 6, and minimum age to be an observer on the boat is also 6. The minimum weight to fly solo is typically 150 pounds; the maximum combined weight for tandem flights is typically 450 pounds. These minimums are sometimes adjusted up or down depending on wind conditions. No one with neck or back problem or pregnant women are allowed to parasail or go on the boat as an observer.
What to Bring / Wear: Swimsuits are best. Bring a towel, waterproof or disposable camera and sunscreen.
Reservations: Advanced reservations required and we recommend booking this prior to arrival on Maui. This event is "RESERVE NOW PAY LATER"; we need a credit card on file to finalize your reservation but we do not charge you for this reservation until a few days before the beginning of your vacation!
Minimum Notice for Cancellations / Changes: At least 48 hours before the start of the event.
---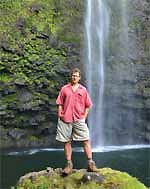 Kevin's Activity Tips:
What a fantastic and odd sensation! Imagine yourself sitting on the back deck of a boat. You are wearing a harness ... behind you a parasail is already inflated. The staff clips you onto the line, and you hear the boat's engines power up. You feel the boat sliding out from underneath you ... and moments later the boat has disappeared and you are hovering over the water just a few feet from the surface. Out goes the line ... and away you go ... a giant kite against the horizon!
Parasailing has evolved into a highly safe art form. The take-off and landing both happens on the boat. When your ride concludes, they reel you in like a fish. You land gently on the back deck of the boat where your adventure began. If you want them to, they will add a free-fall effect during your ride. West Maui Parasail will let you fall until your feet hit the water.
Almost anyone can do it (subject of course to age and weight limits) and there is no experience necessary and nothing to learn. Certain weight limits do apply ... see the details above for guidelines. But keep in mind these are guidelines, and are subject to change at the captain's discretion based upon wind and ocean conditions.
West Maui parasailing boats hold 12 people, so larger groups can go together on one boat ... each boat is limited to a maximum of five flights so a party of 12 will need to do tandems and triples in order for everyone to fly during one timeslot on the same boat. One non-flying observer is allowed per boat.