Akaka Falls Zipline
---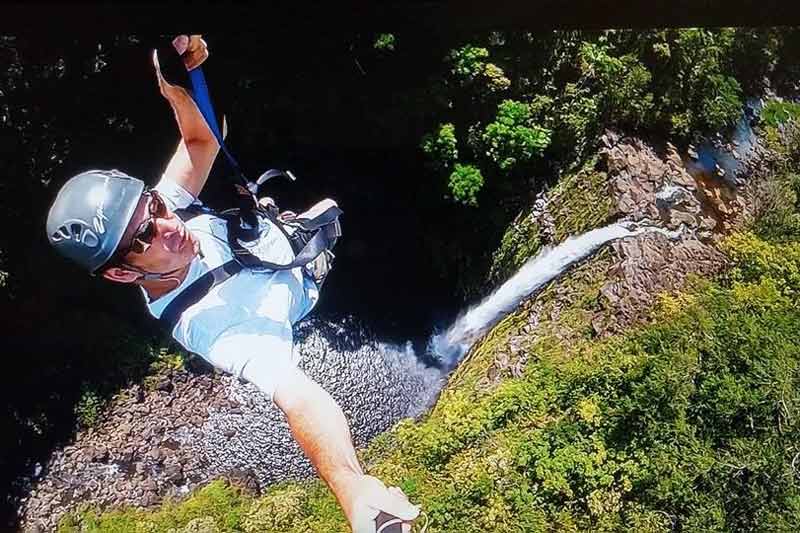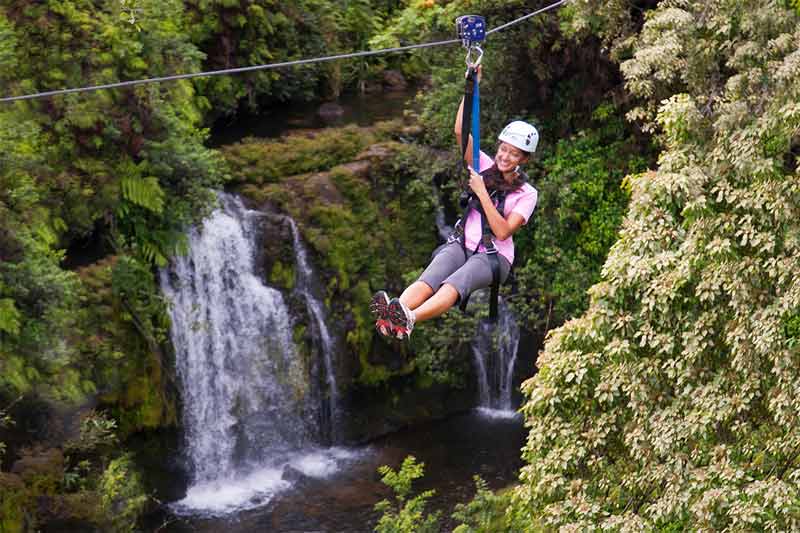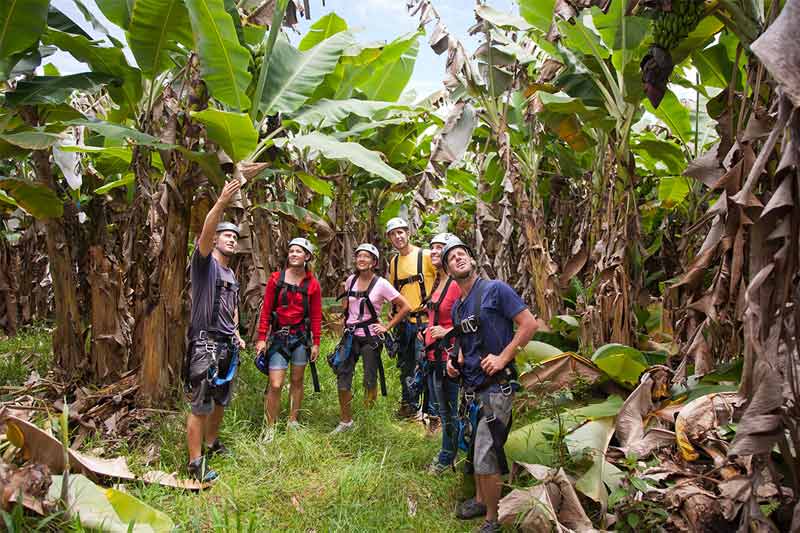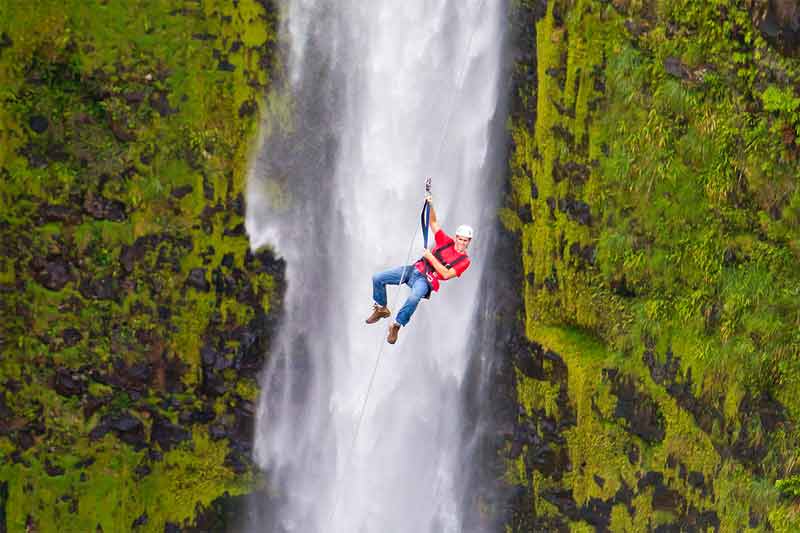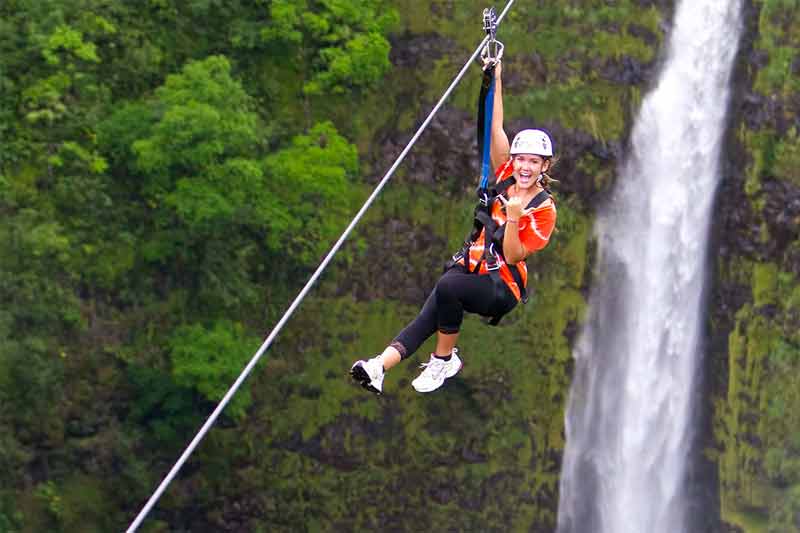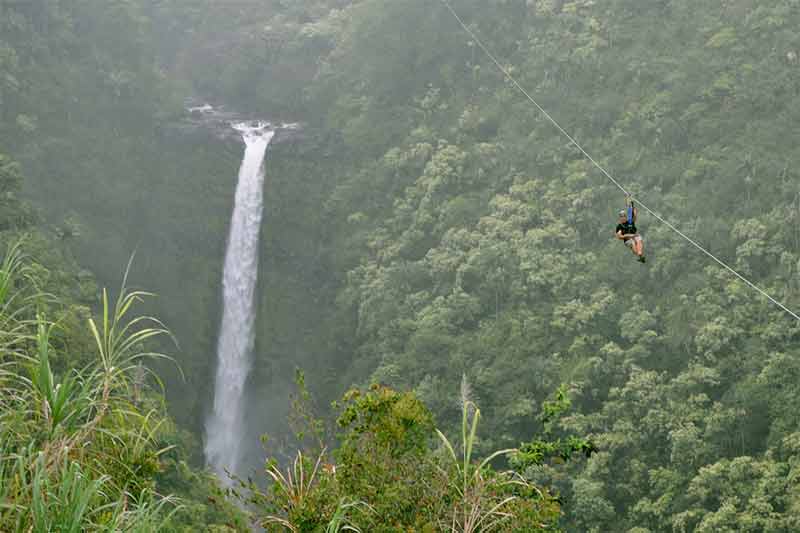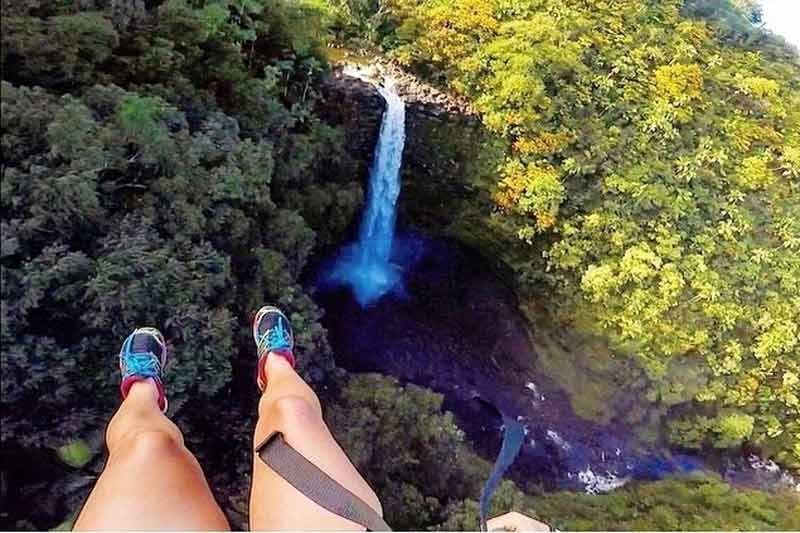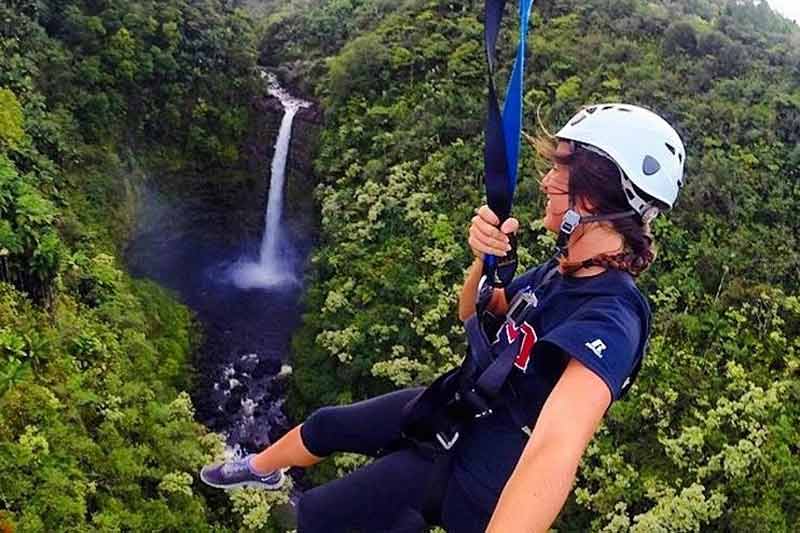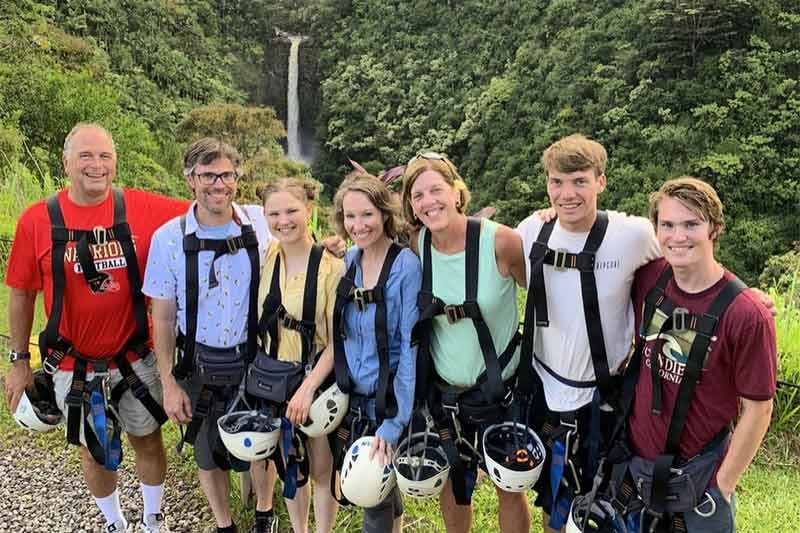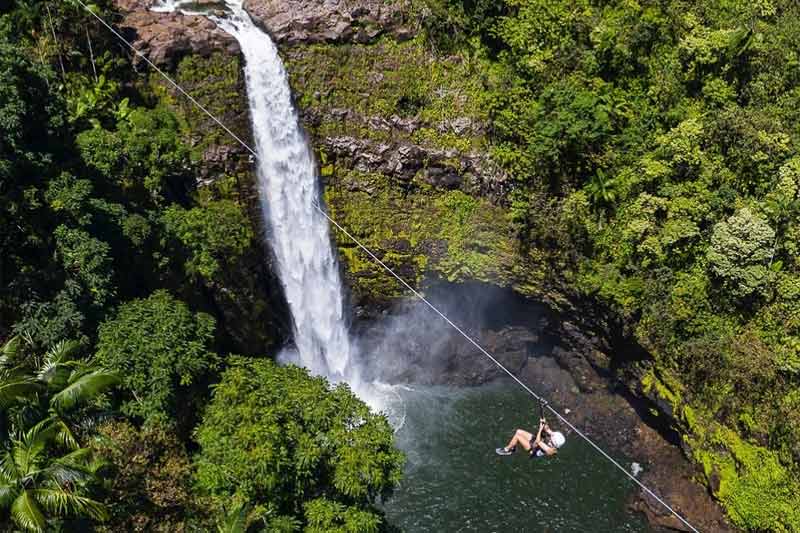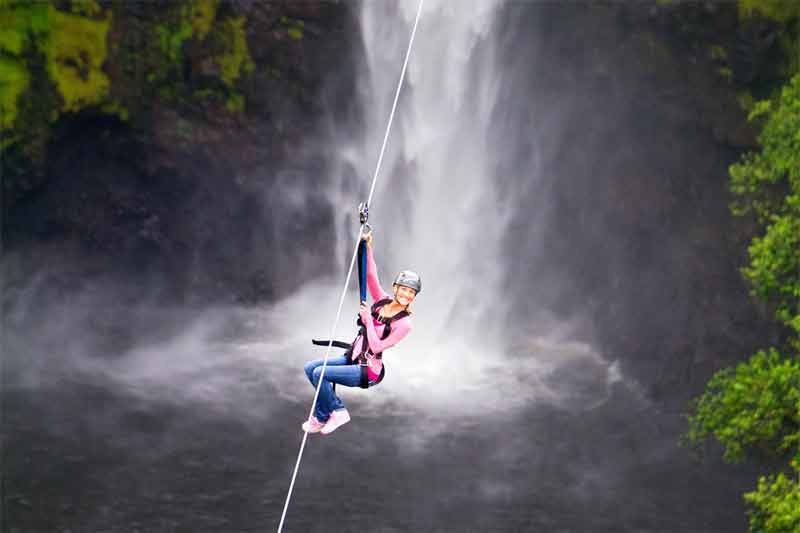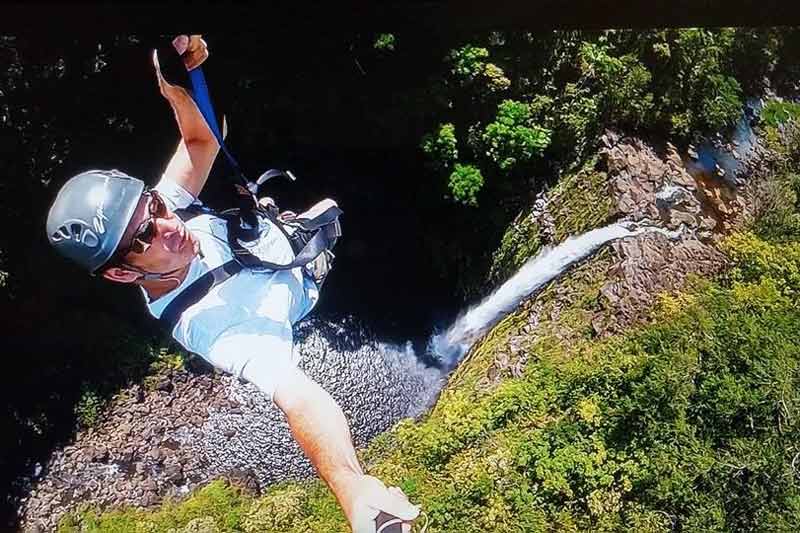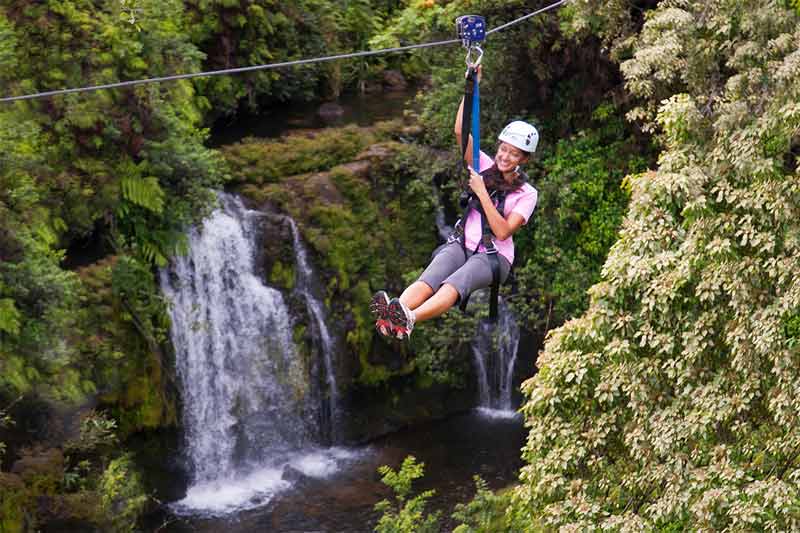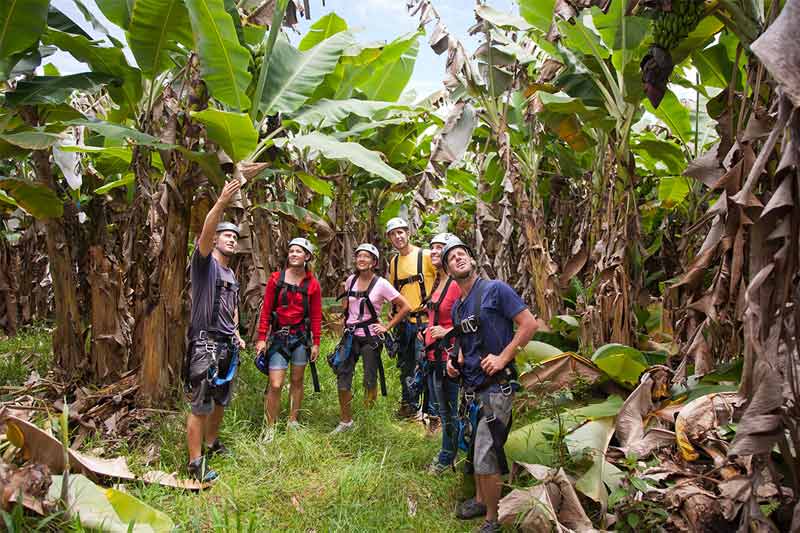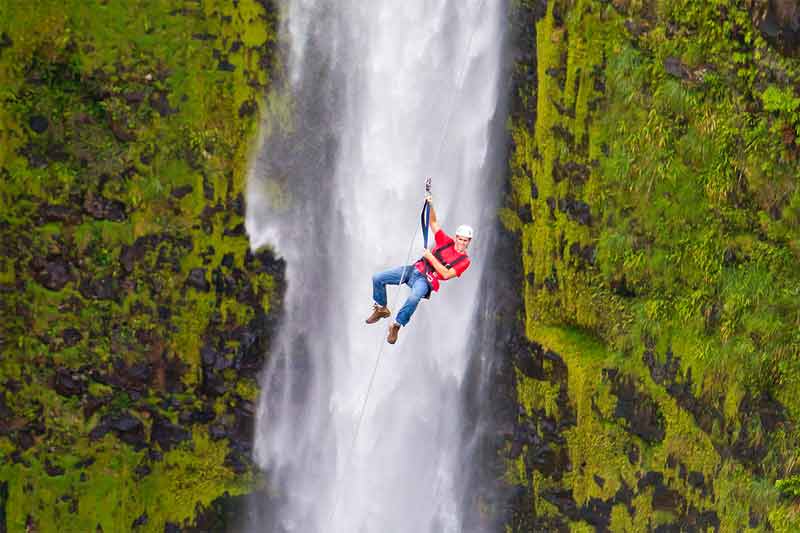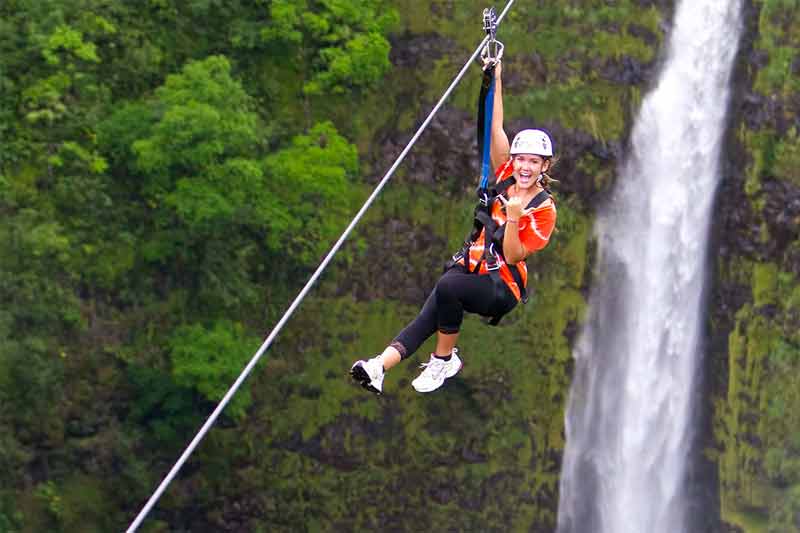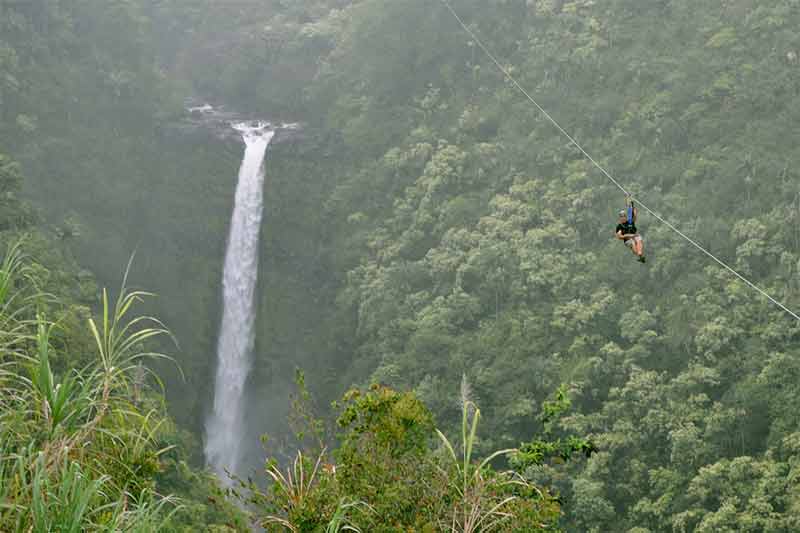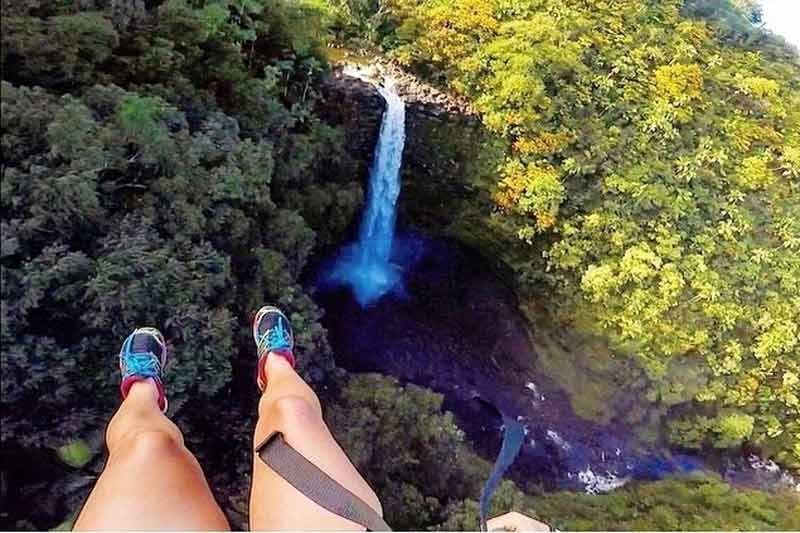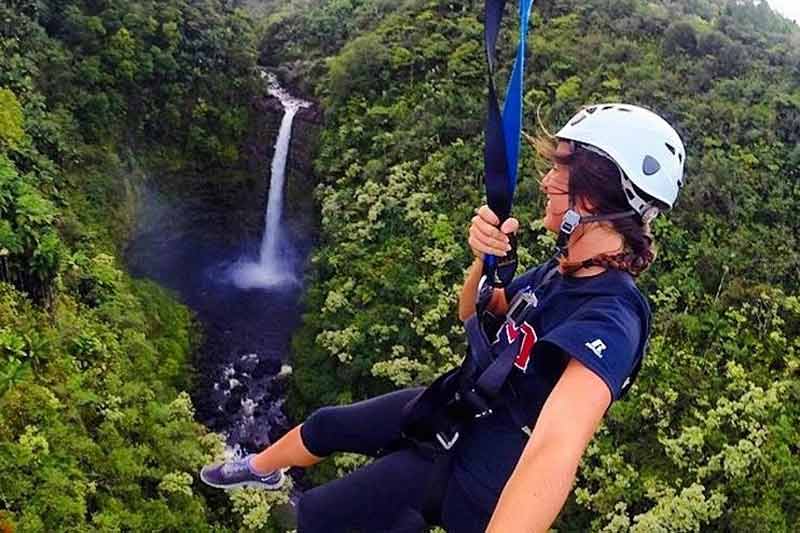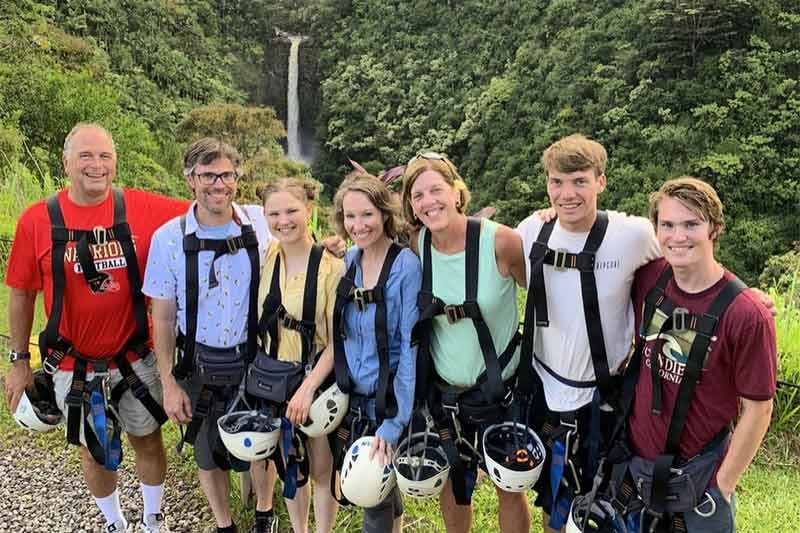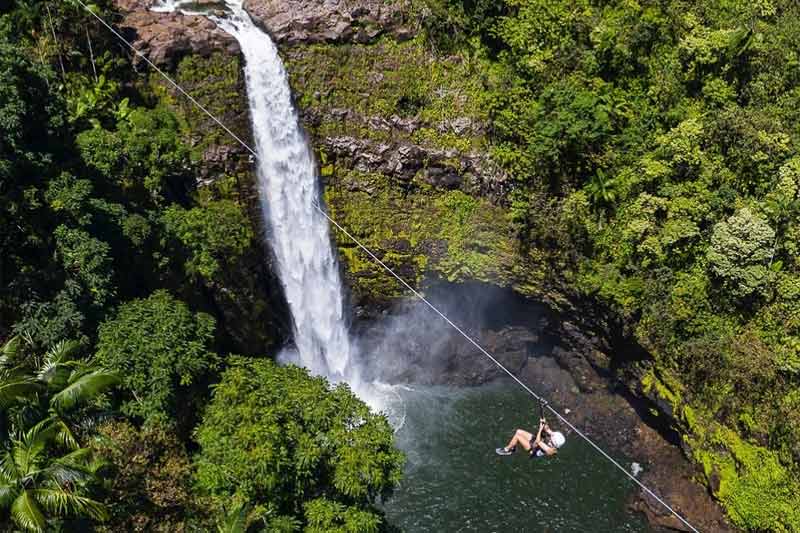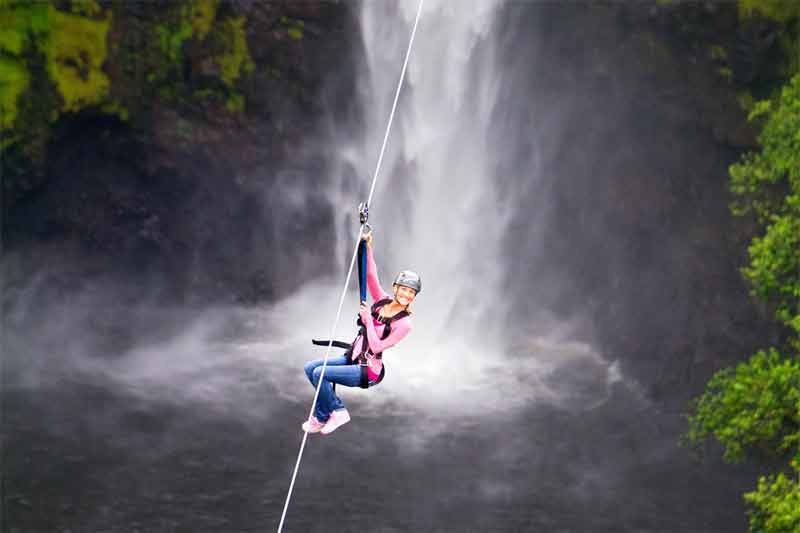 ---
Highlights
7 Ziplines over a Variety of Terrain
Course located just downstream from Akaka Falls State Park
Final line zips over a 250 foot tall waterfall!
Minimum age 10, minimum weight 80 pounds and maximum weight 260 pounds
---
Description
Akaka Falls Zipline tour offers an exclusive chance to experience zipping over a 250 foot waterfall, located just downstream from world famous Akaka Falls. The tour offers a 7 line course that traverses tropical farmland, waterfalls, and deep ravines. Each zipline progressively builds on the prior – in length and beauty – until you reach the ultimate breath taker, their final 2000′ zipline! The lush scenery, dramatic ocean views and world class guides will make this 2.5 hour tour one to remember for a life time. Water stations and a variety of fresh cut local fruits (sugarcane, bananas, guava, passion fruit) are offered at every other stop. Guides provide information about the history of the island, native plants.
After a 15-minute ride throughout the rainforest you arrive at Line 1 (Ua – Rain). This is an easy training line and if it is raining the lines are faster and the waterfalls will be rushing. Line 2 (Mai'a – Banana) crosses over local banana farms. Line 3 (Wai -Fresh Water) flies you over a 40 foot waterfall. after a short walk you arrive at Line 4 (Kalo – Taro), a longer line that goes over a rainforest gulch. The landing of Line 5 (Ko – Sugarcane) provides panoramic views of the Hamakua coastline. Line 6 (Pua'a – Pig) is a rush as you drop 200 feet into a ravine that is populated by wild pigs.
The final zip on Line 7 (Wailele – Waterfall) is the grand finale. You climb up to the take-off tower and are met with amazing views of the coast and the river below. Then you jump off and the beautiful 250 foot KoleKole waterfall comes into view – as you zip 450 feet above the sparkling pools below. This is a truly unforgettable experience – leaving you with an adrenalin rush that will keep you buzzing for days.
---
Cost
Akaka Falls Zipline Tour Rate (AFZ1)
$198.95 per Participant (plus 4.712% Hawaii sales tax)
---
---
Details
Schedule: Monday through Saturday at 10am, 11am, 1:30pm and 2:30pm
Checkin: At the Hawaii Zipline location (formally known as Akaka Falls Zipline) in Honomanu. Drive time from From Hilo 25 minutes. From Waimea / Kamuela 75 minutes. From Waikoloa Beach 2 hours. From Kailua-Kona 2.5 hours
Duration: About 2.5 hours
Tour Includes: All safety gear, rain wear, water, and snack.
What to Wear: Close toed shoes are required (no hiking sandals, crocs or water shoes allowed). Long shorts or pants and a short-sleeved t-shirt are recommended.
Restrictions: Minimum age is 10. All customers under 18 must have a legal guardian sign for them. Weight needs to be between 80 and 260lbs. You must be able to hike 1/2 mile at elevation and walk over uneven surfaces. No chronic heart problems, serious neck, back, or joint injuries, or recent surgery. Pregnant women are not allowed. You should not have been scuba diving within 24 hours.
Reservations: Advanced reservations required and we recommend booking this a month or more before your arrival. This event is "RESERVE NOW PAY LATER"; we need a credit card on file to finalize your reservation but we do not charge you for this reservation until a few days before the beginning of your vacation!
Minimum Notice for Cancellations / Changes: At least 48 hours before the start of the event.
---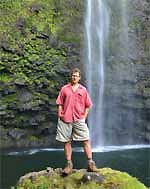 Kevin's Activity Tips:
Akaka Falls Zipline recently had an official name change to "Hawaii Zipline" but we are continuing to call it Akaka Falls Zipline because it's a an apt description of where this course is located, and conjures up images of what you are going to zip over. While technically you don't zip over Akaka Falls, it is directly downstream from Akaka Falls, and the 260 foot waterfall that you DO zip over looks A LOT like its taller sibling located just upstream. We suspect the name change was actually inspired (and necessitated) by a change in ownership / affiliation of this course. Prior to the pandemic this zipline operated as a franchised location of Skyline Hawaii, an outfit that has two zipline courses on Maui and one on Kauai. They reopened independent of this affiliation, so the new name you will likely see on the sign outside the building is going to say "Hawaii Zipline" and not "Akaka Falls Zipline."
With that being said ... the course is still the same whichever name you want to call it. Overall I personally like the Umauma Zipline Experience the best because it is just one thrilling line after another passing over a whole slew of waterfalls. With Akaka Falls / Hawaii Zipline there is one 40 foot waterfall you see from zipline 3 which is very pretty. Then the final line zips over the BIG KAHUNA of waterfalls. While overall I like the Umauma course the best, there is NO DOUBT that Line 7 here at Akaka Falls / Hawaii Zopline is MY FAVORITE SINGLE ZIPLINE EVER!!! The experience is just ... WOW!!! I felt like a low-flying jet as I passed over the edge and out over the abyss below the falls! This one single line makes this course worth the price!