WHO we are …
Adventure In Hawaii.com is a family-owned business. Our agents are all experienced and salaried travel professionals who have lived in the state of Hawaii for years! Letting us help you is like having a friend who lives in the islands!
WHAT we do …
We are a FREE reservations service for tours and activities throughout the state of Hawaii. We provide a wealth of helpful information and lots of tour images to help you decide. Our only goal is to help you have a GREAT vacation!
WHEN to reserve …
The very best time to use our service is BEFORE you arrive in Hawaii when you have the luxury of selecting which tours you'd like to do on which days. But if you are already here on vacation, we'll do our best to find available space for your selected events.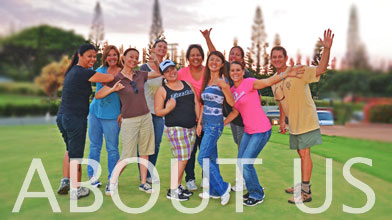 WHY use our services …
It's simple. We WILL make your vacation better! We treat our clients and their itineraries with care and concern. We can save you time and money … one phone call does it all!
Understanding Hawaii Weather