PEARL HARBOR TOURS
The Arizona Memorial is one of our nation's most sacred places, and visiting Pearl Harbor is a MUST for anyone visiting the island of Oahu. We offer half day tours to just visit the Arizona Memorial, or longer tours to include the USS Missouri and other Pearl Harbor sites.
---
---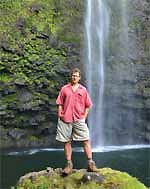 Kevin's Activity Tips:
A visit to Pearl Harbor is a must-do activity for anyone coming to Oahu. The USS Arizona Memorial is one of our nation's most sacred places. Regardless of your interest in history or WWII, a visit to this shrine is an emotional experience. If you have never been ... you should go. The documentary film prepares you well for what you are about to experience, because when the film ends and the doors open, everyone boards the Navy shuttle boat in hushed silence. The boat ride to the memorial only takes a few minutes. When you are on the Memorial, you'll look down into the water and see the outline of the Arizona's remains knowing that it is the final resting place for hundreds of US servicemen.
One tip for photographing the memorial ... when you are re-boarding the boat for the return to the vistor's center, try to get in the last row. As the boat pulls away from the Arizona, you will get your an amazing dramatic photo.
This page summarized a variety of tours that include Pearl Harbor ... some only visit the Arizona, others are more comprehensive and visit the USS Missouri Battleship, and others combine a morning at Pearl Harbor with other scenic sights and experiences on Oahu.