Hawaii Volcanoes National Park Tour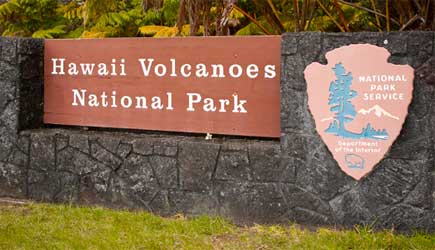 Experience the awesome nature of volcanoes at Hawaii Volcanoes National Park.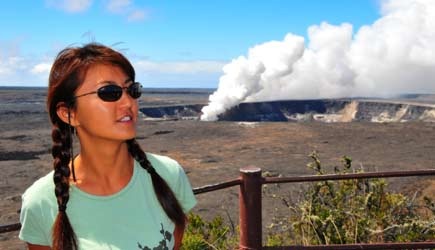 Kilauea Summit overlooking the active Halemaumau crater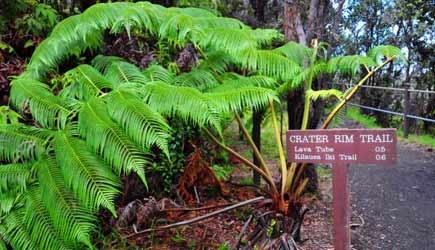 Lush tree ferns line one side of the Kilauea crater rim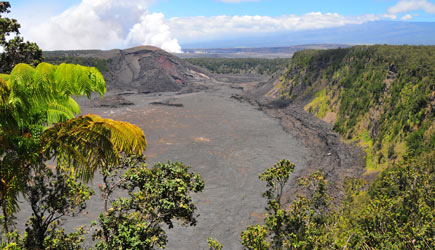 The Kilauea Iki Crater overlook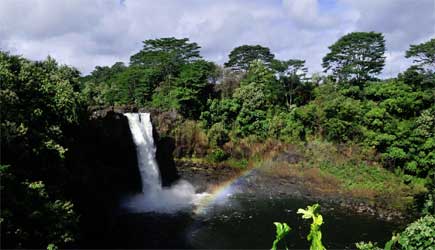 See spectacular Rainbow Falls on the longer version of this tour.
Select a date to start reservation!
Reserve Now!!!
For cruise ship passengers, the Hilo Cruise Ship Volcano allows you to experience the awesome nature of volcanoes at Volcanoes National Park.  On a comfortable motor coach, you will cruise along the Crater Rim that circles Kilauea's summit and you will make stops along the way to experience unique beauty of Hawaii's volcanoes including Steam Vents and crater overlooks.  You will see the range of the lava from smooth to jagged.
You will learn about volcano at the Kilauea Visitor Center. There are breathtaking overlooks into Kilauea Caldera which is 2 to 2.5 miles across and within this caldera is Halema'uma'u Crater, the "firepit" which has been filled with pools of lava numerous times in the last 100 years. You can smell brimstone and hear steam hissing out of fissures in the rock. With the recent flank eruption of Kilauea in May of 2018 lava drained from the summit of Kilauea, and this sudden loss of lava caused Halemaumau to more than double in size more than triple its depth! The changes were sudden and dramatic.
In addition to the Volcanoes National Park, you will stop at the Big Island Candies factory in downtown Hilo.
Reserve Now!!!
A longer 6.5 hour version of this cruise ship volcano tour is held once per day when ships are in port. In addition to the stops made on the 4 hour Volcano Tour, this extended tour includes a visit to spectacular Rainbow Falls, and a variety of other stops. Depending on the day of the week they may also visit the Mauna Loa Macademia Nut Farm, the Akatsuka Orchid Nursery, Richardson's Black Sand Beach, Liluokalani Garden, and the Big Island Candies Factory.
The Volcanoes and Rainbow Falls Tour is from 9:30am to 4:00pm with pickup at and return to the Hilo Cruise Ship dock.
Schedule:
Day of tour depends on what cruise ship you are on. Pride of America tours run on Tuesdays.
Reservations: These tour is only for Hilo Cruise Ship passengers. Due to high demand, these tours often sell out weeks in advance.
Pick up: Pick up will be at the cruise ship dock. The shorter 4 hour Volcano-only tour is offered at  8:15am-12:30pm and  from 12:45pm-5:00pm. The longer tour that includes the Volcano and Rainbow Falls is operated from 9:30am-4:00PM. These tour times have been designed to specifically fit the Pride of America's schedule.
Duration:  Volcano only is 4.25 hours. Volcano and Rainbow Falls is 6.5 hours.
What to Bring & Wear:  We recommend wearing comfortable shoes and a light jacket.  This tour Involves walking over relatively level terrain, possible lava and uneven ground.

Vehicle:  This tour is run on a 26 seat passenger mini-motor coach.  Route may be modified due to National Park advisories
Cancellation Policy: Cancellations must be made at least 48 hours before the start of the event.  Tour subject to cancellation if the minimum number of 4 participants is not met.
Note: Volcanic emissions, including sulfur gas, may affect those with respiratory concerns.  Route may be modified due to National Park advisories.  No guaranteed sightings of lava flows.
Activity Tips
I can't imagine going to the Big Island and not making the trip down to see the active volcano. Even on days when lava viewing is not possible the evidence of recent volcanic activity is everywhere. You'll see steam vents and smell sulfur in the air. This park is rich in history too.
The May 2018 eruption on Kilauea's flank drained the lava reservoir under the Kilauea Calder and for several months there were numerous tremors and the bottom seemed to drop out from underneath the crater. Volcanoes National Park was closed to the public for several months during this period of instability. Things are quiet now, and the park is back open to the public and waiting for your visit!
We highly recommend the longer version of this tour … Rainbow Falls is a spectacular setting. It's an 80 foot waterfall that often has a rainbow appearing in the mist at its base. You also get to take in other Hilo-area sites and experience more of the local agricultural products. It's a little more expensive, but it's money well spent … you didn't come to Hawaii to sit on a cruise ship the whole time did you???