Hawaii Volcanoes National Park Tour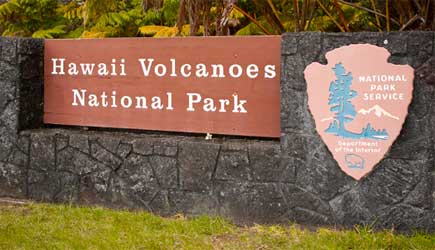 Experience the awesome nature of volcanoes at Hawaii Volcanoes National Park.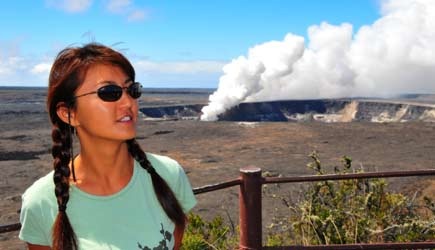 Kilauea Summit overlooking the active Halemaumau crater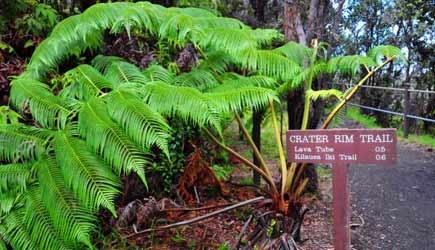 Lush tree ferns line one side of the Kilauea crater rim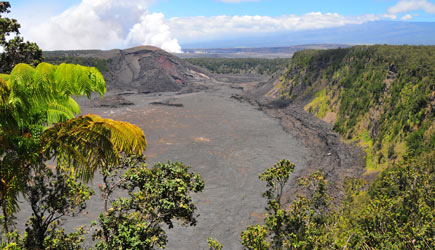 The Kilauea Iki Crater overlook
Select a date to start reservation!
Ask a QuestionReserve Now!!!
For cruise ship passengers, the Hilo Cruise Ship Volcano allows you to experience the awesome nature of volcanoes at Volcanoes National Park.  On a comfortable motor coach, you will cruise along the Crater Rim that circles Kilauea's summit and you will make stops along the way to experience unique beauty of Hawaii's volcanoes including Steam Vents and crater overlooks.  You will see the range of the lava from smooth to jagged.
You will learn about volcano at the Kilauea Visitor Center. There are breathtaking overlooks into Kilauea Caldera which is 2 to 2.5 miles across and within this caldera is Halema'uma'u Crater, the "firepit" which has been filled with pools of lava numerous times in the last 100 years. You can smell brimstone and hear steam hissing out of fissures in the rock. With the recent flank eruption of Kilauea in May of 2018 lava drained from the summit of Kilauea, and this sudden loss of lava caused Halemaumau to more than double in size more than triple its depth! The changes were sudden and dramatic
In addition to the Volcanoes National Park, you will stop at the Big Island Candies factory in downtown Hilo..
Schedule:
Day of tour depends on what cruise ship you are on. Pride of America tours run on Tuesdays.
Reservations: This tour is only for Hilo Cruise Ship passengers. Due to high demand, this tour sells out weeks in advance.
Pick up: Pick up will be at the cruise ship dock. Two tours are offered: AM Tour at 8:15am-12:30pm and PM tour from 12:45pm-5:00pm. These tour times have been designed to specifically fit the Pride of America's schedule.
Duration: Approximately 4.25 hours
Tour includes:  Admission to Volcanoes National Park & Rainbow Falls.  Lunch is not included, but can be purchased at the Observatory Center.
What to Bring & Wear:  We recommend wearing comfortable shoes and a light jacket.  This tour Involves walking over relatively level terrain, possible lava and uneven ground.

Vehicle:  This tour is run on a 26 seat passenger mini-motor coach.  Route may be modified due to National Park advisories
Cancellation Policy: Cancellations must be made at least 48 hours before the start of the event.  Tour subject to cancellation if the minimum number of 4 participants is not met.
Note: Volcanic emissions, including sulfur gas, may affect those with respiratory concerns.  Route may be modified due to National Park advisories.  No guaranteed sightings of lava flows.  Mauna Loa Macadamia Nut Factory is closed on the weekends and Holidays but the visitors center is open daily.
Cruise Ship Passengers

In addition to the Hilo Cruise Ship Volcano tour, Hilo cruise ship passengers can experience the Volcano Bike Tour.
Activity Tips
I can't imagine going to the Big Island and not making the trip down to see the active volcano. Even on days when lava viewing is not possible the evidence of recent volcanic activity is everywhere. You'll see steam vents and smell sulfur in the air. This park is rich in history too.
The May 2018 eruption on Kilauea's flank drained the lava reservoir under the Kilauea Calder and for several months there were numerous tremors and the bottom seemed to drop out from underneath the crater. Volcanoes National Park was closed to the public for several months during this period of instability. Things are quiet now, and the park is back open to the public and waiting for your visit!